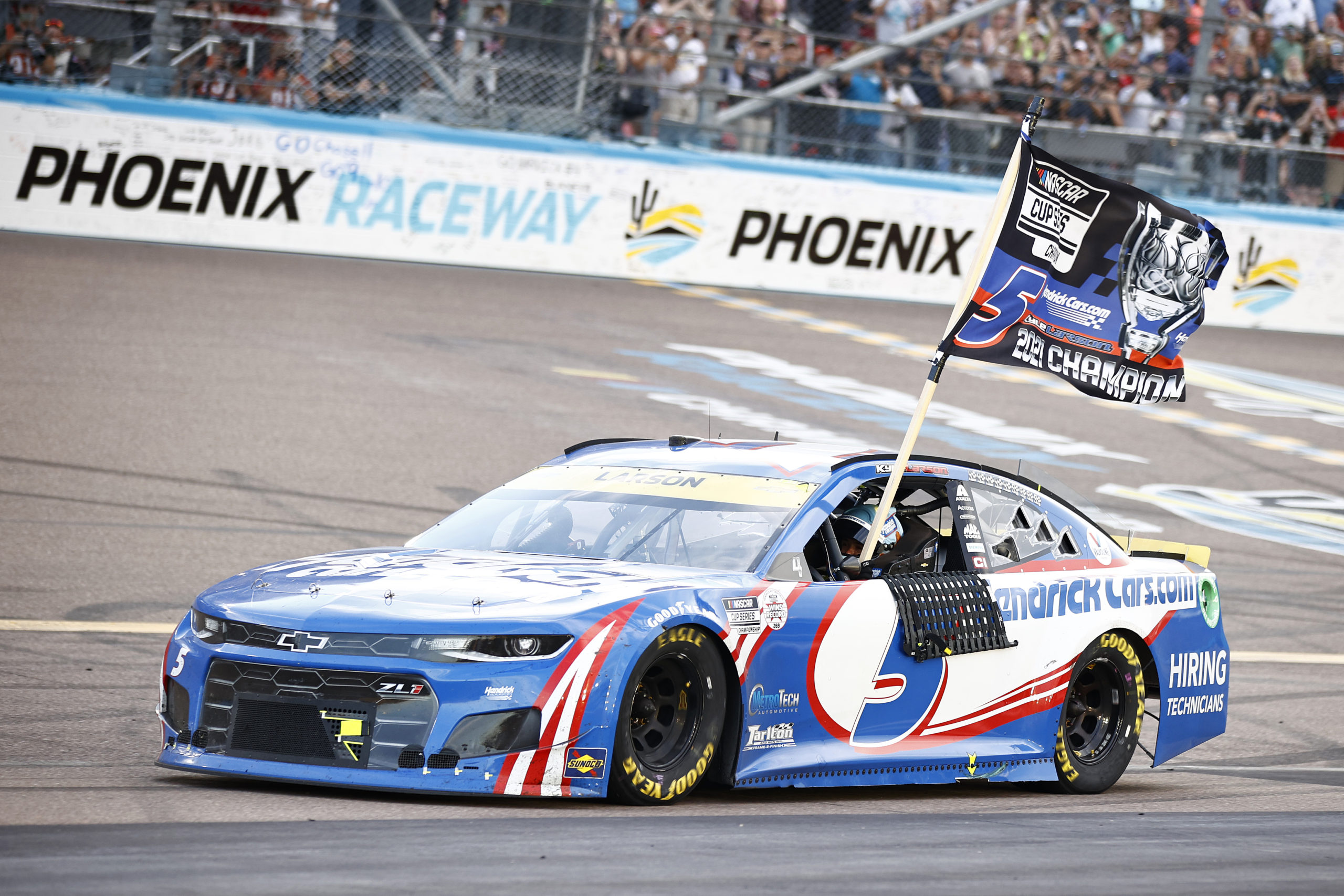 Where Did Larson Fall Short in his Excellent Championship Season?
2021 was by all accounts a historic season for Kyle Larson and the Hendrick Motorsports No. 5 team. 10 victories, the All-Star Race, and the championship are a season-long feat that will not be soon forgotten. However, where could Larson have been even better? The 5 did leave a few wins on the table throughout last season, so let's look back at them.
Daytona Road Course
Late in race two of the year at the Daytona Road Course, Kyle Larson took over second place and was running down leader Joey Logano. This drive to the front would abruptly end though when the 5 went into the turn six tire barriers. If not for this spin, Larson would have been up front late among both Logano and eventual winner Christopher Bell. However, overcooking turn six would result in the 5 finishing a dismal 30th. Larson would more than make up for this mistake later in the season though, with three road course victories.
Homestead
At one of Larson's favorite racetracks, he was up front all day long. At Homestead the 5 was pacing the field with just 60 laps left, but he quickly lost the top spot to Martin Truex Jr. Not long afterwards, teammate William Byron also got by Larson, who would go onto win while the 5 was fourth. At no other racetrack has Larson been so close to the victory so many times, only to come up empty-handed. Come Homestead in October, Larson may just be unbeatable.
Phoenix
The site of his eventual 10th victory of the season and championship win, Kyle Larson was surprisingly close to a Phoenix sweep in 2021. The 5 started from the rear in the spring, which was of little issue. However, Larson also had to battle back from two separate pit road speeding penalties. With the second penalty coming during Stage 2, Larson had to fight and claw for the race's second half. The second penalty was astoundingly close, as the 5 was merely 0.01 mph too fast in one section. After being sent to the rear again, the 5 would come home seventh in the desert. If neither pit road penalty occurs, Larson very well may have swept both Phoenix races for 2021. Larson would inevitably win the season finale at Phoenix, securing his 10th win and the NASCAR Cup Series Championship.
Atlanta
If not for some teammate games played late in Atlanta, Larson would have had an incredibly dominant win. After starting second, Larson would go on to lead an unprecedented 269 laps, sweeping both Stages in the process. However Ryan Blaney trailed Larson late, and the 5 caught Joey Logano, trying to lap the other Penske car. Logano would repeatedly block the 5, trying to allow his teammate to close in for the win. Eventually Blaney found Larson's bumper, and would pass the 5 for the win with just eight laps left. Larson was left to finish second after such an impressive performance, as Blaney took his first win of 2021.
Later in the season, Atlanta would not be a win for Larson, but rather a quiet 18th-place run in July. That day, a similar teammate blocking move gave Kurt Busch the win over his brother Kyle.
Bristol Dirt
When the Bristol Dirt race was first announced, many immediately saw both Kyle Larson and Christopher Bell as heavy pre-race favorites. Both drivers have quite the immense dirt racing background. Subsequently, they both were making up great time in the early laps. However, just after an early restart Bell got loose in turn two. The 20 spun, right into the path of Larson's 5. After tearing through the field early, Larson left Bristol Dirt in 29th place. Had this crash not happened, Larson likely would have been among Logano, Hamlin, Truex, and Suarez late for the win.
Kansas
After starting 32nd it only took Larson 64 laps to find the lead at Kansas. Much like Atlanta, a very dominant day was brewing for the 5, as Larson led 132 laps. The 5 would also finish second and first in both Stages. However, being stuck behind a sliding Ryan Blaney on the last restart forced Larson up into the outside wall. After another strong showing, the 5 limped home damaged to finish 19th.
Kansas in the fall fared much better for the 5, winning the Playoff race with another dominant win. This victory, Larson's third-straight in the Playoffs, came on the 17-year anniversary of the Hendrick Motorsports plane crash tragedy. With heavy hearts, Hendrick put together another impressive win.
Darlington
The week after Kansas, Larson put together another strong showing at Darlington, although he failed to lead a single lap. Rather, it was Martin Truex Jr. having a very dominant day. For much of the day, the 5 was a distant runner-up to the 19. Larson put on quite a show carving his way through lapped traffic trying to catch MTJ, but couldn't close in. Similar to Homestead, Larson has had several Darlington wins get away from him. Come Mother's Day 2022, Larson should be tough to beat again in South Carolina.
Dover
The Monster Mile was another thriller for Larson, as he took both Stages with relative ease. At the end of Stage 1, the 5 had a seven-second lead over the field. Stage 2 would be more of the same for Larson. However, the final cycle of pit stops set the 5 back. Larson exited pit road just behind teammate Alex Bowman. For the closing laps, the 48 was in command of the 5. Bowman took the victory after Larson led 263 of 400 laps. This race marked the first ever 1-2-3-4 sweep for Hendrick Motorsports. In addition, this also tied them with Petty Enterprises for the all-time winningest Cup Series team.
COTA
Even though the day was very wet in COTA, Chase Elliott's fuel tank was quickly running dry in the closing laps. Had rain not ended this race early, the 9 would have had to pit again for fuel. That would have given the lead to Larson, who was a distant 10 seconds back of Elliott. COTA was a third-straight runner-up result for Larson. The 5 led laps on a fuel cycle, but was far short of being out front at the right time. This run of three-straight second places would be followed up by three-straight wins out of Larson at Charlotte, Sonoma, and Nashville.
Pocono
No loss happened in crueler fashion for Larson in 2021 than race one of the Pocono doubleheader. After a spirited battle with Alex Bowman, Larson had the lead late. The 5 was seemingly on cruise control to a fourth-straight victory. That was until turn three on the final lap, when the 5 blew a tire and pounded the outside wall. This allowed Bowman to get by and steal another win, while the destroyed 5 finished ninth.
The next day in the second doubleheader race, Larson would finish second to Kyle Busch after a fuel-mileage race. Both Pocono races were close losses for the 5 team, as his midseason win streak came to an abrupt end.
Indianapolis
In August, Kyle Larson tried to win two major events in the same day. Just hours after being crowned winner of the 60th Annual Knoxville Nationals, Larson raced on the Indianapolis Road Course. This marked another great race for the 5, as he was up front from the start. Much of the race saw the lead swap between Larson and teammate Chase Elliott. Both Hendrick drivers were going for another road course win. However, they would each fall to third and fourth at the finish, as AJ Allmendinger was the big winner.
Michigan
The site of three of Larson's first four career wins, Michigan was another close loss for the 5. Larson led 70 laps from the pole, and looked like his typical dominant self. However, the 5 ran out of fuel coming to pit road, which allowed William Byron to get position on him. Ryan Blaney also capitalized on a late restart to get by the 24, which gave the Penske driver the victory. Larson would come home a very close third behind Blaney and Byron.
Darlington
Race one of the 2021 Playoffs at Darlington came down to a highlight reel finish between Denny Hamlin and Kyle Larson. The Southern 500 was eventually decided on a 'videogame' move. Larson sent it into turn three on the last lap, trying to get by Hamlin. Hamlin moved up just in time to block the 5, and narrowly beat him to the finish. This marathon of a race saw very high attrition from Playoff members. In the end, the two most consistent drivers of 2021 dueled each other for the win. Hamlin finally secured his first victory of 2021, while Larson's car was destroyed after riding the wall to second-place. Larson leaves Darlington finishing second twice in 2021, he will hope to tame this track in 2022.
Las Vegas
A rare missed call by the 5 team cost them dearly in the Las Vegas Playoff race, keeping them from this season sweep. Right at the start of Stage 2, a caution came out and all four Hendrick cars chose not to pit. This would force them all to pit for fuel under green in Stage 2. As a result, they were also set back in traffic for the final Stage. Ultimately, Larson would only rally to finish 10th after leading 95 laps early.
This error in Vegas proved to be of little issue though. Larson won again two weeks later at the Charlotte Roval. That kicked off another run of three-straight victories for the 5, landing them in the Championship 4 at Phoenix. On the last pit stop of the season, it was Larson's pit crew who ultimately won him the championship. A lightning-fast pit stop took him from fourth to the lead.
Kyle Larson's 2021 season will go down in history as one of the most dominant seasons of the modern era. However, it was far from perfect week in and week out. With 10 victories, the 5 team could have easily had ANOTHER 10 wins if strategy or luck had fallen right. Now in title defense mode, it will be very interesting to see if the Hendrick crew can clean up some of these rare mistakes. Perhaps another double-digit wins season awaits Larson in 2022.
Written by Peter Stratta
Be sure to follow us on Twitter
Be sure to follow the writer on Twitter
Photo Credit to Jared C. Tilton/Getty Images for NASCAR