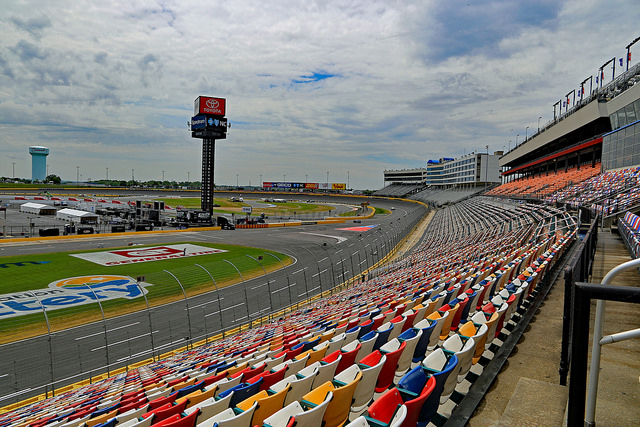 After giving some time for NASCAR fans to calm down over the finish at Chicagoland 1 week ago, it has become apparent that many NASCAR fans don't know what they want. For years now, NASCAR fans have been dying for a truly great race at a 1.5-mile track. It is something that unfortunately doesn't all that often anymore. However, at Chicago that is exactly what the fans got between Kyle Busch and Kyle Larson.
Two of the sport's best going 1-on-1 for the victory, trading paint, and using the bumper. A final lap which Larson put Busch into the wall off of turn 2. He then consequently get a visit from the 18 car's front bumper in turn 3. This resulted in the 42 car pointing towards the infield. Larson, who lost this battle, simply gave a thumbs up to the winner. He would go on to say that he had fun battling it out with Busch. Meanwhile, Kyle Busch was the focus of many fan's booing in his post-race interview. Busch said "If you don't like that then don't even watch," in response to the fan's judgement.
Hypocrisy of NASCAR Fans
Busch's statement post-race holds some weight to it. NASCAR fans genuinely don't know what they want. Fans were able to witness one of the sport's best finishes in the last 5 years. Yet they are still complaining. Why is this though? The obvious answer is that fans still have a deep hatred for Kyle Busch. Busch is a driver who is 6 years removed from his bad boy days. Fans have hatred for a driver that has cleaned up his act and is one of the sport's greats. I'm willing to say that if the roles were reversed, fans would be cheering and shouting 'that's what you deserve.' Or if it was between 2 of the sports rising stars, such as Blaney and Elliott, they instantly would have become fan favorites.
Now you may be thinking to yourself 'I loved the finish it reminded me of NASCAR's golden age.' However, judging from the at-track reaction and NASCAR's social media, you happen to be in the minority. Fans are outraged over Busch apparently dumping Larson with no prior contact. It's obvious Kyle Busch will never be a fan favorite because of wrecking Dale Jr. in 2008. However, last week is a finish fans need to appreciate. In this era, moments like this are very rare. Sadly it is likely that they won't appreciate it. Even though these same people booing now are the ones who cheered Earnhardt after dumping Terry Labonte at Bristol years ago.