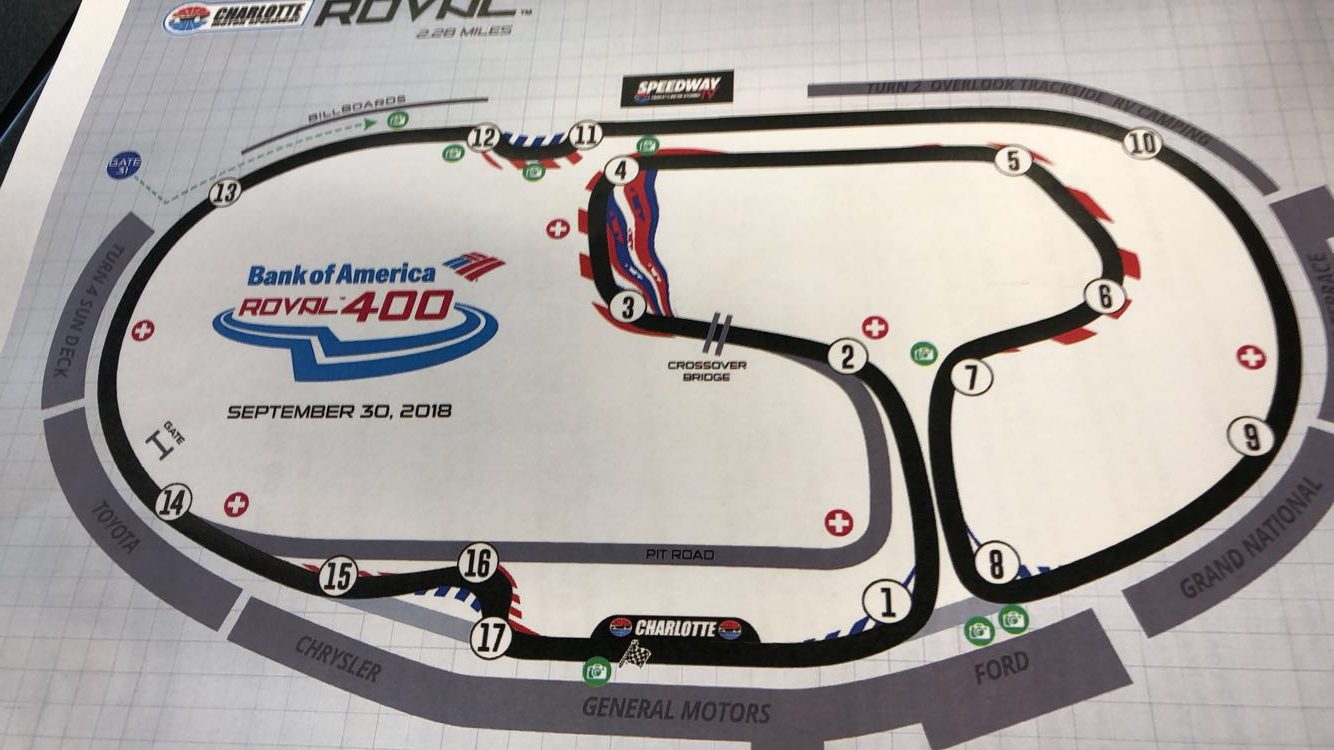 Drivers Test Out New Charlotte Roval Configuration, Lots of Unanswered Questions Remain Before September Race Date
In preparation for September's Playoff race on the new Charlotte Motor Speedway Roval, several drivers were invited to an open test on the new layout. Even with the added track time, many drivers are still unsure of what to expect. 1 thing is certain though, the Charlotte Roval Playoff race will be unlike anything NASCAR has ever seen.
Charlotte Roval Track Description
The latest innovation at Charlotte Motor Speedway is truly a unique venue in stock car racing. This fall's Playoff race will not use  the 1.5 mile oval. Instead, the drivers will have a new challenge with a road course/oval. This course is 2.28 miles in length, using much of the oval as well as a new infield course. The 17 turn monster is sure to be dramatic. This track will host the first elimination race in the 2018 Playoffs.
Released earlier this week, the race distance will be 400 kilometers, or just under 250 miles. This distance will mark the longest road course race in NASCAR Cup Series history. The race sponsor Bank of America will remain, making this the Bank of America Roval 400. The race will be on Sunday, September 30th. TSJSports NASCAR will hopefully be on hand at this race to cover all of the Charlotte Roval action.
The closest parallel to this track is the famed sports car course in Daytona. That track is home to the Rolex 24 Hours sports car race every January. Many NASCAR stars have experience in that race and on that course. Much like the Daytona track, drivers must transition from a relatively flat infield course to a high banked oval. There are also 2 chicanes for passing. However, Charlotte is not a mirror image of Daytona. "Daytona is still a little bit better, bigger, and has more room, Charlotte is pretty narrow," said Kyle Larson.
Why The Charlotte Playoff Race Changed
Fans have been asking NASCAR for a road course race in the Playoffs for years. Road courses over the past 10 years have provided some of the best racing in the sport. The Charlotte Roval is a hybrid between a purpose-built road course and a traditional oval. The challenges of this track are sure to still bring lots of drama early in the Playoffs.
Highlights (And Low lights) of Testing Delay Track Time
As is expected, some drivers had a less-than-pleasing day of testing at the Charlotte Roval. Going into turn 1, Bubba Wallace hit the tire wall with his 43 Chevy. Due to not having a backup car, the day was done early for Richard Petty Motorsports. The day would also be halted when Chase Elliott lost power steering, leaving fluid all over the track.
Drivers were trying to gain every advantage possible on the Charlotte Roval, which forced the track to make some modifications. Many drivers were cutting short the exit on the backstretch chicane. This brought out a 2 hour delay, as tire barriers and more curbs were installed. These changes are meant to keep drivers on the intended racing line.
Driver's Reaction to Charlotte Roval
After taking some test laps, drivers made their opinions known to the media. A general consensus was that this track is unlike any other road course in the sport. The infield sections are very technical and narrow, while the banked oval is very high speed and wide. The Charlotte Roval is certainly a challenge, as none of the 15 drivers who tested this week left overly confident. "We're still trying to figure it out. It's a new track, so we have a lot to learn," said Martin Truex, Jr.
"Through the infield here, we cross existing parking lots and existing road courses. With all of the seams and transitions and the quality of the asphalt from old to new pavement there's just a lot going on underneath you. It's making it a really demanding track. I'm hopeful that it's a very competitive race, one that doesn't have a ton of attrition. But man is it demanding, and I think attrition will be high," said Jimmie Johnson.
Other Drivers Studying Diligently
A couple drivers were on hand as mere spectators, as they had teammates turn laps on the Charlotte Roval. Cup Series rookie Daniel Hemric was keeping a close eye on teammate Ryan Newman. "I'm just taking in everything, trying to take it all in and build a mental notebook for myself. I won't be able to test, so I'll have to lean a lot on the team at RCR," said Hemric. Hemric hopes to make his 2nd career Cup start at the Charlotte Roval. This will be the day after running the Xfinity Series race on the same course. Hemric may be the only driver pulling double-duty on the Charlotte Roval. This is due to the limitations on Cup driver participation in the Xfinity Series.
Stewart-Haas Racing's newest driver, Aric Almirola, was also on hand at Charlotte. Almirola was watching teammates Kevin Harvick and Kurt Busch turn laps. This observation was in anticipation of his turn on the Roval next week. "I'm just trying to get acclimated. I need to understand what the course looks like, and listen to what gears people are in at certain points. This is all just so I have a better understanding when I show back up," said Almirola.
In summation, the Charlotte Roval will be a new twist to the NASCAR Cup Series, and to the Playoffs. Kurt Busch said that his weak points on the course were "the braking zones. We're just trying to see how deep we can go into the corners." When asked if the Charlotte Roval reminds him of either road course at Watkins Glen or Sonoma, Kurt said "This is kind of like a street fight out here, it's more like a street course."
Testing Will Continue on the Roval
Next week will see the other half of the Monster Energy NASCAR Cup Series field test out the Charlotte Roval. Highlighting this list are Kyle Busch, AJ Allmendinger, and Daytona winner Erik Jones.
Greater Anticipation for September Race
After the test session, the drivers still have a collective uneasiness about this race. September is sure to be a dramatic month for NASCAR, as the Playoffs kick off in Las Vegas. Round 1 of the 10 week marathon is sure to be even crazier. The Charlotte Roval will serve as the elimination race. Tickets are still available to reserve your seat for the first road course race in the NASCAR Playoffs, as Charlotte will certainly be unpredictable.