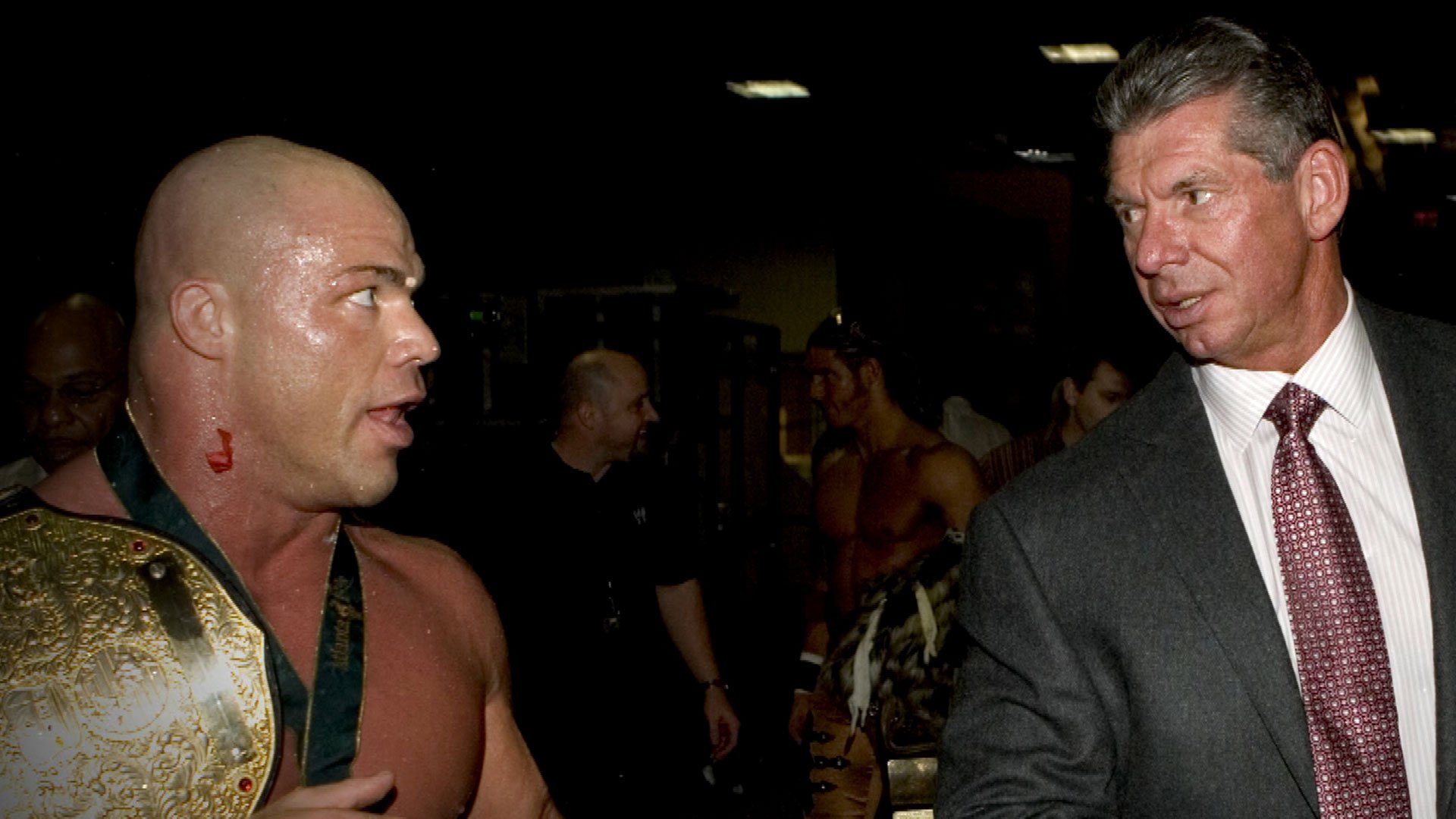 WWE 2K Story – Chapter Eight, Finale: Survival of the Fittest
Click here to read WWE 2K Story – Chapter Eight, Part Four.
Click here to start from the beginning
Survivor Series
Vince McMahon is in the ring with daughter Stephanie, as he introduces the man who will lead Team McMahon in tonight's main event, Randy Orton! Randy Orton comes to the ring and shakes both of their hands, but before he can talk Jinder Mahal storms out. While he is approaching the ring, Jinder complains that he should be leading the team tonight, still showing signs of losing control like earlier in the year. Vince tells Jinder to calm down. Jinder is suddenly attacked by Kurt Angle from behind. Orton goes to attack Kurt, but Vince holds him off.
Angle grabs Jinder's microphone and tells Jinder he'll get more of that later tonight, because Angle is officially entering himself into the 8-Man Elimination Tag Team Match, taking Randy Orton's spot. Kurt tells Randy he has no idea why he turned his back on everyone, but tonight he will regret it and that it's true, its damn true! Kurt heads to the back as the ring announcers say a total of 12 matches are scheduled for tonight, with an impromptu 13th 'overtime' match if there's a tiebreaker.
FATAL-4-WAY FALLS COUNT ANYWHERE MATCH – WWE Hardcore Championship
(C) Mankind vs. WWE European Champion Rusev vs. Killian Dain vs. Apollo Crews
Objective: Win with Apollo Crews
Team WWE: 1 Team McMahon: 0
John Cena and Nikki Bella are in their locker room. John says Randy has always been a snake, and that he should've never trusted him. Cena leaves to get ready for his match later tonight and wishes his fiancé luck. Nikki is approached by her sister Brie Bella, who came to support Nikki but reveals Daniel Bryan is at home with the baby. Nikki hugs her sister and thanks her for coming, as Brie reveals she'll be watching backstage during her match tonight.
WWE Smackdown Women's Champion Charlotte is changing in her locker room, as Stephanie enters with Jacqueline and Ivory in front of her for protection. Charlotte wants to slug Stephanie, but Stephanie advises against it as her boss. Stephanie came to apologize, not knowing Ric would step in front of Ember Moon. Charlotte says Stephanie will pay for what she did, but Stephanie says Charlotte is overreacting as her present-day father is alive and well. Charlotte slaps Stephanie in the face then leaves, as Stephanie asks Ivory and Jacqueline why they allowed Charlotte to slap her?
8-MAN LAST MAN STANDING ELIMINATION TAG TEAM MATCH
The Fashion Police, Titus O'Neill & Darren Young vs. WWE Raw Tag Team Champion The Club & The Bar
Objective: Win with The Club & The Bar
Team WWE: 1 Team McMahon: 1
TWO-OUT-OF-THREE FALLS 6-MAN TAG TEAM MATCH
The New Day vs. The Wyatt Family
Objective: Win with The Wyatt Family
Team WWE: 1 Team McMahon: 2
Stephanie enters Vince's office with Ivory & Jacqueline. Vince is going over something on his cell phone with Jinder Mahal. Stephanie asks to interrupt, but both Jinder and Vince send her away. Stephanie leaves as Vince tells Jinder that their plan is in place, should Vince lose his timeshares tonight. Suddenly, a beam of light drills Ivory and Jacqueline as they are sucked into it. Jinder and Vince quickly turn to see Stephanie with Shango's hat.
Stephanie says failure is unacceptable when it's 'all you do' (referring to Ivory & Jacqueline). Stephanie asks what plan Jinder and Vince have, but Vince says that it's nothing to worry about. She mentions that it would be a shame to have to use the time portal on her own family, again. She leaves as Vince and Jinder look at one another with worry, but Vince tells Jinder Stephanie would never use the portal on him.
4-MAN ELIMINATION TAG TEAM MATCH
Finn Balor & Samoa Joe vs. WWE Intercontinental Champion Bobby Roode & WWE Undisputed Champion The Miz
Objective: Win with Bobby Roode & The Miz
Team WWE: 1 Team McMahon: 3
After, Finn extends his hand to Joe. Joe looks at it, laughs, then goes forehead-to-forehead with Finn. The two argue over the match as Curtis Axel and Bo Dallas tend to The Miz. Joe and Finn see this and begin to take their frustrations out on Axel & Dallas. Joe puts Dallas to sleep while Finn hits a Coup de Grace onto Axel.
WWE Smackdown Tag Team Champion Kane & Undertaker approach WWE Smackdown Women's Champion Charlotte. Kane apologizes for Charlotte's loss, saying he felt empty when his father Paul Bearer died. Undertaker tells Charlotte that since Papa Shango is not in JBL's limo, to be careful. Charlotte says she's not careful, she's pissed off.
Charlotte walks off as Kane & Undertaker believe she can take care of herself for the night. Kane & Undertaker say Shango has many WWE items with voodoo curses attached. They mention his skull that puts people to sleep, his top hat that is a time portal (that Stephanie currently possesses), his invisible cloak and his cane that can control other items like telekinesis. Undertaker tells Kane they need to warn everybody about Shango's powers and the fact he is loose.
8-WOMAN ELIMINATION TAG TEAM MATCH
WWE Divas Champion Paige, Natalya, Sasha Banks & Emma vs. Nikki Bella, Bayley, Naomi & Becky Lynch
Objective: Win with Paige, Natalya, Sasha Banks & Emma
Team WWE: 1 Team McMahon: 4
Vince enters Shane's office and begins to brag about his team running away with tonight. Vince says it's just like Hell in a Cell all over again. Shane tells Vince that he'll run this company into the dirt, which Vince says 'maybe.' He claims there is no greater power than what Papa Shango can offer and tells Shane he should be by his side instead of against him. Shane says he would rather go down fighting with the WWE. Vince tells Shane he just might, and walks off confidently.
8-MAN ELIMINATION TAG TEAM MATCH
NXT Tag Team Champion The Authors of Pain & Sanity (Eric Young & Alexander Wolfe) vs. TM61, Kassius Ohno & Roderick Strong
Objective: Win with A.O.P. & Sanity
Team WWE: 1 Team McMahon: 5
Renee Young is backstage interviewing NXT & WWE Cruiserweight Champion Hideo Itami. Renee tells Itami that he can seal, at the worst, an overtime match against Team WWE with a win in his next match. Itami realizes this and says he is not worried. Hideo claims to be the greatest warrior within WWE history, which includes Ultimate Warrior. Itami says winning tonight will be easy, and that he will be responsible for Team McMahon winning tonight.
From the Land of the Rising Sun
Asuka interrupts as the two greet each other with respect. In Japanese, they talk. Asuka tells Itami he has chosen an unwise path, but Itami argues that the path he has chosen is one of a true fighter and survivor. Asuka agrees but says the nobility of a warrior is just as important as fighting skills, which she claims Itami is not. Hideo becomes angry and gets in Asuka's face.
He asks point-blank in English if Asuka thinks he is noble? She reveals she does not. Asuka says she knows someone who is coming to take the NXT Championship from him and bring nobility back to their respected country of Japan. Going back to Japanese, Itami asks who else from Japan she thinks can defeat him? Asuka claims Itami should know, as she personally asked 'him' to come to WWE to help fight with her. Itami says, 'it's not… is it?' Asuka smiles and leaves as Itami looks concerned for a change, before leaving for his match.
8-MAN ELIMINATION BATTLE ROYAL – WWE Cruiserweight Championship
(C) Hideo Itami vs. TJP vs. The Brian Kendrick vs. Akira Tozawa vs. Johnny Gargano vs. Tommaso Ciampa vs. Neville vs. WWE Light Heavyweight Champion Tyson Kidd
Objective: Win with Neville, pinning or submitting Itami last
Team WWE: 2 Team McMahon: 5
Itami is livid he lost his belt and goes after Neville. Suddenly, Shinsuke Nakamura's music hits! Nakamura comes out on stage as Itami looks like he's seen a ghost! Nakamura weirdly makes his way to the ring as a loud 'holy s***' chant fires in the arena. Shinsuke enters the ring, as Itami goes after him immediately. Nakamura reverses every strike Itami throws and kicks him right in the face. Itami rolls out of the ring as Nakamura signals 'bring it' to Itami. Hideo doesn't want to, but Neville throws him into the ring. Nakamura hits the Kinshasa onto Itami as the arena goes ballistic.
LADDER MATCH – NXT Women's Championship
(C) Nikki Cross vs. Ember Moon
Objective: Win with Ember Moon
Team WWE: 3 Team McMahon: 5
6-MAN ELIMINATION TAG TEAM MATCH
Braun Strowman, WWE Smackdown Tag Team Champion Kane '98 & Undertaker '98 vs. Andre the Giant, Diesel & JBL
Objective: Win with Strowman, Kane & Undertaker
Team WWE: 4 Team McMahon: 5
Papa Shango appears on the big screen after the match, claiming he hijacked the airwaves with a voodoo curse similar to the one he gave Bray's lantern. He laughs because he says despite WWE's best attempts to stop him, Shango is too powerful. Shango claims it doesn't matter if WWE wins tonight because Shango doesn't answer to Vince. He says he answers only to himself, and he desires to be free within the WWE and the true ruler of its universe. Shango laughs more and tells Kane he misplaced something, pulling out Undertaker's Urn. Shango begins laughing loudly as Kane and Undertaker dart out of the ring to go find Shango.
NORMAL MATCH
John Cena vs. Dolph Ziggler
Objective: Win with Dolph Ziggler
Team WWE: 4 Team McMahon: 6
Renee Young is interviewing WWE Smackdown Women's Champion Charlotte backstage. Charlotte says that Team WWE is going to make a great comeback and that she and Asuka will jumpstart it. She says Stephanie and the McMahons made a big mistake to cross the Flairs and they will pay. Charlotte leaves confidently.
4-WOMAN ELIMINATION TAG TEAM MATCH
WWE Smackdown Women's Champion Charlotte Flair & Asuka vs. WWE Raw Women's Champion Trish Stratus & Alexa Bliss
Objective: Win with Charlotte Flair & Asuka
Team WWE: 5 Team McMahon: 6
WWE Universal Champion AJ Styles is in the locker room with WWE Raw Tag Team Champion The Club. He is approached by Vince who asks where AJ is going? AJ says he's leaving, and as champion, he wants first-class plane tickets next time they travel. Vince tells AJ he is going nowhere, because if WWE wins the next match then AJ is who Vince picks to fight in overtime. AJ laughs and says as champion he can fight who he wants and when he wants. Vince says as current majority shareholder and owner of the WWE, he gets to tell AJ that he must stay and fight. He smiles and pats AJ hard on the shoulder, telling him it could all ride on the Phenomenal One. Vince exits as AJ doesn't look happy.
8-MAN ELIMINATION TAG TEAM MATCH
Dean Ambrose, Roman Reigns, Seth Rollins & Kurt Angle vs. WWE Champion Kevin Owens, WWE United States Champion Sami Zayn, Randy Orton & Jinder Mahal
Objective: Win with Ambrose, Reigns, Rollins & Angle
Team WWE: 6 Team McMahon: 6
Vince comes out on stage, asking Shane to come out as well. Shane does as Vince says they have a tiebreaker, and that Vince is going to send out the WWE Universal Champion AJ Styles. Suddenly, Stone Cold's music hits! The Rattlesnake is back and he heads to the ring! Vince is in shock as the arena goes crazy!
Austin says he is back and representing Team WWE in the tiebreaker, revealing he had to escape the Wyatt Family Compound. Stone Cold claims he is pissed off and tells AJ to get his ass down to the ring so he can kick it. AJ's music hits as Shane says that since this could be his last moment with power, it will be a title match! Vince and AJ are livid, but there's nothing they can do.
NORMAL MATCH – WWE Universal Championship (turn entrance OFF)
(C) AJ Styles vs. Stone Cold Steve Austin
Objective: Win with Stone Cold
Team WWE: 7 Team McMahon: 6 – F/OT
Austin wins as he's the new champion and Vince must give all his timeshares to Shane! The entire WWE locker room comes out to celebrate. Vince is in shock at ringside. Suddenly, the lights go out and turn back on as Papa Shango is standing on top of the announcer's table located next to the stage. Shango is surrounded by JBL, Diesel, Sanity and many others that represent Team McMahon. The lights go out again and turn back on as Bray Wyatt is in the middle of the ring with Undertaker's Urn.
Bray laughs that Austin was able to escape their compound, but claims it to be foolish. Wyatt then opens the urn but turns it upside down. The ring slowly begins to suck into the urn like a milkshake through a straw. The lights go out and turn back on as Bray is gone. Shango, using his cane, begins to manipulate Undertaker's Urn by slowly turning it into circles while speeding up the pace. The middle of the ring has become a Maelstrom-like time portal, with Shango turning the circles faster and faster.
The Maelstrom's Victims
The Maelstrom picks up speed and begins sucking superstars into it! The Shield go after Shango as Cena and others try to save people from being sucked through! Noam Dar, Alicia Fox, Emma, Akira Tozawa, Darren Young, Titus O'Neil, Gran Metalik, Jack Gallagher, The Hype Bros, Rich Swann, Curt Hawkins, and Bo Dallas get sucked through the ring Maelstrom! Lana tries to hold onto her husband's leg, but let's go as she is sucked into the Maelstrom as well! Bobby Heenan is hanging on to Andre the Giant, but Heenan's hand slips as he too is sucked through to Andre's fright.
JBL, Diesel, and Sanity fight The Shield back towards the ring. Sanity is trying to push Roman Reigns into the ring, but Strowman picks up both Wolfe & Dain and tosses them in! Strowman then tosses Eric Young in, who screams in his patent voice as he goes down the Maelstrom. Nikki Cross just decides to jump in after her faction. Dean & Seth are able to fight off Diesel & JBL, tossing them each into the Maelstrom as well. Nikki Bella screams as she sees her sister Brie holding onto one of the turnbuckles. John Cena sees this and reaches out to Brie but she lets go just as John gets there, being sucked into the Maelstrom!
Closing the Maelstrom
A laser beam fires at Papa Shango, which startles he and the ring commentators, as Shango falls off the commentary table and into a coffin that Undertaker has waiting. Undertaker locks the coffin, while Kane closes the urn and stops the maelstrom. The camera pans to show that the laser came from The New Day's Unicorn Horns, with the faction on stage.
Cena, The Shield, The New Day and many others try to escort people into the back locker room as Vince looks at the chaos he ultimately created. Shane tells Vince that on Monday night, he expects the contract for his timeshares to be finalized so that this finally ends. Shane leaves to continue with helping others as Vince looks on in disbelief.
Meanwhile…
Stephanie is watching everything backstage. Talking to somebody off-screen, Stephanie says her father is very predictable and it's a good thing they planned everything from the start. Stephanie says that's why she fell in love with whoever she is speaking to.
Click here to proceed with the story.
Follow our YouTube channel to watch all the matches!
Photo Credit: WWE via WWE.com