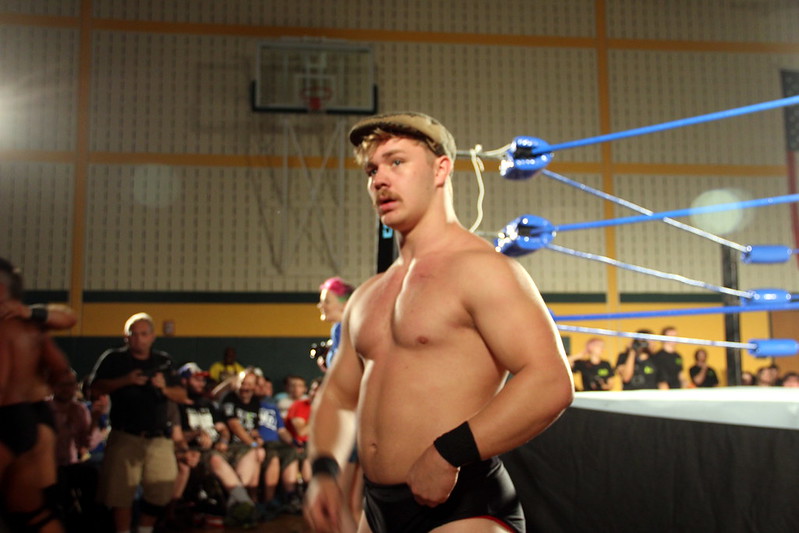 #SpeakingOut Takes Wrestling Social Media By Storm
#SpeakingOut is the latest trending hashtag to take Twitter by storm. But, it's not for some new awesome product or for some TV show campaign; it's the latest hashtag bringing attention to sexual harassment and assault allegations. All pertaining to the pro wrestling community.
Several notable names that span the rosters of WWE, NWA, New Japan, and the like have been brought up; the victims ranging from women who are fans to female wrestlers alike.
Names like Jordan Devlin of NXT and NWA Vice-President Dave Lagana have been implicated. Lagana was accused by a woman who goes by the name of "Liz Savage" on Twitter. She wrote the following:
"After being friends with David Lagana for four years he sexually assaulted me. I moved to LA after two years of him asking me to come out. He told me I was a real friend to him as I had been there for him when he was at his lowest, he wanted to bring me out to LA for work.

He was back and forth between companies (ROH and TNA) at the time (2010) but told me if I came to LA he would put me on NWA Hollywood and he needed someone to help him make the wrestling promotion agency he wanted to run a reality. I could even stay with him until I got my place and he'd show me around. None of this happened except the moving part."
Wrestlers and Promotions Chime In
As the allegations were filling our screens, wrestlers and companies alike left their thoughts, and some sharing their experiences with the rest of the world.
#itstime https://t.co/G3Rtr9oJWo

— Viper-Piper Niven (@viperpiperniven) June 18, 2020
From Piper Niven to Millie Mckenzie, many women shared their experiences and did not hold back.
Very scary doing this. But I don't want anyone else to have to go through what I did.
Things need to change. #SpeakingOut
Things didn't end with Jake. I began training under Travis Banks. When I was 17, we had a secret one year relationship in which he wouldn't speak to….

— Millie Mckenzie ミリー・マッケンジー (@MillieMcKenzie0) June 18, 2020
This is the scariest thing I have ever done. #SpeakingOut (1/2) pic.twitter.com/wd0nhktyhw

— Calypso Sage (@LeGingerNinjer) June 19, 2020
Pursuant to allegations made by pro wrestler Liz Savage on her Twitter account, 6/18/2020, NWA VP David Lagana has resigned his position, effective immediately. As well all production of NWA content is temporarily halted, pending a restructuring of executive management positions.

— NWA (@nwa) June 19, 2020
WWE's Reaction to the allegations
Several WWE superstars have expressed their thoughts about the allegations that were brought up. Many offering support for those who made the allegations, whether they were members of the WWE roster or not.
WWE issued a statement after allegations were brought up against the aforementioned Devlin, Joe Coffey, Tyler Bate, and Travis Banks. In their statement, WWE said:
"We take any allegation of this nature very seriously and are looking into the matter. Individuals are responsible for their own personal actions. WWE has zero tolerance for matters involving domestic violence, child abuse, and sexual assault. Upon arrest for such misconduct, a WWE talent will be immediately suspended. Upon conviction for such misconduct, a WWE talent will be immediately terminated.

WWE's ability to fine, suspend or terminate a WWE talent will not be, however, limited or compromised in any manner in the event incontrovertible evidence of such illegal misconduct is presented to WWE."
The superstars who spoke out expressed disgust that such illegal activities took place while offering their support for anyone who felt that they couldn't speak out on their own.
Performers from Tucker to Big E to Pete Dunne have left their messages on the matter.
Sorry I've not been very vocal today. This is a hard one. To everyone #SpeakingOut I'm proud of you and I love you ❤

— KayLeeRay🤓ケイ・リー・レイ (@Kay_Lee_Ray) June 18, 2020
The things I have read today have made me sick to my stomach.

To anyone Speaking Out I'm sorry you had to go through these things, thank you for your courage.

To my colleagues, if you ever need a confidant at work it would be my honor.

Sex abuse needs to end.#SpeakingOut

— TUCKy (@tuckerwwe) June 19, 2020
*sigh*
.
Wrestling world….
.
We absolutely MUST do better. Period.
.
We have enough trash going on in the world right now.

— Hopeful Lee (@RealKeithLee) June 19, 2020
I pray our industry is swiftly rid of all these predators & abusers. To everyone brave enough to tell their story, I'm so sorry you had to endure this. #SpeakingOut

— Florida Man (@WWEBigE) June 18, 2020
Imagine wrestling without all of the amazing and talented women brave enough to try. We hear you, we see you, we love you, and we are here for you. When comfortable and on your own time, please keep #SpeakingOut You are helping to change the world 🖤

— LIV Morgan (@YaOnlyLivvOnce) June 19, 2020
I'm disgusted by what I'm reading.

Well done to those speaking out. I really hope we can make British wrestling a better place and keep everyone safe.

This is a huge eye opener and let's hope it will force a big change.

— Pete Dunne (@PeteDunneYxB) June 18, 2020
We here at TSJ hope that those who were assaulted get justice and can move on from their harrowing experiences.
Written by Gregory Black
Photo credit: John Jewell, via Flickr
Follow Greg and our Wrestling News Twitter