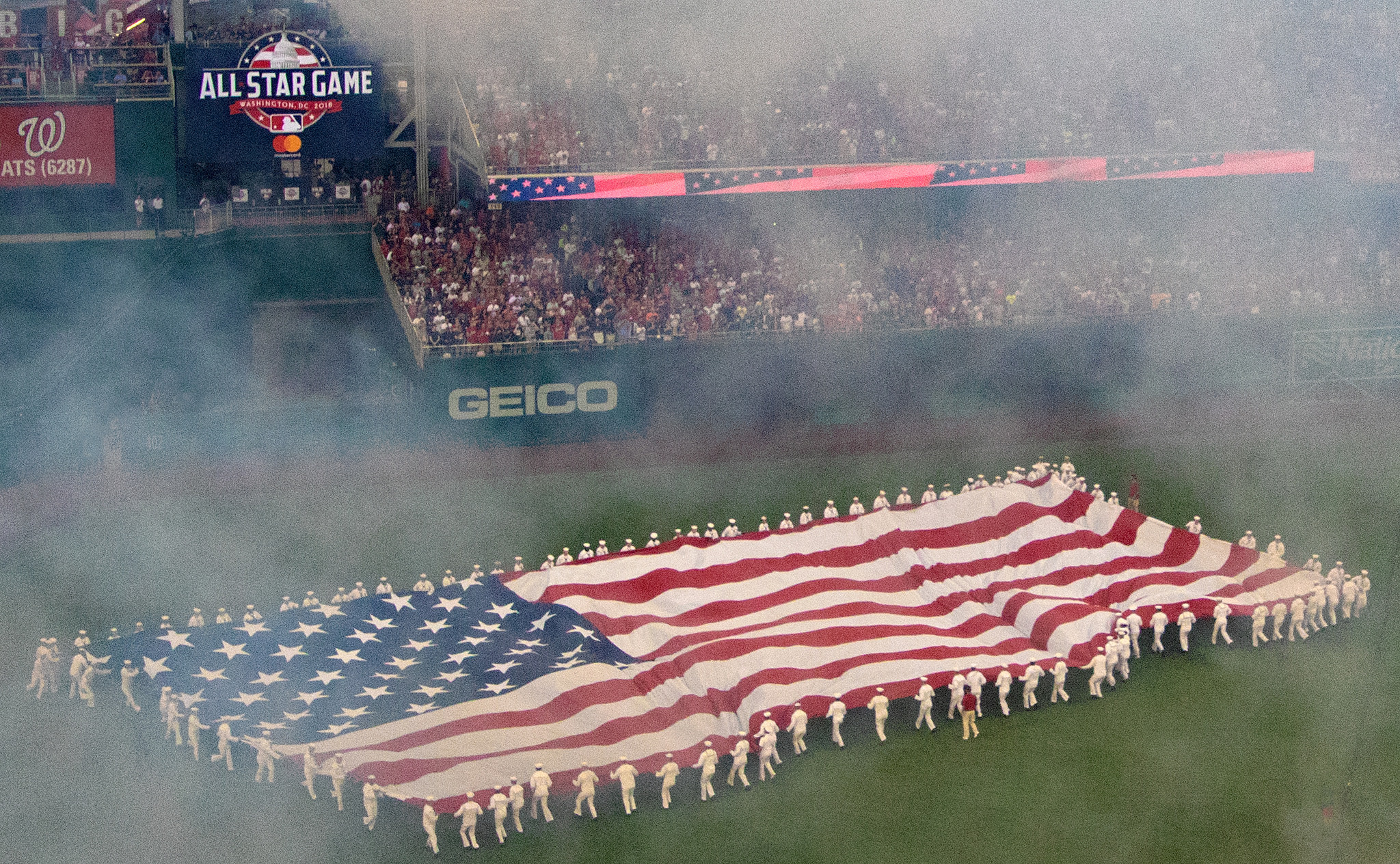 AL Tops NL In 10 Innings To Win The 89th MLB All Star Game
The 89th MLB All Star Game just ended and boy did it not disappoint.  It had it all.  Pitching, defense, the ball lew around the yard, especially in the last few innings, and a lot more.  In this article, I will give my thoughts and give an inning by inning recap of the game.  Enjoy!
1st Inning
The game's pitching matchup was Max Scherzer vs Chris Sale.  The A.L. lead off with two strikeouts by Betts and Altuve, but a Mike Trout walk and a J.D. Martinez single brought Jose Ramirez to the plate.  He ends up popping out harmlessly so no runs.  In the Innings bottom half, Javi Baez lead off with a base hit, but Arenado, Goldschmidt, or Freeman couldn't do anything with it.
2nd Inning
With Max Scherzer still on the mound for a second inning, Aaron Judge leads off.  He takes an absolute meatball and blasts it to deep left for a 1-0 A.L. lead.  It was quick work after that however as Machado (now a Dodger), Abreu, and Perez went 1-2-3.  In the Bottom half, Luis Severino gives up a double to Matt Kemp, but then goes 1-2-3 after that.
3rd Inning
The inning starts with deGrom getting two straight outs, but Mike Trout isn't going 1-2-3.  He takes deGrom's curve ball into the bullpen to give the A.L. a quick 2-0 lead.  However, in the 1st pitch in the bottom half of the inning, Blake Snell gives Wilson Contreras a fastball that he hammers and the N.L. gets that run right back.  So after three innings, it's 2-1 A.L.
4th Inning
Mike Foltynewicz comes in for the N.L. and has a harmless inning.  The same thing happens to Blake Snell in the bottom half.
5th Inning
Aaron Nola of the Phillies comes on in the 5th and gets two quick outs, but then Altuve singles.  It is quickly met by a Trout pop up.  Jose Berrios of the Twins comes in for the A.L. and also has a quick inning.
Note: this is when A.J. Hinch and Dave Roberts bring in completely new players to get everyone playing time.
6th Inning
Nelson Cruz is quickly walked by Jeremy Jefferies, but after Alex Bregman grounds into a fielder's choice, Judge and Lindor both fly out.  In the bottom half, Blake Treinen has an extremely quick 1-2-3 inning.
 7th Inning
So we have gone a while with the all star game still 2-1.  Mitch Moreland is struck out by Felipe Vasquez, and Yan Gomes grounds out, but after a bloop Michael Brantley single and a Jed Lowrie walk, it is a clutch at bat for Mitch Haniger.  He sadly pops out keeping it a one-run game.  Lorenzo Cain starts off the Bottom half with a fly out, but next at bat, Trevor Story ropes a line drive down the line to tie up this game at 2-2.
8th Inning
This is where things get insane.  Josh Hader is on and Shin Soo-Choo gets a single.  after a Bregman single, George Springer singles.  With one out, the batter is Jean Segura.  He drives one off Hader and it is also in the bullpen, and this is a three-run ballgame.  5-2 A.L.  The N.L. did strike back as Christian Yelich gets one back with a solo shot of his own.
9th Inning
So the A.L. has a two run lead they need to protect.  The can't get any insurance runs as Ross Stripling closes the door.  So its up to Edwin Diaz to close it out.  He gets Story to strike out, but then he gives J.T. Realmuto a five pitch walk.  SO now its up to Scooter Gennnett in his first at bat.  He gets a pitch to handle and lifts a line drive and it's over the wall in right and just when the A.L. thought it over, we are going to extra innings.
10th Inning
Ross Stripling is still out on the mound, and he is facing Alex Bregman.  Without even waiting, Bregman lifts the first pitch in the bullpen and now its a 6-5 A.L. lead.  So I look away for just one second, and then I see another ball off the bat of George Springer and the Astros kill the Dodgers again as its now 7-5.  The pain then got worse as back to back singles by Segura and Brantley brought up Yan Gomes.  He gets a Sac-Fly to leaf as Segura scores and it is now 8-5 A.L.  But if you thought the game was over there, think again.  Joey Votto, first pitch, hits a bomb off JA Happ to right and now it's only a two run game at 8-6.  Christian Yelich however takes the momentum out and strikes out.  Blackmon doesn't do any better as he grounds out, so now it's up to Lorenzo Cain.  He lifts a bloop into right, Haniger catches and the A.L. wins the 89th All Star Game.
Conclusion
This honestly is the best All Star Game that I have seen.  Even though last year's game went to 10 innings, this one felt more exciting.  It felt like both teams gave it their all and battled.  There were 10 home runs, five each side, and this game was great.  Alex Bregman was named the All Star Game MVP for the home run he hit in the 10th inning.