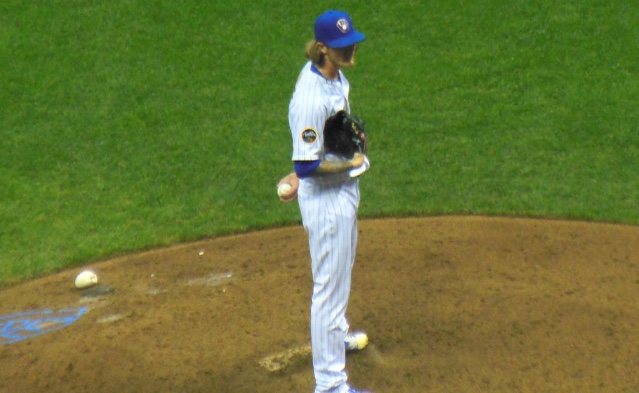 Brewers All-Star Josh Hader's Past Catches Up To Him
Last night in DC, Brewers All-Star Josh Hader focused on pitching in his first All-Star Game. Twitter, however, blew up about a rash of tweets the young pitcher had put out in high school.
Josh Hader Finds Out
Hader knew nothing about the incident until he returned to the dugout. He had been removed from the game in the 8th inning for Brad Hand. He had given up the then-game-winning home run to Mariners' Final Vote winner Jean Segura. Hader pitched only ⅓ of an inning for Dave Roberts' National League team before being taken out of the game. When he returned to the dugout after his disappointing outing, his phone was "blowing up". That was how he found out about the news.
The Details
What was the news? Somehow old tweets of Hader's from high school had been found and released. These tweets were racist and homophobic, and some were misogynistic in nature. Brewers All-Star Josh Hader has since made his account private and they are no longer available. However, they were bad enough that his family reacted immediately. Several members of his family, sitting in the stands wearing his All-Star jersey, traded these jerseys for ones that did not have a name on the back. Perhaps it was out of embarrassment; perhaps they just didn't want to be associated with Hader in the immediate aftermath. They had not yet had a chance to process what was going on. The backlash has certainly been strong. Dealing with that in the middle of a large crowd of people would have been very difficult. I can't blame them for their choice.
Moving Forward
It's impossible to say what either the MLB or the Brewers will do moving forward from this incident. The tweets were mostly from 2011, when Hader was in high school and before his MLB career began. There is at least one, however, from 2016, related to the shooting of Trayvon Martin. This timeline makes any disciplinary action by the league or team difficult. Considering Nationals' Daniel Murphy is allowed to run his homophobic mouth without any apparent consequences, discipline from the league could be seen as unfair. Last year, Blue Jays' Kevin Pillar received a 2-game suspension for a homophobic comment on the field, so anything more than that would be seen as excessive.
The Brewers currently hold the first NL Wild Card spot, and Hader is a big part of that. If the team has any sort of moral compass they may try to trade Hader, but it's more likely he will finish the season in Milwaukee. Lorenzo Cain has spoken out in support of Brewers All-Star Josh Hader. He says that everyone does stupid stuff when they're young and he's sure Hader has moved on from that. Can people really change? I like to think so, but I'm Canadian so that might just be me being nice. Hader is certainly talking the talk, but he's going to be required to toe the line pretty closely moving forward if he wants to get over this.
Post-All-Star Break
The Brewers come off the break a game ahead of Atlanta in the Wild Card race having lost 8 of their last 10 games. They travel to Los Angeles to face the red-hot Dodgers in a 3 game series at Chavez Ravine before facing the Nationals at Nats Park for 3. When they return home they will face San Francisco for 4 before welcoming the Dodgers for 3.
Written by Susannah Schmidt
Follow us on Twitter @T101Sports and @T101SportsMLB
Follow me on Twitter @SusannahElyse