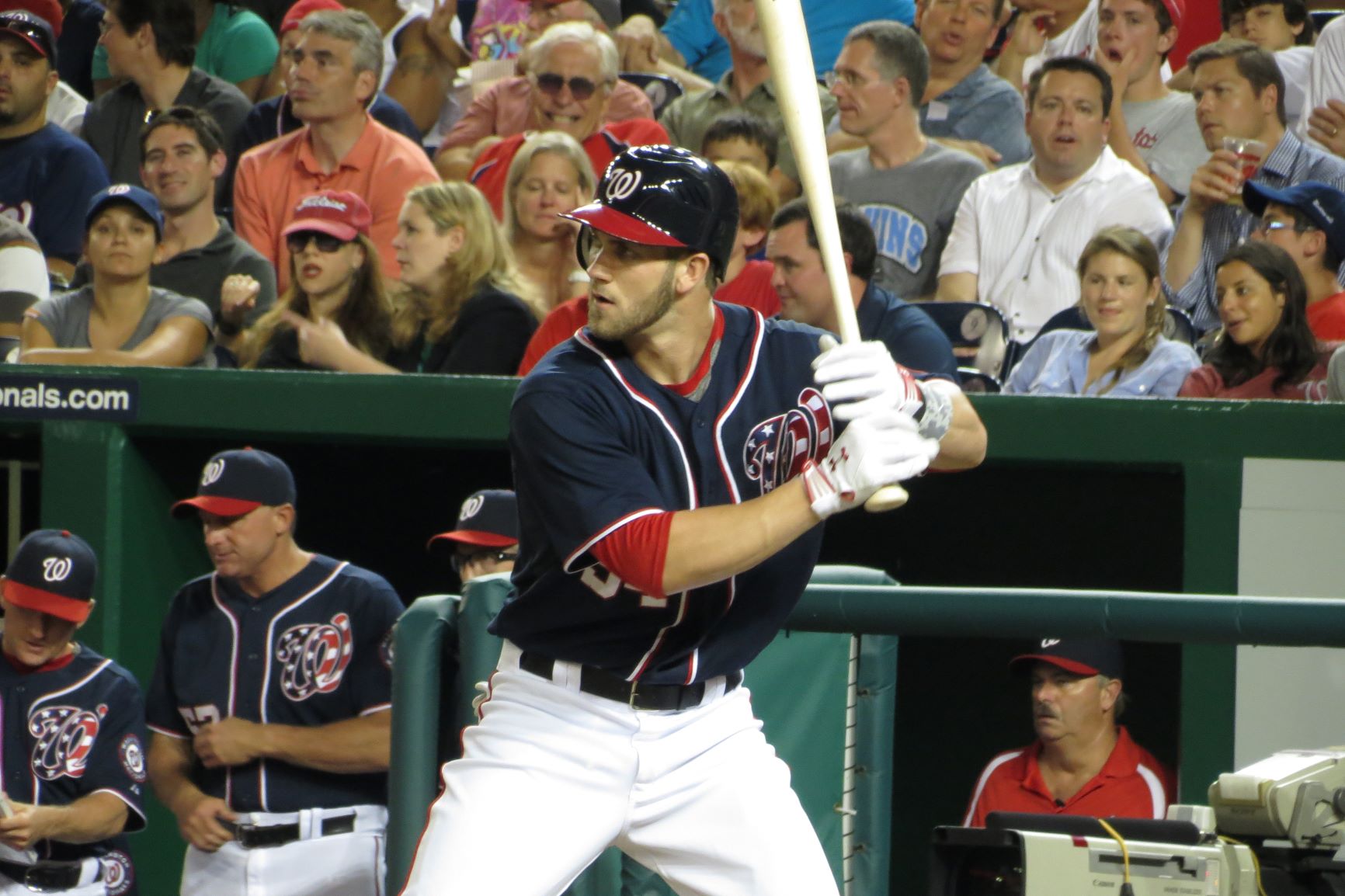 Bryce Harper Dropped Bombs To Win The Home Run Derby
Well, Bryce Harper dropped bombs to win the Home Run Derby, as predicted by the Vegas oddsmakers. Harper definitely had all the fans on their feet from the beginning and gave them the fairytale ending that they were so longing for. Let's review how the hometown favorite got to be champion and who he had to overcome to do so.
Round 1-First Two Matchups
Round 1 of the Home Run Derby started out with a big upset in the first matchup. Phillies eight seed Rhys Hoskins defeated Brewers one seed Jesus Aguilar 17 home runs to 12. Besides Harper, Aguilar was a huge favorite to win, so not getting out of the first round was a bit of a surprise for the one seed. One can't take anything away from Hoskins though. Rhys put on a show and although he didn't qualify for bonus time, he did crush a 463ft bomb.
The next matchup of the first round was five seed Cub Kyle Schwarber against the only American League representative in the derby, Astros third baseman Alex Bregman. This matchup went down to the wire and had many on the edge of their seats. However, it ended with Bregman lining out to the wall to just fall short of Schwarber in the 16-15 loss.
Round 1- Second Two Matchups
The third matchup of the night was between another Cubs representative, six seed Javy Baez, and three seed Max Muncy. Baez set the tone early and was crushing the ball as he easily earned his 30-second bonus to get him to 16 dingers. However, that wasn't enough to top Los Angeles Dodgers' Max Muncy and his "Muncy Mash"! Muncy drilled an impressive 17 bombs with 35 seconds left and no bonus time. On a side note, to the casual fan, Muncy was probably the least well-known guy in the derby, actually having been let go by the A's last season and starting in the Dodgers' minor league system for the first few weeks of this season. However, he now leads the Dodgers with 22 home runs and has an obscene 1.013 OPS.
The last matchup to close out the first round was seven seed Brave Freddie Freeman against hometown favorite and two seed Bryce Harper. Freeman was the only player to get booed at the derby, yet was a good sport and laughed it off. Freeman, who hasn't hit a batting practice home run in over three years, was able to belt 12 homers. However, 12 was not enough to best Nationals star Bryce Harper, who stopped once he reached 13 homers and had plenty of time to spare.
Round 2: Semi-Finals
The first matchup of the semis didn't disappoint. It pitted eight seed Rhys Hoskins against five seed Kyle Schwarber. The young Philly Hoskins really put on a show and did even better than his impressive first round to end with 20 homers. At first, Schwarber started off slow and it looked as if Hoskins was going to make it to the finals. However, Schwarber caught fire late and was able to reach 21 homers as normal time ran out, not even needing the bonus time that he earned.
The final matchup of the semis was between three seed Maxy Muncy and Nationals god Bryce Harper. Although the fans got into Muncy's first round and were cheering him on, that wasn't the case when he was up against their superstar. Muncy was able to mash 12 homers but was definitely noticeably fatigued. 12 bombs simply weren't enough to get the job done against Bryce Harper, the hometown favorite. Harper needed only 13 dingers to advance to the finals, which he easily got.
The Final Round
The 2018 Home Run Derby final round was against five seed Kyle Schwarber and two seed Bryce Harper. Schwarber had another solid round and posted 18 homers with his final at-bat. Harper definitely started off slow in his final round. To a baseball novice, it looked as if Schwarber might be the one celebrating. However, to the educated fan, one knows that Bryce Harper hits bombs and can go off at any time, which is exactly what he did. Bryce got locked in and comfortable and once that happened it was over. Harper fed off the fan's excitement and drilled ball after ball, at one point crushing a 473-foot monster! Harper belted his 19th homer of the round in bonus time to win the derby and become the 2018 champion.
It was a truly fitting ending as Harper won in front of the hometown crowd, packed full with Nationals fans. Since the Nationals haven't had much to be excited for lately (they are 5.5 back and in third place), this definitely gave fans something to cheer for. Harper said, "I better figure it out or I'm going to lose" when asked about the thoughts running through his head during the slow start of his final round. Well, he definitely figured it out and earned his title.
Harper's dad was his pitcher for the derby. One can only imagine the magnitude of awesomeness of those moments that Bryce and his dad got to experience. When asked about his dad pitching to him on the big stage, Harper replied,
"My Pop man does wonders for me… He's my hero… It's a dream come true"
A dream night indeed it was for the young Nationals star and the entire Nationals fan base.