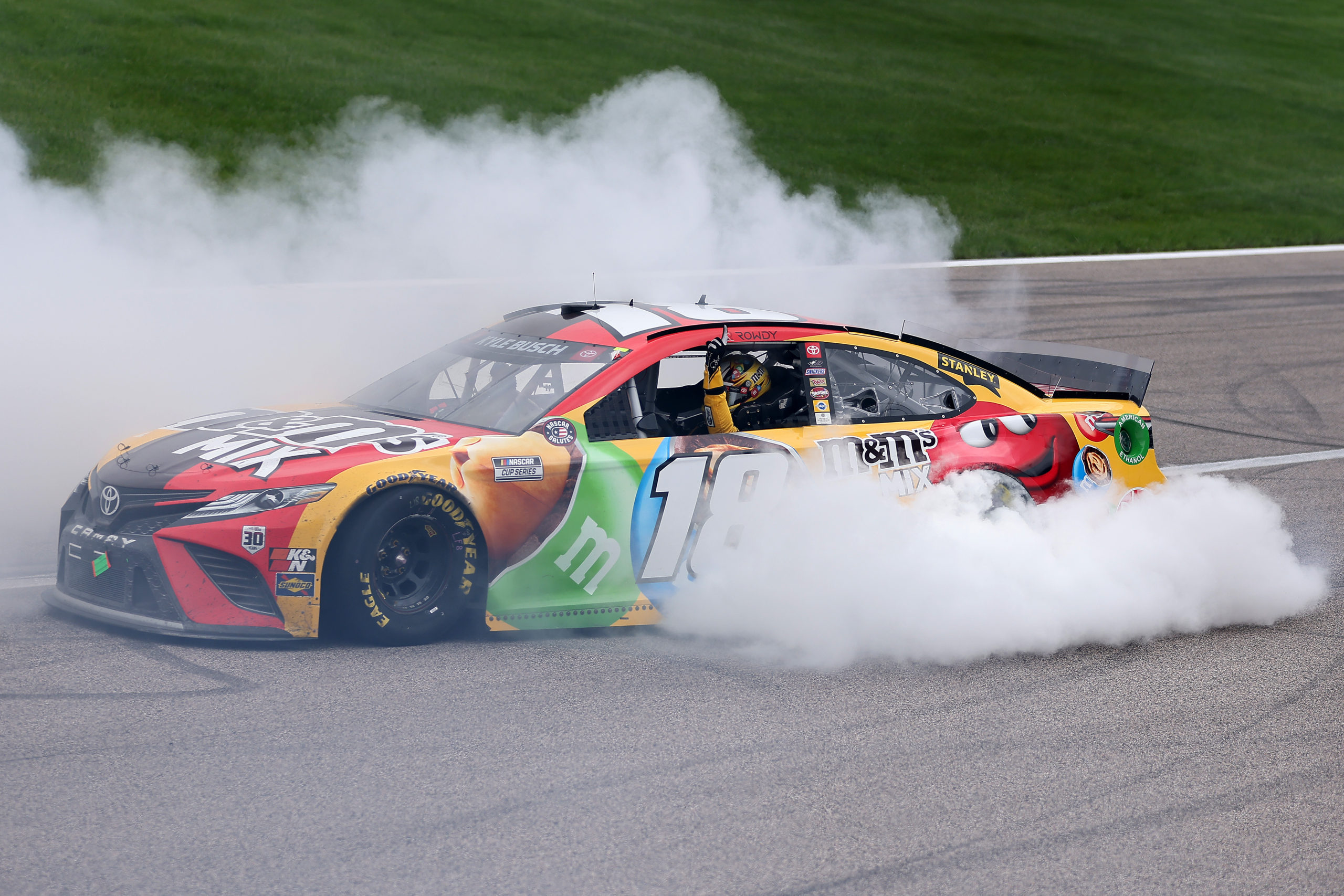 Kyle Busch Pulls Off Kansas Weekend Sweep, Wins Cup Race on Birthday
KANSAS CITY, Kan. – It was just about a perfect weekend for Kyle Busch in Kansas. On Saturday night, Busch earned his 61st career Truck Series win. The Las Vegas native would back that up with his first Cup Series victory of 2021, earning the win on his 36th birthday. Busch is only the second driver to score multiple birthday wins in the Cup Series, joining Cale Yarborough in this exclusive club. The Cup Series win, coming in the Buschy McBusch Race 400, locks Rowdy into the Playoffs, and also extends his consecutive winning seasons streak.
Busch Batting .500 in Trucks
After winning both Stages in Saturday night's Wise Power 200, Kyle Busch would restart fourth on the final Overtime dash to the checkers. By the white flag, the 51 was three-wide for the lead with Ross Chastain and Austin Hill. Busch would hold back all challengers, earning his second win of 2021 in four tries. The other two races Busch lost were in close runner-up results to his teammate, John Hunter Nemechek. Busch does have one more appearance this season in the Truck Series, coming next month at Pocono Raceway.
After the Truck race, Busch noted that his 36th birthday would be the following day. Kyle does have one previous birthday victory, coming at Richmond in 2009. Busch would attempt to repeat that effort on Sunday, but much of the day did belong to another Kyle.
Calm Stage 1 Sets Up Intense Race to the Win
Much of Stage 1 was dominated by polesitter Brad Keselowski, as he paced the opening 73 laps. However, Kyle Larson tracked down the 2 and got by him with only seven to go in Stage 1. A slide job gone wrong by Keselowski would set him back to fourth, also allowing Kyle Busch to close in. Busch would get by Larson and drive off for the closing laps of the Stage, and as a result take his first Stage win of the year. After his hard charge starting 32nd, Larson would have to settle for second in this Stage.
Larson would gain the lead on pit road following Stage 1 and held the top spot for most of Stage 2. After going without any caution, Stage 2 would mark Larson's fourth Stage win of the year. The 5 car finished over five seconds ahead of Kyle Busch.
Both Larson and Busch were evenly matched on the front row, it was a very back-and-forth Kyle and Kyle show to kick off the final Stage. However Denny Hamlin would join this battle up front, taking second from the 18. With one round of pit stops remaining though, it was still anyone's race.
Controversial Caution Call
During this round of green flag pit stops, a tire escaped from Tyler Reddick's crew and rolled across pit road. The tire came to a rest in the infield grass, and at the conclusion of the pit cycle brought out a caution. Rather than calling the caution immediately for the tire, NASCAR opted to wait and let everyone come in for service. The biggest loser in this deal was Chris Buescher, who stayed out hoping for a caution on an alternate strategy. The caution flying 15 laps later pinned Buescher a lap down, and he would recover to finish eighth.
Hamlin's Time to Shine
The ensuing restart would see Denny Hamlin rocket to the lead past Larson, but not for long. While trying to hold off a hard-charging Larson, Hamlin overdrove and pounded the turn four wall with 25 to go. The 11 would hit the wall again in turn one to trigger a caution. Far from a potential win, Hamlin would leave Kansas in 12th.
Now back out front, Kyle Larson had to hold off a charge from Kyle Busch. This run would be dashed when Ricky Stenhouse, Jr. and Austin Cindric got together on the backstretch. Only a lap of racing later, Stenhouse would again be involved, clipping a spinning Christopher Bell.
At the time of this caution though, both Kyle Busch and Ryan Blaney were ahead of Larson. The ensuing restart would see Larson fighting from behind for the first time all day.
Frantic Run to the Checkers
On what would be a two-lap dash to the checkers, Kyle Busch had a big push from his teammate Martin Truex, Jr., while Blaney had help from Larson. Through turns one and two, Larson gave Blaney too big of a push and sent them both up towards the wall. Both Blaney and Larson fell back, while Busch cruised onward.
On the last lap, Kevin Harvick got up to second, but had nothing for Kyle Busch. For the second time in his career, Kyle Busch scored a birthday victory. The Buschy McBusch Race 400 at Kansas went to one of the Busch brothers, while the Busch-sponsored car came home in second. Left nearly hitting the wall on the last restart, Kyle Larson and Ryan Blaney faded to 19th and 21st.
Busch's Winning Reaction
"You talk about ups and downs of racing – there's been a lot of downs of life for us," Busch said. "I have a great opportunity and a great job, no doubt. But struggling with the infertility and stuff like that with Samantha. Hey to Samantha and Brexton back home. Hopefully he won, I don't know what the results are from Brexton's race today. Just a great day to be able to put this M&M's Mix Camry up front.
"It's cool to get everybody back to victory lane again this early in the season. To be able to get some of those points going our way now and hopefully – heck, I just remembered, the Buschy McBusch race. The Busch won it, what do you know, right on."
Winning Early in Campaign Carries Added Benefits
Busch went on to describe how important it is to win this early in the season. "What's really cool is that we started the race good and we worked our way forward from the start of the race. We made minor adjustments all day to the car and nothing really did anything. We kept getting tighter as the day went on, even though we were trying to free up. This week we did a long sim session, that was helpful. I feel like we're really close for Kansas at least and what we can do and what we can learn on that. I look forward to hopefully being able to celebrate with my team and hopefully have a good night tonight. It's cool to be able to work the way we did today."
Top 10 From Kansas
Behind the top two, Brad Keselowski, Matt DiBenedetto, and Chase Elliott were the top five. The remainder of the top 10 were Martin Truex, Jr., Tyler Reddick, Chris Buescher, William Byron, and Austin Dillon.
Numerology Behind Busch's Triumph
Career win number 58 for Kyle Busch is also the first for new crew chief Ben Beshore.
In addition, this marks Busch's second trip to victory lane at Kansas, with the first coming back in 2016.
58 wins ties Busch with Kevin Harvick for ninth-most all-time victories, and a tie for winningest active driver. Busch has now also won at least once for 17-straight seasons, tied with David Pearson for the second-longest consecutive winning years streak. Busch only trails Richard Petty (18) in this category.
Busch's maiden win of 2021 also locks him into his 14th career Playoffs, as he is the 10th winner through 11 races this year.
What's Next for Cup
Up next for the NASCAR Cup Series is Darlington Raceway, for the annual throwback race, the Goodyear 400. Coverage begins on Sunday, May 9 at 3:30 p.m. ET on FS1, MRN, and SiriusXM NASCAR Radio Channel 90. Darlington's three races last year went to Kevin Harvick and Denny Hamlin, can either of them break into victory lane again at The Lady in Black?
Written by Peter Stratta
Be sure to follow us on Twitter.
Be sure to follow the writer on Twitter.
Photo Credit to James Gilbert/Getty Images for NASCAR