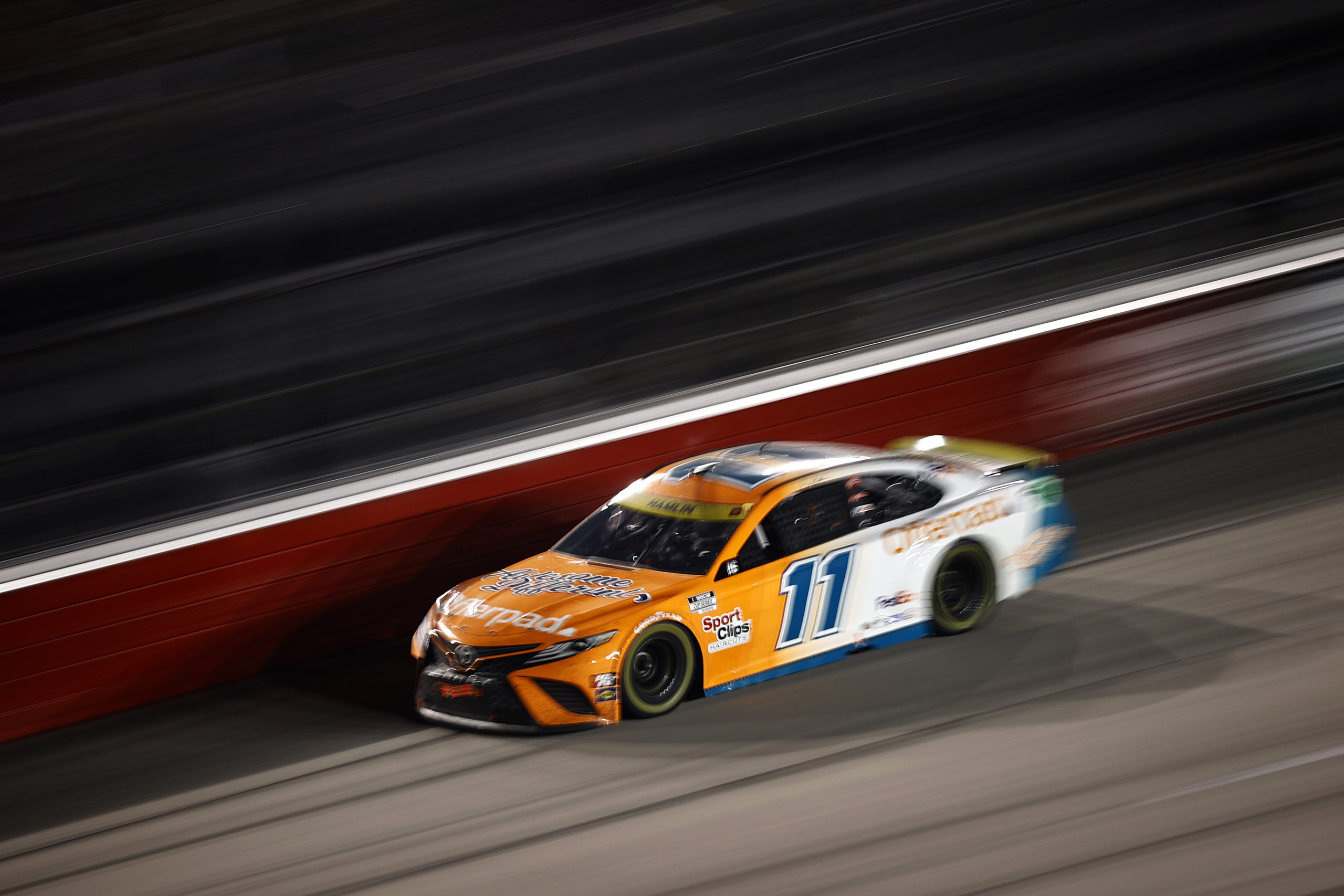 Wild Finish With Larson Leaves Denny Hamlin Standing Tall as Southern 500 Winner
DARLINGTON, S.C. – It may have taken until the Playoffs, but Denny Hamlin is finally a winner in 2021. Hamlin earned his fourth career win at Darlington in the 72nd annual Southern 500. This was anything but an easy win for the 11 though, as he fought off many late attacks from Kyle Larson. This included a crazy last-lap move where Larson tried to "videogame it" in the last corners. With the win, Hamlin is also locked into the Round of 12, and is also one step closer to Phoenix.
Contenders Taken Out Early
Stage 1 at Darlington was not kind to a few Playoff drivers. Lap 17 saw Alex Bowman cut a tire and scrape the wall. Teammate William Byron also clipped the 48, causing damage to both cars. Bowman never truly recovered from this point, and would finish four laps down in 26th.
The ultimate underdog for this year's Playoffs, Michael McDowell, also faced an early exit. While racing on a restart in turn two, the 34 got loose and overcorrected. As a result, the Front Row Motorsports Ford pounded the inside wall. McDowell would leave Darlington in 37th and last place, facing a must-win scenario for the Round of 12.
After these early mistakes, the remainder of Stage 1 was largely clean and green. Denny Hamlin led most of these laps, taking the Stage 1 victory and another valuable Playoff point.
More Carnage Affects Title Hopefuls
Stage 2 would see two more Playoff favorites crash out: Kyle Busch and William Byron. Both the 18 and the 24 pounded the outside wall. Busch had a bit of help from the 3 of Austin Dillon, while Byron lost a tire. They would each finish outside of the top 30, and also leave outside of the top 12 in points.
Stage 2 would be the 13th Stage win of 2021 for Kyle Larson, as the 5 paced the field for much of this middle segment. Once the final Stage started however, many cars strayed from Larson's pit strategy in an effort to outsmart the 5 team.
Larson pitted under green with 69 laps left, only a lap after second-place Ross Chastain. This one lap differential allowed Chastain's 42 to leapfrog Larson in the running order, setting the 5 back. With the leaders strung out on this longer run, Larson faced adversity trying to rally back in lapped traffic. However, Chastain was not the leader, that honor went to Denny Hamlin.
Huge Mistake on Pit Road
A spinning Ryan Blaney triggered a caution with 49 laps left. This brought everyone in for another set of tires, with the race off pit road initially going to Martin Truex, Jr. It would not be a Darlington season sweep for the 19 however, as he was speeding on pit road. The top two on this restart would be Hamlin and Larson, with the 11 trying to defend position.
One final caution flew for Chase Elliott hitting the wall. Once again, the 11 and 5 battled on a restart, with Hamlin coming out on top. After having to block Larson for a few laps, Hamlin began to drive away. Third-place Ross Chastain also gave Larson trouble, trying everything to get around the 5.
Larson's Last Stand
The 5 had caught the 11 in lapped traffic, but Hamlin managed to scoot away yet again. Larson put it all on the line though on the last lap, as he didn't lift in turn three. The 5 rammed into the back of the 11, but also hit the wall with so much momentum. This allowed Hamlin to narrowly escape disaster, and claim his first victory of 2021.
Hamlin's Winning Reaction
"Man I love this racetrack," Denny Hamlin said postrace. "By far my favorite racetrack, wow. Can't thank the Offerpad guys enough for everything they do. FedEx, the Jordan Brand, Shady Ray's, Toyota, Coca-Cola, everyone who's at JGR who builds these fast cars."
"[Larson] drove it in past the limit of the cars and the tires. I knew he was coming. I was a little bit conservative that last lap, because I knew I had about a four car-length lead. I didn't think he was going to go that deep, but still a great race. It's been back-and-forth with me and him most of the year. He's just been a little faster on these types of racetracks. Luckily, the caution came when it did. Strategy worked out great for the team, man I'm really happy tonight."
Larson Almost Had it
"We got to the white, and I was like, 'well I haven't been able to gain on him, got to try something,'" Larson said. "Honestly got to his bumper too quick. I was hoping he was going to run that diamond to kind of be safe and I could squirt to his outside. Gave it everything I had. I didn't want to wreck him, I just wanted to try and get to his outside there. He did a great job, not really making any mistakes that last run. I was having to push really hard in second, just trying to stay with him. Was hoping we would catch some sort of traffic, but we never really did."
"My HendrickCars.com Chevy was really good out front, just in traffic I would get stuck. There at the end, losing control of the race really hurt us. All in all a great day, a good points day, pit crew did great, we'll try again next week."
Top 10 Results from Darlington
Behind Hamlin and Larson, Ross Chastain was a bit of an upset in third. Martin Truex, Jr. rallied from speeding on pit road to fourth, and Kevin Harvick placed fifth. Kurt Busch, Brad Keselowski, Joey Logano, Chris Buescher, and Austin Dillon rounded out the top 10.
Playoff Standings After Darlington
Denny Hamlin secured his spot in the Round of 12 with the win. The four drivers outside of the top 12 all had issues end their Southern 500 early. Two races remain in the Round of 16 for the top 12 to change.
What's Next in Cup
Race two of the NASCAR Cup Series Playoffs will be at Richmond Raceway. Next Saturday night holds the key to the Round of 12 for one of 15 other Playoff drivers. Coverage of the Salute to American Heroes 400 starts Saturday at 7:30 p.m. ET on NBCSN, MRN, and SiriusXM NASCAR Radio Channel 90. At his home track, can Denny Hamlin possibly go back-to-back? Tune in to not miss a lap of the short track action.
Written by Peter Stratta
Be sure to follow us on Twitter
Be sure to follow the writer on Twitter
Photo by Jared C. Tilton/Getty Images for NASCAR