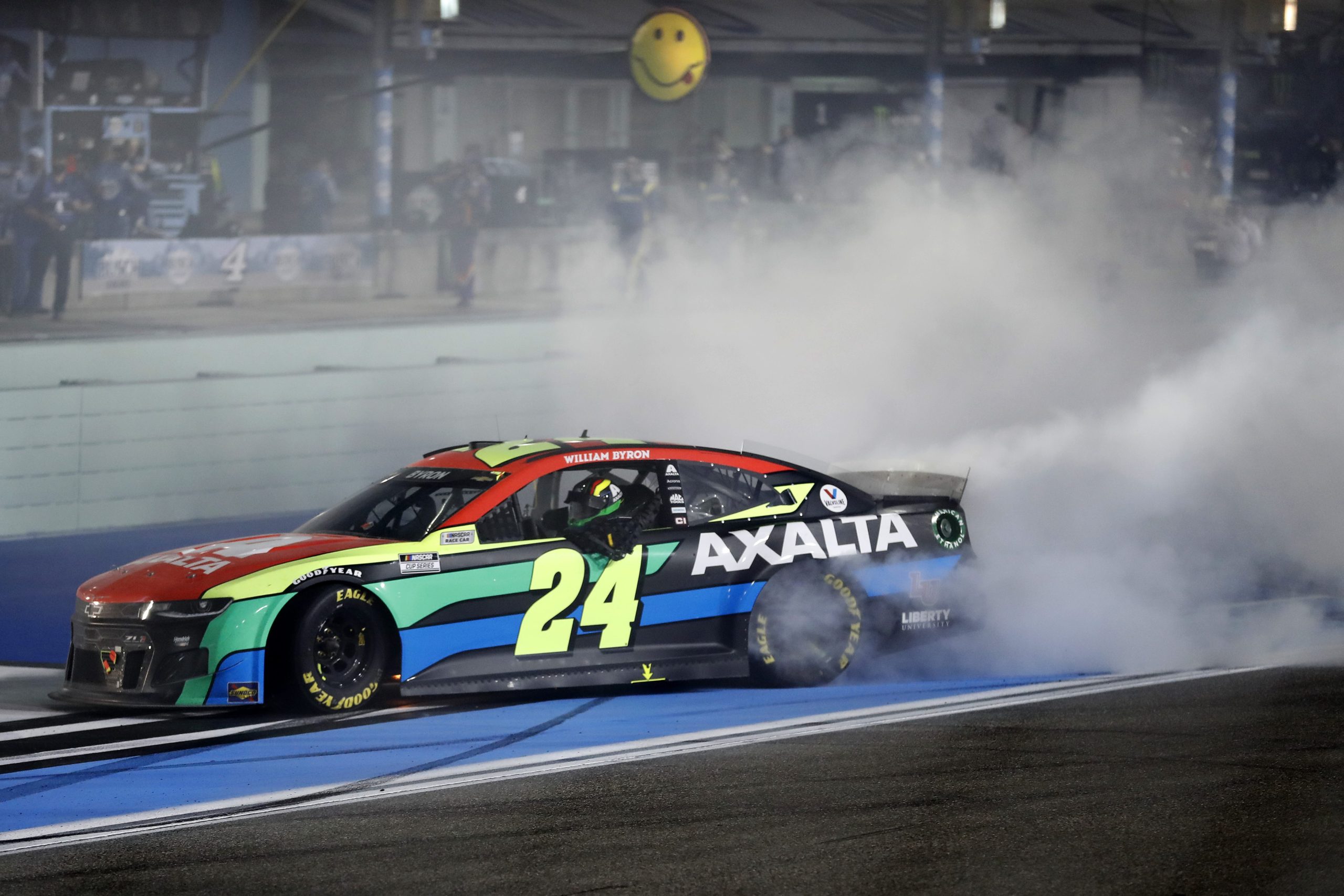 William Byron Earns Second Career Victory at Homestead
HOMESTEAD, FL. – After two back-to-back terrible weeks to open 2021, William Byron returned the 24 car to victory lane. This second win of Byron's young career came at Homestead-Miami Speedway, after starting 31st. This victory is also Byron's first in the Cup Series with Rudy Fugle as crew chief. This duo were dynamic together in the Truck Series, where they won seven times together. Now only in week three, they know that they are going to the 2021 Playoffs.
Fords Dominate Stage 1
The biggest story prerace would involve polesitter Denny Hamlin. After unapproved adjustments, the Fedex 11 would be forced to start in the rear. This put Joey Logano in control for the start, and the 22 looked stout out front. Logano paced the opening 12 circuits until getting passed by teammate Brad Keselowski. The 2 would lead through the competition caution, and appeared to be on his way to a commanding Stage 1 win. However, another Ford driver joined the melee up front.
Rolling off from the 17th position, Chris Buescher made his presence known early. The Roush No. 17 Mustang was up among the top five by lap 20. Buescher methodically tracked down Keselowski, and would take the lead with a bold slide job. The 17 began to pull away from the field, showing more speed than any Roush car has in a long time. After setting a personal best for laps led in a race, Buescher took the Stage 1 win.
Stage 1 No Fluke for 17
Buescher would hold serve on pit road, retaining the lead for the start of Stage 2. Although Chase Elliott did take command for a few laps, the 17 retook the top spot on lap 93. As green flag pit stops neared though, another contender grew bigger in Buescher's mirrors.
As the race would surpass the lap 100 mark, Martin Truex, Jr. would go on a tear through the field. Truex would pass Kyle Larson for second, but still be nearly two seconds back of the 17. In mere laps, the 19 caught the 17. Truex would pass Buescher, but immediately came in for a pit stop. Truex would technically not lead a lap here, although he did pass the 17.
Pitting one lap earlier would give Truex a substantial lead over Buescher. However, Buescher's one-lap fresher tires would pay off in the long run as Stage 2 wound down. The 17 was once again catching the 19. Buescher's march forward would only be impeded by a caution with under 10 to go in the Stage.
Drama Between Teammates at End of Stage 2
Corey Lajoie's engine expiring on lap 153 would set up a one-lap dash to end Stage 2. The entire field did pit for tires here, shaking up the running order. The front row for this sprint to the green-and-white checkers would be Truex and his teammate Denny Hamlin. On the restart, Hamlin initially got the jump over Truex. The 11 and 19 would be door-to-door entering turn three. In turn four, Hamlin swept wide, trying to impede Truex's progress and take the Stage win. However, this left the bottom lane wide open for William Byron. In a drag race from turn four to the line, the 24 would edge out the 11. This would mark Byron's first Stage win of 2021, after he restarted third.
Truex was none too happy with Hamlin for the aggressive block, as the 19 would end Stage 2 in fourth. Buescher would also end Stage 2 in sixth. For the 17, this would unfortunately be the end of their time out front. The ensuing restart set them way back, and they would only recover to finish 19th.
For the start of the final Stage, Byron held the lead over Hamlin. The 24 began to pull away ahead of several contenders. Kyle Larson would get by Hamlin for second, but Truex would also join the fray in a 3-way battle for the runner-up spot. With 80 laps left, Hendrick Motorsports ran 1-2 with Byron nearly two seconds ahead of Larson. Truex would eventually get second, but his forward progress would stall out here.
Slide Job Gone Wrong Takes Out Two
With 69 laps left, Aric Almirola tried to pass Ryan Blaney in turn three. The 10 attempted a slide job, but was not quite clear of the 12. Ensuing wall contact from both drivers would trigger the day's final caution. As a result, everyone came back down pit road for tires. Consequently, the winner of the race off pit road would be Kyle Larson narrowly over the 19. Hamlin would exit the pits in third, but got busted with a speeding penalty, oddly enough in section 11. Hamlin would only recover to finish 11th. Byron would also exit the pits in fifth place after coming in as the leader.
The race would resume with 60 laps remaining. Larson initially had the advantage into turn one, but Truex motored back around the 5 in turn four. Just a lap later though, Byron would pass Truex to retake the lead. With 58 to go, everyone would be chasing the Axalta 24. Larson would get back around Truex, but was two seconds in the rear of Byron. As the laps ticked off, Byron appeared to be in cruise control.
Sophomore's Drive Ties Career Best
One final contender would appear with the laps winding down. Slowly and steadily, Tyler Reddick began to pick off cars in the top 10. The 8 would enter the top five with just 19 laps left. While Larson and Truex raced each other hard for second, it slowed down both cars enough for Reddick to pounce. The 24 drove off into the sunset several seconds ahead, meanwhile Reddick was making up major ground. Coming to the white flag, the 8 got by the 5 of Larson for second. Even with Byron getting the win, Tyler Reddick's drive at the end was certainly as impressive. This runner-up result also ties his best finish in a Cup Series race.
Top 10 Results From Homestead
Behind Byron and Reddick, the rest of the top five were Truex, Larson, and Kevin Harvick. Harvick is one of only two drivers to earn a top 10 in every race this season. The other driver with likewise consistency is sixth-place finisher Michael McDowell. Behind McDowell, the remainder of the top 10 were Ryan Newman, Kurt Busch, Alex Bowman, and Kyle Busch.
Byron's Reaction to Homestead Win
Byron was quick to credit this win to his new crew chief, Rudy Fugle. Byron and Fugle had been apart since 2016, but in only their third race back together are winners once again.
"That guy has been huge for my career," Byron said. "He's the reason I'm here and I'm glad we could get him. He's just awesome. This whole team did a phenomenal job. Everybody. The pit crew, over the wall, we're extremely blessed. Thank God for all the things that it takes to get to this level. Great boss in Mr. Hendrick and Jeff Gordon, and Axalta. This car looks really cool. I'm can't even believe it, honestly. It was just a really smooth day. And we worked hard in the winter on this track. I can't believe it."
Homestead Win Changes Course of Season for 24 Team
In addition, Byron went on to describe how a win this early in the year changes the 24 team's outlook on 2021. "In this format with winning being so important, it's nice to chase points at times, but yeah, no doubt we were in a huge hole. The 500 we had a lot of success going down there for qualifying and was excited about the 500 and then we get crashed early and almost flip over and then we go to the road course and we had probably a top-10 run going, which was going to be good, and we had some issues.
It was a tough start to the season, but we didn't really think about that going into this week. We just thought about executing a good race. It's always nice when the speed is there, but I feel like we put in the effort to make sure it was, and it was kind of a flawless weekend really.
But I do think in a lot of ways this was more indicative I think of the season we can have. We did our jobs tonight, and it just feels really awesome.
Yeah, it's going to be fun this year. I think I've spent kind of a lot of my Cup Series career kind of on the bubble of the Playoffs and now I don't have to worry about that. It's crazy; I'm going to take all that stuff in, and just got a great team, got an awesome crew chief. It's going to be a fun year."
What's Next for the Cup Series?
Week four of 2021 for the NASCAR Cup Series kicks off the west coast swing. The sport will head out to Las Vegas Motor Speedway, as next weekend will cap off with the Pennzoil 400. Coverage begins Sunday, March 7 at 3:30 p.m. ET on Fox, PRN, and SiriusXM NASCAR Radio Channel 90. Las Vegas is another 1.5-mile track, so will we see a regular face in victory lane or another upset? Joey Logano also hopes for his third-straight Vegas spring win.
Written by Peter Stratta
Be sure to follow us on Twitter.
Be sure to follow the writer on Twitter.
Photo credit to Michael Reaves/Getty Images for NASCAR