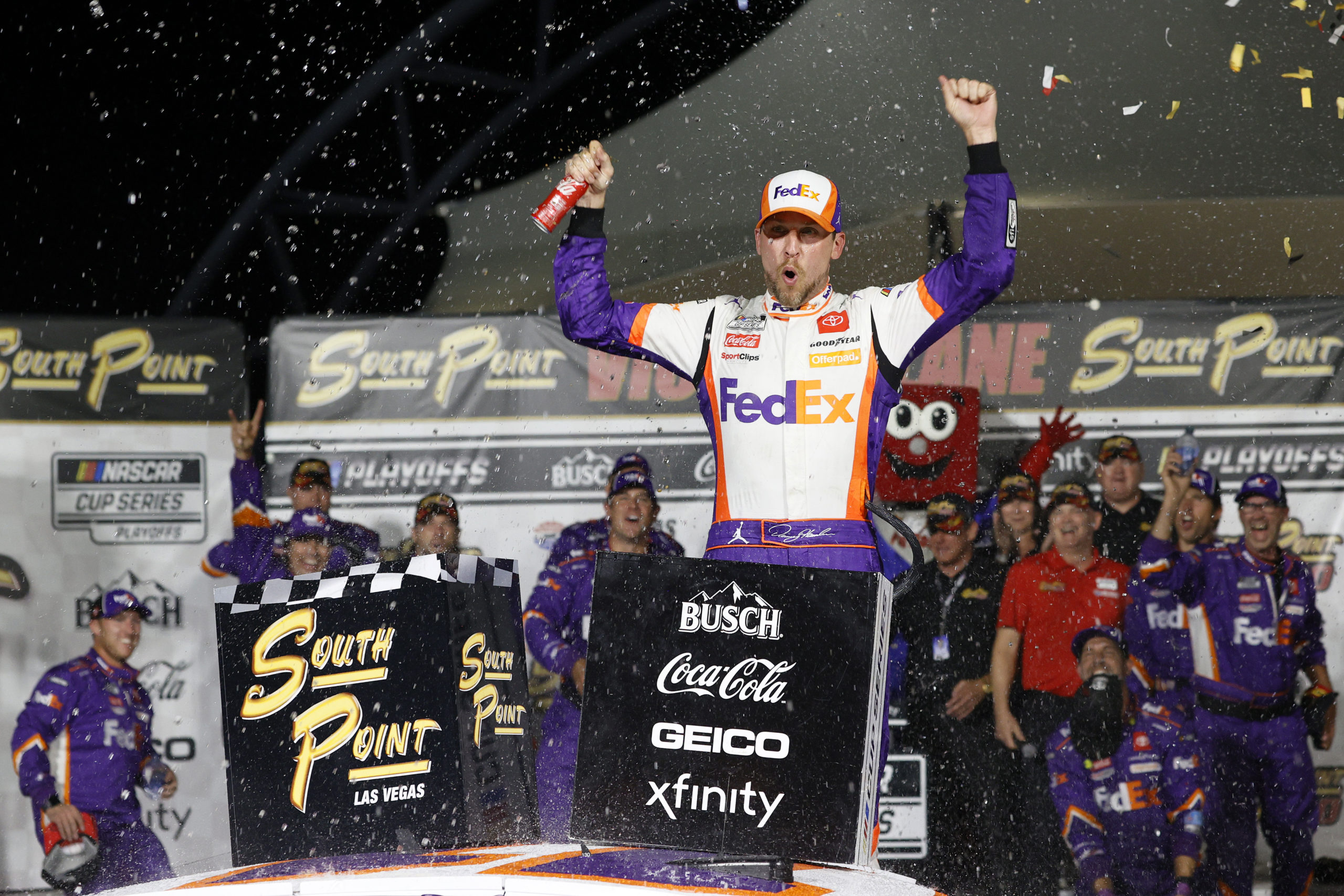 Denny Hamlin Earns First Las Vegas Victory, Onto Round of 8
LAS VEGAS, Nev. – In his 20th trip to Las Vegas Motor Speedway, Denny Hamlin put on a statement. The FedEx 11 led 137 laps en route to victory number two of 2021. Hamlin was just about untouchable all night long, earning his second win in four weeks. Is the 11 quietly becoming a championship favorite? An 11 team that's stress-free for the next two weeks may be dangerous for the competition.
Hendrick Highs and Lows
Coming into Las Vegas, many eyes were on the four horses from Hendrick Motorsports. After Kyle Larson took the spring Vegas win, he was pegged as a favorite for the sweep. Larson did start on the pole, but failed to lead until lap 45. Larson would win Stage 1, his series-high 15th green-and-white checkered flag of the year. Not long after Stage 1 however, the strategy would take a turn for Larson and his teammates.
Right as William Byron took the lead from Larson, a caution came out for Joey Gase crashing. After a wheel fell off and the 15 car slammed the outside wall, Gase was transported to a local hospital for further evaluation.
This caution proved to be a turning point for the race, as all four Hendrick cars chose to stay out. While this proved beneficial in the short term, it ended up biting the Chevrolets for Stage 2. Rather than having four shots at the Stage 2 win, this alternate strategy kept them all out of the top 10. Rather, Stage 2 went to Denny Hamlin after Larson pitted late for fuel. Hendrick's best result in Stage 2 was Chase Elliott in 14th, not long after they ran 1-2-3-4.
The final 100 laps were the Denny Hamlin invitational, as the 11 led all but 16 circuits. Even with Elliott recovering to second over the last run, he couldn't close in Hamlin's lead. After winning the opening race of the Round of 16, Hamlin would repeat this feat in the Round of 12. The 11 is now locked into the Round of 8 thanks to the Las Vegas win, taking all pressure off for the next two weeks.
Problems Aplenty for Playoff Drivers
While Las Vegas was just about a perfect night for Hamlin, it was anything but for his Playoff foes. In total, nine of the 12 title-contending drivers faced some form of adversity. The night was especially trying for William Byron (18th) and Alex Bowman (22nd), who both had flat tires. In addition, early pit road contact put Christopher Bell behind, and the 20 only finished 24th.
Hamlin's Winning Reaction
"Just so happy for our FedEx Office team," Hamlin said. "Joe Gibbs Racing just gives us great racecars, that's what I'm so proud of. Can't thank them enough for everything they do. Vegas! It feels so good to win in Vegas. The last couple times I've been so close and just haven't had the right breaks. But they dialed the car in great, and it was great to hold those guys off."
"I am so happy, so happy, to not have to worry about the next two weeks. But I'm professional, so I'm going to work just as hard each and every week to win."
Hamlin has been the car to beat in all four weeks of the NASCAR Playoffs so far. The 11 has led in all four races, including triple-digit laps three times. The 11 team appears to be peaking at just the right time to mount a serious championship run.
Top 10 Results from Las Vegas
Playoff drivers took home the top five spots: Hamlin-Elliott-Kyle Busch-Martin Truex, Jr.-Ryan Blaney. Tyler Reddick, Brad Keselowski, Kurt Busch, Kevin Harvick, and Kyle Larson rounded out the top 10. The 5 would hardly reach the top 10 after leading 95 laps early on.
Playoff Standings Update
All pressure is now gone for the 11 team for two weeks, as they are locked into the Round of 8. Kyle Larson also has a healthy cushion, but behind the 5 is anyone's race.
What's Next in Cup
The next stop for the Cup Series Playoffs is the ultimate unknown of Talladega Superspeedway. The Alabama track holds one more guaranteed spot into the Round of 8 for 11 drivers. Coverage of the YellaWood 500 is Sunday at 2:00 p.m. ET on NBC, MRN, and SiriusXM NASCAR Radio Channel 90. With 11 of the last 14 Talladega wins, will a Ford pull into victory lane next weekend?
Written by Peter Stratta
Be sure to follow us on Twitter
Be sure to follow the writer on Twitter
Photo by Steph Chambers/Getty Images for NASCAR