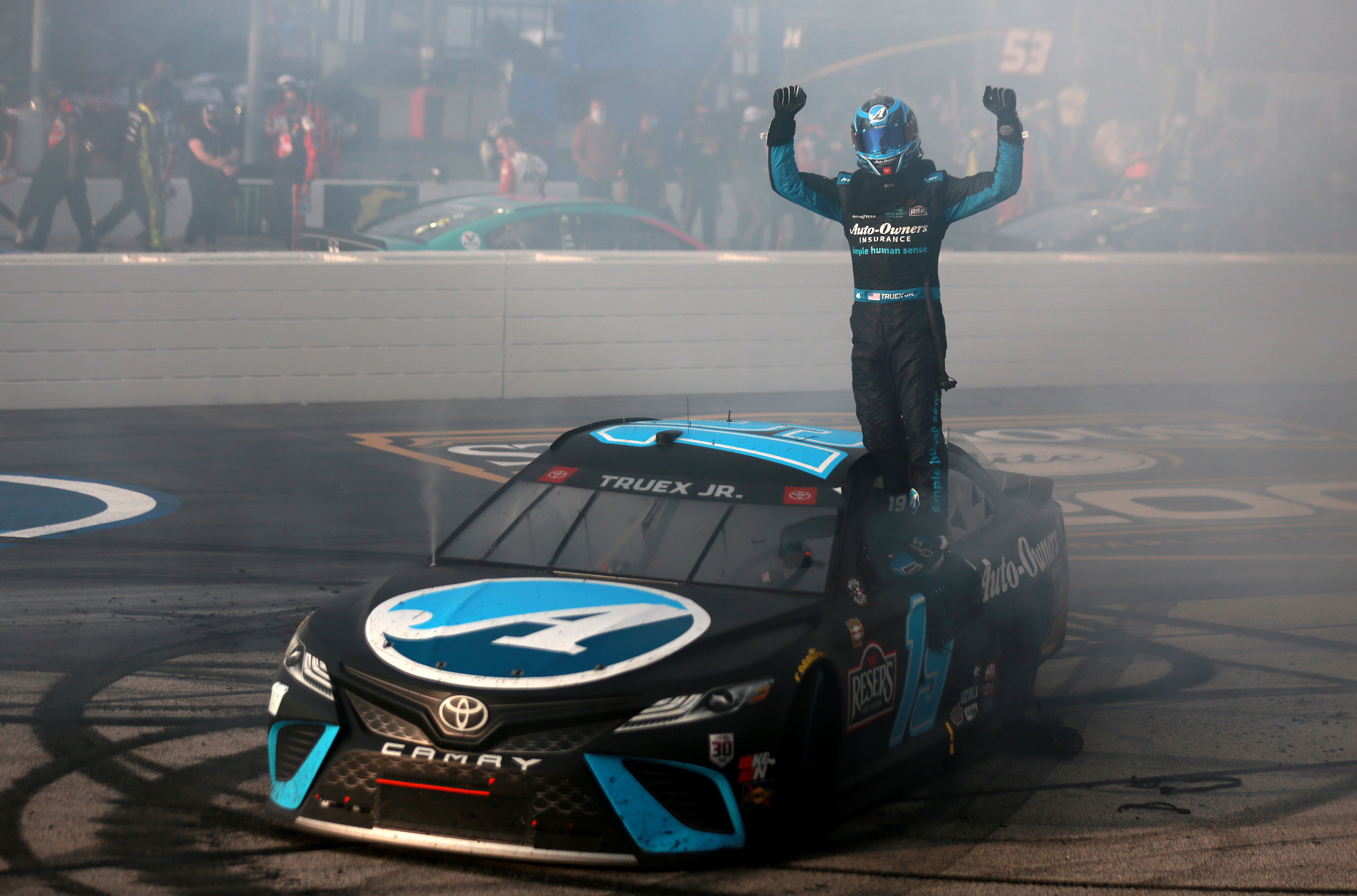 Martin Truex, Jr. Dominates The Goodyear 400 at Darlington Raceway
Martin Truex, Jr. led 248 of the 293 laps at Darlington Raceway in pursuit of his third win this season. The 41-year-old, New Jersey, native was pressured late as Kyle Larson attempted to get around him. Slicing through lapped traffic, Truex was able to hold off the No. 5 car and score the victory.
"We've won a bunch of stages here in the past couple of years, just always lady luck that got us," Truex said after climbing from his car. "It would always be one thing or another. Just proud of everybody on this Auto-Owners Camry. Really cool throwback to Furniture Row, hopefully, Barney Visser is out there watching. This one is for Furniture Row."
Post-Race Remarks:
Kyle Larson (2nd):
"Yeah, it's good," Kyle Larson said post-race. "We definitely needed to get a good finish. I thought we were going to get one last week and I messed that up. Three bad weeks in a row, and to come back and contend for a win and finish second and get good stage points after speeding at the end of the first stage, too, yeah, it was a good day.
"Now we go to Dover, which is one of if not my best tracks. Excited about that, and Hendrick Motorsports has been pretty good at Dover from what I remember, too, so looking forward to getting there."
Kyle Busch (3rd):
"This was definitely a good weekend for us," Kyle Busch said post-race. "You know, the 750hp races haven't necessarily been our best, but we've run 750hp short tracks, not intermediates so this was a good basis for us. I felt like our cars in the 2017-2018 time frames were really good. I feel like this is really a cookie-cutter for the Truex type era."
"Felt like we were close there for about 10 laps, then we just lost the rear tires on the long runs. Overall, Ben and the guys gave me a great M&M's Camry to back up last week and hopefully build a little bit on this today for Nashville."
William Byron (4th):
"I thought we were pretty solid all day," Byron said after climbing from his car. "We fell back to 8th or 9th during the race and were just too loose, didn't have the car fully connected yet but we got it better and better. To finish fourth is good for us."
"The 10th top-ten in a row is awesome. I think our team is just super consistent this year and that's a credit to Rudy and the guys for just preparing awesome cars, executing well. We just have to find that little bit to get with the 5 and 19. We're there at times but we can't really break that seal, which is hard. We just gotta keep continuing to build the notebook, it's Rudy and I's first time going to these tracks, but we're doing great."
Denny Hamlin (5th):
"It's all we had," Hamlin told me post-race. "We battled back those last few laps. We just lost the handle on the car in the second half of the race, lost a little track position. Just never had the speed that I really needed to compete there at the end. We'll look at it and see what I can improve on and look forward to coming back here. Ultimately, just didn't have a race-winning car today.
Where to Find the Next Cup Series Race:
The NASCAR Cup Series next heads to the track they call "The Monster Mile." Dover International Speedway in Dover, Deleware will be home to the Drydene 400, a place today's winner Martin Truex, Jr. has had much success. You can catch all the action at 2:00 p.m. ET, May 16th on FS1, MRN, and SiriusXM NASCAR Radio.
Written by Noah Lewis
Be sure to follow us on Twitter.
Be sure to follow the writer on Twitter.
Photo credit to Sean Gardner/Getty Images via NASCARMedia.