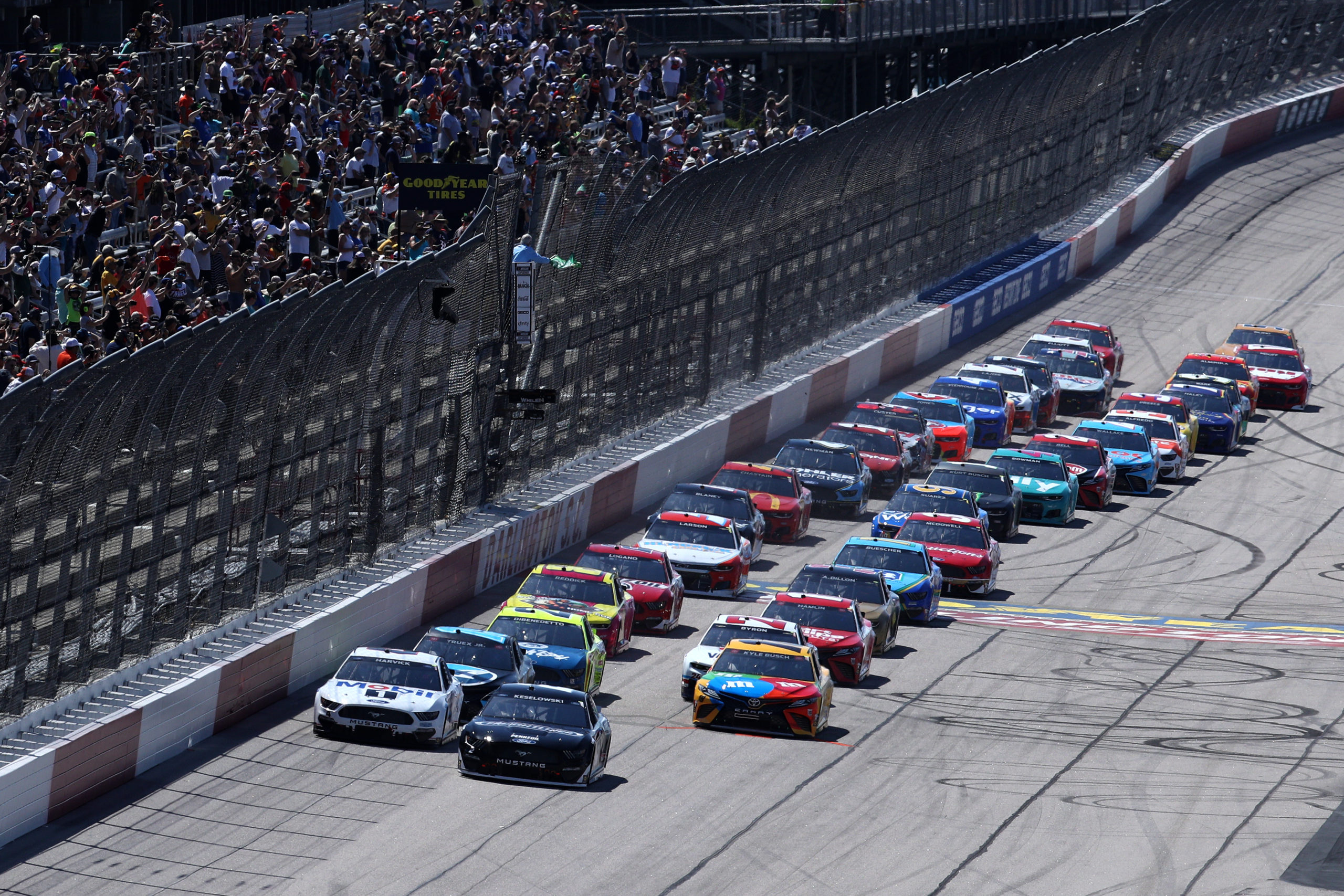 NASCAR Cup Series Playoff Standings After Week 12
After Darlington, the 2021 NASCAR Cup Series season is one-third complete. This first chunk of the season has seen 10 different winners, with Martin Truex, Jr. being the only multi-time winner. With 10 winners, only six Playoff spots remain up for grabs with 14 races left in the regular season. Despite so many winners, some big names are still winless on the year. This includes both the defending champion and the current points leader. Three drivers who won 21 times a season ago all have yet to win this year. Heading into Dover, who is feeling comfortable about their Playoff bubble position, and who is sweating bullets?
Denny Hamlin (+261)
Current points leader Denny Hamlin is off to arguably the best start of his career, yet is still winless. Through 12 races, the Fedex 11 Toyota has nine top-fives, 749 laps led, and an average finish of 7.3. Hamlin has certainly had many chances to win this year, but just has not closed one out yet. It appears every week that Hamlin is on a short list of favorites to win. With his 75-point lead in the regular season championship standings, Hamlin is 261 points above the Playoff cutoff. One way or another, the 11 will be a Playoff contender for 2021. It would be beyond unprecedented for Hamlin to maintain this level of performance and remain winless. Expect the 11 to lock up a Playoff spot by winning in the near future. Once the 11 team breaks through, they could very easily go on a run of multiple wins.
Kevin Harvick (+117)
After winning an amazing nine times a season ago, Kevin Harvick and the 4 team are still searching for answers this year. Through the first 12 races, Harvick has nine top-10s, an average finish of 9.3, and only 39 laps led. Harvick's best finish this year to date was second at Kansas, as all of Stewart-Haas has struggled to find speed. The 4 is currently ranked at seventh in points, 117 above the Playoff cut line. While Harvick making the postseason should not be a concern, his ability to find victory lane is puzzling. The 4 is not entirely foreign to long droughts though. In both 2017 and 2019 it took the 4 until mid-summer to finally win. Harvick could be on pace for a similar season this year, where his winning ways are slow to start.
Chase Elliott (+114)
Just behind Harvick in points is defending Cup Series Champion Chase Elliott. While all three of Elliott's Hendrick teammates have won this year, the 9 car is still 0-for-12. However, Elliott does boast two runner-up finishes in the Daytona 500 and at Martinsville. Those races are part of Elliott's six top-10s, where he has an average finish of 12.8. Elliott also had the Daytona Road Course race well in hand before rain came. With so many upcoming road courses, Elliott's winless streak likely will not last. The 9 will all-but certainly make another Playoff run, as Elliott hopes to back up his championship.
Austin Dillon (+48)
At 12th in points, Austin Dillon has the Richard Childress Racing No. 3 car in a very precarious position. With a 48-point buffer to the Playoff cut line, Dillon is not in immediate danger of falling out, but must still tread carefully. So far this year, the 3 has five top-10s, an average finish of 13.6. Dillon's high point of the year was finishing third in the Daytona 500. Dillon has proven before to be quite the vigilant points racer before. This team has made a Playoff run solely on points before. However, a string of bad finishes could spell doom for the 3's postseason chances. Dillon has made three of his four Playoff appearances by winning. With the numerous different winners this season, 12th in points may not even be safe.
Chris Buescher (+19)
13th in points through the first 12 races, Chris Buescher is trying to deliver Roush-Fenway Racing their first Playoff berth in four years. The 17 has shown marked improvement this year, especially on intermediate tracks. So far in 2021, Buescher has three top-10s, including the last two races at Kansas and Darlington. Buescher did surprise many at Homestead though, as the 17 drove to the lead and won a Stage before fading to 19th. Can Buescher capitalize on another intermediate? It would be up there with McDowell's Daytona triumph as an upset win.
Tyler Reddick (+0)
Sophomore sensation Tyler Reddick currently holds the final Playoff position on a tiebreaker. After placing 12th at Darlington but earning points in both Stages, the 8 car leapfrogged the 21 to get 16th in points. By virtue of Reddick's second-place run in Homestead, he has the tiebreaking tentative berth. Reddick's year has been highlighted by five top-10s and also an average finish of 17.1. Reddick is in the thick of the battle for the final Playoff spot. The only way to secure his first postseason appearance will be earning his first career win.
Matt DiBenedetto (+0)
Throughout 2021 so far, the Wood Brothers Racing 21 team of Matt DiBenedetto has seen great highs and lows. After three weeks, the 21 was 35th in points. Thanks to several breakout runs though, DiBenedetto is back in the Playoff hunt. After a disappointing 19th-place Darlington run though, DiBenedetto fell to 17th in points, tied with Reddick. DiBenedetto's best result of the year was a fourth-place effort at  Talladega. That capped off three top-10s for DiBenedetto, all coming in the last four weeks. Much like a year ago, expect the 21 to constantly hover around the all-important bubble position. Should DiBenedetto be able to snag that elusive first career win, it would be a very popular win throughout the entire sport. DiBenedetto's plans for next year are still uncertain, and may hinge on another Playoff appearance.
Ricky Stenhouse, Jr. (-19)
In his second year with the JTG-Daugherty Racing No. 47 team, Ricky Stenhouse, Jr. is currently 18th in points. The two-time Cup Series race winner has shown improvements this year, with 10 top-20s. Stenhouse also has a best finish of second at the Bristol Dirt race. While the 47 is far from a weekly contender, Stenhouse could string together enough consistency to point his way into Playoff contention. The last three weeks have not been kind to Stenhouse though, with finishes of 33rd, 34th, and 20th. This stretch marks his worst of the year, dragging his average finish down to 17.1. These past few weeks have also dropped Stenhouse out of the top 16 in points.
Much like Buescher or Reddick, Stenhouse will be another versatile points-racer hoping to make a postseason surge. Stenhouse's lone Playoff appearance came on the strength of two wins back in 2017, can he return JTG to the Playoffs as well?
Ryan Newman (-22)
In a contract year, Ryan Newman has the Roush-Fenway 6 car 19th in points. With three top-10s so far, Newman is only 22 points out of the top 16. Newman's best showing of the year came on the dirt at Bristol with a fifth-place finish. He also earned a 10th-place run last week at Darlington. While his teammate Buescher is ahead of him in points, Newman's veteran experience with points-racing could land both Roush cars into Playoff contention. Newman has made the Round of 16 in three of the last six seasons. This veteran hopes to help return Roush to relevance. It will certainly be a dogfight with Newman going after every point possible, as the 6 may just get even harder to pass.
Kurt Busch (-28)
Ever since a restart crash in Atlanta, Kurt Busch and the Ganassi 1car have found zero luck. The past seven weeks have seen the 2004 Champion tumble from 10th to 20th in points. While only 28 points out of the Playoffs, no top-10s since Homestead have not done this team any favors. An early crash and DNF at Darlington only compounded Busch's dismal run. Can the 1 team get back into Playoff contention? Busch needs to be up front more often in Stages in order to leapfrog the guys ahead of him. Busch has made the Playoffs in each of the last eight years. With this string of bad luck though, that streak is in jeopardy. Winning would obviously solve all of this, but no Ganassi car appears to be a contender at the moment.
The Playoff bubble is already shaping up to be quite the battle between many quality teams and drivers. With the first-time winners of McDowell and Bell already in the postseason, some deserving drivers will be left on the sidelines after race 26. The Drydene 400 will go green on Sunday, May 16 at 2:00 p.m. ET on FS1, MRN, and SiriusXM NASCAR Radio Channel 90. Dover will mark the halfway point of the regular season. Can another driver lock up a Playoff berth with their first win of 2021?
Written by Peter Stratta
Be sure to follow us on Twitter.
Be sure to follow the writer on Twitter.
Photo Credit to Sean Gardner/Getty Images for NASCAR