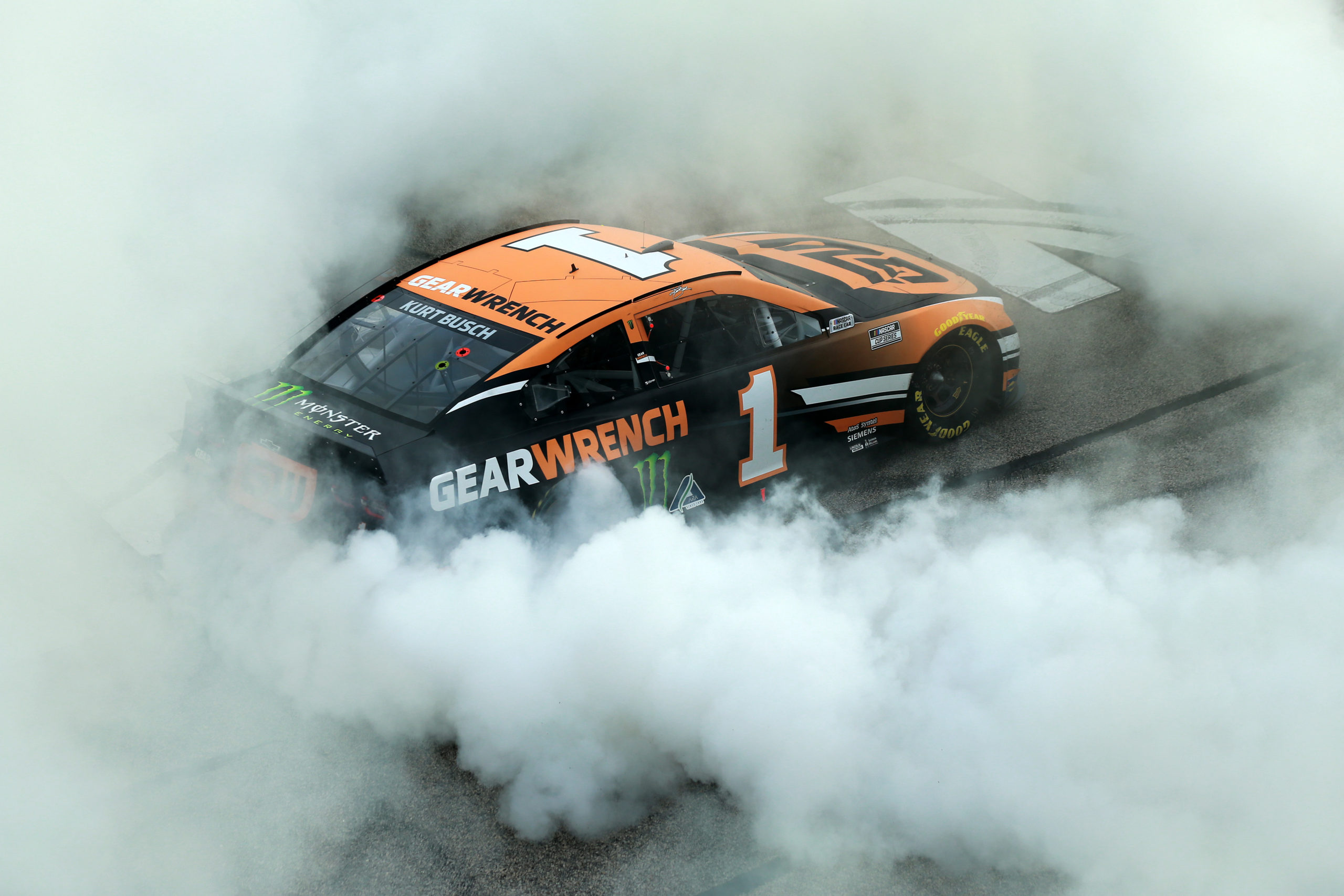 Kurt Busch Outduels Brother Kyle in Atlanta
HAMPTON, Ga. – In the last race on Atlanta's old surface, we got a thrilling race-long Busch brothers battle. While Kyle won Saturday's Xfinity race, he would come up one spot shy of a weekend sweep. Kurt Busch led 144 laps en route to his first victory of the year. This win is huge for Kurt Busch, as it vaults him from the Playoff cut line to locked into the postseason. Also in the swan song season for Chip Ganassi Racing, this team will go out as winners.
Busch Brothers Sweep Stages
After starting second to Chase Elliott, Kyle Busch quickly got to the lead and hardly looked back. The 18 won Stage 1 in commanding fashion, leading all but two laps after taking over from Elliott. Stage 1 would see a pair of cautions, one being a competition yellow. The other stoppage was immediately after the restart when a four-wide situation went south for Daniel Suarez and Ricky Stenhouse, Jr. Both below the Playoff cut line, Atlanta was a very painful points day for both drivers. Suarez and Stenhouse would be the last two drivers in the results, coming home 36th and 37th.
Stage 2 saw less incidents but did not lack for action. While the entire Stage did go green, Kurt Busch had his hands more than full. After getting the jump on his brother on the restart, Kurt held Kyle off lap after lap, as their tires wore out fast. Aside from a green flag pit stop, Kurt Busch led the duration, his third Stage win on the year.
Red Flag for Track Repair
Under caution between Stages, a section of track had worn away into a pothole. As a result, a 20-minute red flag came out for track crews to fix this spot. If nothing else, this shows that the 24-year-old surface was incredibly worn and in need of a repave. This repave will come over the ensuing months ahead of the 2022 Atlanta races.
Once racing resumed, Kurt took off over Kyle once again. It appeared as if the race was won for Kurt without a caution, as he maintained a healthy gap over the 18. The final cycle of green flag pit stops however would be a turning point in the race. Kyle got to pit road for his service a lap ahead of Kurt. As a result, the 18 took the lead over the 1 by more than a second. With 40 laps to go, Kyle led Kurt by eight tenths, but the race was far from over.
With 25 laps left, Kyle was trying to lap Ross Chastain. In a moment of teammate assistance, Chastain blocked Kyle, allowing Kurt to catch back up. With 23 laps to go, Kurt had the lead once again over his brother. From then on, Kurt managed his lead over Kyle, leading to the fourth-ever Busch brothers 1-2. The score in these four races is a draw, as both Kurt and Kyle have bested each other twice.
Kurt Busch's Winning Reaction
"Hell yeah we beat Kyle!" Kurt Busch said to a roaring crowd. "I taught that kid everything he knows, he should be grateful. What a battle, what a genuine, awesome, old-school racetrack. I just asked the track today, 'last time here on your old asphalt, can I have an old guy win?' And she answered, so thank you Atlanta Motor Speedway!"
"This has been one of those years where I knew we were going to have our back up against the wall with trying to get above the cutoff line and race hard and race smart, and to have GEARWRENCH in Victory Lane, this is their last race of the year, they're with us all year, and with Monster Energy, I couldn't have two great primary sponsors. What a Chevrolet today, hell yeah!"
Kurt Describes Chastain's Assist
"Shake and bake! Shake and bake! Yeah, and the 42, he did his job as a teammate. Ross is going to get a little flak for it, but that's what it takes to be a good teammate at the right moment, so I couldn't be more proud of Ross Chastain. I'll pay him back eventually, but right now this is our No. 1 car in Victory Lane.
42-year-old Kurt Busch goes from 16th in points to a lock for the 2021 Playoffs. The Chip Ganassi Racing 1 team is the 12th team to win a race this season. With the recent news swirling around Ganassi and their drivers, this win is especially huge for this entire organization. Kurt Busch now has four career victories in Atlanta, the most among active drivers.
Top 10 Results From Atlanta
Coming up behind the Busch brothers 1-2 was Martin Truex Jr. Truex had to start the day in the rear and also had damage on pit road after Stage 1. After coming through the field twice, MTJ came back to 3rd. Alex Bowman and Ryan Blaney rounded out the top five. Tyler Reddick, Chase Elliott, Christopher Bell, Matt DiBenedetto, and Brad Keselowski were the rest of the top 10.
Playoff Standings After Atlanta
After 21 races and 12 different winners, the Playoff points bubble has widened. With Kurt Busch winning from 16th in points, he pushes Tyler Reddick to the cutoff spot. The 8 team now holds a 96-point cushion over Chris Buescher. Only five regular season races remain before the 16-man postseason is set.
What's Next for Cup
As the regular season winds down, the next race will be up north at New Hampshire Motor Speedway. Coverage begins Sunday, July 18 at 3:00 p.m. ET on NBCSN, MRN, and SiriusXM NASCAR Radio Channel 90. The Foxwoods Resort Casino 301 will stand between drivers and another potential Playoff spot. Can Kevin Harvick or Denny Hamlin punch their ticket in New England?
Written by Peter Stratta
Be sure to follow us on Twitter
Be sure to follow the writer on Twitter
Photo Credit to Sean Gardner/Getty Images for NASCAR