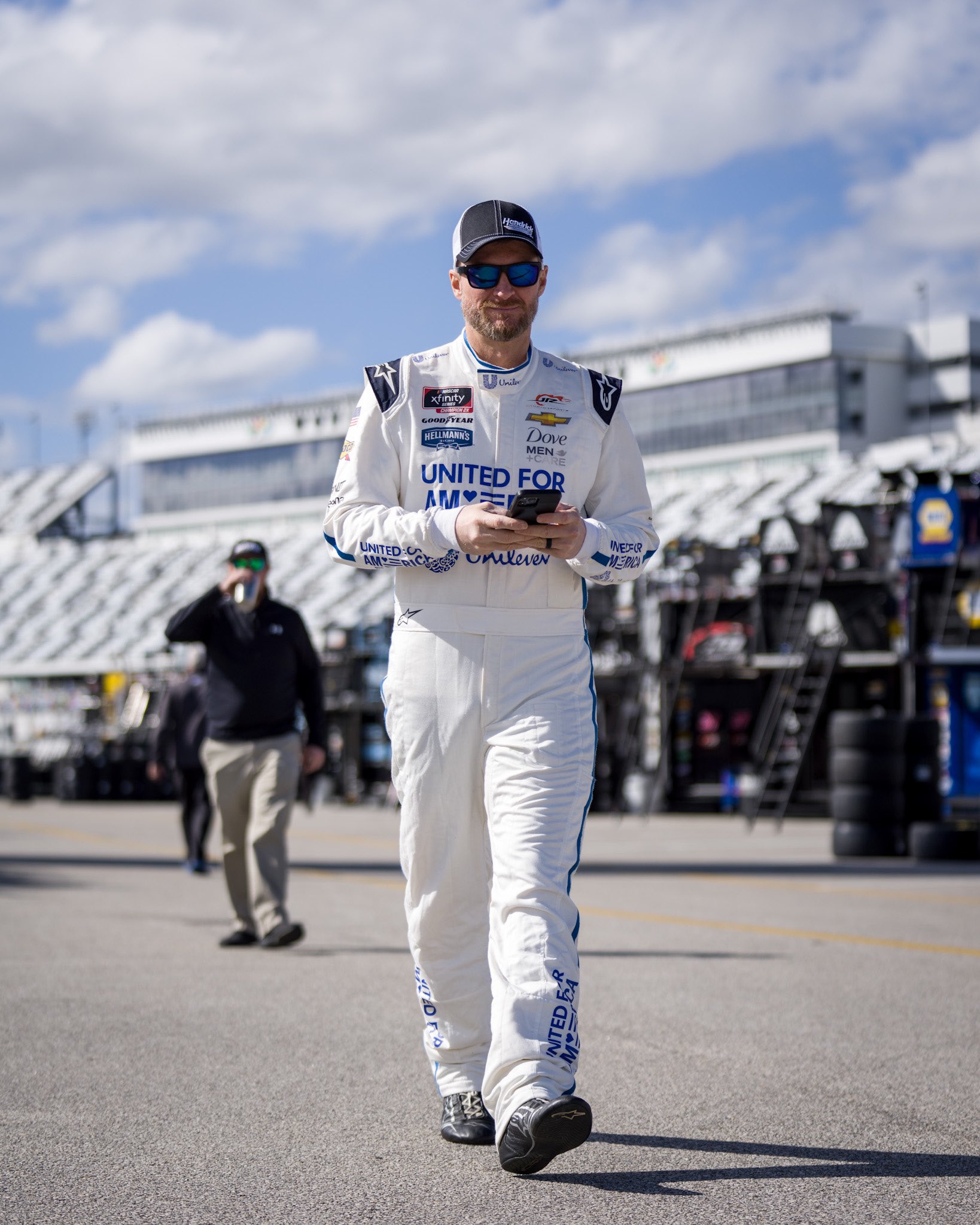 Three Ways Dale Earnhardt Jr. Could Race Again in the Cup Series
Earlier this week, Dale Earnhardt Jr. drove a Next Gen Chevrolet for Hendrick Motorsports in the organizational test at Daytona. Earnhardt's role in this test was likely due to three HMS drivers being preoccupied at the Chili Bowl Nationals. The former driver-turned-broadcaster has now turned laps in the new car on multiple occasions to better complement his analyst role with NBC Sports. With that being said, can the former fan-favorite end up behind the wheel of a Next Gen car in competition? While it is not likely given his age, past health problems, and television duties, there are three somewhat likely paths that could lead Earnhardt back behind the wheel.
Before we dive into these circumstances, there are a few glaring caveats that must be said. Earnhardt said in Daytona that he will not likely race again in the 500. "I'm 47 years old, I'm done taking risks," Earnhardt bluntly stated. Earnhardt also said that these testing laps did not impact his desire to race any more or less in 2022. Jr also went on to say that "I've got two little girls that I love being around, and I put my wife through a lot to race. She put everything in her world on pause for eight or ten years."
Currently, Dale Jr's lone race of this season will be the Xfinity Series Martinsville event on April 8th. This will mark his fifth-straight year of making one lone Xfinity start with sponsor Hellman's Mayonnaise. It is probable that Martinsville will be Earnhardt's one and only NASCAR start in 2022. However, there are some ways he could end up back in a driving suit on a Sunday.
COVID Relief Driver
With the current state of the pandemic, it may become reality that a Hendrick Motorsports driver could contract COVID and be forced to miss a race. This happened back in July of 2020 with Jimmie Johnson missing the Brickyard 400. That day, Justin Allgaier substituted in the No. 48. Should this happen again, Earnhardt may be on the short list of drivers called to drive in replacement for HMS.
When Michael Annett was initially sidelined with his leg injury last summer in Atlanta, Earnhardt was nearly tapped to race. However, the broadcaster did not have any of his racing gear, so Austin Dillon filled in. Should Earnhardt be named to substitute race, it would have to likely be in the FOX portion of the season, and also likely on a short track.
Since his retirement in 2017, Earnhardt has raced one Xfinity Series event per season, all coming on relatively slower tracks. A younger driver, such as any JRM talent, would likely be called before Earnhardt in these circumstances. Despite this, there is a possibility of this very occurrence happening.
Spire Motorsports No. 77 Car
At the time of this writing, Spire Motorsports will field two full-time entries in the 2022 NASCAR Cup Series. While the No. 7 is a full-time effort with Corey Lajoie, the No. 77 is not tied to any one driver. It was announced this week that Josh Bilicki will drive this car in most races, leaving some open dates for other drivers. Now how exactly does this tie into Earnhardt? Jr's longtime friend, former crew chief, and booth-mate Steve Letarte is a consultant for this race team. Letarte's role with Spire has been a part of an alliance with Hendrick Motorsports, in addition to his NBC duties.
Should the 77 have an open race, it is not impossible for Letarte to convince Jr. to come race. A homecoming of sorts with Earnhardt racing and Letarte atop his box would be a very welcome sight. Letarte's leadership largely contributed to Earnhardt's late career resurgence. The pair won five times together between 2011 and 2014.
JR Motorsports Cup Car
While it is not happening in 2022, it appears more and more inevitable that JR Motorsports will one day expand into the Cup Series. Should this happen in the near future, JRM could take the same approach as Kaulig Racing this season. For 2022, Kaulig joins the Cup Series with one full-time car, as well as one all-star car with a driver rotation. Should a second JRM car have an open race, it could lead to Earnhardt climbing back behind the wheel. This is perhaps the least-likely of the three scenarios though. Earnhardt has voiced his displeasure with investing in an ever-increasingly valued charter to race in the Cup Series.
More than likely, Homestead in 2017 did in fact mark Dale Earnhardt Jr's final ride in the NASCAR Cup Series. However, Earnhardt has shown great interest in testing the Next Gen car at both Bowman Gray Stadium and Daytona International Speedway. If any of the three above circumstances happen, Jr Nation could rejoice at seeing their pride and joy competing again on the biggest stage.
Written by Peter Stratta
Be sure to follow us on Twitter
Be sure to follow the writer on Twitter
Photo Credit to NASCAR via Twitter