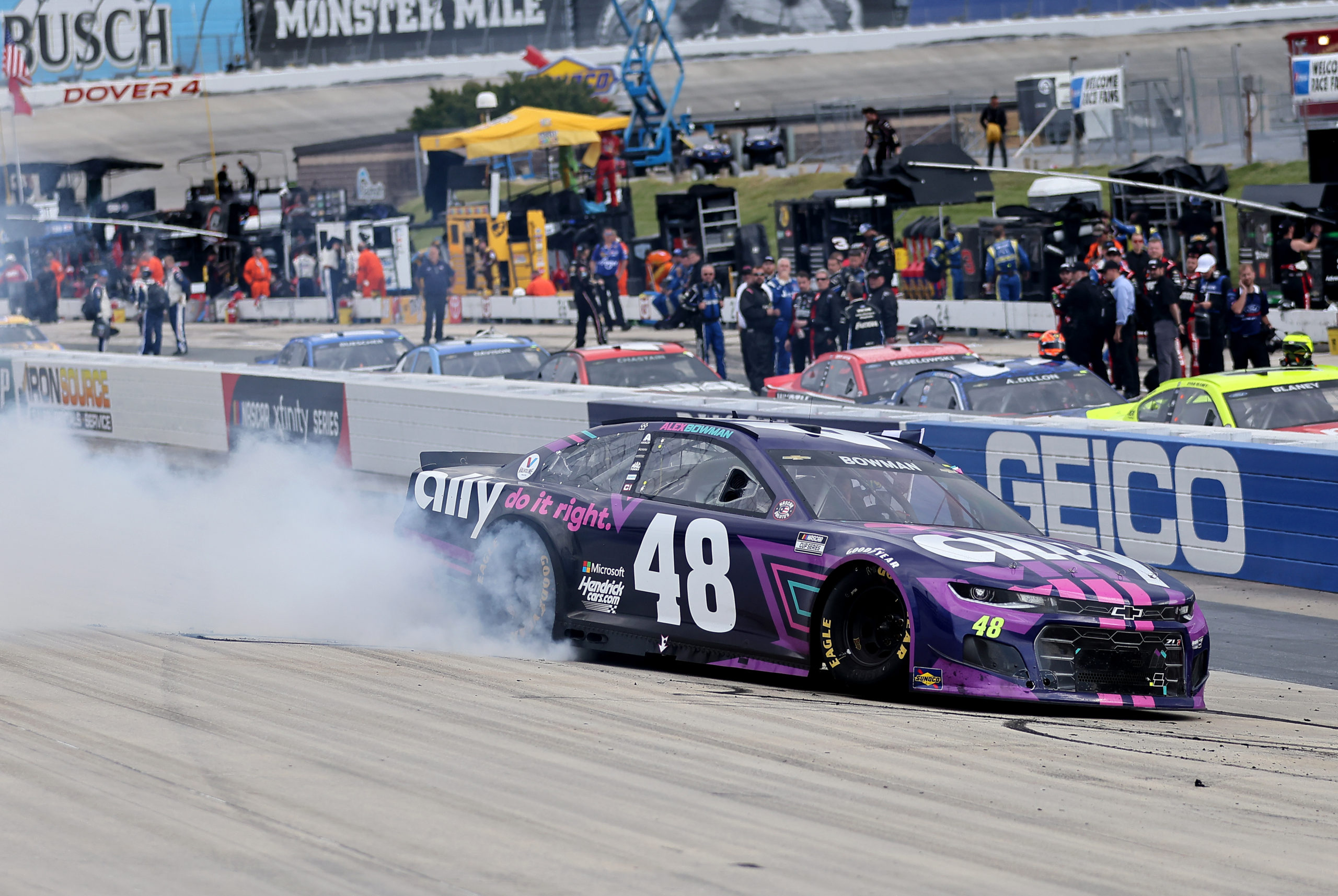 Alex Bowman Caps Off Historic Dover Race for Team Hendrick
DOVER, Del. – The Drydene 400 was just about a perfect race for Hendrick Motorsports. Kyle Larson swept both opening Stages in dominating fashion. Over the final 100 laps though, it would be Alex Bowman leading his three teammates to the checkered flag. Hendrick Motorsports scored only the second 1-2-3-4 team finish in NASCAR's modern era, and came one step closer to another racing milestone.
Larson Leaves Field in the Dust
Even though Martin Truex, Jr. started the day from pole position, the No. 19 Joe Gibbs Racing Toyota would not fare well. After just 15 laps, William Byron took over the race lead, a spot the 24 held until the competition caution. During the first trip down pit road though, the 5 of Kyle Larson just edged Byron at the timing line. Larson would take Stage 1 with ease, having a seven-second lead at the break. Stage 1 did end under caution though, as Chase Briscoe found the turn one wall on the last lap.
Stage 2 would be much of the same for car number 5. Larson took off like a rocket to start the Stage and never looked back. Only one caution for Josh Berry hitting the wall slowed Larson down. After leading all but one lap, Larson took his sixth Stage win of the year. Stage 2 saw all four Hendrick Motorsports cars place in the top four positions. Larson was hotly pursued at the green-and-white checkers by Chase Elliott, then Alex Bowman and William Byron.
When the final Stage went green Larson took off yet again, hoping to earn a second victory of the year for Team Hendrick. By lap 300, Larson's gap over Bowman was nearly four seconds, as the 5 looked to sweep all three Stages for the first time. However, one abrupt caution would change the complexion of the race.
Almirola's Abysmal Year Continues
While running 13th just after lap 300, something broke on Aric Almirola's No. 10 Mustang and he pounded the turn four wall. Almirola was on pace for a desperately-needed strong day, but instead ended up dead last in 37th. In five races this year, the 10 has crashed out and finished outside of the top 30. This includes both of the last two weeks, as Almirola's Darlington also ended prematurely. At 28th in points, the 10 team and Almirola are approaching must-win territory if they are to make the Playoffs.
This caution would see all of the leaders come down pit road, and a shakeup at the head of the field. Thanks to the fastest pit stop all season, Alex Bowman just edged Larson back onto the track. With control of the restarts now, the 48 had the upper hand on the 5.
Cautions Breed Cautions
A quick caution for the spinning Anthony Alfredo would bunch the field up once again. Five laps later the yellow flag flew once again for debris. Despite so many chances on restarts, Larson and the rest of the field could not wrestle the lead away from the 48.
Both cautions would see a split pit strategy among the front runners. From Denny Hamlin on back, everyone chose to come in for fresh tires after Alfredo spun. On the debris caution, Joey Logano led a few in as well. Once racing resumed though, Bowman still took off and could not be touched.
For the final run of 70 laps, Bowman held off every charge from Larson. Even after reeling him back in with lapped traffic, Larson could not quite get by the 48. In shades of Darlington a week ago, Larson was unable to rally from second. As laps wound down, Bowman was on rails as he cruised to his second win of 2021. Beyond that significance though, this win was ultra-special for all of Team Hendrick.
Huge Day for Hendrick
Bowman led all three of his teammates to the checkers, as Hendrick Motorsports earned the fourth 1-2-3-4 sweep in NASCAR history. The last time this feat occurred was Homestead 2005 with Roush Racing. For the first time in his career, Bowman now has a multi-win season as well. Hendrick Motorsports is also now just one victory behind Petty Enterprises' all-time record of 268 Cup Series wins. When will HMS become NASCAR's winningest team, and who will get this major achievement?
Bowman's Winning Reaction
"We won Richmond and then had a really rough couple of weeks there," Bowman said. "We went to some really good racetracks for us and struggled. I told the guys last week, 'we're still the same team that did it at Richmond.' This is another really good place for us. I'm just so pumped for Ally. It feels right to put the 48 back in victory lane here after how many races that this car has won here.
"Mr. H (Rick Hendrick) is here. I don't think I've won with him here before, so that's really cool. Just so proud of this pit crew. It was obviously a rough off season for us and a big void to fill. Not that we're ever going to fill the void that Rowdy left, but Allen is doing a really good job and the whole pit crew is doing a really good job. Thanks to my spotter, Kevin Hamlin, for coaching me there at the end. It was fun racing Kyle (Larson) and glad to get Hendrick Motorsports another win."
The 48 won 11 times at Dover with Jimmie Johnson behind the wheel. This included the 7-time Champion's final career win in 2017. Now in 2021, the Hendrick 48 is back in victory lane at the Monster Mile.
Top 10 Results From Dover
Behind the Hendrick foursome of Bowman-Larson-Elliott-Byron, Joey Logano's fresh tires allowed him to rally late to fifth. For Byron, Dover marked his 11th-straight top 10. Kevin Harvick, Denny Hamlin, Tyler Reddick, Daniel Suarez, and Cole Custer rounded out the top 10.
Playoff Standings Update
With his second win of 2021, Bowman vaults up to second in Playoff seeding behind Martin Truex, Jr. Bowman and Truex are the only drivers with more than one victory this year.
On the bubble, Hamlin is still the winless regular season points leader. The 11 is 293 points above the cut line, with 10 top-10s through 13 races. Chase Elliott (+151) and Kevin Harvick (+146) are both well ahead of the cutoff as well. Austin Dillon now has a full-race advantage, as the 3 is +60 points in 11th. Chris Buescher is 15th at +28, while Tyler Reddick is the last man in currently with a 17-point buffer. The odd man out after Dover is Matt DiBenedetto.
What's Next for Cup
One of the most anticipated races of the year is next week. The NASCAR Cup Series will head to Austin, Texas, for the inaugural race at Circuit of the Americas (COTA). The maiden running of the Echopark Texas Grand Prix will be Sunday, May 23 at 2:30 p.m. ET on FS1, PRN, and SiriusXM NASCAR Radio Channel 90. Chase Elliott has been the road course king in recent years, but can the 9 remain on top at an all-new 3.4-mile layout?
Written by Peter Stratta
Be sure to follow us on Twitter.
Be sure to follow the writer on Twitter.
Photo Credit to James Gilbert/Getty Images for NASCAR