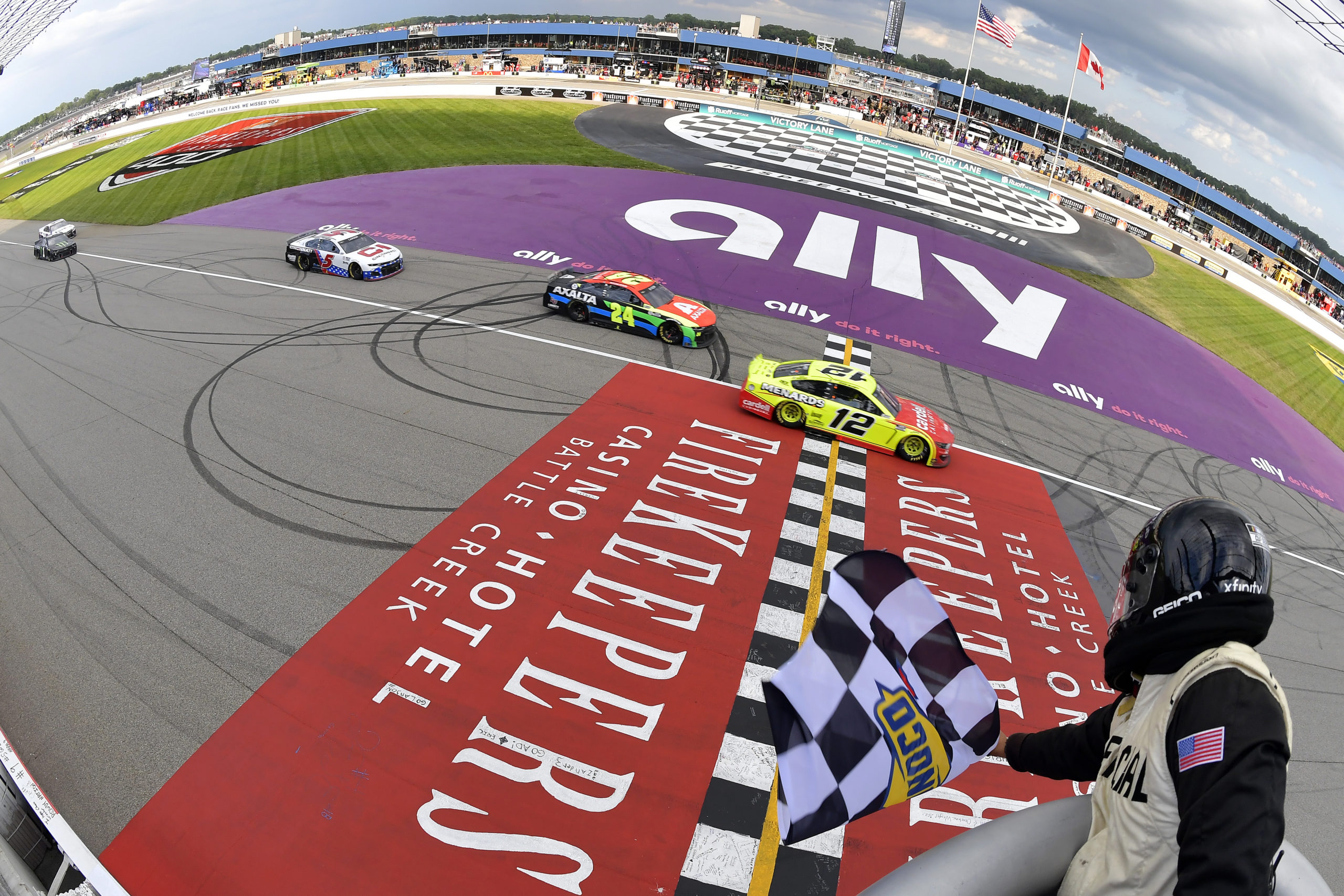 Ryan Blaney Outlasts Field on Late Restart for Michigan Win
BROOKLYN, Mich. – The day may have been dominated by Hendrick Motorsports, but Ryan Blaney led when it counted. The Penske No. 12 car edged ahead into the lead on a late restart and held off every charge for win number two on the season. 2021 now marks Blaney's first multi-win season ever in the NASCAR Cup Series. In addition, this also was the seventh-straight Michigan win for Ford.
Hendrick Asserts Dominance
Although three-time Michigan winner Kyle Larson was the polesitter, he would not win Stage 1. That honor would go to his teammate, Chase Elliott, who started second. Elliott gained the lead on an early restart and didn't look back, taking his second Stage win of the year.
Not far behind Elliott was Austin Dillon, desperately in need of a strong points day. Dillon's 3 car had made it up to second late in Stage 1, but lost position to Larson on the last lap. With Playoff bubble driver Tyler Reddick not earning points in Stage 1, Dillon cut his points deficit by eight.
Wild End to Stage 2
Stage 2 largely remained clean and green at Michigan, with pit strategy jumbling up the running order. Although the Larson/Elliott duo were once again the fastest, a two-tire call by a few Joe Gibbs cars put them back. As a result, Kyle Busch won Stage 2 over Christopher Bell. However, just after the green-and-white checkers waved, one driver's day abruptly ended.
While racing for sixth on the last lap of Stage 2, Austin Dillon cut down to the apron, with Brad Keselowski to his outside. Once the 3 crossed the line, he tried coming back up onto the track. However, Keselowski's No. 2 was still tight on Dillon's door. As a result, Dillon went spinning hard into the outside wall. The 3 nearly did a flip, destroying the car just mere feet after collecting more valuable Stage points.
After climbing out of what Dillon called "the best race car we've brought to the track at RCR this year," he would finish 36th. Still 17th in points behind Tyler Reddick, Dillon now eyes next week's regular season finale in Daytona as a must-perform weekend if not a must-win scenario.
Once racing resumed, Larson's 5 car took off again, looking for a fourth Michigan victory. Larson only gave up the lead to pit with 42 laps left, as he coasted to pit road on fumes. This exchange however would see teammate William Byron leapfrog Larson in the running order. By lap 175, Byron had cycled out into the lead, looking for win number two on the season.
A brief rain caution would fly with 20 laps remaining, but the race would restart. This restart led to mayhem back in the pack though, as Joey Logano got turned across several cars. Christopher Bell, Josh Berry, Ryan Newman, and more went spinning.
Pushers Determine Race Outcome
This last caution set up the restart that ultimately decided the race outcome. While Byron chose the dominant high line, to his inside went Ryan Blaney. A few Joe Gibbs teammates lined up in the second row pushing the leaders though. Denny Hamlin was behind Byron, while Kyle Busch was on Blaney's bumper. Busch gave Blaney enough of a push to clear the 24 into turn one, and the race was on from here.
Even though Byron closed back in on Blaney, he could not maneuver around the 12. At the checkered flag, Byron was just 0.077 seconds shy of the victory. This marked the closest finish at Michigan since the use of electronic scoring in the NASCAR Cup Series.
Blaney's Winning Reaction
"We were going to be fourth and the front row was open," Blaney said. "You have to take the front row. It gave us a shot to win the race and Kyle (Busch) gave us a really good push to get us clear into turn one and then I was playing defense. We were wide open. Especially with Larson and William (Byron) laying back and trying to get runs. That made it tough. It was cool to persevere all day. We didn't start off very good but we worked on it all day and found ourselves in a spot to capitalize on it at the end and did that. A very cool day and nice to be in victory lane here in Michigan. This is huge for Ford and Mr. Penske and a lot of fun."
"We come up here every year and know it is important to the Blue Oval and the Ford family and Mr. Penske as well. It is a really big race for all of our group including the Penske side. To have Edsel here, I haven't seen Edsel in over a year so it was great to have him out. I am excited to get him in victory lane. Everyone from Ford does so much for us. It really is a big family and I am just happy to be a part of it."
For the first time in his NASCAR Cup Series career, Ryan Blaney now has more than one win in a season. With the Playoffs right around the corner, is the 12 an underdog title threat? Both of his victories this season have come from clutch, late-race moves.
Top 10 Results from Michigan
Behind the top three of Blaney, Byron, and Larson, Kurt Busch and Denny Hamlin rounded out the top five. Matt DiBenedetto, Kyle Busch, Chase Elliott, Brad Keselowski, and Martin Truex, Jr. were the rest of the top 10.
One More into the Playoffs
By virtue of finishing 14th, Kevin Harvick locked up a Playoff spot on points, making him the 15th contender for 2021's postseason. A late spin by Tyler Reddick also relegated him to finish 29th, but he still leads Austin Dillon by 25 points for the final spot. Next week at Daytona will be a 400-mile long points battle between both RCR cars, as they each try to break into the Playoffs.
What's Next for Cup
It all comes down to one final race in the regular season: Daytona. The ultimate wildcard race and track gives the field one final chance to win their way into the 16-man Playoffs. The Coke Zero Sugar 400 is live next Saturday, August 28 at 7:00 p.m. ET on NBC, MRN, and SiriusXM NASCAR Radio Channel 90. Reddick and Dillon are racing each other for that final berth, but many others can upset both RCR drivers and win their way in. It is sure to be chaos, unpredictable, and thrilling, so don't miss a lap of the action!
Written by Peter Stratta
Be sure to follow us on Twitter
Be sure to follow the writer on Twitter
Photo by Logan Riely/Getty Images for NASCAR