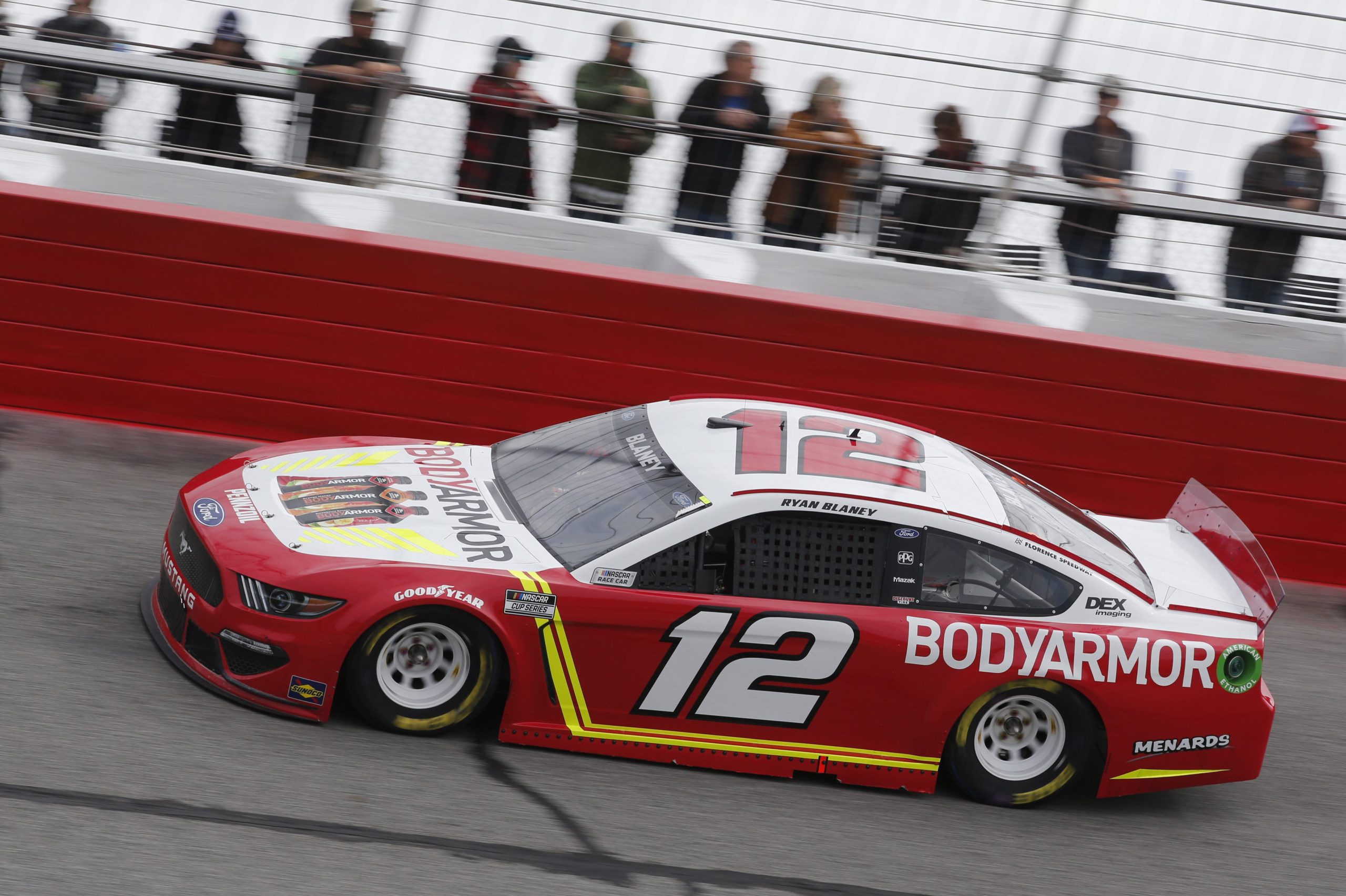 Ryan Blaney Passes Kyle Larson Late for Clutch Atlanta Victory
HAMPTON, Ga. – It appeared to be a dominant day in Atlanta for Kyle Larson's No. 5 Hendrick Chevrolet. However, Ryan Blaney would pass Larson with nine laps to go and drove off to the win. Although Larson led 269 laps, Blaney's long run car did pay off in the end, with some help from a teammate. Blaney's Atlanta win puts the 12 through to the Playoffs for the fifth-straight year. 2021's Cup Series streak of different winners grows yet again, now at six entering the Bristol Dirt Race.
Larson Dominates Opening Stages
Despite Denny Hamlin starting on pole, the Fedex 11 would fail to lead past the competition caution. This first trip down pit road would hand the lead to Kyle Larson, as the 5 was on rails here. Stage 1 would not see another caution, as Larson won it handedly. The 5 had a gap in excess of seven seconds when the first green-checkered fell.
The other major development in Stage 1 would involve Kevin Harvick. After pitting under the competition caution, the 4 had a left rear tire go flat. A cut valve stem under caution would force Harvick to give up third on track to pit again. This error set Harvick back for the remainder of the 500 miles, as he would only recover to finish 10th. This was far from the day expected for the Atlanta master, as Harvick hoped for his fourth win in the Peach State.
Stage 2 would start off costly for one team in the top 10. On the restart to kick off the Stage, contact from Denny Hamlin sent Kurt Busch into the outside wall in turn one. This put the Ganassi 1 team out of commission for the rest of the race, as they finished 39th.
Status Quo in Stage 2 for the 5
Stage 2 would be much of the same up front, as Larson continued to command the field. Once the race resumed, Larson took off like a rocket. Aside from a green flag pit stop, Larson led the entirety of Stage 2 in Atlanta. Larson took this second Stage win by over eight seconds.
One surprise in the top 10 after Stage 2 was Daniel Suarez, as the Trackhouse 99 placed 10th. With one Stage remaining though, Larson was seemingly on his way to an easy second win of 2021. However the trophy was far from engraved for Larson. On pit road he edged Ryan Blaney at the exit line by mere inches. If anyone would take the battle to Larson, it would likely be the 12 car.
Hometown Hero Out Early in Final Stage
While one Hendrick car was dominating out front, another had to rally all day. After starting in the rear for two inspection failures, Chase Elliott had methodically worked his way forward. The Dawsonville, Ga. native hoped to impress in his first home track appearance as the defending champion. However those hopes went up in smoke (quite literally) just three laps into the final Stage. Elliott's engine expiration sent the Napa 9 to a dismal 38th-place result.
Elliott's engine failure would eventually become the final caution of the afternoon. However, this caution did prove to be a turning point in the race, as this trip down pit road saw the 12 beat the 5 back on track. Blaney led initially in this final run, but Larson got by the 12 on lap 237. With 89 laps to go, Larson began to pull away from Blaney once again.
Blaney Begins to Close in, Penske Teammate Helps
With just under 60 laps left, both leaders made their final pit stop. After the pit cycle and with 50 to go, Larson paced Blaney by 2.5 seconds. Around lap 300 though, Blaney began to slowly make inroads on Larson's bumper, chipping away at the deficit.
One big assist for Blaney came from his teammate, Joey Logano. While trying to avoid being lapped by Larson, Logano blocked the 5. This multi-lap exchange held up Larson enough for Blaney to close in big time.
With eight laps left, Blaney made the winning pass on Larson. Logano finally let both cars by. Larson quickly voiced displeasure to Logano, and also reported that his tires were gone. Meanwhile, Blaney held on for his first win of 2021.
Top 10 Results from Atlanta
After leading a race-high 269 laps, Kyle Larson would have to settle for second place. Alex Bowman ended a quiet day in third, his best finish of the season. Denny Hamlin also scored another top five in fourth, while Kyle Busch followed his teammate home. The 18 now has a top 10 in three of the last four races.
The remainder of the top 10 were Austin Dillon, Chris Buescher, William Byron, Martin Truex, Jr. and Kevin Harvick.
Blaney's Winning Reaction
"Gosh, we had a great long run car all day," Blaney said. "It took us a little bit to get going. I was pretty free all day, so we made a really good change to tighten me up where I needed it. It looked like Kyle was getting loose and I'm happy it worked in our favor that there was a couple long runs at the end that kind of let us get there. He got slowed up behind some lapped traffic. But I'm really proud of this whole BodyArmor, Menards No. 12 group. We've been good this year and had some bad breaks and it's nice to close out a race like that. That was awesome."
Blaney went on to describe just how dominant Larson was, and how he steadily beat him. "The 5 was crazy fast there the whole race and then we started closing in. Our car got a lot better there. I think towards the end of Stage 2 it was starting to get there. Then before that last green flag stop it really came to life and he was starting to struggle getting really free. I don't know if the track changed or what, but we were just tightening it up all day. I'm happy there were a couple long runs at the end. That's where our strong suit was and we capitalized on it. It's cool to get a win at Atlanta. I love this place. It's nice to have a good run here and win."
Numerology Behind Blaney's Win
Blaney is the sixth different winner in as many races for 2021. Atlanta marks the fifth career victory for the third-generation star, and also locks him into his fifth Playoffs. Blaney is the first Penske car to break into the winner's circle this season, as both Logano and Keselowski are still winless.
What's Up Next in Cup
Next Sunday is without a doubt one of the most anticipated races of the 2021 season. The Cup cars will head to Bristol for the first dirt race in 50 years. The Food City Dirt Race will go green on Sunday, March 28 at 3:30 p.m. ET on FOX, PRN, and SiriusXM NASCAR Radio Channel 90. With the dirt being an equalizer, the field of potential winners is especially wide open. Nobody truly know what next week will hold, as the unknowns of this race are numerous. Sunday will certainly be can't-miss action, as the NASCAR Cup Series hits dirt for the first time in the modern era.
Written by Peter Stratta
Be sure to follow us on Twitter.
Be sure to follow the writer on Twitter.
Photo credit to Ford Performance via Twitter