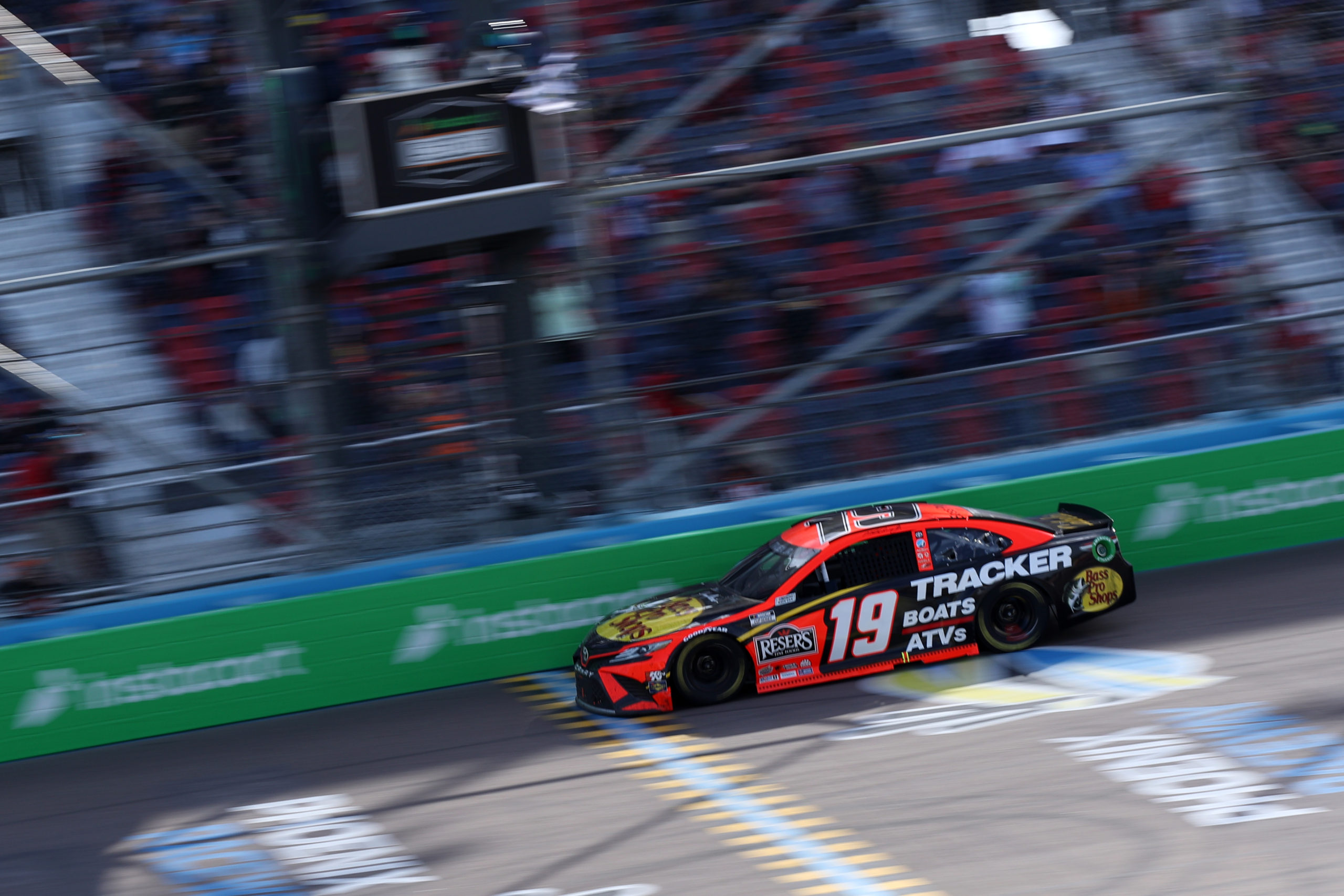 Martin Truex, Jr. Triumphs in the Desert for First Win at Phoenix
AVONDALE, Ariz. – 2021's streak of different race winners in the NASCAR Cup Series extended to five in as many weeks. After the day appeared it belonged to Joey Logano, Martin Truex, Jr. won after the final restart. For Truex, this marks his first win in 29 races. This also was Truex's first win at Phoenix Raceway, coming in his 31st start on the desert mile. Truex is the fifth different winner for 2021, and is thus the fifth man locked into the Playoffs. After getting the elusive first win early in the year, will the floodgates now open for the 19?
Penske Power on Display Early in Stage 1
Although Brad Keselowski started on pole, Denny Hamlin got by the 2 early to lead at Phoenix. Hamlin would pace the field until the competition caution, where the 11 fell back on pit road. This same cycle of pit stops saw Kyle Larson hit with a speeding penalty. The 5 got sent to the rear again, as he had to start from the tail for two inspection failures.
Keselowski led briefly once racing resumed, but the point quickly went to Ryan Blaney. After struggling mightily so far this year, the 12 looked to return to winning form at Phoenix. Right after Blaney took the lead however, the caution would come out again for a spinning Alex Bowman. The 48 got held up behind the 42 of Ross Chastain entering turn two, and evidently got ran over by Austin Dillon in the 3. Despite some damage though, Bowman would recover nicely to finish 13th at his home track.
Once Stage 1 resumed it was a Penske battle up front between Blaney, Keselowski, and Joey Logano. The 12 took the Stage win narrowly over Logano. This marked his first Stage win and also first Playoff point gained in 2021. With two Stages left to run in Phoenix, all three Penske Mustangs looked tough to beat.
Penske Performance Again Supreme in Stage 2
Once again under caution, the lead changed hands in the pits. Logano's 22 crew just narrowly edged out the 12 of Blaney, giving the defending Phoenix spring winner the top spot to kick off Stage 2. To the surprise of few, Logano took off on the restart and hardly looked back. Only one caution on lap 89 would pause the action in Stage 2, when Cody Ware and Anthony Alfredo tangled in turn two.
Despite the crazy restarts all day long that saw drivers cutting the dogleg as low as possible, Logano would retain his lead. Aside from a green flag pit stop cycle, Logano led the remainder of Stage 2. Two Penske drivers picked up their first Stage wins of 2021 in Phoenix, as Logano was hoping for two-straight spring race victories.
Another Costly Mistake in the Pits
Pit stops midway through Stage 2 would spell disaster yet again for the 5, as Larson sped once more. The 5 went 50.01 mph in section 10, just one-hundredth of a mile per hour too fast. For a third time, Larson would be forced to rally from behind with a lightning-fast car. Due to no caution however, Larson did not lose a lap to the leader. The day would be far from over for Larson, as he methodically picked off each position.
When the final Stage went green, it was Logano holding off Hamlin for the lead. Larson would restart in the back half of the top 10 on lap 200, but quickly got to seventh, sixth, and into the top five. Right as Larson took fifth from Blaney, Martin Truex, Jr. also took the lead for the first time all day. With 85 laps remaining, Truex was now in control, but Larson was also charging hard.
When Truex made his green flag pit stop with 59 laps left in the desert, he was up by five seconds over Logano. Once everyone cycled through their final service, the 19 was ahead of Larson by just under two seconds.
Daring Strategy Play for 23
With 51 laps remaining, Tyler Reddick found the wall in turn two, thus triggering a caution. With very few laps of racing on everyone's tires, pitting here seemed to be a zero-sum game. However, nearly all of the leaders would come back in for fresh tires. There would be one exception however, the 23 of Bubba Wallace. The 23XI Racing machine had been running well all day up until this point, and crew chief Mike Wheeler made the call to stay out and gain the lead on older tires.
Wallace was seventh before the caution, and now found himself out front. The restart would not fall in Wallace's favor though, as the Penske cars and others swarmed him. Keselowski took back over for a few laps, but with 39 to go Logano was back out front.
Clutch Final Pit Stops
Pit road at Phoenix would be populated yet again with under 30 laps left. Kyle Busch spinning out of turn four brought out the final caution, and brought everyone back in for tires. The order out of the pits would be Logano-Truex-Hamlin-Keselowski-Larson. The money stop went perfectly for Logano and the 22 crew, as he was in prime position to hold the lead on this final restart.
Once the green flag fell however, Logano did not take off like earlier. Instead, Truex stayed on Logano's high side and cleared the 22 out of turn two. With 25 laps to go, the 19 was pulling away.
Despite contact between Wallace and Cole Custer that saw the No. 41 Mustang pound the wall, no caution came out. After leading earlier with the daring no-pit call, Wallace would finish 16th, while Custer took 31st with damage.
Up front meanwhile, it was all Martin Truex, Jr. driving off into the sunset and into victory lane. Truex built up a lead of nearly two seconds and held serve over Logano for his first win in the Valley of the Sun. After so many near-wins throughout last year, the 19 returned to their winning ways.
Top 10 Results From Phoenix
Behind Truex and Logano, third-place went to Denny Hamlin. The current points leader by 39 markers, Hamlin has quietly put together a very consistent year with four top-fives in five races. The rest of the top five went to Brad Keselowski in fourth, and defending Cup Champion Chase Elliott in fifth. Elliott was unable to defend his November Phoenix win, and also failed to lead a lap en route to his first top five since the Daytona 500.
The remainder of the top 10 were Kevin Harvick, Kyle Larson, William Byron, Christopher Bell, and Ryan Blaney. Former Phoenix master Harvick also failed to lead this time in the desert. After coming through the field three times and passing a total of 145 cars, Larson would have to settle for seventh. Larson's teammate Byron has also put together three-straight top-10s since his Homestead win. Blaney is also moving in the right direction, with back-to-back top-10s for the 12.
Truex's Winning Reaction From Phoenix
"Man, I can't really believe it, I'm kind of speechless," Martin Truex, Jr. said after his first Phoenix win. "This feels pretty amazing, you know? Phoenix has been a tough one for us and to come here and win this, I wish it was November, but hopefully we can come back here in November and have a shot at being in the Final Four. Man, just so thankful and so proud of everybody at JGR and everybody who makes this possible."
Truex explained that the day was far from perfect for the 19 team, as he actually made wall contact early on. "About lap 67, I hit the fence off of turn two. Our car was super tight to start off the race. It wasn't any good at all. I can't believe I'm standing here right now. What an effort by my guys on the team. It's just unreal. To hit the fence, to go to the back, to fix it, to make some huge adjustments and for us to be able to run as good as we did at the end there, I'm speechless.
This has been a tough track for us. We struggled here in the fall. We came here with a whole new mindset, a whole new focus on trying to figure this place out and I'll be dammed if we didn't do it. Hopefully we can keep tuning on this thing and come back for the Final Four in November."
A Sign of Things to Come for the 19?
"To have the speed that we had and to be good on the long run at the end, and to be able to take the lead on the restart against a couple guys who are good here each and every time. Look at the 22, the 2 and the 11, those guys are always good, and we've been searching.
Like I said, we will go home and figure out to be better, and tweak on it. This is just unbelievable. Unbelievable day for Bass Pro Shops, Toyota, TRD, this Camry was smoking fast.
It's a dream come true to drive these cars and be out here in front of these awesome fans. Hopefully we can put together a good season and win some races. One win last year was disappointing for us. We were close a lot of times, but we want to win bunches and we want to go for another championship, so hopefully this will be good momentum for us right here."
Phoenix marked the 28th victory of Truex's Cup Series career, and first since Martinsville last June. Truex is now locked into the Playoffs for the ninth time, as he pursues his second Cup Series title.
What's Next in Cup
Up next for the 2021 NASCAR Cup Series is the trip east to Atlanta. The Folds of Honor/QuikTrip 500 is race six of the campaign, and the third 1.5-mile track in four weeks. Coverage begins on Sunday, March 21 at 3:00 pm ET on FOX, PRN, and SiriusXM NASCAR Radio Channel 90. In recent years, Atlanta Motor Speedway has been Kevin Harvick's personal playground. However with the 4 team's struggles, can another team pull off the victory after 500 grueling miles in Atlanta?
Written by Peter Stratta
Be sure to follow us on Twitter.
Be sure to follow the writer on Twitter.
Photo credit to Sean Gardner/Getty Images for NASCAR