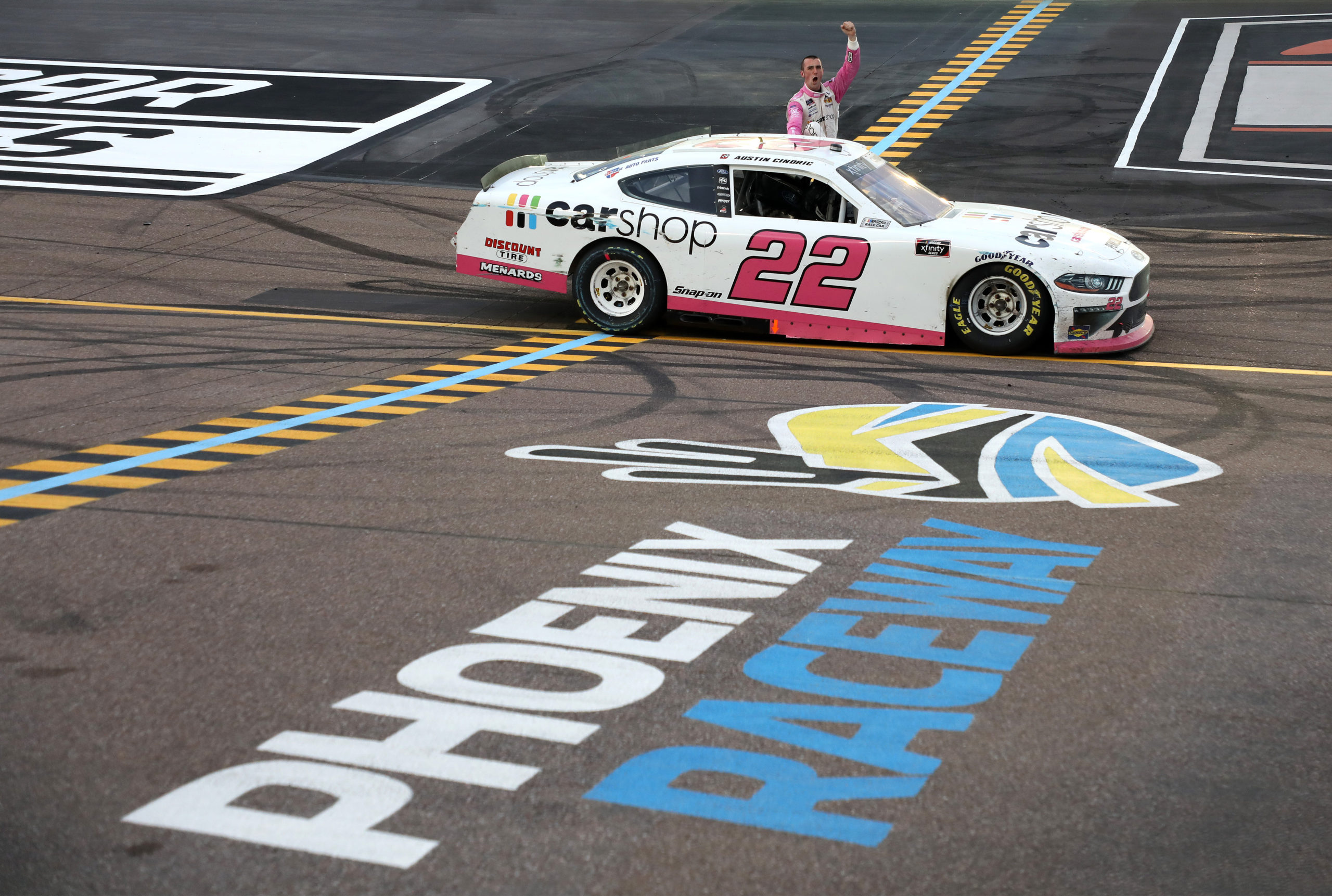 Austin Cindric Gets Second-Straight Phoenix Win
Cindric Survives Wild Final Restart
AVONDALE, Ariz. – Austin Cindric survived a wild green white checkered finish to win the Call 811 Before You Dig 200 at Phoenix Raceway. It looked like Cindric was going to cruise to victory but a caution with nine laps to go bunched the field back up. Cindric held off charges from both Justin Allgaier and Ty Gibbs to pick up his second win of the season.
Cindric's Stage 1 Dominance Continues
Austin Cindric has flat-out dominated stages this season. His great starting position put him in an excellent spot to pick up the Stage 1 victory. Cindric started third, which is actually his worst starting position of the season, but he passed pole-sitter Daniel Hemric in the first turn to take the lead. Cindric cruised to his fourth stage win of the season. Three of those four came in the opening Stage of races this year.
Pit Road Trouble Opens the Door for Daniel Hemic in Stage 2
Austin Cindric had a slow pit stop and dropped back to sixth. Brandon Jones actually won the race off pit road but he was caught speeding and had to drop to the rear. Daniel Hemric was the biggest beneficiary, as he inherited the lead.
Noah Gragson's car began smoking a few laps into the Stage. It didn't take long before the engine expired on the No. 9 JR Motorsports Chevrolet. Gragson was running seventh when the engine blew, leading to a disappointing 39th-place finish.
Hemric was challenged late in the Stage by teammate Harrison Burton, but he went on to pick up the Stage win for the second-consecutive race. Brandon Jones recovered from his penalty to finish 10th.
Justin Allgaier Takes Control Early in Final Stage
Justin Allgaier beat both Cindric and Hemric off pit road to take the lead for the first time. Hemric, along with Harrison Burton and Justin Haley, lost multiple positions due to slow stops. Allgaier held the lead while Hemric quickly went backward. He reported the balance went away as he went from third to 16th in 24 laps. Meanwhile, Haley and Burton moved back into the top 10.
Six Cautions Disrupt Final Stage
Tommy Joe Martins got into the wall on lap 125, bringing out the sixth caution. Everyone came down pit road with Ryan Sieg taking over the lead after taking just fuel. Cindric quickly passed him and Sieg was knocked into the wall in turn one.
The next three green flags runs would be a combined 10 laps. Issues for Harrison Burton, Brett Moffitt, and Josh Berry brought out three separate cautions in a span of 21 laps. Berry's incident was the most significant after he spun out in turn three. He had a flat tire after making contact with Santino Ferrucci.
Needless to say, Berry wasn't too happy with Ferrucci.
Just before Berry's spin, Cindric and Allgaier reclaimed the top two positions after passing Brandon Jones. Jones slid back and was eventually wrecked by AJ Allmendinger. It looked like Allmendinger was trying to get behind Jones on the backstretch but misjudged it and clipped his left rear. The crash ended Jones's day with a 33rd-place finish.
Final Caution Sets Up Chaotic Finish
A spin by Alex Labbe brought the caution out for the final time with nine laps to go. No one had a fresh set of tires left so everyone stayed out. The cars fanned out on the front stretch during the final restart. Jeb Burton went way down low but he slid up into Daniel Hemric and Justin Haley, causing both cars to hit the wall. Justin Allgaier got to the outside of Cindric in turns one and two, but ran out of room and hit the wall. Cindric held off a last-ditch effort from Ty Gibbs to win his second-straight Phoenix race.
Top 10 Results from Phoenix
Cindric's red-hot start to the season continued with his second victory. Ty Gibbs was quiet most of the day but the late carnage allowed him to move up to second. Brandon Brown and Riley Herbst were also beneficiaries of the late drama, finishing third and fourth. It was a career-best finish for Brown. AJ Allmendinger backed up last week's win with a fifth-place finish. Jeb Burton, Bayley Currey, Justin Allgaier, Brett Moffitt, and Jeremy Clements rounded out the top 10. It was a career-best and first career top-10 for Currey. This also marked the best-ever finish for Mike Harmon Racing.
What's Next for Xfinity
The west coast swing is over as the Xfinity Series heads back east. Atlanta Motor Speedway will host the EchoPark 250 on Saturday, March 20. Coverage begins at 5 p.m. ET on FS1, PRN, and SiriusXM NASCAR Radio Channel 90. AJ Allmendinger won his first oval race at the track last season, but. Cindric won both Stages. However, the 22 did eventually fade to 16th. Will either of them be up front again?
Written by Nicholas Sterling
Be sure to follow us on Twitter.
Be sure to follow the writer on Twitter.
Photo Credit to Christian Petersen/Getty Images for NASCAR