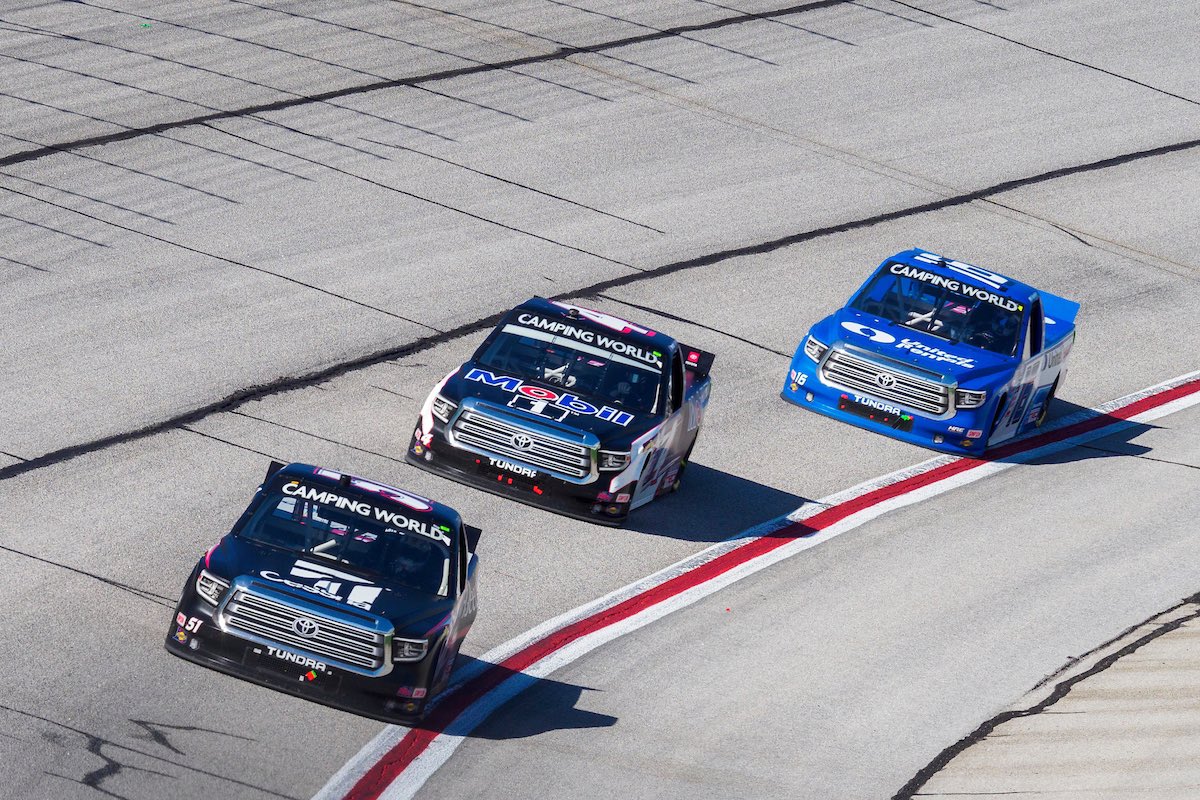 Kyle Busch Scores Victory No. 60 at the Atlanta Motor Speedway
HAMPTON, Ga.- Kyle Busch wins the Fr8Auctions 200 at Atlanta Motor Speedway, making him a 60-time winner in the Camping World Truck Series. Just two years ago in Atlanta, Busch took over the series all-time winner position, ahead of Ron Hornaday who previously topped the chart with 51 victories. In a near-perfect race, Busch led 102 laps before capturing the checkered flag.
"Can't say enough about my guys and everyone at Kyle Busch Motorsports," Busch said post-race. "They do such a great job and a lot of hard work. Without their preparation and dedication, we wouldn't be as successful as we've been as an organization. It's great to get back to victory lane, it's always cool to get back to victory lane. Good to see John Hunter come home with another top-three today. Obviously, with him racing for a championship this year, that's important."
Stage 1 & 2 & Notabale Events:
Stages one and two felt very similar in today's Truck Series race. The entire event went caution-free, excluding those for competition and stage endings. John Hunter Nemechek was able to claim both green-checkered flags as he passed team owner Kyle Busch late in both stages. He went on to finish third.
Christian Eckes and Raphael Lessard both had poor finishes after each ran into mechanical issues late. Eckes would come home 35th and Lessard finished 39th.
In his first truck event since 2007, 60-year-old Bill Lester got back behind the wheel in NASCAR's Camping World Truck Series. The driver out of California finished in 36th.
Hailie Deegan finished today's race in the 21st position, making it her best so far in the Truck Series.
Next Stop? Dirt!
The next stop in the Camping World Truck Series tour is the Bristol Motor Speedway Dirt Track. Series regulars and a handful of Cup Series competitors will go fender-to-fender in a new track configuration. You can find all of the action on Saturday, March 27th, at 8 p.m. ET on FS1, MRN, and SiriusXM NASCAR Radio Channel 90.
Written by Noah Lewis
Be sure to follow us on Twitter.
Be sure to follow the writer on Twitter.
Photo credit to @ToyotaRacing on Twitter.