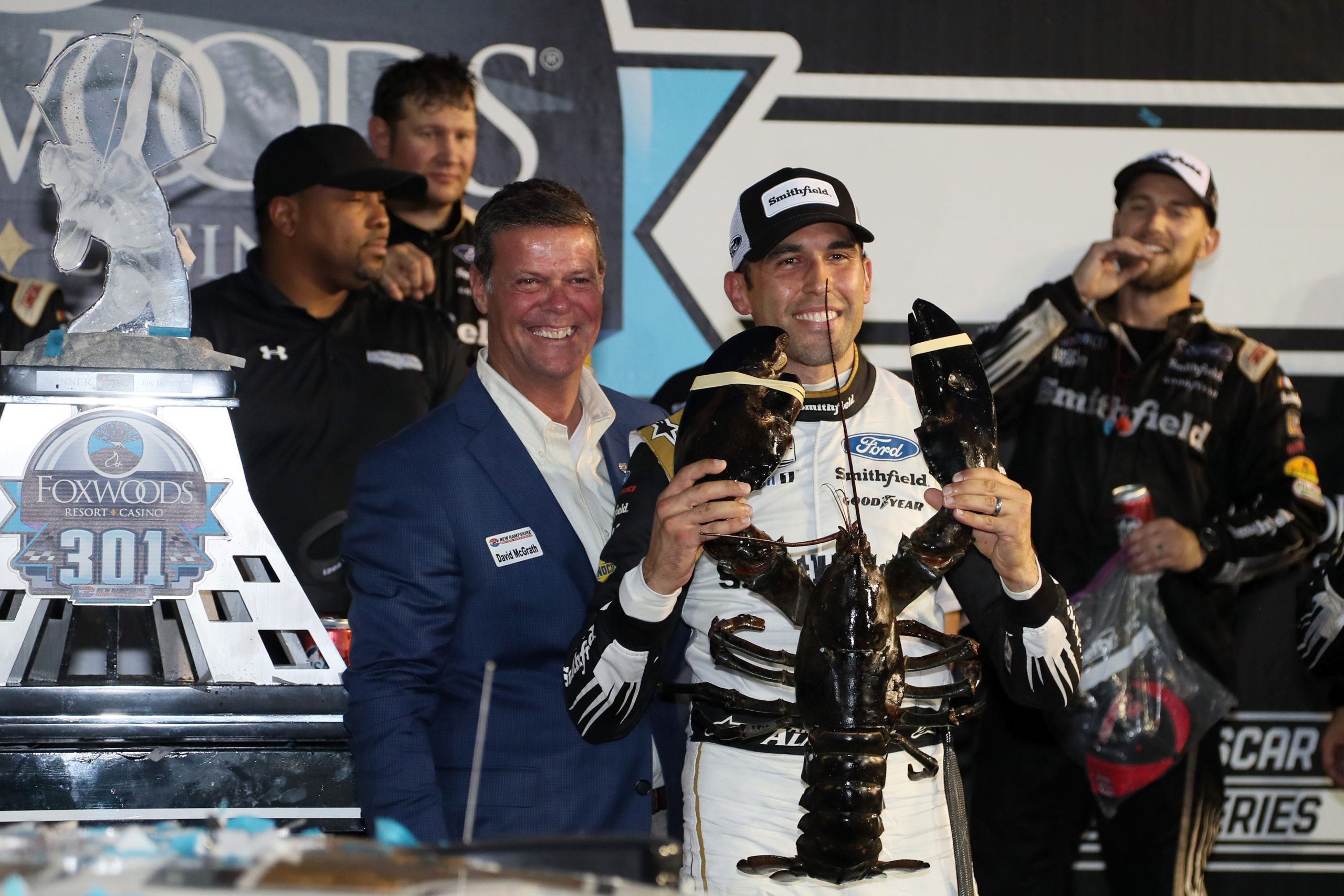 NASCAR Veteran Aric Almirola to Retire After 2022 to Spend Time with Family
KANNAPOLIS, N.C. – Stewart-Haas Racing driver Aric Almirola announced Monday that 2022 will be his final full-time NASCAR season. The 37-year-old driver from Tampa, Florida has three career Cup Series wins, including last summer at New Hampshire. Almirola cited his reason for leaving racing as wanting to spend more time with his young family.
Almirola made this news public on the same day that Smithfield Foods announced their 11th season of sponsorship. Smithfield and Almirola first joined forces at Richard Petty Motorsports in 2012, and have both been at SHR since 2018. Every year since moving to the Ford powerhouse, Almirola has made the Playoffs. His best championship result was fifth in 2018, after a fall Talladega victory. Almirola, Smithfield, and the 10 were also responsible for SHR's lone Cup Series victory of 2021.
Almirola's Cup Series debut came in 2007 with Joe Gibbs Racing, and he would soon move to Dale Earnhardt, Inc. His full-time Cup Series tenure began when he took over the 43 car for RPM in 2012. With Petty, Almirola won his first career race, the rain-shortened 2014 Coke Zero 400 at Daytona. Almirola also has three career Xfinity Series wins and two Truck Series victories.
The Cuban-American driver took to YouTube to further explain this news. "It's been a wild ride," Almirola said. "A lot of ups, a lot of downs, a lot of in between, but it has been amazing. I wouldn't trade it for anything in the world. But at this point, I'm ready to go back to being a fan, being a husband and a dad full-time.
"I don't really feel like I have any regrets when I look at everything holistically. It all played out exactly how God intended for it. And the driving factor is simple for me. I'm going to be 38 in March, and I feel like for 38 years my life has always revolved around me, my schedule, everything I have going on. I'm excited about going forward with my family and being able to turn my focus and attention on my family. I just feel like now's the right time.  At the end of this season, I'm going to have a 10-year-old Alex and a 9-year-old Abby, and I'm going to have a short window with them while they still think Dad is cool. I want to be there for them and to be a part of the things they're interested in.
"Being a racecar driver is a small part of who I am, but it doesn't define me. I've done it for long enough and I'm ready to be home. I'm excited to race this season, I'm looking forward to the challenge of the new car, and I am pumped to go out on a high note. Results and trophies and those things at this point is not going to change my life. What is going to change my life is a quality relationship with my wife and kids. That stuff will last a long long time. Trophies and accomplishments and all those things collect dust.
"I'm excited to race my heart out for the 2022 season, and when it's over, I'm ready to wave goodbye and to be done full-time Cup racing. It's been a wonderful journey, I've loved every minute of it, and I'm ready to move onto whatever's next in my life."
Expect Almirola to be a strong contender for multiple wins in 2022, as he's going for his sixth Playoff appearance. This news does come just days after Stewart-Haas signed Ryan Preece as a reserve driver. However, any future news on the Stewart-Haas 10 team will be announced at a later date.
Written by Peter Stratta
Be sure to follow us on Twitter
Be sure to follow the writer on Twitter
Photo Credit to James Gilbert/Getty Images for NASCAR