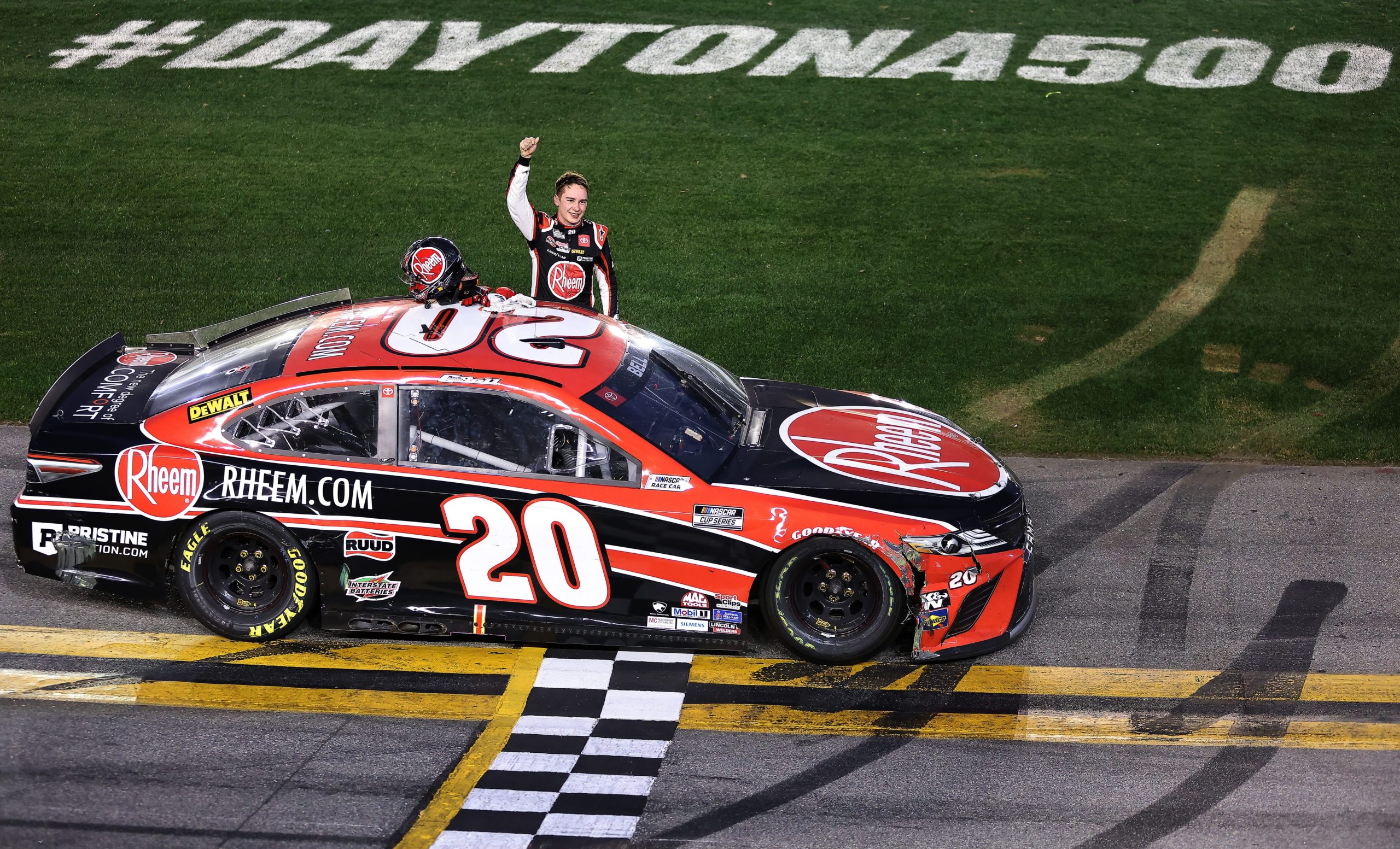 Christopher Bell Makes it Back-to-Back First Time Winners at Daytona Road Course
DAYTONA BEACH, Fla. – In only his 38th career start, Christopher Bell pulled off an upset for his first Cup Series victory. After a day where many wrote off the race to Chase Elliott, Bell did prevail after 70 laps. The maiden win for the Oklahoma native in the Joe Gibbs Racing No. 20 Toyota came at the Daytona Road Course. Not only does Bell get the title of Daytona winner, but he is also locked into the 2021 Playoffs.
Drama Unfolds on Opening Lap
With Chase Elliott starting on the pole, it should be no surprise that he led lap one. However, this lap was not complete under green flag conditions. Second-place starter Michael McDowell had a tire issue from the start, and Kyle Busch also suffered right front damage. Only a week removed from winning the Daytona 500, McDowell's day was already off to a bad start. Busch also clipped the grass in turn two, causing the 18's bumper to break apart.
Once the race resumed, Elliott took off like a rocket. The 9 had a lead of more than two seconds by lap six. With ease Elliott won Stage 1, looking for his fifth-straight road course win. It was evident early on that Elliott would be a contender all afternoon.
Stage 2 would be much of the same, with Elliott clearing Joey Logano for the top spot. Elliott led every lap ran under green until a lap 28 pit stop under caution. Ross Chastain was stopped in turn six after contact from Ryan Blaney, splitting the leader's strategies. Elliott brought many of the lead lap cars into the pits, but would lose several spots. Leading most of the field out of the pits would be Denny Hamlin, but the top spot now went to AJ Allmendinger. With five laps left in Stage 2, the Kaulig Racing No. 16 would try to hold off a pack of cars on fresh tires.
Stage Racing Master Building up Points Stockpile
Older tires would not hold up for Allmendinger, as Hamlin took over the lead in turn three on lap 31. 'The Dinger' faded to ninth at the Stage end. Meanwhile, Hamlin would pick up his third Stage win of 2021. Hamlin won both Stages a week ago in the Daytona 500. In addition, the Fedex 11 also won Stage 2 last year at the Daytona Road Course. With three of four possible Stage wins so far in 2021, it is evident that Hamlin is trying to gain as many Playoff bonus points as possible.
Big Setback for Leader
Kurt Busch was the first out of the pits following Stage 2, and by turn two he had a clear lead. However, the 2004 champion made a critical mistake in the infield while out front. Through the kink in turn four, the 1 car clipped the left side grass. This sent Busch spinning, as he would come to a rest in turn five. Amazingly, the Ganassi driver had no damage and continued. This costly error would send Busch all the way back to 27th on track, as no caution would come out.
By virtue of the elder Busch's problems, the lead went to Christopher Bell. Bell had been towards the front of the pack all race long. After starting 12th he narrowly missed out on points in Stage 1, but finished fourth in Stage 2. Now on lap 38, Bell was in command. However, a very hungry Chase Elliott was stalking Bell down.
The Napa 9 car would pass Bell through turn one with 30 laps left. Once again, Elliott began to drive away. In just two laps, he led Bell by over a second. Both of these top two would pit under green with 18 laps to go. Elliott held serve, so he appeared to be on his way to yet another road course win.
Rain Changes Course of Race
Not long after the synchronized pit stops, rain began to fall around the Daytona Road Course. Elliott still led by more than two seconds over Bell, but that was erased with a caution. NASCAR deemed the track wet with just 15 laps left, and gave teams the option to put on rain tires. Most of the leaders pitted here, but none of the frontrunners put on the treaded wet weather tires. Elliott lost ground once again, coming out fourth. The race off pit road would go to Bell, but several others did stay out. Joey Logano would lead on the restart.
This opening lap of the restart was chaos, as Tyler Reddick hit a sign after being sent through the infield. Reddick's No. 8 machine then burst into flames, triggering another immediate yellow. Just prior to the yellow though, Elliott was sent wide out of turn three, also into the grass. After slinging and sliding his car back and forth, Elliott was able to keep the 9 pointed forward. This recovery was one impressive piece of driving from the defending champ, as he only went back to 14th.
Sprint to the Checkers
One final quick caution came out for Corey Lajoie going off after contact from Elliott. Even with nose damage and little track position, the 9 was still trying to win this race. The ensuing restart saw Elliott get as high as fifth, before looping it in turn six. Elliott was severely hampered by the slower car of Brad Keselowski, and Hamlin got into the back of the 9. Elliott would only recover to finish 21st. This happened just moments after Elliott's teammate Kyle Larson pounded the turn six tire barriers after gaining second. No caution came out though, as Logano had a 3.5 second lead.
Over the closing laps, the faster Toyota of Christopher Bell began to eat into Joey Logano's lead. With two to go, the 22 and 20 were all over each other. Through turns 11 and 12, Bell got to Logano's outside and made the pass in the final chicane before the white flag.
The last lap would be cruise control for CBell, as he brought the 20 home for his first career win. The 2021 NASCAR Cup Series season has now opened with back-to-back first-time winners. Bell joins Michael McDowell in the Playoffs, as the 26-year old returns the JGR 20 to victory lane.
Top 10 Results From Daytona Road Course
Two seconds behind Bell, Joey Logano ended the Daytona Road Course in second. Denny Hamlin, Kurt Busch, and Brad Keselowski would be the top five. For both Busch and Keselowski, a top five seemed improbable after issues they faced early on. The rest of the top 10 were Kevin Harvick, AJ Allmendinger, Michael McDowell, Ryan Preece, and Alex Bowman.
Bell's Reaction to First Win
"This is definitely one of the highlights of my life so far," Bell emphatically said in victory lane. "I'm just so incredibly thankful to be here at Joe Gibbs Racing with all of our partners – Rheem, DeWalt, Pristine Auction, Toyota, TRD. Thank you to Jack Irving and Tyler Gibbs. You guys believed in me since day one. It feels like I've prepared my whole life for this moment to race in the Cup Series. Last year was a huge learning curve for me, and I'm very grateful that I got the opportunity to run in Cup. It definitely prepared me to move for Joe Gibbs Racing."
"I don't know, it's unbelievable. Watching last night and seeing Ty (Gibbs) win was such a special moment. I was so proud of Ty. Obviously Joe Gibbs Racing does a great job giving everybody great equipment. I knew that going into this year that I was going to have to perform. Just really, really proud to be here."
With Christopher Bell winning, Adam Stevens goes back to victory lane after leaving Kyle Busch. Bell's current team is much of what Kyle Busch had last year, so the former 18 team has now won as the new 20 team. The 20 team missed the Playoffs a season ago, so this win only further upends the postseason.
What's Next for Cup
Up next for the NASCAR Cup Series is Homestead-Miami Speedway, for the Dixie Vodka 400. Coverage begins on Sunday, Feb. 28 at 3:30 p.m. ET on FOX, MRN, and SiriusXM NASCAR Radio Channel 90. Denny Hamlin won here a year ago, but Kyle Larson has to be seen as a favorite as well. Tune in to see who is the master of Miami in the still-young NASCAR season.
Written by Peter Stratta
Be sure to follow us on Twitter.
Be sure to follow the writer on Twitter.
Photo credit to James Gilbert/Getty Images for NASCAR