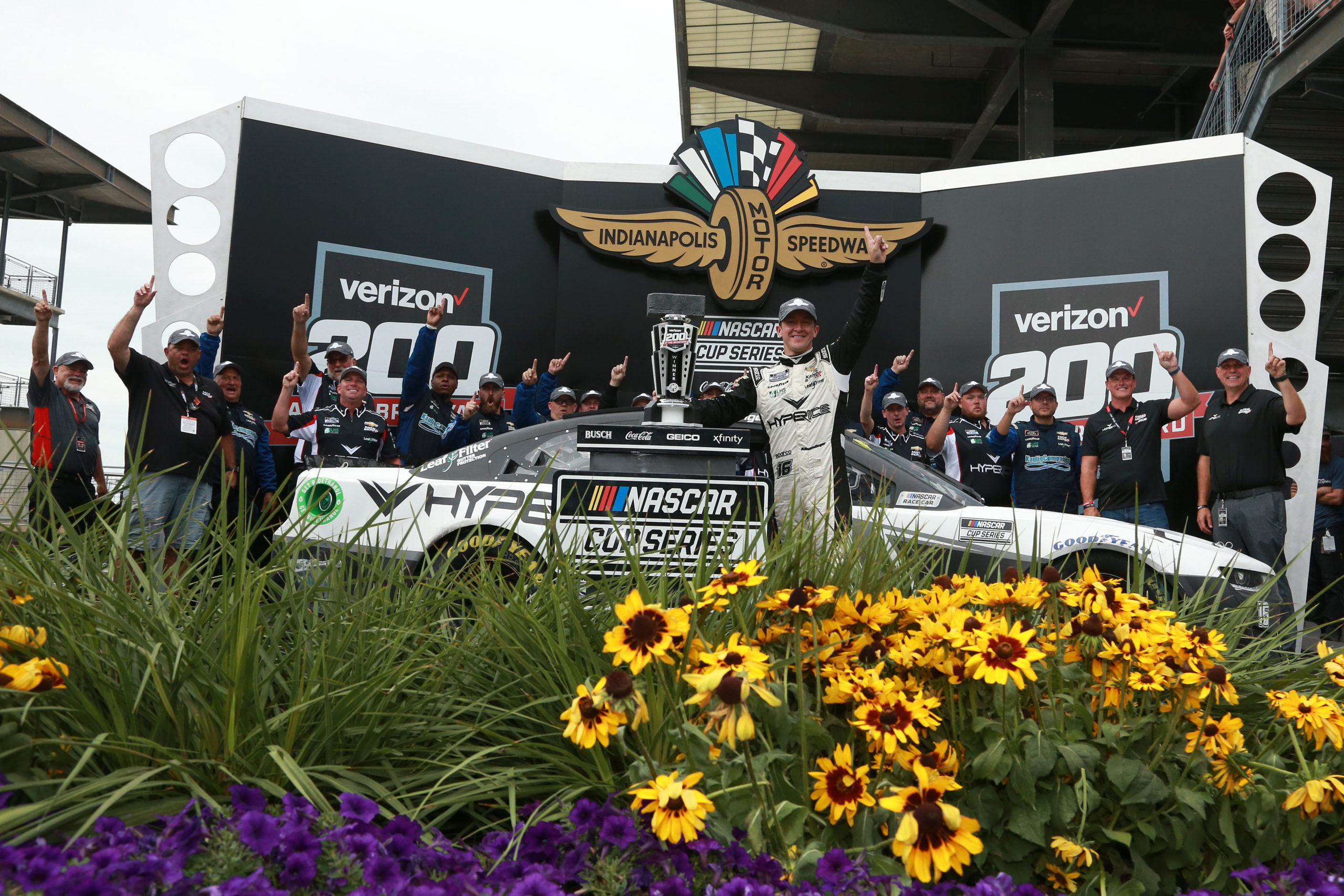 AJ Allmendinger, Kaulig Racing Take Inaugural Verizon 200 Win at Indy
SPEEDWAY, IN. – It may have been a marathon, attrition-filled day, but AJ Allmendinger outlasted the competition to win again in the NASCAR Cup Series. The road racing standout won the maiden running of the Verizon 200 on the Indianapolis Road Course. This also marked the first Cup win for Kaulig Racing, in only their seventh start ever. A lot led up to Allmendinger kissing the bricks, so let's take a dive into the Indy madness.
Reddick Sweeps Stages
Playoff bubble driver Tyler Reddick went to Indy with one goal on his mind, max points. The RCR No. 8 team would try valiantly to achieve that, as he would win both Stages. Reddick inherited the lead both times due to leaders short pitting each Stage. While Reddick took the 20 points, his closest competitor was nor far behind him. Teammate Austin Dillon simply mirrored Reddick's strategy and nearly matched him. Dillon's two Stage results were third and second, yielding 17 points himself. Based on Stage results alone, Reddick only gained three points on Dillon.
Larson Going for Unprecedented Milestone
Once the final Stage began, Kyle Larson had the lead and drove off. Just hours after winning the 60th Knoxville Nationals, Larson was trying to win two huge races in one day. The 5 appeared to be the fastest car at Indy. For much of this time, Hendrick Motorsports ran 1-2-3 with Larson, Chase Elliott, and William Byron. This would only be broken up by green flag pit stops once the fuel window opened.
On a long-run strategy, Denny Hamlin would stay out until 20 laps remained. A lap later, Larson would inherit the lead once again. Hendrick was well on their way to another 1-2-3 finish, until chaos ensued with 10 laps to go.
A caution would be triggered by debris caught under the turn six curbing. This would bring Larson and a majority of the field back to pit road. Once again, the lead went to Denny Hamlin as the 11 stayed out. This caution would prove costly to Chase Elliott, as his car fell off the jack on pit road. Thus the 9 would restart far back in the pack.
Restart Devolves into Chaos
With six laps to go, the pack raced towards turns five and six once again. On the initial lap, Martin Truex, Jr. got spun but continued. The 19 went around off the bumper of his teammate, Christopher Bell. The next lap however would see madness ensue, as the curbing in turn six began to come undone. While Hamlin, Chase Briscoe, Larson, and a few others got through unharmed, fourth place William Byron did not. The 24 was sent sideways due to contact from this curb, and many others spun behind him. This also included Joey Logano slamming a tire barrier.
As a result of this carnage, the safety crew decided to remove the upended section of curbing in turn six. However, they left the one turtle curb that had sent cars airborne both in IndyCar and Xfinity competition. This caution was extended due to one car laying down oil all over the circuit. With one less aide for track limits, the race eventually restarted in overtime.
More Wrecking in Overtime
Overtime attempt #1 would not last long, as turn six was the site of more trouble. The 34 of Michael McDowell went wide over the exposed turtle curb, sending his car skyward and eventually into the path of Austin Dillon. Tyler Reddick, Martin Truex, Jr., Alex Bowman, and others were also collected here. After a second brief red flag, racing finally resumed for a second try at overtime.
Leaders Tangle, Seas Part for AJ
The second overtime was no less controversial, as Denny Hamlin was trying to hold off a hungry Chase Briscoe. In turn one, Briscoe was sent wide into the grass and rejoined the track even with the 11. NASCAR deemed Briscoe's move to be illegal, and thus quit scoring the 14. On the south end of the track, Briscoe got into Hamlin's bumper, sending the 11 spinning. Far from yet another victory, Denny Hamlin would have to settle for 23rd, while Chase Briscoe also finished 26th.
This exchange gave the lead to AJ Allmendinger, who took the white flag and was home free. After restarting third, the Kaulig Racing No. 16 Chevrolet wound up in victory lane. For Allmendinger, this is his second-ever Cup Series win, after 2014 Watkins Glen. For Kaulig Racing meanwhile, their very young history now includes one Cup Series victory.
Allmendinger's Winning Reaction
"Oh, my gosh, I was so mad yesterday," Allmendinger said about the Xfinity race. "I wanted to win so bad. I mean, this is unbelievable. In my wildest dreams I could never imagine the way that just played out. Matt Kaulig, I don't even know what he's doing right now. He can't — he's almost in tears. Chris Rice, the Hyperice Chevy was so good. We had to fight hard. Robin Miller, I saw him this morning, this one is for you, baby. We love you, Robin, everything that you do. In memory of Bob Jenkins. Baby, I love you so much. Mom and Dad, all my friends and family, oh, my God. We just won at Indy!"
"It was survival of the fittest," Allmendinger described the race. "We probably had like an eighth, tenth-place car, sped on pit road. I thought we were going to finish 12th to 15th, and then those restarts were just insane. It's great when you have a car owner that just says, 'Go get me trophies.' He doesn't care if that thing is torn up. Chevy, ECR horsepower, RCR, everybody that allows us to do that, all of our sponsors on the Xfinity side of it, we just won at Indy. What's up! Thank you everybody for coming out. Let's go!"
With plans to go full-time Cup racing next year, this win will do wonders for Kaulig Racing. In only his seventh start as an owner, Matt Kaulig went to victory lane at The Brickyard.
Top 10 Results from Indy Road Course
Behind Allmendinger was the Penske car of Ryan Blaney. Team Penske ultimately came up one spot shy of sweeping the tripleheader weekend at Indy. Kyle Larson, Chase Elliott, and Matt DiBenedetto rounded out the top five. Kurt Busch, Erik Jones, Justin Haley, Austin Cindric, and Ryan Newman were the rest of the top 10.
One More Locked into the Playoffs
With Allmendinger winning Indy, one more driver is now locked into the 2021 NASCAR postseason, but it's not AJ. The part-time, unchartered Kaulig team is not competing for the Cup title. On points rather, Denny Hamlin's Playoff future is now secured. Hamlin is the 14th driver to secure a postseason spot. The last two berths are up for grabs in the final two weeks of the regular season.
Two races left in the regular season. Two spots left in the playoffs.

An updated look at the @NASCAR playoff leaderboard after a wild race at @IMS.

Denny Hamlin has clinched a spot in the playoffs. pic.twitter.com/PHRd7p5SFp

— NASCAR on NBC (@NASCARonNBC) August 15, 2021
What's Next for Cup
The next stop for the NASCAR Cup Series is Michigan International Speedway. After a doubleheader weekend last year, the FireKeepers Casino 400 is the lone event of 2021 on the two-mile oval. Coverage begins Sunday, August 22 at 3:00 p.m. ET on NBCSN, MRN, and SiriusXM NASCAR Radio Channel 90. Kevin Harvick has been almost perfect in recent years at Michigan, can he score the victory again?
Written by Peter Stratta
Be sure to follow us on Twitter
Be sure to follow the writer on Twitter
Photo Credit to Sean Gardner/Getty Images for NASCAR