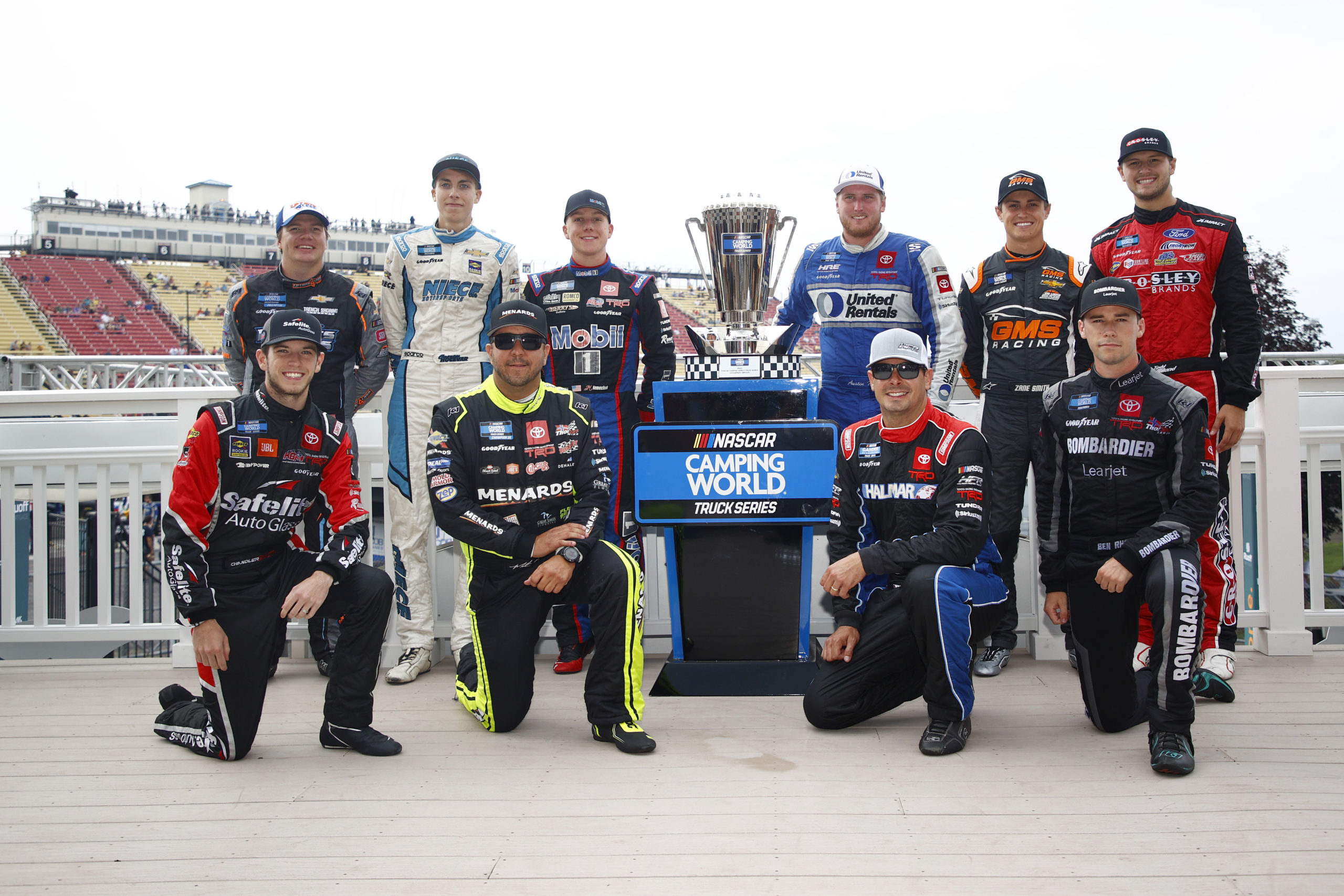 Previewing the 2021 Camping World Truck Series Playoffs
CONCORD, N.C. – Playoff season is upon us once again for the NASCAR Camping World Truck Series. All 10 contenders were made available to the media ahead of race one of their postseason this Friday. Heading into this seven-race chase for the title, the dynamic among all 10 drivers certainly is unique. John Hunter Nemechek has been the best driver and team all year long. However, three others will make the Phoenix finale. Who all will make the Championship 4 in the Trucks? The path to Phoenix kicks off Friday night at Gateway in St. Louis. Let's take a look at each of 2021's Playoff drivers and their chances.
Stewart Friesen-2,001 pts.
The No. 52 Halmar-Friesen Racing team is in the midst of a rebound year. After switching to Toyota for 2020, Stewart Friesen and the 52 are back in the Truck Series Playoffs. In 2019, Friesen made the postseason by winning, while he pointed his way in for 2021. In his maiden Playoff run two years ago, Friesen had five top-10s in the seven races, including a win at Phoenix. Can a consistent run like that be replicated now?
"Yeah I think so," Friesen said. "I think we can be in the top five for a lot of the races, to be honest. Our teams got a lot of great equipment, a lot of great people, and our Tundras have been fast. We just need to be executing the races and having a little bit of luck on our side, not get bounced around. Hopefully we can start out with a positive at Gateway Friday night and just keep it rolling from there."
As the 10th seed with 2,001 points, Stewart Friesen already starts these Playoffs in a hole. The first round will eliminate the bottom two in points, so the 52 must out-race at least two competitors. With only four top-10s this year, consistency has been a bit of an issue for Friesen. The 52 will roll off ninth at Gateway, going for another run at the Championship 4.
Chandler Smith-2,001 pts.
One of two rookies in this year's Truck Series Playoffs, Chandler Smith put the 18 back into championship discussions. Smith's first full-season campaign in the Truck Series has been plagued by bad luck though. This bad luck peaked at Watkins Glen, where failing postrace height inspection led to Smith being disqualified. With such an up-and-down year to date, does Smith almost feel like he's playing with house money?
"Yes and no," Smith said. "I'm a big believer in everything happens for a reason and I think there is a reason all of the disaster happened at Watkins Glen. It was very unpredicted,  – obviously worst case scenario – and we were still able to end up in the Playoffs. So I believe everything happens for a reason, and I'm definitely looking forward to flipping all of this luck around."
Flipping the luck around for the 18 team is a tall task, as they start 12th at Gateway. Already starting behind all nine of their competitors, Smith has little to lose and can go all-out in gaining every point possible. If the 18 does not gain multiple Stage points, they are at risk of leaving Gateway in a deeper hole.
Carson Hocevar-2,002 pts.
The second rookie in the 2021 Truck Series Playoffs, Carson Hocevar has surprised many this year. After a down year for Niece Motorsports in 2020, Hocevar has put this team back into the postseason with the No. 42 Chevrolet. Can the teenager make a deep Playoff run? Hocevar is looking forward to one upcoming race as a great opportunity for his maiden Truck Series victory.
"We had a great shot in Darlington," Hocevar said. "If they don't run us for 20 laps or whatever under yellow, I think we win that day. So, I'm excited to get back there again and have a shot. I'm glad it's not Mosport, I'm not much of a road racer, so I'm glad the border was closed for my own selfish reasons just so we could go back to Darlington."
The 42 enters these Playoffs in a very precarious position, only one point ahead of the cut line. Hocevar must maximize all points possible in the coming weeks, as he will start sixth in Gateway. In order to advance past this first round, the 42 may just need three top-fives if not a victory.
Matt Crafton-2,004 pts.
Three-time Truck Series Champion Matt Crafton is back in the Playoff hunt once again. The only team to make every Truck Playoff field since 2016, the ThorSport 88 eyes another deep run. Crafton's mindset heading into these seven races is simply score as many points as possible. Even as the seventh seed, Crafton is as confident as ever for the title.
"I couldn't tell you how many points I have or where I stand or where I stack up," Crafton said. "I don't care about any of that. All I know is my task at hand is to go maximize my points each and every week. I don't even know where I start St. Louis. All I know is I'm going to go out there and have a different mindset going into these next few races to get to Phoenix and have something to prove. I always do that each and every week, but at the same time, if you go out and maximize your points, it will take care of itself."  
Crafton does have a bit of a hole to dig out of already at Gateway, as he starts 10th. With only one of his Playoff competitors starting behind him, the 88 needs to make up positions early and hope others run into trouble. Only three points ahead of the cut line, the 88 cannot afford to have any issues in this first race.
Zane Smith-2,009 pts.
Sophomore star Zane Smith has also had a very up-and-down 2021 season. After winning twice a year ago, the GMS driver is winless this year, with 10 top-10s. Smith made it all the way to the Championship 4 in 2020, can he make it back-to-back appearances for 2021?
"This year has just been a struggle with bad luck," Smith said. "I hate using the word luck but it really has been just a lot of things that have taken us out of contention in that final Stage. So I hope we've gotten that out of the way, and it seems like the past couple of weekends we've been really clicking. Watkins Glen went pretty good, we had a parts failure but still ended up pretty good considering that. Like I said, just hope to get to Phoenix, and win sooner than later to lock yourself in and get through these weeks a little pressure-free."
Zane Smith heads to Gateway hoping to reverse the 21 team's luck, as he will take Friday's green flag from the fifth starting position. This team had three top-threes to close out last season. They are more than capable of finding the right mentality and consistency to deliver in the postseason.
Sheldon Creed-2,011 pts.
Defending Truck Series Champion Sheldon Creed enters the 2021 Playoffs as the fifth seed. After being the top seed for 2020, Creed enters this year's title hunt in a bit of a hole. Last year saw the GMS 2 truck win three times in the regular season; this year Creed only claims the lone Darlington victory. With that in mind, is Creed's mindset and pressure to perform in this year's Playoffs any different?
"A little bit, I just maybe had a little more confidence last year," Creed said. "Just knowing we were fast every week and had tons of speed, I just liked where we were at. This year might be a little more difficult, but I think it's something we're totally capable of, especially as of late. I feel like we've been executing a lot better, and I've been doing a better job in the racecar. It's going to be different, definitely. A lot of Trucks are more competitive this year. Compared to where we're at this year, we have to race a lot harder. Time will tell, right?"
In an admittedly down year for GMS Racing as a whole, the defending Truck Series champion is still in the hunt. Last year's Gateway winner, Creed will go for two-straight St. Louis victories after starting fourth.
Todd Gilliland-2,015 pts.
Quietly having a great season, Todd Gilliland and the Front Row No. 38 team are in the Playoffs once again. Unlike last year however, Gilliland won his way into contention at COTA. The 38 was also a front runner at the most recent race in Watkins Glen, finishing fourth. Gilliland has been strong at many tracks this year, with 11 top-10s. Can the 38's incredible road course prowess extend to other Playoff tracks?
"Yeah, I think we've been really good at the weird racetracks this year," Gilliland said. "When we went to the road courses we ran really well. The dirt tracks we ran really well, so it's been fun. Really, the Truck Series schedule has been hard to get a good flow or read on how you are. You're going to dirt one weekend, road course and then you might have one or two mile-and-a-halves scattered through there. But I think that's been great that we've been good at those places. I definitely think our mile-and-a-half program has gotten head and shoulders better from the beginning of the year. We had a couple rough runs there at Atlanta and Vegas, so just to turn that around was huge. But I think we'll be in a much better place at the asphalt and more cookie-cutter, normal racetracks also."
At the fourth seed, Todd Gilliland just simply needs to survive these opening few races in order to advance onward. The FRM No. 38 will start third in Gateway, going for retribution after last year's finish. The 38 has been in the top five a lot this year, do not count them out of the hunt for this championship.
Ben Rhodes-2,019 pts.
Nobody started the 2021 season off better than Ben Rhodes. the ThorSport No. 99 team went 2-for-2 to kick off the season, winning on both the Daytona oval and Road Course. Since then however, it's been mixed results for Rhodes. The following 13 races have yielded nine top-10s for the 99, with a best result of second coming twice. Being winless since February, is Rhodes concerned at all about a Playoff push?
"No, pretty chill to be honest," Rhodes said. "Not really worried, I think we'll be fine. Ship's not really sinking, there's no holes in it, it seems to be pretty solid, made of metal. We're just going to keep on floating on. The season resets here, we're just going to kind of calm down, kind of rebuild some momentum, and not really focus on doing anything crazy. We don't need to go out there and win a race right off the bat here."
"The big thing is kind of let some other people make some mistakes. We've got some youth in the Playoffs, some rookies here. So we'll see if they can make some mistakes for us, maybe pad our points a little bit. And we'll see after the dust settles after Gateway what we need to do. But I think the first step is just kind of take that first step and evaluate and see what we need to make for goals."
With more bonus points than he's ever had, Ben Rhodes is in prime position for a Championship 4 run. The 99 will try and cement their place among the title favorites from race one in Gateway, where they start seventh.
Austin Hill-2,021 pts.
They may have been a month apart, but Austin Hill won the last two races of the regular season. Hill won on two very unique tracks at Knoxville and Watkins Glen. However, neither dirt nor a road course will see any action in the Truck Series Playoffs. As the most recent winner, is the No. 16 Hattori team entering the Playoffs with more momentum than anyone?
"Looking at last year versus this year, I don't think you can really outweigh one season to the next," Hill said. "If we were peaking at the right time or not last year versus this year, or vice versa. I just think that with us winning these two races though just kind of builds our team's confidence going forward."
"Before we won at the dirt track, and before we won at the road course, we had only won on mile-and-a-halves together. So we are kind of getting outside of that bubble that we were in, and we are winning at these different types of racetracks. Now we feel like we can go to these types of racetracks and win anywhere we go. So that kind of builds the confidence even more going into these Playoffs that we feel like we can get the job done no matter where we are at."
Hill and the 16 team will be going for three-straight Truck Series victories at Gateway, as they start from the pole. Hill's late regular season surge saw him rally to second in points. Can the 16 close the gap to Nemechek even more?
John Hunter Nemechek-2,049 pts.
Your 2021 regular season champion, John Hunter Nemechek has been the story of the Truck Series all year long. The Kyle Busch Motorsports No. 4 team has won a series-best five times. This also includes three wins over Kyle Busch himself. While Nemechek does have five wins however, three of them came on 1.5-mile tracks. With only one true intermediate in the seven-race Playoffs, is JHN concerned about not performing on the variety of upcoming tracks?
"No, I don't think so at all," Nemechek said. "I feel like the next racetracks coming up are really good for us. We won at one of the only short tracks we've been to this year, Richmond, and also at the unique Pocono surface as well. We've kind of struggled I guess a little bit with road courses and dirt racing, so luckily we don't have any of those in the Playoffs."
Nemechek's Race-by-Race Outlook
"I really like Gateway, I feel like we gave a win away at Darlington earlier this year, and Bristol is one of my favorite racetracks to go to. I've always been really good there. We won at Vegas earlier this year; we have a little bit of work to do to go back, but I'm looking forward to getting back on a mile-and-a-half. Talladega is a wildcard, it's anyone's race as long as you don't get torn up. Then I've enjoyed going to Martinsville from the time I was 16 and made my NASCAR Camping World Truck Series debut there. And then Phoenix is also one of my favorite racetracks to go to."
"So I feel like KBM has been strong in the past, last year I think Chandler had five top five finishes out of the last six races, and it's pretty much the same schedule. A lot of work to do yet, but I feel good about our chances and all the work being put in."
Nemechek Must Not Get Complacent
Starting second Friday night at Gateway, Nemechek's path to Phoenix is the simplest out of any driver. With an almost 20-point gap over the field, the 4 does not need to win early in these Playoffs. Rather, they just need to remain in the top five, where they've finished nine times this season. While Nemechek making Phoenix may seem like a guarantee, do not forget about Kevin Harvick's Playoff collapse in the Cup Series last year. The 4 does enter this postseason as the title favorite, but there's loads of racing left to be decided. Execution and mazimizing points are still the key to the 4's title path forward.
The 2021 Playoffs begin for the Camping World Truck Series this Friday night. Round one will see the truckers head to World Wide Technology Raceway at Gateway, in St. Louis. The Toyota 200 stands between one of the above drivers and a ticket to the Round of 8. Coverage begins August 20, at 9:00 p.m. ET on FS1, MRN, and SiriusXM NASCAR Radio Channel 90. Only 20 points separate nine drivers, so every point will matter in the coming weeks. Who can take a big step ahead in the championship fight, and can anyone stop the 4 of Nemechek?
Written by Peter Stratta
Be sure to follow us on Twitter
Be sure to follow the writer on Twitter
Photo by Jared C. Tilton/Getty Images for NASCAR