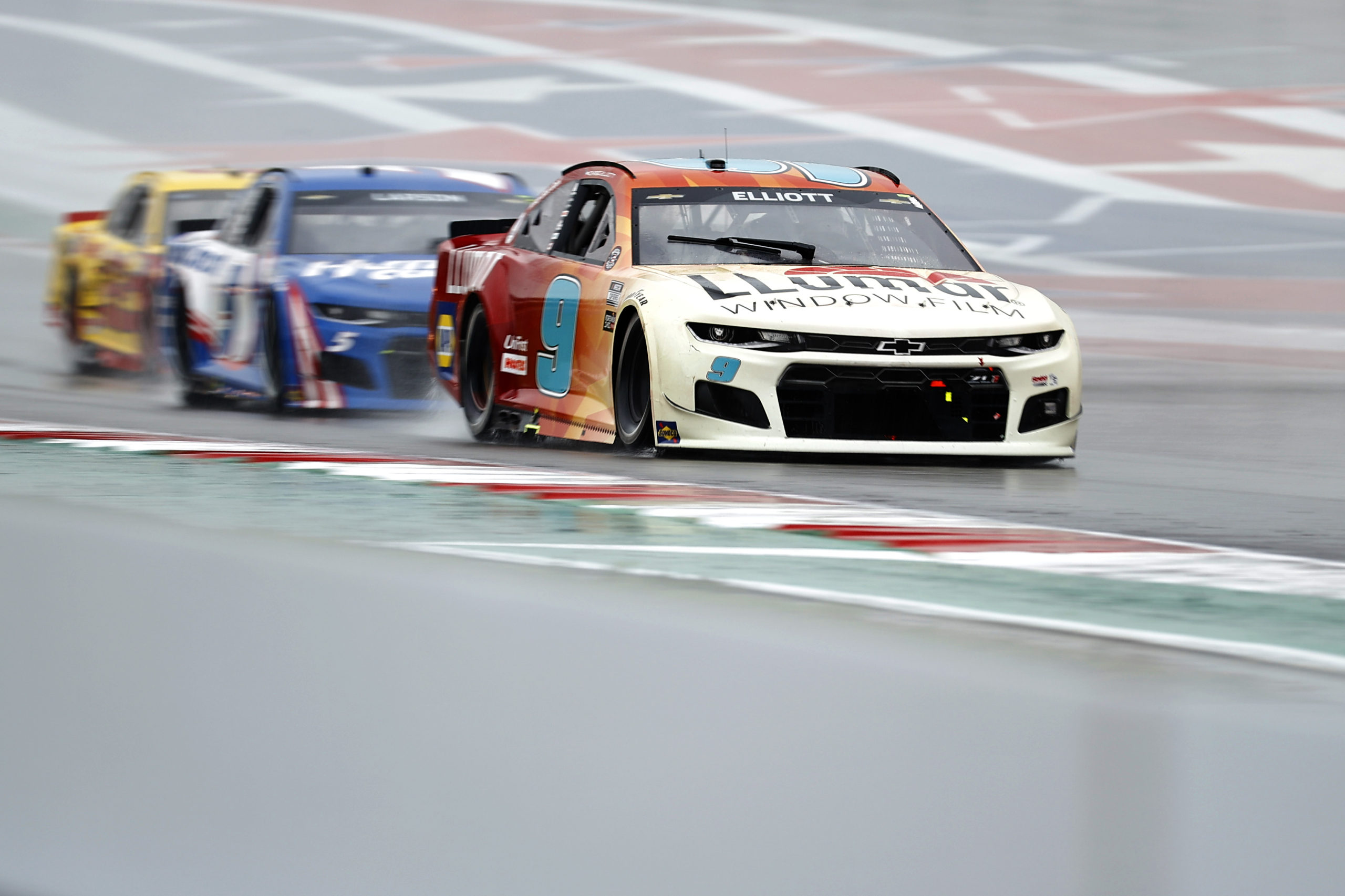 Chase Elliott Scores First Win of Title-Defense Season at COTA
AUSTIN, TEXAS – In NASCAR's first-ever Cup Series race at COTA, the road course king reigns supreme. However, Chase Elliott did not lead until the last five laps of the rain-shortened event. While COTA is the defending champion's first win of the season, Elliott's victory is potentially overshadowed by the hazardous conditions all drivers faced. At one point, torrential rain had visibility at almost zero, and several drivers paid the price in horrific crashes. For Elliott though, he was the biggest beneficiary of the race being halted 14 laps short due to heavy rain. For driver No. 9, Hendrick Motorsports, and Chevrolet, this win also had a few historic implications.
Calm Stage 1 (Despite the Storm)
Prior to the start of the race, NASCAR had ruled the track surface as damp. This gave teams the option to start either on wet-weather tires or on dry racing slicks. A wide majority of the field came down to swap off wet tires, with a few exceptions. Martin Truex, Jr., Bubba Wallace, Ricky Stenhouse, Jr., Michael McDowell and Ryan Preece were the only drivers to start the race on grooved rain tires, and it paid off big in the opening laps.
With such harsh conditions and a very wet track surface, one by one everyone came in to bolt on wet tires. Austin Cindric did stay out to lead the opening four laps, but eventually the Penske No. 33 came in for rain tires as well. Cindric got the jump on polesitter Tyler Reddick on the initial start and drove off, even with his slick tires giving very little traction.
Stage 1 would only see one caution flag at its midpoint for Daniel Suarez. The Trackhouse Racing No. 99 was stuck in neutral, and thus very slow on track. This halfway break in Stage 1 would see Truex pit, giving the lead to Michael McDowell. The 34's lead would not last long though, as Joey Logano got by in turn five with five laps left in the Stage. The 22 would go on to take the opening Stage, Logano's third Stage win of the year.
Backstretch Pileup
After Stage 2 went green, it did not take long for the low visibility to cause chaos. Going down the backstretch on lap 20, Christopher Bell and Ryan Blaney made hard contact. Bubba Wallace also pounded into Kevin Harvick, as the 4 slowed to avoid the melee. Both Bell and Wallace drove straight into their competitors due to so little visibility. While Blaney did continue, this marked the end of the day for the other three drivers.
Not-So-Happy Harvick
Kevin Harvick did not mince words after this incident. He called racing in such heavy rain "the most unsafe I've ever done in a race car by a lot. You can't see anything down the straightaways. These cars were not built to run in the rain and when you can't see." COTA also marked Harvick's first DNF since the 2019 Bristol Night Race, a span of 63 races. The 4 would finish a dismal 37th in Austin.
More Chaos at COTA
Only a lap after racing resumed, carnage struck again on the backstretch. Michael McDowell slowed, causing Martin Truex, Jr. to run into the 34 at nearly full speed. With no sight due to the spray, Cole Custer then rammed into Truex at full speed. This major contact sent the 19 airborne, and the 41 hard into a foam barrier.
Due to a massive debris field, a red flag came out for 20 minutes. During this time, the backstretch was dried of standing water, fixing the visibility issue. Once the race continued though, NASCAR deemed the rest of the restarts would be single-file. This move was seen a few months ago at the Bristol Dirt Race, also to help increase driver's vision.
The race restarted with five laps left in Stage 2. Ryan Preece initially led Kyle Busch to the restart, but the 18 quickly passed the 37. After a few intense corners of racing with Austin Cindric, Busch went on to win Stage 2 by three seconds. After dominating Saturday's Xfinity race, Busch was looking for a COTA weekend sweep.
Alternate Pit Strategies Define Closing Laps
Kyle Busch did not choose to pit after Stage 2, meaning he would have to pit under green early in the last Stage. Busch did initially take off on the restart, but his lead did not last. On lap 41 Busch came in for fuel, along with Chase Elliott. This gave the top two spots to Kyle Larson and Joey Logano, but everyone else would have to make a later pit stop for fuel. However, Busch was told that he was two laps short on gas, so he would either have to save heavily or pit again. With Elliott on the same strategy, the coming laps were dicey for these two.
Larson and Ross Chastain spent time leading the race, but they would both pit for fuel. This gave the top spot to Alex Bowman, but he was also short of the finish on gas. Chase Elliott would methodically get by Kyle Busch in traffic and proceed to run down his Hendrick teammate. Bowman pitted on lap 50, handing the lead to Elliott for the first time all day.
Close Call for Both Busch Brothers
With standing water once again on the treacherous backstretch, hydroplaning was becoming another obstacle. Another major crash was narrowly avoided by Kurt and Kyle Busch, as the 1 car threaded the needle between his brother and Austin Dillon. After coming to a stop in the gravel trap, Kurt Busch did get going once again.
Rain Forces Early End to Race
With 16 laps remaining, Busch came to pit road again to top off fuel. On the same strategy as Elliott, all knew that the 9's fuel tank would eventually run dry. Even with a 10-plus second lead over Larson, Elliott was still close on fuel. Luckily for Elliott, massive rain picked up again. With 15 laps left, NASCAR called a caution for inclement weather and visibility, not wanting a repeat of earlier carnage. After putting out a red flag, NASCAR called the race after only 54 laps. 14 laps shy of the scheduled 68-lap distance, Chase Elliott was declared the winner at COTA.
Elliott's Winning Reaction
"I couldn't be more excited," Elliott said. "I've never won a rain race before, so it's kind of cool. And I'm just super proud of our team for just continuing to fight. We started the day, and we weren't very good. I just kept pushing myself and we kept making some good changes throughout the day and got to where I thought we were on pace with those guys there at the end. So, I'm really proud of that. It's not the greatest thing ever, for it to rain and to have a rain race win, if it's your first one; but I think it's okay if it's down the road, so I'm pretty excited about that. I'm looking forward to next week and trying to keep it rolling."
"This is two-in-a-row for Hendrick Motorsports and the 800th win for Chevrolet. I couldn't be more proud of Chevy and it's the 268th win for Hendrick Motorsports.
"Thanks to all the fans for hanging in there today. It's great to have Llumar on the car this week and get this win together. I know everybody is used to seeing us in our NAPA colors, but it's good to have them on board.
"I'm just proud of our team. To come here and fight, it's not the ideal way to win, but we'll definitely take it and move on down the road."
COTA Win's Historical Significance
On the heels of last week's Dover victory, Hendrick Motorsports gets win number 268 with Chase Elliott at COTA. This ties HMS with Petty Enterprises as NASCAR's all-time winningest race team. COTA also marked the 800th win for a Chevrolet in the Cup Series, the most of all manufacturers.
Elliott's first win of 2021 also locks him into the Playoffs for his championship-defense season. Through 14 races in 2021, Elliott is the 12th different winner. COTA marks career win number 12 for the Georgia driver, which ties Terry Labonte for third-most wins at Hendrick Motorsports. In terms of wins at HMS, Elliott now only trails Jeff Gordon and Jimmie Johnson.
COTA also marks Elliott's sixth career road course triumph. This record is third-most in NASCAR history, and only trails Hall of Famers Jeff Gordon (9) and Tony Stewart (8).
Top 10 Results From COTA
Coming up second for the third-straight race was Kyle Larson. Though Larson did lead four laps, he did lack in speed to Elliott, and was several seconds behind. Joey Logano came home third, his third-straight road course top-three. In fourth with a career-best result was Ross Chastain. Rounding out the top five was AJ Allmendinger in the part-time Kaulig car. Fifth is the best result in Kaulig's Cup Series history.
The remainder of the top 10 were Chase Briscoe, Michael McDowell, Alex Bowman, Tyler Reddick, and Kyle Busch. For Briscoe, sixth is also his best finish in a Cup race. McDowell's fifth top 10 of the year also ties his career high mark.
Byron's Streak Ends
Coming up just shy of another top 10 in 11th was William Byron. Driver No. 24 had earned a top 10 in every race since winning Homestead, a span of 11 races. Byron became the youngest driver ever with 11-straight top-10s. After early damage from contact, Byron battled back all day and could only muster up 11th at the end.
What's Next for Cup
One of the biggest races of the NASCAR season is next week. Memorial Day weekend brings on Charlotte Motor Speedway, for the 62nd-annual Coca-Cola 600. Coverage of stock car racing's longest night will begin on Sunday, May 30 at 6 p.m. ET on FOX, PRN and SiriusXM NASCAR Radio Channel 90.
600 Miles of Remembrance on Memorial Day weekend could have added history, as Hendrick Motorsports chases racing immortality. HMS has a record 11 Coke 600 victories, can one of their drivers make it 12?
Written by Peter Stratta
Be sure to follow us on Twitter.
Be sure to follow the writer on Twitter.
Photo Credit to Jared C. Tilton/Getty Images for NASCAR