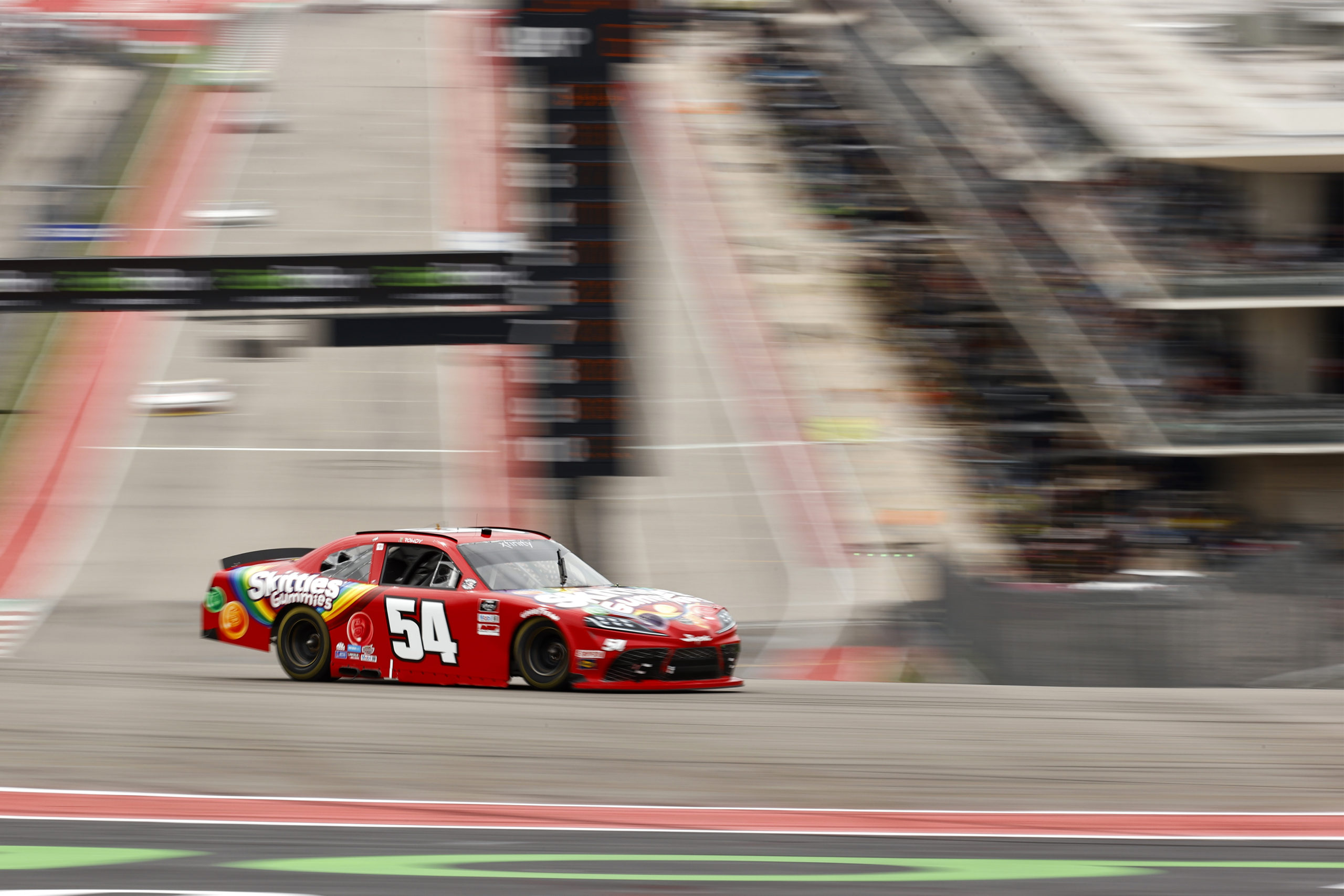 Kyle Busch Cruises to Win No. 98 in the Xfinity Series
AUSTIN, TEXAS – Kyle Busch used a dominant effort to win the Pit Boss 250 at Circuit of the Americas (COTA). Busch led 35 of 46 laps en route to his 98th career Xfinity Series win. Busch was one of six full-time Cup Series competing in Saturday's race in preparation for the inaugural Cup race at COTA on Sunday.
Trouble Early for Ross Chastain
Ross Chastain may have been one of the full-time Cup drivers to drive in this race, but that wasn't the original plan. Joe Graf Jr., driver of the No. 7 car, was dealing with a strained knee that was only made worse with the massive braking areas at COTA. Chastain got in the car and qualified on the outside of the front row.
The race got off to a disastrous start for Chastain. He missed a turn on the first lap and had to serve a pass-through penalty for cutting the corner. While on pit road, Chastain reported a broken axle and took the car to the garage. The team was able to get the car back out on track, but they were already out of contention 10 laps down. A promising start ended in a 30th-place finish for Chastain.
Late Caution Shuffles the Field in Stage 1
Kyle Busch qualified on the pole and quickly pulled away from the field. AJ Allmendinger, who started seventh, made his way to second on the first lap. He was the only one who could initially keep up with Busch. He remained right around two seconds behind Busch while third-place Justin Allgaier was nine seconds back by lap eight.
Daniel Hemric also had an eventful day from the start. His troubles started before the race when he had to start from the rear because of a transmission change. Hemric worked his way up to 18th in the first 10 laps. Unfortunately, a shifter issue forced him to pit under green and sent him back to 35th.
A caution with four laps to go in Stage 1 forced drivers to decide what was more important: Stage points or fresh tires. Busch led most of the front-runners down pit road. However, Allmendinger, Tyler Reddick, and Andy Lally now led the field as 13 drivers elected to stay out. Allmendinger held the lead on a one-lap shootout to win Stage 1. Justin Allgaier went from 14th to 6th on the restart thanks to fresh tires.
Noah Gragson's Tough Day Ends in Disappointment
Noah Gragson began the day Saturday by missing turn one and getting stuck in the gravel during qualifying. This led to him starting 20th. Gragson hadn't done much in Stage 1 but was trying to make his way through the field when his car spun and caught fire on the final lap of Stage 1. The issue led to Gragson finishing in last place.
Busch Gets Back to the Lead in Stage 2
Busch had a slow pit stop at the end of Stage 1 that led to Justin Allgaier and others getting by him. With Allmendinger and the other leaders pitting at the Stage 1 caution, Allgaier inherited the lead over Kevin Harvick and Austin Cindric.
Cindric made a bold three-wide move on the inside of Allgaier in turn one. The move paid off as Cindric took over the lead. The lead lasted just a few laps though, as Busch soon made his way back to the front.
Another JR Motorsports Driver Has Trouble
Miguel Paludo was making his second start of the season in the No. 8 JR Motorsports Chevrolet. Paludo had a transmission issue late in Stage 2, which forced him to pit from the top 10. While on pit road, the drive shaft fell out of the 8 car. Like his teammate Gragson, Paludo also had a disappointing finish in 34th.
Pit Strategy Hands Stage 2 to Justin Haley
Track position was of the most importance all day at COTA. The leaders knew having a good starting position in Stage 3 was more important than picking up points. Because of this, many of the leaders short-pitted under green late in the Stage. This strategy typically only works at road courses because drivers won't go a lap down while pitting under green.
There were a few drivers who opted for Stage points though. Justin Haley was the leader of this bunch as he led Michael Annett and Jade Buford en route to a Stage win.
Daniel Hemric's Eventful Day Ends in Disappointment
After Hemric's troubles in Stage 1, he did an excellent job working his way back to the front. He was running in the top five early in Stage 3 when he had yet another problem. It was another issue with the shifter that forced him to pit. There was no recovering this time for Hemric as he finished a lowly 29th.
Busch Cruises to COTA Victory
Busch started the final stage as the leader and really had no challengers. Allmendinger stayed within a second of him for the first two laps or so, but Busch's car just got better as the run went along. By the time there were five laps to go, Busch had opened up a seven-second lead on Allmendinger. There was nothing in the way of Busch picking up his 98th career Xfinity Series win in his first start of 2021.
Top 10 from COTA
The win puts Kyle Busch just two away from 100 Xfinity Series victories. Allmendinger used a Stage 1 win and second-place finish to earn a race-high 48 points. Justin Allgaier was the lone bright spot for JR Motorsports as he scored a third-place finish. Cup regular Kevin Harvick finished fourth, while points leader Austin Cindric finished fifth. Harrison Burton, Cole Custer, Tyler Reddick, Justin Haley, and Jeb Burton rounded out the top 10.
What's Next
It's back to the ovals for the Xfinity Series as NASCAR heads home. Charlotte Motor Speedway will be the site of next Saturday's race. The Alsco Uniforms 300 will run Saturday, May 29 at 1 p.m. ET on FS1, PRN, and SiriusXM NASCAR Radio Channel 90. Busch won at Charlotte last season, but he won't be in the race this season. Who will be able to snag the checkered flag at Charlotte? Tune in next week to find out.
Written by Nicholas Sterling
Be sure to follow us on Twitter.
Be sure to follow the writer on Twitter.
Photo Credit to Jared C. Tilton/Getty Images for NASCAR