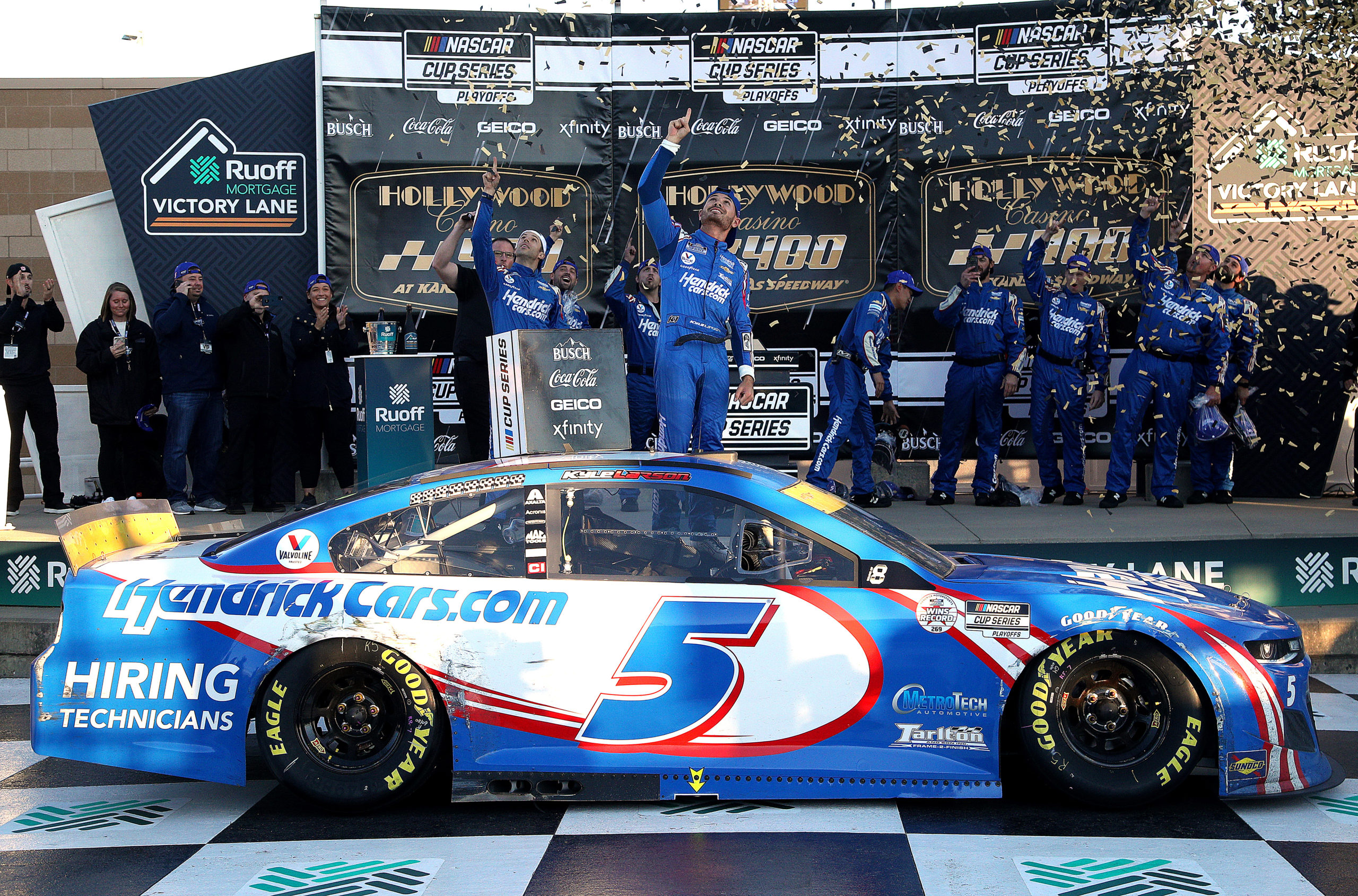 Kyle Larson Takes Ninth Victory of 2021 at Kansas on Hendrick Tragedy Anniversary
KANSAS CITY, Kan. – Seemingly-unstoppable Kyle Larson has done it again, this time taking the Kansas win. For the ninth time this season and third-straight week, the Hendrick 5 car ended in victory lane. Larson's win this time held added significance for all of Hendrick Motorsports though, as it fell on the 17th anniversary of the plane crash that took 10 lives. One of those victims was young driver Ricky Hendrick, whose colors Larson won with at Kansas. With back-to-back wins now in the Round of 8, can anyone stop Larson's momentum heading into Phoenix?
Playoff Problems Aplenty in Stage 1
At the head of the pack Stage 1 saw little change, as Kyle Larson led most of the opening run from the pole. However, Stage 1 did see a brief stoppage for rain, as well as some Playoff contenders finding the wall. Kyle Busch, Brad Keselowski, Martin Truex, Jr. and Ryan Blaney all had tires go down. Thankfully for their title hopes however, all four drivers were able to continue forward.
Stage 2 would largely be led by one of Larson's teammates, William Byron. Despite not being a part of the Playoff picture, the 24 would take the Stage win over Chase Elliott and Larson. Through two Stages, the Hendrick trio looked unbeatable. The 5, 9, and 24 all took their turns trading the top spot amongst themselves for much of the afternoon.
Cut Line Battle Tightens
After recovering nicely from his early flat tire, Ryan Blaney found himself in the top 10 on the lap 225 restart. Contact from Austin Dillon sent the 12 machine into the outside wall though, and to an early exit. Blaney would finish Kansas in 37th, only scoring one lone point. At the time of this crash, Blaney was the last man above the cut line by the slimmest of margins. Despite these issues, Blaney remains very much in striking distance of making the Championship 4 on points next week, as the cutoff battle drastically tightened after this incident.
The closing laps saw Larson fend off two past champions in his Kansas conquest. Initially, Kevin Harvick was putting pressure all over the 5's rear bumper, but the 4 quickly faded as Chase Elliott came alive. Despite being as much as two tenths per lap faster, Elliott's 9 made wall contact numerous times that relegated him to fall back. Eventually, the 9 would come across the line more than three seconds behind Larson.
For the second time this season, Larson has scored a hat-trick of victories with a three-peat. Already locked into the Championship finale from Texas, Kansas was simply icing on the cake for Larson's historic season. At least two of the final four spots will be determined now on points. Kyle Larson is the first driver since Dale Earnhardt in 1987 to earn three consecutive victories twice in one season. With nine wins now on the year, can Larson enter rarefied air with a double-digit victories campaign? He has two more weeks to go for an elusive 10th checkered flag.
Larson's Winning Reaction
"I want to dedicate this win to Rick and Linda (Hendrick)," Larson said. "I didn't ever get to meet Ricky (Hendrick) or the other men and women who lost their lives that day, but I felt the importance of this race, no doubt. It's crazy how it kind of all worked out there for me to win. I know they were all looking down and helping me out there with all the restarts and stuff after getting into the wall. Again, thank you to Rick Hendrick. I know this means a lot to you and I'm glad I could get it done.
"It's cool to get another win and I don't really know how that happened but, our HendrickCars.com Chevy was really fast. I thought we were like a third-place car, really. William (Byron) was really good. I hate to see that unfortunate luck there again for that team. They've been really, really strong. I'm glad we could capitalize and get another win. I hope we can go to Martinsville and get a clock."
Kansas Top 10 Results
Behind the Larson-Elliott duo, Kevin Harvick, Kurt Busch, and contender Denny Hamlin were the top five. William Byron, Martin Truex, Jr. Christopher Bell, Joey Logano, and Austin Dillon rounded out the top 10. Playoff drivers finishing outside of the top 10 included Brad Keselowski (17th), Kyle Busch (28th), and Ryan Blaney (37th).
Playoff Standings After Kansas
The Playoff bubble battle is as tight as ever heading into the final elimination weekend. While Elliott and Hamlin both have over 30-point cushions, seven points separate the next four drivers. Do not be mistaken by the large gap though to second and third, no points advantage is truly safe heading into the unknown of Martinsville.
It All Comes Down to the Paperclip
500 laps of intense action is on tap for next Sunday from Martinsville, as three Championship 4 positions are still up for grabs. The Xfinity 500 will determine Kyle Larson's three championship combatants. Coverage begins Sunday, October 31st at 2:00 p.m. ET on NBC, MRN, and SiriusXM NASCAR Radio Channel 90. Martinsville in the Playoffs always delivers on high drama, short tempers, and torn up sheet metal. All of this has only intensified with the half-mile being an elimination race. Expect all seven drivers to do whatever it takes to end in victory lane with the Grandfather Clock.
Written by Peter Stratta
Be sure to follow us on Twitter
Be sure to follow the writer on Twitter
Photo by Sean Gardner/Getty Images for NASCAR