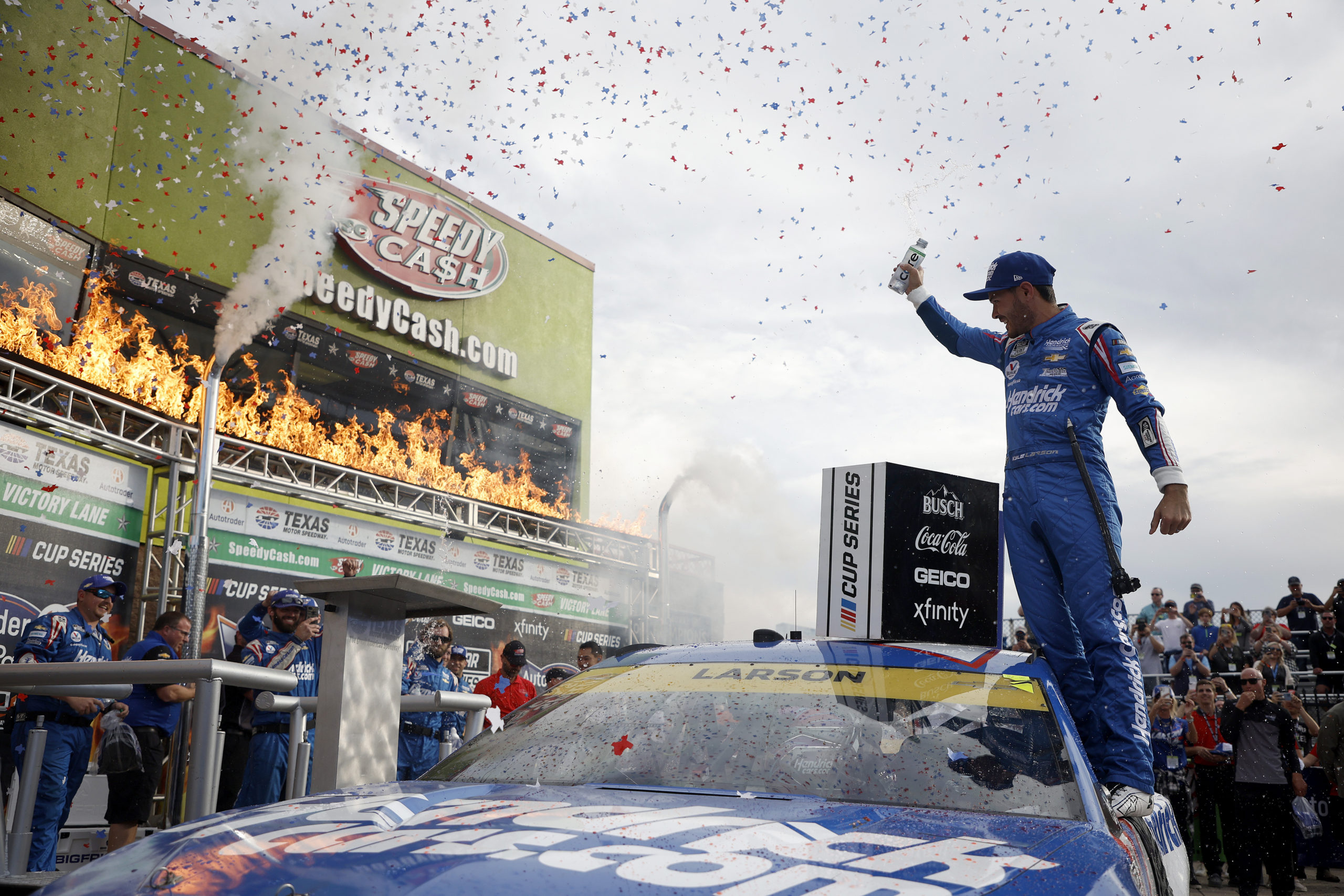 Kyle Larson Leaves Field in Dust in Eighth Win of Season at Texas
FORT WORTH, Texas – The best driver and team all season long reign supreme in Texas. Kyle Larson led an astounding 256 of 334 laps in the Round of 8 opener, locking up a Championship 4 spot. After such a recovery last week at the Roval, the Hendrick 5 team and Larson are definitely racing for the 2021 title. While Larson was the big winner, several of his Playoff foes ran into major trouble late in the 500-mile marathon.
Texas-Sized Carnage in Stage 1
After the competition caution, the first restart of the day led to madness. Bubba Wallace got loose out of turn two ahead of Alex Bowman, sending the 23 spinning. Piling into this incident would be many others. Just narrowly avoiding major damage would be Kyle Busch, who was sent to the rear after a pit road speeding penalty.
This wreck would end the day for eight drivers. In total, 16 drivers were involved, which is a record for any single accident at Texas Motor Speedway. Miraculously though, Busch pitting to top off fuel under this caution would set him up very nicely for Stage 1. The 18 had enough fuel to outlast the leaders, thus he did not have to make a late splash-and-go stop. This would be Busch's seventh Stage win of 2021. After leading for much of the opening Stage, Kyle Larson would fall to third.
Larson Leaves Challengers in Rearview Mirror
Stage 2 would be led in its entirety by the 5 of Larson. Only one debris caution would slow this middle stint, as the 5 took the win over the 24 of William Byron. While the opening two Stages were relatively clean and green, the attrition certainly picked up after lap 300. While the opening 300 circuits only saw six cautions, the final 34 laps would lead to five more yellow flags.
Playoff Contender's Days End Early
Right on lap 300, Joey Logano's No. 22 Ford blew up in a catastrophic motor failure. A few laps prior, Logano had made contact while racing Denny Hamlin, as the 11 ran him wide through turn four. With an early retirement, Logano would be relegated to finish 30th, and fall well below the Playoff cut line. If the Penske 22 crew wants to make Phoenix in back-to-back years, they are now in a must-win scenario for the next two weeks.
Following a scary moment for Anthony Alfredo that saw his car catch ablaze, one title heavyweight faced adversity. After making contact with Ryan Blaney, Denny Hamlin cut a tire and spun. Amazingly, the 11 did not suffer any major damage, even after grazing the inside wall. Despite being involved in one more caution, Hamlin would recover to finish 11th.
One final Playoff driver who left Texas wrecked would be Martin Truex, Jr. While battling Daniel Suarez for 10th, the 99 made slight contact with the 19, sending the Toyota hard into the turn three wall. This huge hit would end Truex's day, as the 19 finished a dismal 25th.
After one final caution for a spinning Chris Buescher, the race ended with a two-lap shootout. Third-place Brad Keselowski pushed the 5 clear of the 24, and Larson would hold off all challenges to win at Texas.
In total, Larson's lightning-fast 5 machine would lead all but 78 laps. Texas marks win number eight of 2021 for Larson, as well as back-to-back Playoff victories after the Roval. Larson also pulls off a Texas season sweep, as he also won the All-Star Race in June. With this latest victory, the 5 team is now locked into the Championship 4.
Larson's Winning Reaction
"I knew we'd have a good shot to win today, and our car was amazing," Larson said. "That's probably the best 550-package intermediate car we've had all year. Thanks to everyone on this 5 team, this is so cool! We get to go race for a championship in a few weeks, this is crazy."
"I just got good pushes from behind really," Larson credited his win to. "I tried to stay patient on the throttle, to keep them to my back bumper, and thankfully I was able to just barely clear them every time into (turn) one and not have to fight off of two. Thanks to William (Byron), Tyler (Reddick), Brad Keselowski, anybody who was every behind me. Especially Brad there on that last restart. Just awesome to win, and hope we can get some more wins throughout the rest of the year."
Texas Top 10
Behind Larson were non-Playoff drivers William Byron and Christopher Bell. After giving Larson the winning push, Brad Keselowski would settle for fourth, while Kevin Harvick also placed fifth. Ryan Blaney, Chase Elliott, Kyle Busch, Tyler Reddick, and Daniel Suarez rounded out the top 10.
Playoff Standings Update
Kyle Larson's future is certain, as he locks himself into the Phoenix Championship 4. Behind him, Ryan Blaney, Denny Hamlin, and Kyle Busch make up the top four. Chase Elliott is eight points below the cut line in fifth. Their respective late issues have both Truex and Logano at the bottom of the top eight, nearing must-win territory for the next two weeks.
What's Next in Cup
Race two of the Round of 8 will be the Hollywood Casino 400 from Kansas Speedway. Coverage begins Sunday, October 24 at 2:00 p.m. ET on NBC, MRN, and SiriusXM NASCAR Radio Channel 90. Last fall saw Joey Logano steal Kansas from a dominant Kevin Harvick, while this spring saw Kyle Busch capitalize after Larson led a ton of laps. Will Larson go for three-straight victories again this year, or will someone else lock up a Championship 4 spot?
Written by Peter Stratta
Be sure to follow us on Twitter
Be sure to follow the writer on Twitter
Photo by Jared C. Tilton/Getty Images for NASCAR