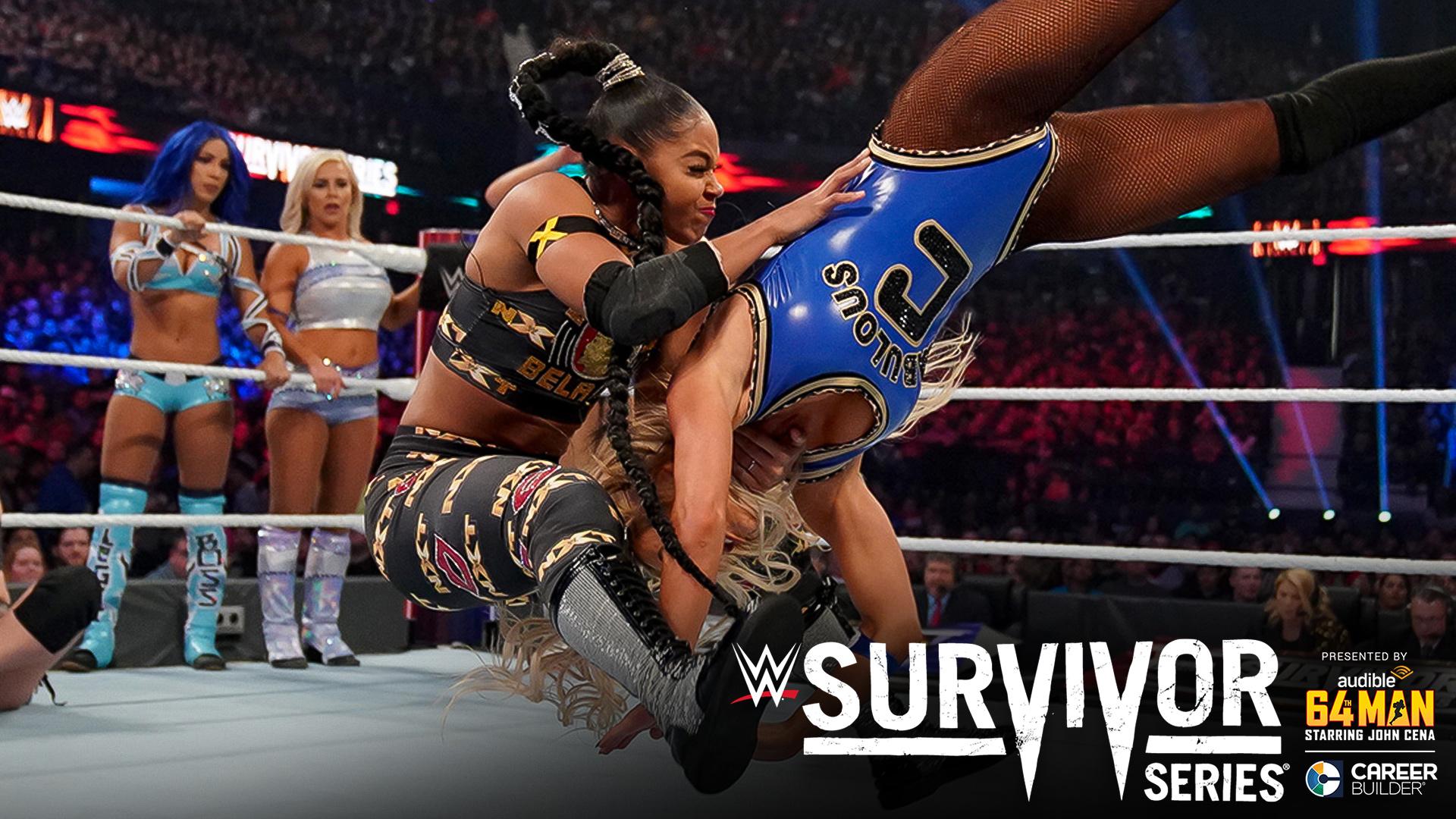 Opinion: The Genius of Survivor Series Weekend
It's been four days since the smoke settled on what was a wild night for the WWE Universe; the 2019 Survivor Series was one that saw the rise to prominence for NXT and SmackDown, while RAW took the heaviest of losses. And while tonight, many will be sitting down at the dinner table for Thanksgiving with their friends and/or family; this reporter here is set on talking wrestling to you right here.
I mean, how else am I supposed to do it??
So, you're probably wondering about the title of the article, why I said "The Genius of…" when referring to this past weekend. Well, I think it goes without saying that this weekend was meant to not only set up the next phase of WWE for the coming year but also to set up ammo for the Wednesday Night War that WWE has with their latest competition, All Elite Wrestling.
The Groundwork…
In early October, WWE reintroduced the FOX audience to SmackDown, after the monumental deal they struck with FOX. Debuting on the network on October 4th, WWE threw every possible weapon they could in order to combat the threat that came from AEW, which debuted on TNT just two days prior.
They had Tyson Fury make his debut on SmackDown; although in a minor way and had Cain Velasquez chase after Brock Lesnar to end the show. The latter happening just moments after Lesnar ended the championship run of Kofi Kingston.
The deal WWE had with the network was one that was based on guaranteed ratings for the network, and the promotion saught to deliver. Featuring The Rock, Becky Lynch, Bray Wyatt, The New Day, and a plethora of others; who would normally be found on either the red or black and gold brand.
The big build was for their second Pay-Per-View event, Crown Jewel and the big sell were the two marquee matches, pitting Braun Strowman against Tyson Fury in one. The other being Brock Lesnar defending the WWE Championship against Cain Velasquez.
In the meanwhile, WWE also was set to go head-to-head with AEW, as Vince McMahon said that whatever days AEW would show, he wanted NXT to go directly against them.
The Wednesday Night War.
AEW was announced on January 1st of this year (for those who didn't know) and held events through the summer. And while they had their sellout events, they were running in the same fashion as Impact Wrestling did back when they were known as TNA. A PPV here, a PPV there, but no announced landing spot on commercial television. At least until midyear.
The company would announce that they were bringing wrestling back to TNT; with many in the wrestling community feeling that their move would revamp the Monday Night Wars. The last company to do that was Impact, during the reign of Hulk Hogan and Eric Bischoff. Needless to say, it didn't go well.
However, many (myself included), felt that AEW didn't need to be competition for WWE; that it was more important to build themselves up before really making a run at them. But, that wasn't necessarily something that they would decide on their own. The fans wanted an alternative, and AEW aimed to please.
Soon, AEW Wednesday Night Dynamite was announced and announced to debut on October 2nd, two days before SmackDown's FOX debut.
Soon after, it was announced that NXT would be making the move to commercial television; as well as moving up to two hours. The first hour would be featured on USA Network, running at the same time as Dynamite. Their second hour would be featured on its home network, the WWE Network.
To quote Scott Steiner, "The Numbers Don't Lie…"
From the start, NXT would lose the weekly rating battle to AEW, sometimes by a large margin, and sometimes, not by much. It wouldn't be until the go-home week for Survivor Series on WWE television that NXT would FINALLY beat AEW in the ratings.
At a score of 916,000 to 893,000, NXT edged out AEW by a slim, but good margin. WWE, of course, looked to keep that margin right where it was. Both shows feature talent that on any given night, could sell-out an arena. But, with AEW, they're the new kid on the block, still fresh to those fans looking for the alternative.
What could WWE do? Well, they finally pulled the trigger on NXT being a marquee brand for the company. The first move was moving them to commercial television, but, the right move would happen on Survivor Series weekend.
The Right Moves to Make.
For as long as NXT has been in existence, fans flocked to see their shows; considering them the best brand under the WWE marquee. They built the brand up to be a showcase for their future stars, superstars that would carry the WWE brand into the next generation.
With stars such as Seth Rollins, Shinsuke Nakamura, Sami Zayn, and Kevin Owens, the brand looked to be on par with the very best companies in the indies and on the international circuit. Once All-In was brought into the fold, however, WWE saw what could potentially be the boogieman lurking about.
WWE would make every attempt to downplay Cody and The Elite's project, even going so far as to refer to AEW as a "pissant company". But, the fans weren't having it and once AEW announced Dynamite, everything changed.
Fast forward to this past weekend, after NXT gained their first win, WWE had to find a way to keep their momentum going. The first move was with TakeOver: War Games, where not only did they have TWO War Games matches, but one was the first-ever women's War Games match. The women's War Games match opened what was an incredible night of matches for NXT.
The Best Move to Make.
Surprises galore in just the first match, with Dakota Kai turning on her "Team Kick" partner Tegan Nox, and Rhea Ripley pinning NXT Women's Champion Shayna Bazler with her team at a 4-to-2 disadvantage fired up the crowd in attendance.
But, it would be the very next night that would be the best-made move for the black and gold brand. In the build-up for Survivor Series in past years; NXT was always left off of the main show, but this year, NXT would "fire the first shot". Running in during matches on SmackDown and Raw; led by Triple H, NXT would establish themselves as a serious threat to the main roster.
In the weeks that followed, they would trade blows with the Raw and SmackDown rosters, up until the SmackDown before Survivor Series. Now featured as a third brand, NXT would have some of their champions pitted against the champs of the other two brands. And it was here where NXT shined. On the preshow, Lio Rush successfully defended the NXT Cruiserweight Championship against Akira Tozawa and Kalisto.
On the main card, Roderick Strong triumphed over Shinsuke Nakamura and AJ Styles. In the main event of the evening, Shayna Bazler beat both Bayley and Becky Lynch. Team NXT's women also delivered a victory for the black and gold, although, on the men's side, Team NXT lost to Team SmackDown. NXT ended the night with 4 victories, while SmackDown had 2 wins, and Raw ended their night with 1.
Okay, but why was this genius?
With NXT gaining the win for the night over the main roster, it shows that they have a very strong roster. A roster that, if put in a spot, will guarantee you a good show. With AEW as their direct competition, offering essentially the same thing as NXT, but to a different degree, having your "developmental division" win over the main roster makes them look incredibly strong.
And a strong roster will gain an even stronger appeal to potential fans. WWE took a chance on NXT having them go against the rosters for Raw and SmackDown. And, if the momentum keeps going, then NXT may just have victory number two this week. At the present time, as of this moment that I'm typing, the ratings haven't been shared just yet.
Then again, as of this writing, it IS Thanksgiving, and there is a chance that those numbers don't come out until at least Friday. Or, they could very well come out in another hour or so, who knows? But, if this weekend is an indication, then another NXT victory could very well be in the books.
BUT, WHAT DO YOU GUYS THINK?!
Does the momentum carry NXT for the foreseeable future? Or are the two companies going to trade wins week by week? Leave us a comment below (click the comment button) and please, do not forget to follow us on social media. Links are provided just under this paragraph. Thank you for reading, and I hope that you and your friends and family have a wonderful Thanksgiving.
Follow us on YouTube and our main Twitter
Written by Gregory Black
Photo credit: WWE, via Twitter
Follow Greg and our Wrestling News Twitter