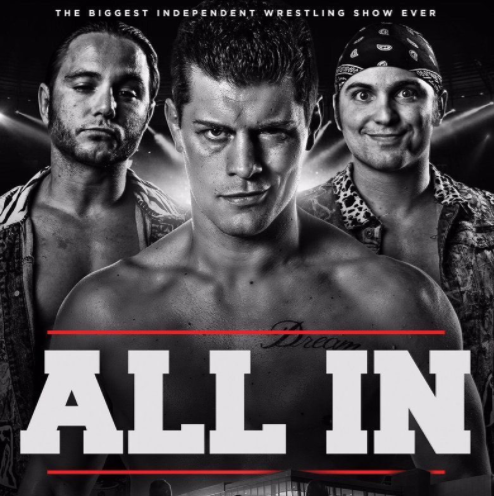 Cody Rhodes Teases Second "All In" Show
All In was a triumphant success for Cody and the Young Bucks. The venue had sold out in under half an hour; The pay-per-view was purchased hundreds of times worldwide; And every fan is still talking about what a great show All In was. After the show went off the air this past Saturday, Cody and the rest of The Elite stable took to the ring to address the crowd. After thanking everyone for showing up and supporting them, Cody asked the fans if they enjoyed the show. He then went on to ask if they'd want to see more like it. Cody Rhodes teases the crowd right before leaving with one last thing to leave fans speculating.
Cody Rhodes: The Teaser
As discussed with WhatCulture, Cody told the crowd that he may put on another show. The Young Bucks joked about having the show at Madison Square Garden, which made the crowd cheer loudly.
"Sometimes when you go All In, you have to go double or nothing…" -Cody
Of course, nothing has been announced as of yet. With the success of All In, it would make sense to have another show just like it. The show sold out. So many people ordered the event on Fite.TV that the site crashed. If it were to happen, it would most likely sell out as quickly as All In did. But, as some sites have speculated, some follow-ups can have a hard time living up to its predecessor.
Of course, Cody has not announced another show yet. With his soon to expire contract nearing its end date, it makes these next few months very interesting. Still, if All In 2 were to happen, it would be a huge event. Maybe not as big as All In, but huge nevertheless.
Social Media:
Follow us on Twitter: @T101Sports and @T101SportsWWE
Photo credit: Kevin Morejon, via Flickr