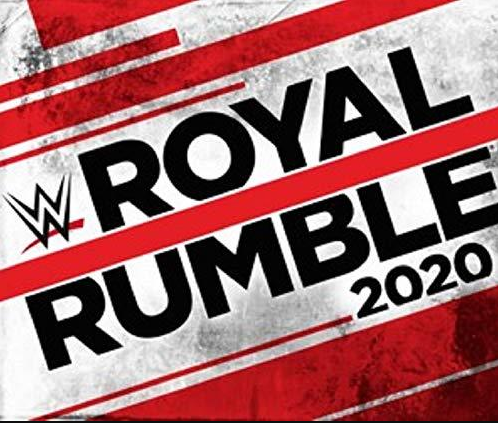 WWE Royal Rumble 2020 Results
Hello readers, these results are from last night's Royal Rumble event, which took place at Minute Maid Park in Houston, Texas. Starting from the preshow, which showcased two very competitive matches.
Preshow – 
Shorty G vs. Sheamus (Single's Match) – 
A fast and furious match that showcased Shorty G as a strong competitor. He put a good effort, almost securing the victory a few times, but fell to Sheamus at the end.
United States Championship – Andrade (C) with Zelina Vega vs. Humberto Carrillo –
Carrillo came into the match looking for a win and some revenge. Andrade tried to take advantage early, but Carrillo fought him off and came with some brilliant offense. The finish would see Andrade pulled an upset roll-up.
Andrade retains the United States Championship against Humberto Carrillo.
Main Card – 
Roman Reigns vs. King Corbin –
Pure pandemonium, as their falls-count-anywhere match literally takes them around the field. They destroyed the Spanish, Chinese, and French Announce Tables. The Usos made the save against Bobby Roode and Dolph Ziggler. Reigns wins with a spear on top of the Astros' dugout. 
WWE sends their condolences to the family of Kobe Bryant and those who died in the helicopter crash that happened early Sunday. 
Women's Royal Rumble match –

Starting off the match are Alexa Bliss and Bianca Belair.
Molly Holly out at #3.
Nikki Cross is out at #4.
Lana comes out at #5, she cuts a promo saying that she's going to win the Rumble.
Mercedes Martinez debuts at #6.
Liv Morgan comes out at #7 and immediately eliminates Lana. Lana hops up to knock Morgan off the top rope, eliminating Morgan.
Mandy Rose comes in at #8.
Candace LaRae comes out at #9.
Bianca Belair eliminates Molly Holly.
Alexa Bliss almost eliminated Mandy Rose, but Otis saved her, by having her land on top of him.
Sonya Deville comes in at #10.
Mandy Rose and Sonya Deville eliminate Mercedes Martinez.
Kairi Sane comes in at #11.
Mia Yim is in at #12.
Belair used Alexa Bliss to eliminate Nikki Cross. Otis saves Mandy, after Sonya accidentally hits her off the ring apron, then both get eliminated by Bianca Belair.
Dana Brooke comes in at #13.
Candace LaRae eliminated by Belair, Sane eliminated by Bliss.
Tamina out at #14. Tamina eliminated by Belair.
Dakota Kai is out at #15.
Mia Yim eliminated by Alexa Bliss.
Chelsea Green comes out at #16, immediately eliminates Dakota Kai, then gets eliminated by Alexa Bliss.
Dana Brooke eliminated by Bliss.
Bliss gets eliminated by Belair.
Charlotte Flair comes out at #17.
Naomi comes out to thunderous applause at #18.
Beth Phoenix is out at #19.
Toni Storm comes in at #20.
Bianca Belair eliminated by Charlotte Flair.
Kelly Kelly comes out at #21.
Sarah Logan is out at #22.
Sarah Lohan eliminated by Flair. Kelly Kelly eliminated by Flair.
Natalya is out at #23.
Xia Li is out at #24.
Zelina Vega is out at #25.
Shotzi Blackheart is out at #26.
Naomi avoids elimination by landing on the ringside barrier. She makes her way to the Spanish Announce Table and tries to figure a way back into the ring.
Carmella is out at #27.
Tegan Nox comes out at #28.
Santina Marella comes out at #29. Eliminates herself after being surrounded by Natalya and Beth Phoenix.
Shayna Baszler is out at #30.
Xia Li eliminated by Baszler. Nox eliminated by Baszler. Vega eliminated by Baszler. Blackheart also eliminated by Baszler. Baszler eliminates Carmella and Naomi.
Phoenix eliminates Natalya.
Baszler eliminates Phoenix.
Flair eliminates Baszler to win the Women's Royal Rumble. 
Backstage promo – Corbin complains about Reigns winning, promises to throw Reigns over the top. 
Bayley vs. Lacey Evans – Smackdown Women's Championship –
Bayley goes on an aggressive offensive, controlling a good portion of the match. Evans gains some momentum, only for Bayley to take control again. Bayley wins after biting a boot up, as Evans went for a consult. Bayley wins with a handful of tights. 
WWE Championship match – "The Fiend" Bray Wyatt vs. Daniel Bryan –
The match is a strap match and the action is fast and furious, as both competitors attempted to tear each other apart, but The Fiend takes control of the fight. He shows down the pace of the match, picking Bryan apart. Bryan took control, only for The Fiend to regain control, but Bryan fought back. He went to finish Fiend off, but Fiend hit a surprise Sister Abigail for a two count. Bryan tangles Fiend up in a Labelle Lock after he tried to submit him with a Mandible Claw. Bryan fought the second Mandible Claw attempt but was put down with a Mandible-claw slam. Fiend retains. 
Raw Women's Championship – Becky Lynch vs. Women's Tag Team Champion Asuka –
A fiercely competitive match, as Lynch is looking to very a measure of revenge on Asuka. Asuka has history on her side, after having beaten Lynch in the past. Both women hitting big moves on each other, getting several near falls. Lynch wins after locking in the Disarmher. 
Backstage Promo – Street Profits do an introduction for the Men's Royal Rumble match. 
Booker T comes out as a guest commentator for the Rumble match. 
Men's Royal Rumble Match –
WWE Champion Brock Lesnar comes out accompanied by Paul Heyman at #1. 
Elias comes out playing the guitar. He is the #2 competitor. Elias insults Heyman in his song, prompting Lesnar to give chase outside the ring. He chases Elias back into the ring and attacks. He smashes the guitar across Elias' back, then eliminates him.
Erick Rowan comes out with his cage at #3. Rowan's eliminated via clothesline over the top.
Bobby Roode comes out at #4. Bobby Roode was eliminated.
John Morrison is out at #5. Morrison belly-to-bellied over the top and eliminated.
Kofi Kingston is out at #6. And he's bringing the fight to Lesnar.
Rey Mysterio comes out at #7. Lesnar picks apart both Kingston and Mysterio.
Big E comes out at #8, rallying Mysterio and Kingston to jump Lesnar.
Mysterio eliminated by Lesnar. Big E eliminated by Lesnar. Kingston eliminated by Lesnar.
Cesaro comes out at #9. Cesaro eliminated by Lesnar.
Shelton Benjamin comes out at #10. Former tag partners pal around for a few and Benjamin ages to help Brock. Brock turns on Benjamin and eliminates him.
Shinsuke Nakamura comes out with Sami Zayn at #11. Nakamura comes and starts besting Lesnar, but gets eliminated.
MVP makes a surprise entry at #12. MVP eliminated.
Keith Lee's in at #13. Lee brings the fight to Lesnar and both knock each other down.
Braun Strowman comes in at #14. Strowman mows down Lesnar and Lee.
Lesnar fights back, takes Lee and Strowman to Suplex City.
Lesnar eliminates Lee and Strowman as they were fighting on the ropes.
Ricochet comes in at #15. Gets taken apart by Lesnar.
Drew McIntyre comes in at #16.
Lesnar eliminated by McIntyre via a Claymore, after a low blow by Ricochet.
McIntyre eliminates Ricochet.
The Miz comes in at #17. Miz eliminated by McIntyre.
AJ Styles in at #18.
Dolph Ziggler comes in at #19.
Karl Anderson is in at #20.
Edge makes a surprise appearance at #21.
King Corbin comes in at #22.
AJ Styles eliminated by Edge.
Matt Riddle comes in at #23. Riddle eliminated by Corbin after beating everyone in the ring.
Luke Gallows out at #24.
Corbin eliminated by McIntyre.
Randy Orton chines out at #25.
Rated RKO eliminates The O.C.
Roman Reigns comes in at #26.
Ziggler eliminated by Reigns.
Kevin Owens comes in at #27.
Aleister Black comes in at #28.
Samoa Joe is in at #29.
After essentially cleaning house in the ring, Joe and Owens have a "friendly" hockey fight in the middle of the ring.
Seth Rollins walks to the ring with Buddy Murphy and the AOP at #30.
Joe and Owens roll out the ring and brawl with the group.
Black eliminated by Rollins.
Owens tosses Rollins out, but the AOP catch him, then help him eliminate Owens.
Buddy Murphy helps Rollins eliminate Joe.
Joe, Owens and Black fight Murphy and the AOP back to the locker room.
Reigns, Rollins, McIntyre, Orton and Edge left.
Rollins eliminated by McIntyre after the four competitors beat Rollins up.
Edge eliminates Orton after Orton got caught attempting to attack Edge.
Edge eliminated by Reigns after Reigns kicks Edge's hands loose while both were fighting on the ring apron.
McIntyre eliminates Reigns after hitting a vicious Claymore to win the Men's Royal Rumble.
Written by Gregory Black
Follow Greg and our Wrestling News Twitter