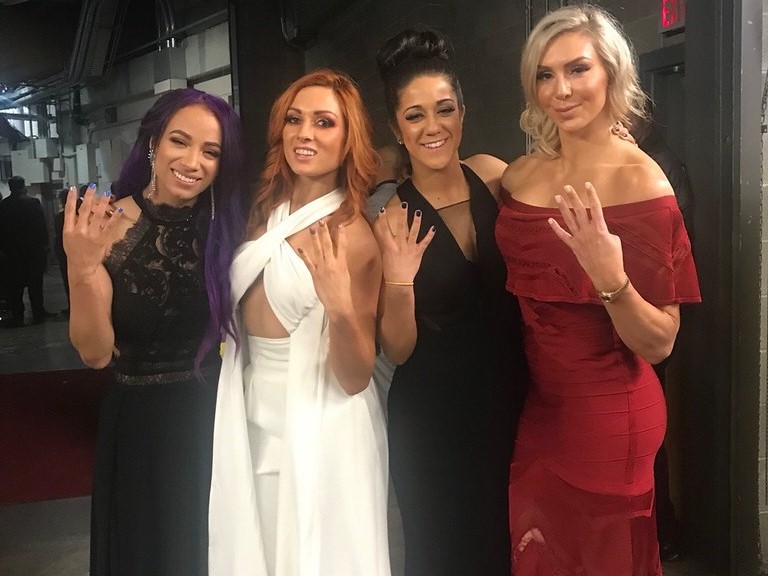 Ashley Sweetly Writes: Last-Minute WrestleMania 35 Predictions
With just a few hours to go until the WWE Hall of Fame Induction Ceremony, I figure I'd kill some time with some of my final predictions for WrestleMania 35.
It's been quite the journey for some of our Superstars since the Road to WrestleMania began. We've seen stars like Kofi Kingston, Becky Lynch, and [Mustafa] Ali finally come into their characters and remind us that you don't need to be a big dude to be a big star. With this year's show being extremely long, the match card is just as long. We already know it's at MetLife Stadium (and I'm not there, sad for me). And we already know it's tomorrow. As usual there's a kick-off show to catch up on all the RAW and SmackDown episodes you missed. Or fell asleep during.
With that being said, let's check out the match card for WrestleMania 35.
WWE Women's Tag Team Championship: Bayley/Sasha (c) vs. Nia Jax/Tamina vs. The IIconincs vs. Natalya/Beth Phoenix
Ever since the Women's Tag belts became a real thing, Sasha Banks and Bayley were heavily favored to be inaugural Champions. Despite their on and off friendship, they put their differences aside and have been pretty impressive. It's good to see another belt for the ladies to fight for.
But is it time for the Boss 'N Hug Connection to turn on each other once again? Sure seems possible. And I want them to. I'd love to see The IIconics win.
Side note: Can't wait to see The Glamazon back in action, I may actually cry happy tears.
But an IIconic win doesn't do anything for my ultimate prediction here, so with a heavy heart, my prediction is kind of lame.
Prediction: Bayley and Sasha Banks retain.
WWE Cruiserweight Championship: Buddy Murphy (c) vs. Tony Neese
Unfortunately for the Cruiserweight Division, the lack of eyes to the product have really hurt them. They've lost some great talent (TJP and Rich Swann, to name a few). But in comes Buddy Murphy, who has seriously trimmed down and toned up since hanging out with Alexa Bliss in NXT. Then again, I guess he gets to hang out with her on days off. That's pretty cool, too.
Tony Neese has proven himself another fantastic talent, but I just don't think that he's the guy to take the belt off Murph. If anyone, I'd like to see Mike Kanellis be the lucky guy.
Prediction: Buddy Murphy is on Alexa Bliss's talk show, the purple belt in hand next week.
WWE SmackDown Live Tag Team Championships: The Usos (c) vs. Ricochet/Aleister Black vs. The Bar vs. Rusev/Nakamura
Great match potential here, with so many Superstars that have talent and a little chip on their shoulders.
Alexa Bliss announced that because of The Usos helping out The New Day by forfeiting, putting Kofi in the main event, they'd be put into a big, big match.
And a big match it is. At this point, The Bar is a bit overdone, and The Usos don't really need them anymore because they're "over" without them. Ricochet and Black, although fantastic in their own respect, feel a little forced and sloppy. Like the creative team didn't know yet how to use them, so they just put them in a team until WrestleMania 35 was far passed.
So to me, the only right move here is to make the two guys who are extremely unhappy with their positions in the company happy. It's a classic WWE move: put a belt on 'em.
Prediction: Rusev/Nakamura win; WWE fears they will sign with AEW if they leave the company.
WWE RAW Tag Team Championships: The Revival (c) vs. Ryder/Hawkins
A busy weekend it'll be for Zack Ryder! With finally popping the question to long-time girlfriend and NXT Superstar, Chelsea Green, he'll also be losing.
This was a thrown together match that makes very little sense. I don't think the WWE is planning to drop Curt Hawkins' losing streak, because that's his whole entire gimmick. RAW's tag team division has very little to offer at this point, and The Revival is the only thing that is keeping it afloat. This looks to me like there simply wasn't anyone else to take them on.
Predicition: The Revival retain; maybe we'll see the return of the Fashion Files (and the creators).
Andre the Giant Battle Memorial
In previous years, it was pretty easy to decide who was most likely to win this big-ass trophy. This year, though, it's a little harder. Here are the confirmed entrants for WrestleMania 35:
Braun Strowman
Colin Jost
Michael Che
Andrade (formerly known as Cien Almas)
Apollo
Titus
Jinder
No Way Jose
Bobby Roode
Chad Gable
Kalisto
Bo Dallas (WHAT? REALLY!?)
Kalisto
Gran Metalik
Curtis Axel
Heath Slater (he's got kids)
Rhyno
Viktor
Konnor
Shelton Benjamin
Ali
Luke Gallows
Karl Anderson
Matt Hardy
Jeff Hardy
Otis
Tucker
EC3
There will probably be a few surprise entrants. Perhaps the Big Show is free this year?
I wish the guy who won this would get a massive push, because if they did, I'd pick Andrade (with Zelina's help) or EC3. But this match is straight-up gimmicky garbage, so the win will probably be pointless and kind of dumb.
SO.
Prediction: Titus World-Slide will win that big-ass trophy this year.
WrestleMania Women's Battle Royal
I wish I had something snarky to say about this.
Confirmed entrants:
Asuka
Carmella
Naomi
Lana
Mandy Rose
Nikki Cross
Sonya Deville
Ruby Riott
Liv Morgan
Sarah Logan
Dana Brooke
Zelina Vega
Mickie James
Again, I'm certain we'll see some surprises. But to me, there is only one person who should take this win.
Prediction: Ruby Riott wins that weird ovary-looking trophy.
Kurt Angle vs. Baron Corbin (Retirement Match)
Yep, we were all pretty pissed that out of ANYONE, the WWE picked frickin' Baron Corbin to end Kurt Angle's tenure with the WWE at WrestleMania 35.
The WWE instantly reconsidered this choice, and I'm actually thinking they're pulling the plug on it.
Although there is a little bit of backstory between the two competitors, reality is there is only on man who should send Kurt off on his Olympic horse. And his name is…
Prediction: Kurt Angle puts on one hell of a farewell match, beating the Doctor of Thuganomics.
AJ Styles vs. Randy Orton
In this grudge match, both men say they've built SmackDown Live. And both men are right.
In his prime, Randy Orton was pretty amazing. He's gotten stale, in my opinion, and SmackDown did, too. But in comes an outsider, AJ Styles, and gave SmackDown the much-needed shot of energy it desperately needed. Since Styles' debut and eventual Championship run, SmackDown was not the B-show in any sense. It was done well and done right.
So who REALLY built the brand? Guess we'll have to find out what the upper management thinks…
Prediction: Randy Orton, because he hasn't won a major feud in a while.
Roman Reigns vs. Drew McIntyre
So weird to see Roman not in the main event.
With his return to the red brand, Roman recaptured our hearts after once again beating leukemia. And it's been great to see him back, re-aligning with Seth and Dean. Unfortunately the Lunatic Fringe often comes unhinged. What's worse; Drew has been doing incredibly well for himself lately. I am thinking that with my prediction for the Universal Championship, I'm going to have to take the Scot on this one.
Prediction: Drew McIntyre
The Miz vs. Shane McMahon
When Miz and Shane captured the tag team belts at Fastlane, we all knew that eventually, their egos would sever their ties. And hey, it's WrestleMania 35, so obviously Shane isn't going to back down from a fight.
Although I don't have high expectations for this, I still hope for a good show.
Prediction: The Miz wins.
Triple H vs. Batista (No Holds Barred)
Batista, finally back in a WWE ring?! Who would have thought we'd see the day. And I've got to say, this was one of my favorite surprises so far of the year. Being a youngster and absolutely loathing Evolution and later cheering once The Animal dumped Triple H on his ass, this has a small sense of nostalgia.
Making huge waves in Hollywood, Dave Bautista has had a ton of success, especially in Guardians of the Galaxy. He's still loved by fans despite walking out on an Evolution reunion back at WrestleMania XXX. That's where this story is leaving off from.
This will probably be Batista's final match in the WWE, and I am willing to bet he headlines next year's Hall of Fame.
Prediction: Just like last time, Batista will dump Triple H.
WWE Intercontinental Championship: Bobby Lashley (c) vs. Finn Balor
So, here's a rematch that has very little build-up or interest.
We all hoped that Demon Finn would take on Undertaker, but The Deadman seemingly stayed dead this year. Instead, we get a lather, rinse, repeat between Lashley, Lio Rush, and Finn Balor. Fine, but what's with the hot-potato motions of the IC belt? Nobody seems to be able to hold on to it for an extended period of time, except for The Miz.
Originally, I would've expected Finn to get screwed over yet again. But then they announced that Demon Finn was going to be a real thing, and now I'm feeling more optimistic.
Prediction: Lio Rush finally turns on Lashley, causing Demon Finn to take back the belt.
WWE United States Championship: Samoa Joe (c) vs. Rey Mysterio
And we're back to the beginning with the United States Championship.
It's relevancy died a few years ago, only to be resurrected by John Cena, and then Kevin Owens. But over the last year or so, it has been a complete afterthought. Shinsuke and Rusev did what they could, but just didn't really capture the intrigue that is needed to build up a title. However, R-Truth made people look once he won it out of sheer dumb luck. Unfortunately for Truth, he didn't get to hang on to the belt for long before getting steamrolled by a Samoan.
Rey and Andrade have been at each other's throats for a while, and this seems a little out of the blue. I would think that Andrade would make himself get involved in this match to screw over his enemy, but it looks like there are other points to be made: Rey could become a Grand Slam Champion at WrestleMania 35. And who can say no to a great ending at what will likely be Rey's final run with the WWE?
Prediction: Rey Mysterio wins this one with a little Latino Heat.
WWE Championship: Daniel Bryan (c) vs. Kofi Kingston
Kofi Kingston has been winning hearts of fans and the Usos with his unbelievable athletic ability. While we all knew that The New Day were a hilarious group of dudes, we sometimes forget that they are all actually super athletic as well. I'm glad that in addition to their nonsensical humor, we will finally be able to see them climbing the ranks.
While Daniel Bryan's gimmick change has actually served him quite well, there is no doubt in my mind that Kofi's dreams are going to come true. We'll likely see some interference from cronies of both parties, because neither is going to give up without a fight.
Prediction: Kofi Kingston makes KOFIMANIA a reality, not just a hashtag.
Universal Championship: Brock Lesnar (c) vs. Seth Rollins
Brock Lesnar is finally punching in to work to mop up the floor with Rollins.
I say this in the nicest way. I wouldn't mind Seth winning, but we know that Brock has signed another deal with the WWE. And there are also rumors that in Brock's previous contract, he needs to be holding a major Championship belt.
Sure, he was apparently being publicized for SmackDown once the FOX deal goes into full-force. But that won't be for a few months yet, and it seems kind of unlikely that Brock is going to lose it now.
Maybe we'll see Roman Reigns turn on his friend Seth Rollins. That would be a cool sight to see. Maybe CM Punk will return, too. Who knows? Life is short.
Prediction: Brock Lesnar retains.
RAW Women's Championship and SmackDown Live Women's Championship: Ronda Rousey (c-RAW) vs. Charlotte Flair (c-SmackDown Live) vs. Becky Lynch (The Man)
Finally, after tons of rumor and speculation, the Women Superstars will be main-eventing WrestleMania 35. 
It's been undoubtedly confusing after Charlotte Flair beat Asuka in a shock win for the SmackDown Live belt. After all, she had already been placed in the triple threat match with Ronda and Bex. So what was the purpose of that? I guess they didn't have anyone ready for Asuka this year.
In this Winner-Takes-All match, whoever is victorious will apparently get both belts….? Okay, then, so we're unifying them? No, not confusing at all.
Regardless, it has been rumored since the Royal Rumble that Ronda was ready to take a few months off from the WWE, and maybe begin a family with her husband. It would be a great way for Rousey to drop the belt without actually ever losing.
Yet somehow, some way, I think that we will see Becky Lynch and Charlotte Flair tie. The ending scene is the only one that makes sense: close out 'Mania with all four horsewomen holding their gold high. Want to carry on the once on-fire Women's Evolution? This is probably the best way to prove that we haven't missed a step. Or maybe just pretend that we haven't.
Prediction: By an act of God, Charlotte and Becky tie.
Social Media:
Don't forget to follow us on Twitter:
@T101Sports and @T101SportsWWE
Follow me, the writer, because I'm hilarious:
Photo credit: Hunter Hainan, via Flickr