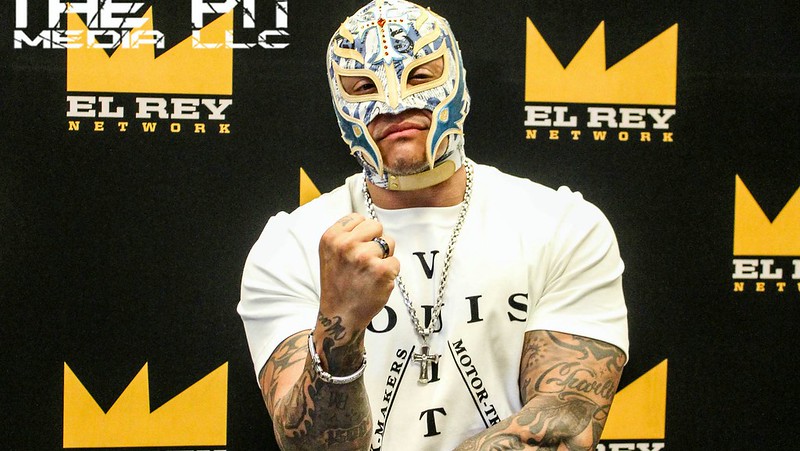 Rey Mysterio Set to Leave WWE?
The wrestling world, and especially the WWE Universe; was in shock when Rey Mysterio resigned with the company last year. But, as the old saying goes, "All good things must come to an end".
Back in September of 2018, Mysterio signed a two-year deal with WWE; however, he had added an opt-out clause that was set for the eighteen-month mark of the deal. Now, if he were to act on the out-clause, he would be able to exit the company just before next year's WrestleMania.
Now, given that he has been injured, there are some who believe that the WWE officials may not honor the opt-out clause, due to him taking time off this year to heal. Another possibility is that they could offer him a new contract, in order to prevent the competition from signing him.
The obvious play is to prevent AEW from signing him; WWE tried in vain (and failed) to prevent Rey Mysterio from performing at All-In. They were able to sign him last year, but, given the wear and tear from a 30-year career, the opt-out clause was necessary.
And given that he recently professed that he didn't have much time left in the ring, it is possible that he's looking to make his exit in the next year or so.
What does it mean for WWE?
While they have certainly lightened their scheduling over the last few years when in comparison to AEW's scheduling; WWE's is still seen as the heavier schedule. And while WWE could certainly choose to tack on the time; whether they go that route may harm their chances of keeping him signed until he decides to call it a career.
The lighter schedule of AEW also means that he could spend more time at home; more time to nurse any nagging injuries that may affect him. It also means that he could spend more time with his relatives.
Essentially a guaranteed Hall of Famer, Mysterio has done all that he could in WWE. He's been both the WWE and World Heavyweight Champion, Intercontinental Champion, United States Champion and Cruiserweight Champion. He has also held the World Tag Team Championship on four separate occasions.
Add that to the reigns he had in WCW (Cruiserweight and Tag Team Championships, respectively), and there isn't much left for him to do.
Where does he hang his mask at the end of it all? A writer ponders…
TOKYO, JAPAN – AUGUST 12: Rey Mysterio Jr. appears on the ring prior to the 6-man tag match during the New Japan Pro-Wrestling G1 Climax 28 at Nippon Budokan on August 12, 2018, in Tokyo, Japan. (Photo by New Japan Pro-Wrestling/Getty Images
At the end of the day, it's all going to come down to when and where he feels most comfortable leaving his legacy. In WWE, he has made his mark and is recognized as a Lucha legend, who is helping to build the next generation of WWE Superstars.
But, if he were to leave and land in the world of AEW, he could help build a new crop of future stars; while building his legacy to be much greater than it already is.
Or, and this is an option I think would be awesome, he could go back to the place of his humble beginnings. Promotions like AAA and CMLL would benefit from having Rey Mysterio "Jr." back on their rosters. Maybe, he could show up in the promotion of one of his old WCW friends, Konnan, and join The Crash.
Wherever it may be, we can be certain that it was where he thought it best to call it a day.
But, what do YOU think??
Could Rey call it quits in WWE? Could he finish his career there, or do you think he'll add another chapter to his storied career? Leave us a comment below, click the comment button and share your thoughts. And don't forget to follow us on social media, links provided below.
Written by Gregory Black
Follow us on YouTube and our main Twitter
Photo credit: Ahmed P1, via Flickr
Follow Greg and our Wrestling News Twitter