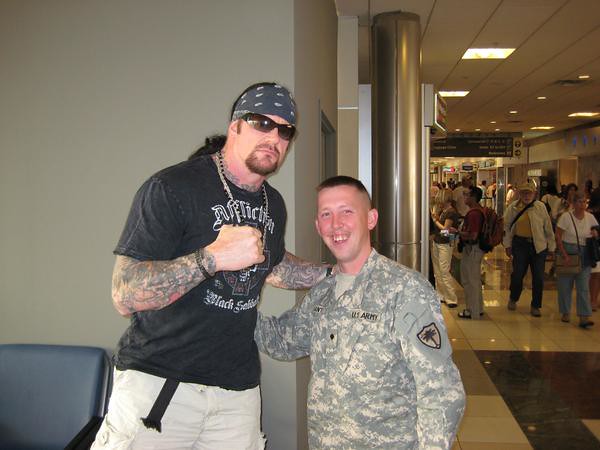 Undertaker and Michelle McCool Show Their Patriotic Side on Veteran's Day
If there is one thing that can be said, it's that the Undertaker has always been a patriot. Even from his active in-ring days with the WWE, performing at their "Tribute to the Troops" events; he could be seen spending time with the troops.
This past week was no different, as The Undertaker and his wife, former WWE Diva's Champ Michelle McCool, visited the Marines stationed at Quantico, Virginia.
WWE shared images from the visit on their social media last week, where they tweeted:
#Undertaker & @McCoolMichelleL had the opportunity to visit with Marines in Quantico, Virginia today, which was "the opportunity of a lifetime" for the Deadman! pic.twitter.com/apCm4WAZKe

— WWE (@WWE) November 14, 2019
Outside of the ring, the deadman has always shown that he was a patriot. At times when he has been seen out of gimmick, he was wearing some sort of pro-American attire.
Even when he adopted his biker persona (which was as close to the real person as he showed), he adopted the moniker "The American Badass". He was also promoted as the first guest on Stone Cold Steve Austin's newest WWE Network show "Broken Skull Sessions", which debuts immediately after Survivor Series.
Don't miss the premiere of @steveaustinBSR's #BrokenSkullSessions with The #Undertaker immediately following #SurvivorSeries on WWE Network! pic.twitter.com/ChBecWjQ4Q

— WWE Network (@WWENetwork) November 14, 2019
At the present time, there are no plans for the Undertaker, as far as in-ring action is concerned.
Written by Gregory Black
Follow us on YouTube and our main Twitter
Photo credit: mariabonita6666, via Flickr
Follow Greg and our Wrestling News Twitter