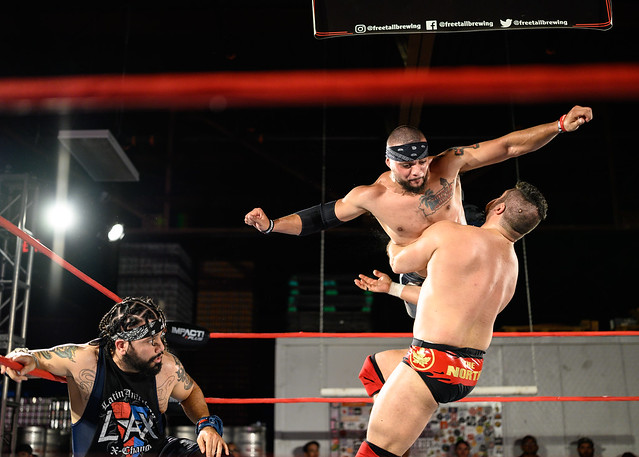 Where are LAX headed? They Hint at Their Next Stop
The team known as LAX (Ortiz and Santana, originally known as "EYFBO") are on market, so to speak, after departing from Impact Wrestling a couple of weeks back. The former tag champs took to "The Shining Wizards" podcast to express not only their gratitude but potentially their next stop.
The following is some of the highlights from the interview:
Of their time on IMPACT, and the trust from the promotion:
"Santana:  They trusted us in positions where guys at our level coming in… we were brand new to TV… brand new to working that kind of style.  Every situation they threw us in, they trusted us to hit it out of the park, not even knowing who we were.  The fact that they gave us that meant the world.  Especially at that time coming in.  We were kids.  They actually believed in everything we could do.

Ortiz:  They took a risk on us and it paid off.  Them putting us in the best possible situation all the time definitely played a huge part in our success.  We were able just to take the ball and run with it.

Santana:  Also, the fact that all the veterans there, especially at that time, all took the time to sit with us and to spit knowledge.  Tommy Dreamer, Abyss, Sonjay   They took the time and sat with us and made sure that "hey, maybe do this different," or "this will get you better in this way."   They took the time and there are not a lot of places like that."
Who exactly referred them to IMPACT and Konnan:
Santana:  So, it was like 3 in the morning and I got a text on my phone from Shane Strickland.  Shout out to Shane and everything he's doing.   Proud of that dude.  It was a text from him and was like "yo, is it ok if I give Konnan your number?"  I was like, "what the hell?   Hell yeah."  I guess him and Konnan were talking and Konnan asked him "Do you know any Latino tag teams because we're trying to start this up," so I'm assuming Impact had already contacted him and all that stuff.  And he (Strickland) was like, hell yeah, I know these two dudes from New York and here's their number.

Ortiz:  And then, Homicide was like our stamp of approval and everything just happened how it happened.
Their thoughts on Jeff Jarrett and his treatment of them:
Ortiz:  I know there's a lot of lore when it comes to Double J but he was nothing but good to us.  He was the say all.  [He] was the one to give the stamp whether to say ok, yay or nay to us.  He took a shot on us and he loved us.
On what the future holds:
Ortiz:  I will say this:  people won't be disappointed with our decision.

Santana:  Not only that, just know that if you know anything about our careers and what we've done to this point, and what we did to get to this point, we're about making history."
This Writer's Opinion: Of Their Potential Landing Spots…
With the current signing blitz of talent that both AEW and WWE are in the middle of; LAX could make a bigger splash on the international market. Having already tested their mettle in Canada and Mexico (for Impact and The Crash, respectively); signing to either company seems like a smart move.
WWE is hungry for tag teams, but also for talent that's already battle-tested. With the kind of following that LAX has, it would be a smart signing for the promotion. Imagine them in NXT facing off against the likes of the Street Profits, or even the Undisputed Era.
But, I believe that stepping between the ropes for AEW might be a better fit, as the company's focus on tag-team wrestling seems to be their biggest draw. Whether as LAX or EYFBO, Santana and Ortiz would fit perfectly alongside the Lucha Bros and The Young Bucks.
Oh yeah, I forgot to mention…
To listen to the FULL interview with Santana and Ortiz, visit www.shiningwizards.com, you can find the interview on Episode 441: Santana and Ortiz – So Hot and Hungry. You can listen to The Shining Wizards LIVE every Tuesday at 7 PM EST on Tune In; find them under Rant Entertainment Media and at rantemradio.com.
Follow us on YouTube and our main Twitter
Written by Gregory Black
Photo credit: Brandon Oliver, via Flickr
Follow Greg and our Wrestling News Twitter