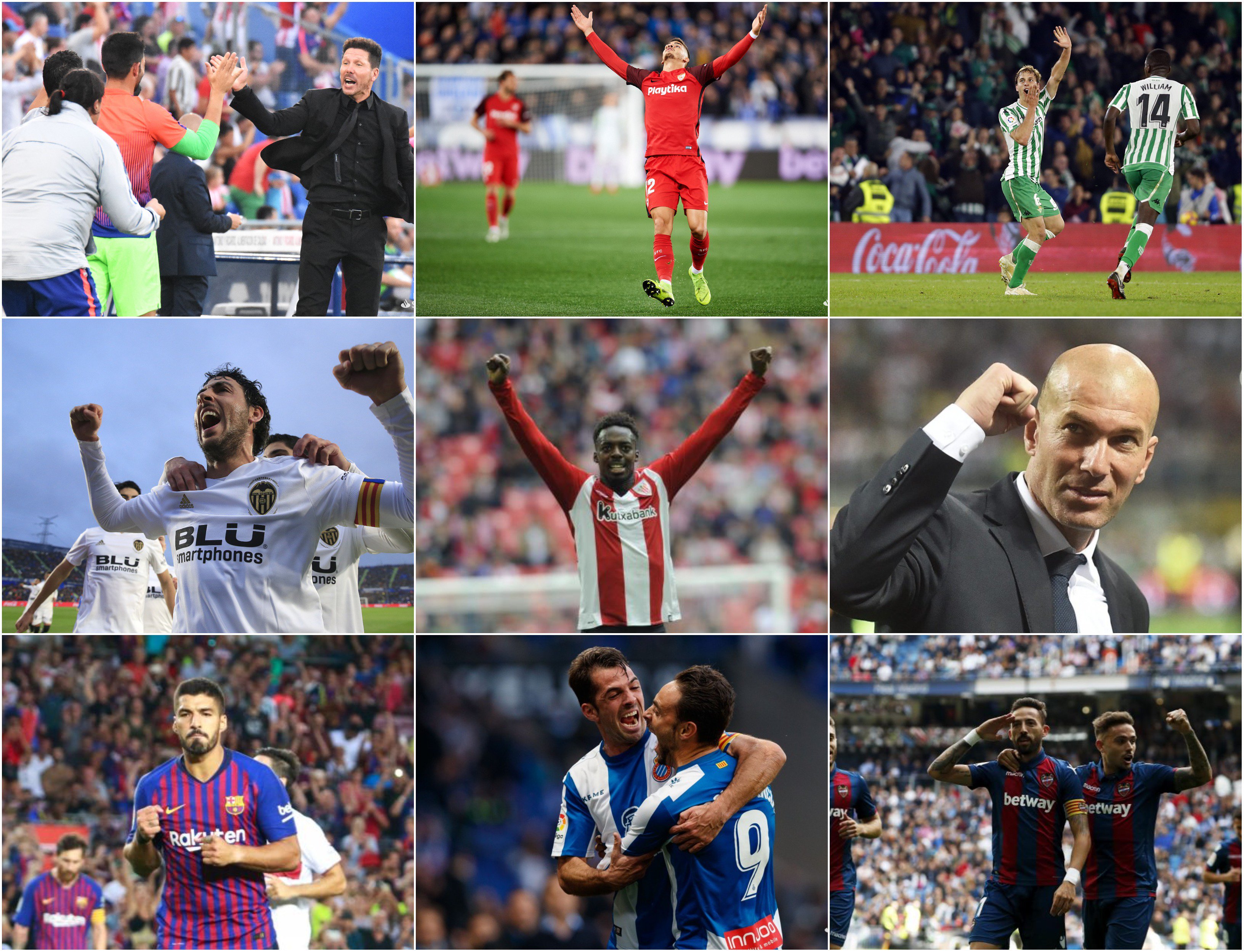 The Most Important Matches For Spain's Big Three Before November
Before the first ten match-days of La Liga 2019-2020 are completed, Spain's big three clubs are set to face a number of challenging matches.
Undoubtedly, Real Madrid, Barcelona and Atletico will consider themselves contenders for the league title. Nevertheless, all three will need to overcome potential hiccups from the get go.
Here are the matches that could derail each of the Spanish giant's campaigns before November arrives. They lead up to La Liga's first Clasico which – depending on the other matches – could be a nail in the coffin for the loser.
Athletic Bilbao vs F.C. Barcelona – August 16th – 3 pm EST
The very first game of the season sees the current champions visit historic San Mames. There, they will meet a competitive and motivated Basque team who can't imagine a better start to their campaign than defeating the Catalans. It doesn't help that Barca have struggled historically to get good results at this stadium.
Celta Vigo vs Real Madrid – August 17th – 11 am EST
Likewise, Real face a difficult road trip to Balaidos against a dangerous Celta Vigo led by striker Iago Aspas. One goal separated the Spanish striker from Karim Benzema and Luis Suarez in goals and assists last year. Although 'Los Blancos' have dominated recent fixtures, Celta remain a dangerous opponent for Zinedine Zidane's evolving team.
Atletico Madrid vs Getafe – August 18th – 3 pm EST
New signings Joao Felix and Marcos Llorente's first tough task for their new team will be to overcome Getafe's midfield and defense. Getafe placed fifth in the league last year, missing out on Champions League football by two points. They will only seek to improve on that finish and start their new campaign by winning the mini Madrid derby.
F.C. Barcelona vs Real Betis – August 25th – 3 pm EST
The danger posed by Betis cannot be stated enough. After La Liga's giants, there isn't a squad more stacked with talent in Spain. Despite a disappointing 10th placed finish last year, manager Rubi will be eager to achieve with this team that currently consists of Fekir, Joaquin, Lo Celso, Guardado, Bartra, Canales, Carvalho, Javi Garcia and more.
F.C. Barcelona vs Valencia C.F. – September 15th – TBD
Little explanation is required for why Ernesto Valverde's men will have this match marked down already. Fortunately for the 'Blaugrana' they will face Valencia at home. However, victory will be difficult. The team coached by Marcelino defeated Barca in the Copa del Rey final last year with goals from Rodrigo and Gameiro enough to lift the trophy.
Real Sociedad vs Atletico Madrid – September 15th – TBD
There is no such thing as a bad Basque team. The pride and history of the region seems to always be present in their football and for this reason Sociedad will prove a difficult opponent as they do every year. Diego Simeone's new look team will not underestimate the team from San Sebastian with Real Madrid loanee Martin Odegaard in it's midfield.
Sevilla vs Real Madrid – September 22nd – TBD
Perhaps not a giant club, Sevilla are the next biggest thing in Spanish football. Former Madrid coach Julen Lopetegui is now in charge on the sidelines and will be eager to show what his former employers lost when they sacked him early last year. Ironically, it was his current team's 3-0 destruction of Madrid that helped pave the way to his removal.
Atletico Madrid vs Celta Vigo – September 22nd – TBD
'Los Colchoneros' will no doubt keep an eye on Celta Vigo's result against Real Madrid to know how best to approach the Galician team. Both sides defeated each other 2-0 last season and Atletico's young defense will be tested by Aspas and Santi Mina. Meanwhile, new signing Emre Mor may add an extra threat to an already capable attack.
Getafe vs F.C. Barcelona – September 29th – TBD
On paper alone Getafe don't appear to be a potential hiccup for the reigning champions. Furthermore, Barca defeated them home and away last season. Nevertheless, the small club from the Spanish capital earns respect for their impressive finish last year and consistent improvement since 2016 under manager José Bordalás.
Atletico Madrid vs Real Madrid – September 29th – TBD
'El Derbi Madrileño' has extra significance this year although it needed none. Atletico tore their bigger neighbors to shreds in what was meant to be a friendly at Metlife Stadium in New York. Instead, tempers flared and red cards were distributed. As a result, the whites will visit visit the Wanda looking for blood and the home side will be ready.
F.C. Barcelona vs Sevilla – October 6th – TBD
The team from the city of the same name fell victim to Barcelona by 4-2 on both occasions last year as Valverde's team ran away with the title. Regardless, a new manager may prove the difference and Lopetegui's squad will not be intimidated by the atmosphere at the Camp Nou. Even if the manager is after losing 5-1 on his previous visit.
Atletico Madrid vs Valencia – October 20th – TBD
Before the arrival of Simeone to the Spanish capital, a match up with Valencia was usually unpredictable and frequently ended in a draw. However, 'The Mattress Makers' of Atletico have dominated the tie in recent seasons under their Argentinian maestro. Still, the Copa del Rey champions remain a dangerous and undeterred opponent.
Atletico Madrid vs Athletic Bilbao – October 27th – TBD
Just a week later, Atletico once again welcome danger to their home stadium. Bilbao manager Gaizka Garitano has proven that he knows how to outsmart the Madrid club. It was his side that struck a dagger in their title hopes last March defeating them 2-0 at home. However, this time Athletic travel to the capital to face a very different team.
Barcelona vs Real Madrid – October 27th – TBD
The first El Clasico takes place towards the end of October in Barcelona. Considering the matches set to take place leading up to it, the outcome could play a huge role in the title hopes of both teams.
How many points will each Spanish giant come into this match with? Will Atletico Madrid be ahead, behind or between them? How effective will Antoine Griezmann and Eden Hazard be in their first Clasico?
One thing is for certain. Each of Spain's big three will arrive at the winter months with a clear understanding of what must be done after the holidays if they want to win La Liga.
Written by Chris Cartwright
Follow Chris and TSJ: Soccer on Twitter!
Photo credit to LaLigaEng via Twitter
Follow TSJ on YouTube and Twitter