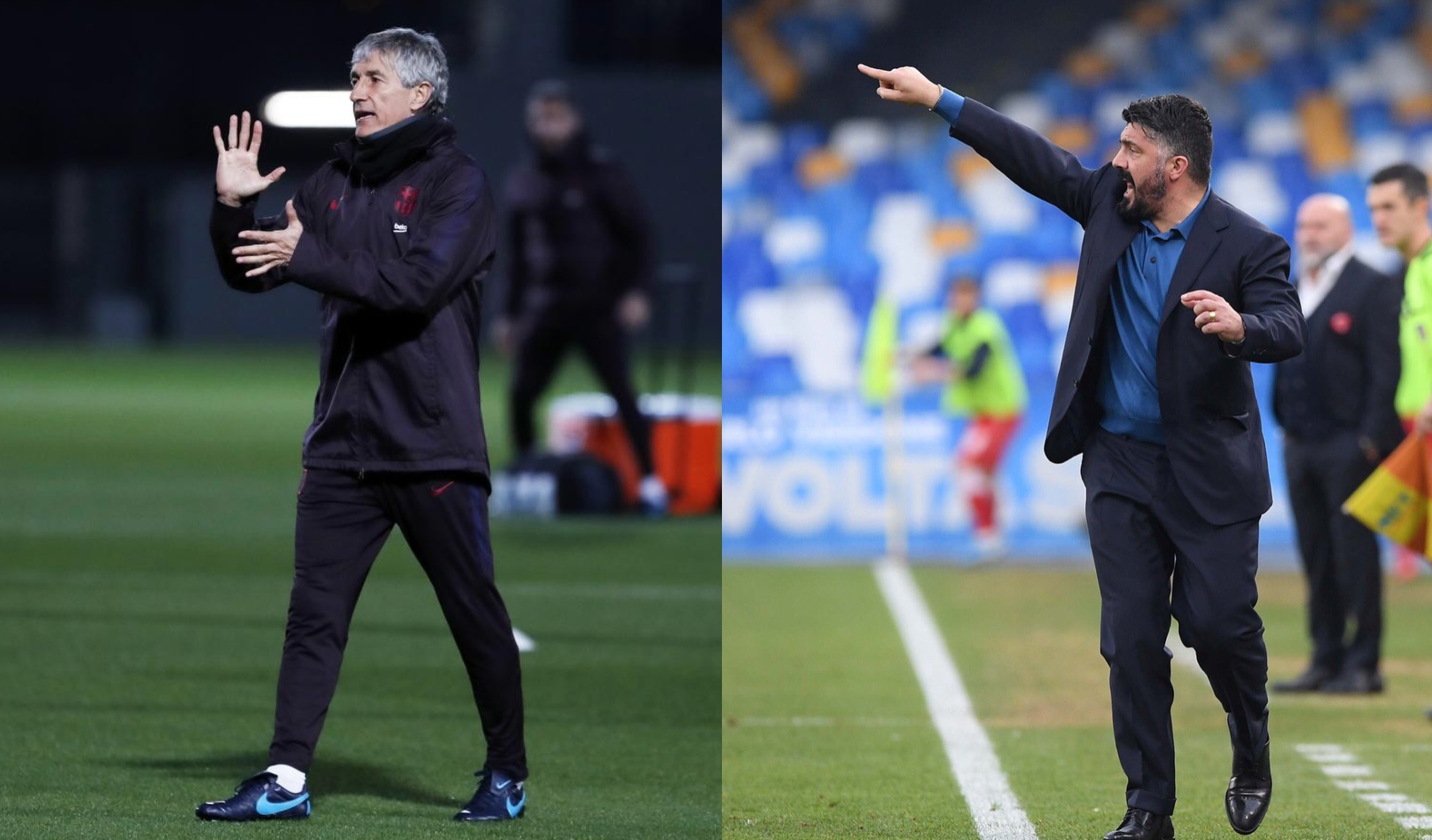 Setien vs Gattuso: Battle of the New Coaches
FC Barcelona and Napoli are set to face off in the Round of 16 of the UEFA Champions League in February and March in one of the hottest pairings of the draw. Both sides have endured rather shaky starts to their respective domestic seasons. And of late, they have also been through some fairly notable changes in the dressing room. After their 4-0 win over Genk, Napoli parted ways with Carlo Ancelotti and appointed Genaro Gattuso.
A little more than a day and half ago, Barcelona also announced the departure of Ernesto Valverde, bringing in former Real Betis boss Quique Setien. There is a lot of talking to be done about the new bosses and what we can expect from both teams in the tie. Its going to be a battle of the new coaches as they are tasked with the massive challenge of exploding their new teams into life. So how did Ancelotti vs Valverde suddenly become Setien vs Gattuso? Let us find out.
Complicated Managerial Problems
Both sides have endured rather peculiar seasons so far, at least domestically. They have parted with their managers in order to rejuvenate. So let us look at what exactly went down to bring about these big decisions.
Napoli's Disputes With Carlo
Taking a look at Napoli first, they relieved Ancelotti from his duties less than 3 hours after their Champions League win against Genk. After taking over in 2018, Ancelotti found the going to be difficult after a promising start. In the 19/20 season, prior to this 4-0 win against Genk, Napoli had failed to win in nine straight games across all competitions. Just 15 games in, they were 17 points behind the then leaders Inter Milan. It was not just the poor form of the team but also the background problems between the club owner Aurelio De Laurentiis, Ancelotti and the players.
After the 1-1 draw against Salzburg in November, De Laurentiis had asked the team to stay at a training retreat but the entire squad returned home. The club released a statement saying that they shall take legal action and hold Ancelotti responsible as well. This had to have caused a rift between the Italian coach and the club, which seemingly was one of the key factors in his sacking. But what is even more odd, is that Napoli hired Gattuso to replace Carlo. Gattuso has not managed since leaving AC Milan last summer. His tenure at Milan, a club undergoing heavy transition was decent but nothing special.
Since Gattuso's appointment, Napoli have won two but lost three of their matches under the new boss. They are in 11th on the Serie A table, a massive 24 points behind current leaders Juventus.
Valverde's Sudden Dismissal
While Barcelona are sitting atop La Liga on goal difference, their performances have left a lot to be desired. It is no secret that the Barça fans have been constantly asking for Ernesto Valverde to be sacked ever since the debacle in Rome 2 years ago in the Champions League. Since then it has only gotten worse as a dull looking Barça side collapsed to a similar defeat to Liverpool in the semis and then endured a Copa Del Rey final loss lat season. Even so, the board and even the senior players such as Leo Messi, Luis Suarez, Gerard Pique had complete faith in Valverde.
Funnily enough, their recent loss to Atletico Madrid in the Spanish Supercup finally broke the camel's back. Valverde was relieved of his duties not more than days days ago. Former Real Betis boss Quique Setien was brought in, much to the delight of the Barça faithful. Thus, we have an exciting battle on our hands between Barcelona and Napoli and Setien vs Gattuso.
The Tactics
At AC Milan, Gattuso used a 4-3-3 formation where the fullbacks pushed very high and wide as the wingers moved infield. Gattuso's style of play involves more emphasis on counterattacking and low risk build-up. At Milan, Gattuso would ask his energetic midfield to press the opposition, creating a 4-5-1 block when out of possession. The number 9 stays highest up the field and stays prepared for a counter. The central midfield roles are very demanding in Gattuso's system.
As for new Barça boss Setien, he seems to be an impassioned executor of the 'Barça way'. A staunch follower of Cruyff's football ideologies, he believes in positional play and possession based football. At Betis he used a 3-4-1-2 formation but it is unlikely that he will opt for the same at his new club. Overloading the midfield to create numerical superiority is one of Setien's key principes. Like Gattuso but in a slightly different manner, Setien also likes to stretch the opponent's shape using the width of the fullbacks. In the first phases of the buildup, Setien uses the numerical advantage to build out from the back. This trick can help evade teams with an aggressive high press as there is a 5v3 (including the goalkeeper as a passing option) to play the ball around before initiating the second phase.
What Happens When They Face Off?
When you compare and contrast the two sets of tactics, Setien vs Gattuso becomes a very interesting battle. It seems as though Barça expectedly will have more of the ball while Napoli will try to hit them on the break. However, at Napoli, Gattuso has a variety of talented mids and forwards with supreme technical ability at his disposal. The ball carrying and distribution of players like Fabian Ruiz, Dries Mertens and Lorenzo Insigne can allow Napoli to impose themselves on Barça a lot more. Gattuso will have to utilize this to get the better of Setien and his elite Barça squad who are bred for his tactics. Napoli cannot allow Barça to settle into a rhythm. Once the Blaugrana get into their groove, they will be able to constantly break through the lines and create chances.
This will be the two sides' first meeting in official competition. There is a lot to be excited about. The two sides with their new coaches will aim to spark new life into their seasons. The game promises to be a thrilling affair in terms of tactics and quality. The first leg will take place at the San Paolo on the 25th of February. The return leg will be played on 18th of March at the Camp Nou.
Written by Aaryan Parasnis
Follow Aaryan and TSJ: Soccer on Twitter
Photo Credit to Barcelona and Napoli via Twitter

Follow TSJ on YouTube and Twitter