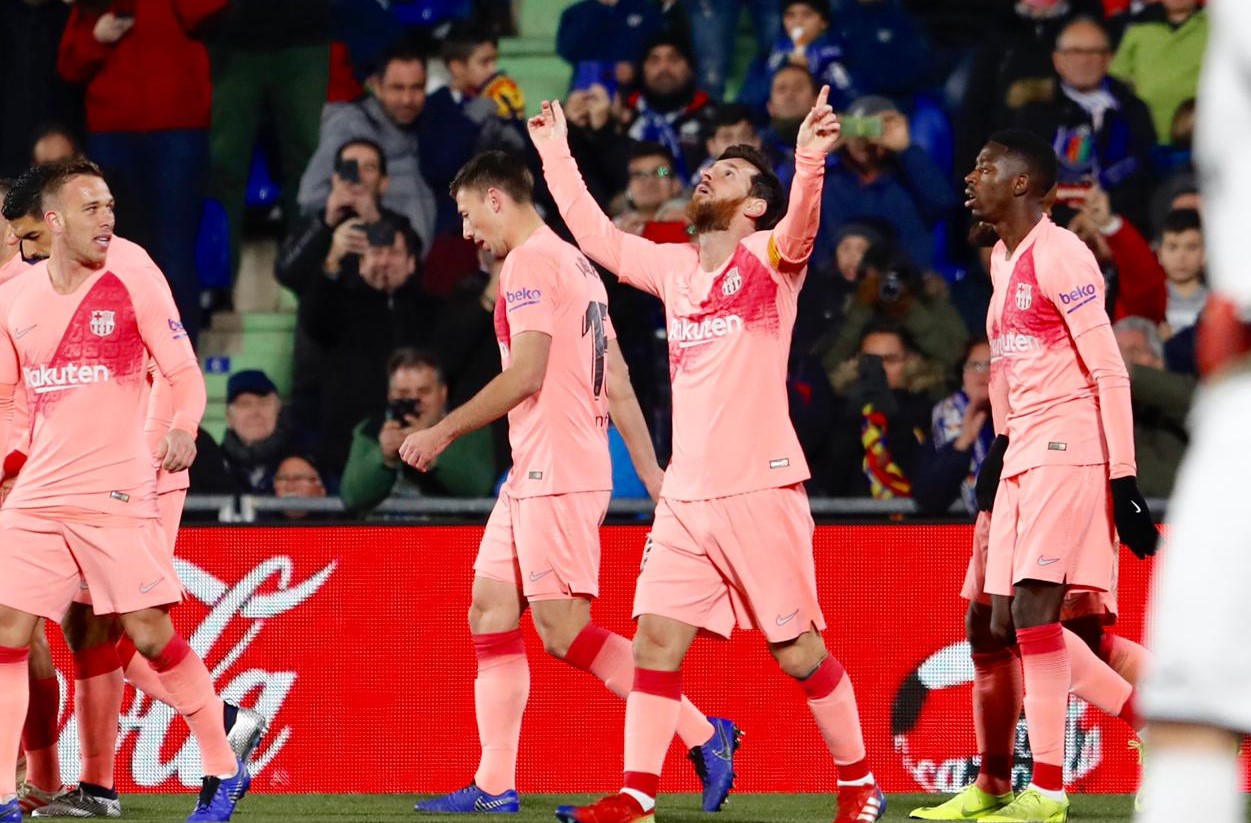 Catalan Giants Barça Edge Out Tricky Getafe
FC Barcelona ensured they made the most of their rivals' slip ups as they won their first game of the new year. The Catalan giants made a trip to the Coliseum to face seventh placed Getafe. The Madrid-based club have been performing well this season and are only a point off the top six. Earlier in the evening, Sevilla and Atletico de Madrid played out a 1-1 draw. This meant Barça had a golden opportunity to establish some headway atop the La Liga standings. They were also keen to put even more distance between themselves and their arch-rivals Real Madrid, who succumbed to a 2-0 loss at home to Real Sociedad.
This win puts the defending champs five points clear of second placed Atletico de Madrid. However, the route to the three points wasn't really straightforward.
Energetic Getafe
The Azulones have been known for their well organized defense and terrific energy this season. That showed from the get-go as they readily pressed Barcelona aggressively in the champions' defensive third. This forced a lot of long balls and miscued clearances. Eventually, Barça calmed down and started maintaining possession characteristically. Getafe however, were in the game from start to finish. They did not take their foot off the gas and pushed the Catalan side to the limit.
Their standout performers on the night were undoubtedly Djene, the center back and right-mid Dimitri Foulquier.
Thrilling 60 Minutes
The first hour of the game was absolutely enthralling. Not only did the first half see all three goals scored in the game, but even after the restart, the encounter was feisty. Initially Getafe piled on a lot of pressure and even put the ball in the back of the net. The goal was however, disallowed for a foul on Lenglet in the box. Pepe Bordalas' men made it a point to target Barcelona's weakness in dealing with aerial balls and crosses. This ultimately lead to their goal.
Barça opened the scoring out of nothing really. A high ball dropped into the box and a typically sharp Leo Messi, saw the opportunity before anyone else and tried to poke the ball home first time. The ball came back to an onrushing Messi through the keeper's legs and he slotted into the goal from a really tight angle. In similar fashion, the second goal also came out of nowhere. Messi floated in a freekick in the 39th minute and the partial clearance fell to Luis Suarez who lashed a terrific volley into the back of the net. Getafe did pull one back just 4 minutes later though. A deep cross from the left was played across goal by Angel Rodriguez for Jaime Mata to tap in.
The game eventually slowed down and had eventual flashes of brilliance. It ended at 2-1. A good start to 2019 for the Catalan side.
Photo credit to FC Barcelona via Twitter