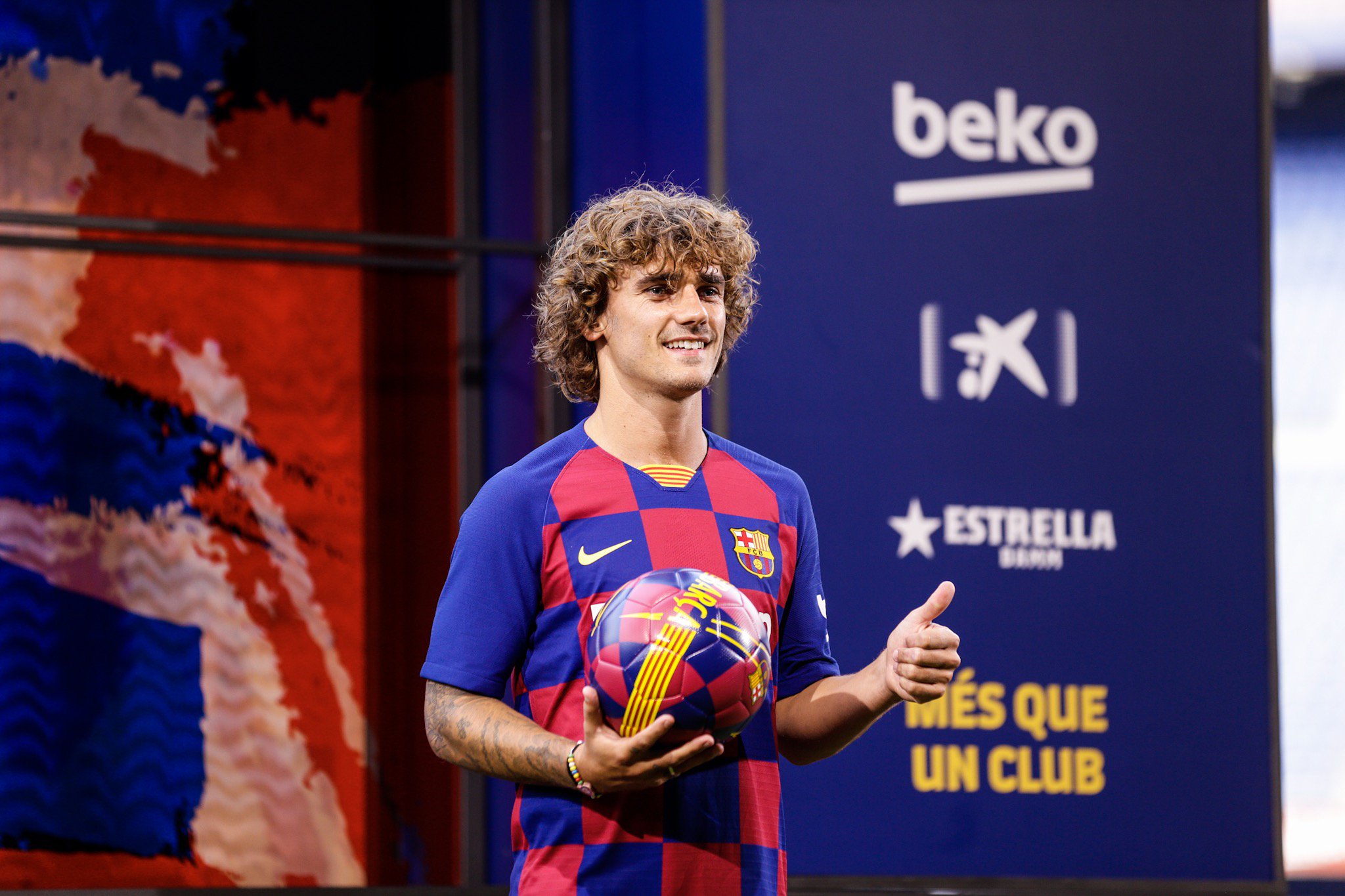 Griezmann And The Best Of The Blaugrana
After a hectic battle for the Frenchman in what was probably the worst kept secret of the summer window so far, Antoine Griezmann has finally joined FC Barcelona. The negotiation was a lengthy and complicated process. Barça finally paid Griezmann's release clause on Friday and he was officially announced as a Barcelona player. After a complicated transfer saga last season as well, Griezmann announced he would be staying at Atletico Madrid via a documentary called "The Decision". He admitted that it was tough to turn down Barça. However, he has finally joined for a whopping €120 million. This makes Griezmann the third most expensive Barcelona transfer. The fans have divided opinions about his transfer but Barça have indeed added another immense player to their squad.
Attacking Overload
Griezmann's signing is definitely a great one. Despite that though, Barcelona now have one too many attacking options. There are considerable doubts about how they will all fit in. Barcelona have also invested heavily in a quality midfielder in Frenkie De Jong. Ernesto Valverde has a really tough job when it comes to team selection. He also has to piece his tactical puzzle together for complete coherence of all these stars.
The fans are worried for the same reasons. Griezmann's arrival has sparked a lot of debate among the fans. There are some who are starkly against it and some who are excited for it. His decision to turn down Barça in the way he did last season was not welcomed by many fans. Additionally, Griezmann added to the attack means there will be drastic changes in the formation, or lack of game time for certain players.
Griezmann Style
The French star is very similar to Lionel Messi in terms of the spaces he occupies and the ideas he has. He can play on the wings, up front and in at Central Attacking Midfielder (CAM). He is a good distributor and his movement is really solid. Griezmann is also quick and can feed off through balls. The toughest task will be incorporating him with Messi in a cohesive system. If the two manage to click, any defense in the world will be in terror.
Viable Lineup Options
Barça now have a plethora of world class players in the squad roster. Here's a few ways they can line up in:
1) 4-3-3
This is the standard 'classic' Barça formation. The team can look like this:
Roberto and Suarez could be put in instead of Semedo and Griezmann respectively. Suarez has shown signs of slowing down. The signing of Griezmann can only mean reduced game time for the Uruguayan. Roberto and Semedo can be rotated frequently. However, Griezmann can also play at the left wing position reminiscent of his Real Sociedad days. He can drop into an interior left forward role when Alba overlaps. This would allow Suarez to play in his natural position with a lot of options to feed off.
2) 4-2-3-1
The lineup would look like this:
In this formation, most of Barça's attacking options can be utilized but the midfield loses out on one holding midfielder. This consists of a double pivot with Frenkie and Busquets. Instead of using a traditional third CAM, Arthur can slot into a deeper controlling midfield role. This will allow Messi more freedom to drop deeper to receive the ball as well. He can also exploit the space between the midfield and defensive lines. Griezmann can play in his tertiary RW role like he did a couple of times for Atletico Madrid last season. He can then cut in and link up with Messi or the RB on overlap.
3) 4-2-2-2
Here's how the team can shape up:
A slightly more direct variation of the 4-4-2 flat, another example where most of the attacking options can fit in but a holding/controlling midfielder misses out. Messi can be played at striker as well. This would allow Griezmann to play in a deeper CAM role. He can pull strings without having to worry about defensive cover which the double pivot will provide. Messi can operate freely if he is at CAM and make his scything runs through the middle when possible.
4) 4-3-2-1
The lineup would look like this:
A variation of the 4-3-3 that would allow Griezmann and Messi to occupy interior spaces with Suarez playing his traditional number 9 role. Messi and Griezmann can also have space to drift out wide.
5) 3-4-3
Here is how the team would look:
This is not particularly a favoured formation at Barça. The widest players can even be the wingbacks who can provide defensive cover. Dembele enters the fray on the left here if Griezmann is to play centrally. There has to be a lot of pressing in deeper roles, so Suarez can be left out of this particular variation. But to be candid, this seems most likely to be used as an adaptive setup and not a regular feature. Malcom can offer width on the right.
It is important to note that Samuel Umtiti will also be a regular feature at CB should he recover and stay fit. Riqui Puig and Carles Aleña will have to be patient for minutes but can certainly be potential game changers off the bench.
Tough Task for Valverde
As we can see above, the potential is almost limitless. Sadly, there are only 11 players on the pitch. Valverde can only include so many. Although Griezmann's arrival strengthens depth massively, lack of game time for other players will be a major issue.
However, Valverde has to be smart when it comes to rotating the system. He not only has to make a lot of tough decisions but also has to come up with other solutions to incorporate players into a balanced lineup. The solutions may well be unconventional but sometimes that is what a team needs to freshen things up. One thing is certain, Mr. Valverde has a lot of thinking to do. It will also be exciting to see this explosive team in action next season with a new mindset. The window is also still open which means that there may still be a few interesting departures and arrivals.
Written by Aaryan Parasnis
Follow Aaryan and TSJ: Soccer on Twitter!
Photo credit to FCBarcelona via Twitter

Follow TSJ on YouTube and Twitter