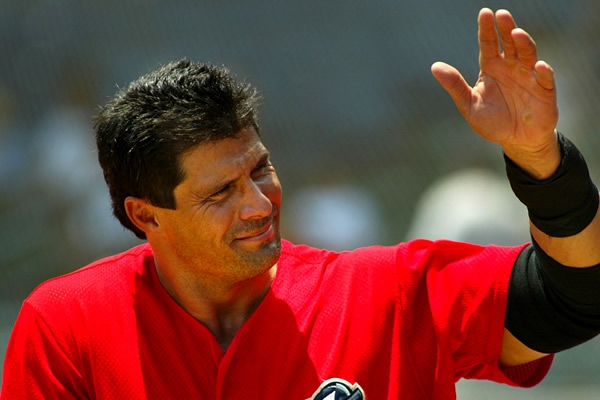 Jose Canseco To Make Pro Wrestling Debut at 55 years old.
Former Major League Baseball outfielder, and former World Series Champ; Jose Canseco will make his pro wrestling debut this November. The six-time Allstar has signed on to wrestle for the World Class Revolution promotion, based in Oklahoma.
First reported on Uproxx, Canseco will debut at the company's "OklaMania" event. The event, named "OklaMania featuring OklaCon: A Celebration of Oklahoma", will take place in Ardmore, OK at the Ardmore Convention Center. Part of the festivities will be the "Oklahoma Jose Canseco Home Run Derby", which takes place on November 2nd at Ardmore Regional Park.
The company sent out a press release, which started off:
"World Class Revolution Inc. officially announces OklaMania featuring OklaCon: A Celebration of Oklahoma will take place November 1st, 2nd, and 3rd in Ardmore, Oklahoma at the Ardmore Convention Center LIVE and OklaMania IV, our annual signature professional wrestling event, will also air LIVE on Pay Per View via FITE TV.

World Class Revolution is very proud to announce OklaMania IV, November 3rd, 2019 will be the professional wrestling debut of former Major League Baseball Superstar Jose Canseco. We will also present the 1ST OklaMania Jose Canseco Home Run Derby on November 2nd, 2019 in Ardmore, Oklahoma at Ardmore Regional Park where a portion of the proceeds will be donated to Carter County Toys for Tots. Jose is without a doubt one of the greatest athletes professional baseball has ever seen being the first ever 40 home run/40 stolen base athlete in history. He was AL MVP, 6-time All Star, 2-time World Series Champion, and hit an amazing 462 home runs in his career."
Who will his opponent be??
The release stated that he would be debuting, but didn't quite indicate exactly who his opponent would be. Would it be a veteran who was looking to make it difficult for the 55-year old rookie? Would it be a young up-and-comer, who was looking to make a name for themselves; at the expense of the former Oakland A and New York Yankee?
The release continues:
"Last year upon working with Jose for the first time; I think we both knew the professional wrestling venture was inevitable if done properly. A little over a year later here we are announcing it. Jose is still in immaculate shape, and it's my pleasure to share this platform with him. I'd like to thank Jose and his agent Morgan for making this possible. You can see it November 3rd, 2019 as World Class Revolution presents OklaMania IV; live in Ardmore, Oklahoma or on PPV streaming live at FITE TV. Our concept of combining all forms of entertainment together has proven to be our calling card. November 3rd, we change the game in multiple ways, you do not want to miss the 4th OklaMania!" -Jerry Bostic, CEO, World Class Revolution Inc.

World Class Revolution Inc., founded and owned by CEO Jerry Bostic, is a multimedia entertainment based out of Ardmore, Oklahoma. [World Class] started in August 2014 as Imperial Wrestling Revolution (IWR), changing the name to WCR in May 2018. World Class does over 50 Live Events per year, and the WCR wrestling television show is available in certain regional markets and online via the World Class Nexus, our VOD service at www.worldclassprowrestling.com"
Can Jose Canseco make a splash? This writer has an idea…
The question remains, will Jose Canseco, former MLB player; make a real splash in the world of professional wrestling? Well, if the past is any indication, sure, it can happen. Look at some of the past wrestling stars who made the transition from other pro sports into professional wrestling; From Ken Shamrock and Dan Severn to Leon White (Vader) and Steve "Mongo" McMichael.
He could absolutely be successful, or he could become Mongo, who; while successful in WCW, isn't thought of as one of the great performers of our time. Who knows? He could wind up having a run like; another former "baseball-player-turned-pro-wrestler". I'm talking about Randy "Macho Man" Savage.
Then again, debuting at 55-years old, he may not be long for the business. He may spend a year or two wrestling and leave after a while. Or, he could have a long and successful run of the indies; it really is a wait-and-see kind of situation.
BUT, WHAT DO YOU THINK?
Do you think that Canseco has the chops to make it in the ring? Or, do you think it's going to be a crash-and-burn for the former "Bash Brother"? Let us know in the comments down below, or, you can always tell us on…
Social Media
Follow us on YouTube and our main Twitter
Written by Gregory Black
Photo credit: beisbolsinaloa, via Flickr
Follow Greg and our Wrestling News Twitter