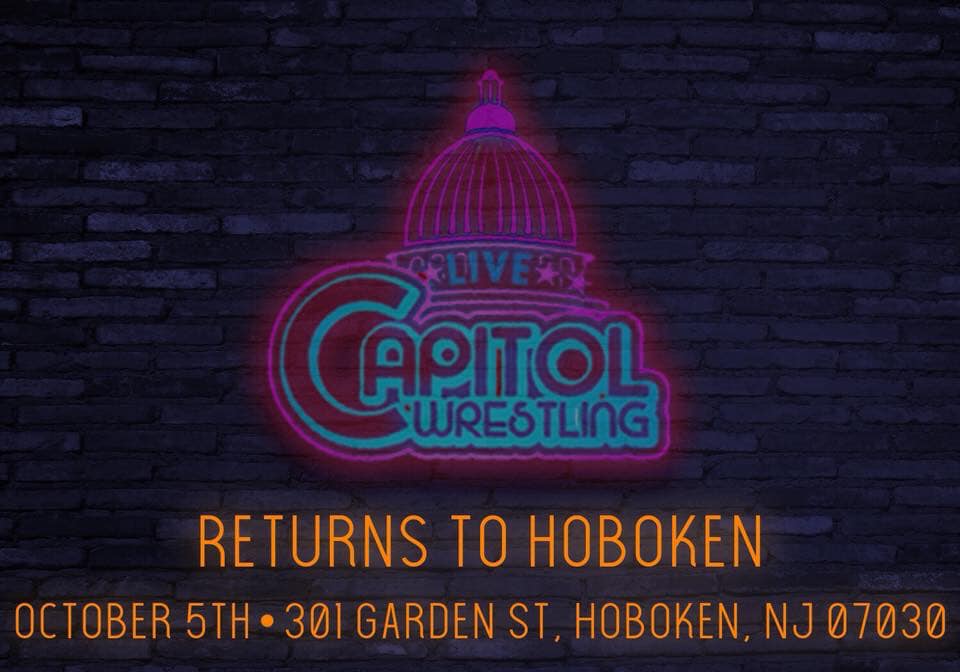 Capitol Wrestling "Fan Appreciation Night" TV Taping – October 5th, 2019 – Hoboken, NJ
The night starts out with Capitol Wrestling's owner, "Mr. Entertainment" Harry Terjanian, being introduced to the crowd. Terjanian then begins to belittle the crowd; telling them the Capitol Wrestling lowered the ticket price so that they could actually afford a ticket. After getting heckled by the audience, he then informs the fans that there was to be a unification match for the "Sapphire Gentlemen's Club" Television Championship.
He calls out the interim champion, Anthony Gangone, and tells him that he has the night off, as Jimmy Danger was not present at the show. Gangone said that he was a fighting champion and wanted an opponent. Terjanian reluctantly brought him a challenger, Killian McMurphy.  Terjanian then informs McMurphy that if he loses, he will become Terjanian's "personal assistant".
Match 1 – Killian McMurphy vs. Undisputed Sapphire Gentleman's Club Television Champion Anthony Gangone – (Stipulation: if McMurphy loses, he becomes the personal assistant of the owner, Harry Terjanian)

Good back and forth action between McMurphy and Gangone, getting the crowd into it. Gangone wins a hard-fought match. Both men shake hands afterward as a show of respect.
Next out, the Hudson County Horror Show comes out, led by Zac Amico. The "Undead Champion" Zac Amico berated the crowd, then called out Jeff Cannonball. He then informs his "interns" that they will have an opportunity to prove themselves against the likes of Paul Jordane and Ronnie Burton.
Match 2 – HCHS Interns vs. Paul Jordane and Ronnie Burton.
Jordane and Burton terrorized the interns, but during the bout, Jordane and Burton were having miscues. It kept on going until Jordane left Burton on his own. Meadowlands Monster then interfered after the ref was knocked out; he delivered a devastating powerslam on Burton. Interns won via pinfall.
Match 3 – Capitol Wrestling Tag Team Championship match – Griffen McCoy and Jimmy Rave vs. KC Navarro and Lucky 13 (Hot Bois International) vs. The Rep. (Tag Champions) w/ Maven Bentley
Originally promoted as a regular tag match, the addition of Rave and McCoy was appreciated by the crowd. A lot of back and forth between The Rep. and Hot Bois Int. at the start, Rave and McCoy got in later in the match. Navarro and Lucky 13 steal the victory and win the titles. As they tried to leave, Julius Smokes appeared and The Rep. got a measure of revenge. 
Match 4 – Freestyle Championship match – Jason "The Gift" Kincaid vs. "The Destroyer God" Ghost Shadow (Champion)
Excellent cruiserweight/freestyle action both inside and outside the ring. The crowd was split on who to cheer on. Ghost Shadow wins with a submission. He got attacked after the match by Deranged. The two had to be pulled apart by security. 
Capitol Wrestling owner Harry Tarjarian comes back out to the ring from the announce desk to address the crowd. He starts to talk about "Colossal" Mike Law and said he wasn't a top tier competitor, like his next guest, Darius Carter. Carter comes to the ring to be interviewed and pokes fun at the crowd. Mike Law interrupts Carter. He states that he's here to confront Carter, who was said to have the night off. After Carter insulted Law, Law strikes Carter but gets attacked after. Law comes after Carter and vows revenge. 
Match 5 – "The Jersey Muscle Shark" Steve Gibki vs. Anthony Bowens

A battle between two powerhouses, Bowens and Gibki are equally powerful and agile, as they show it in the ring. Both take turns hitting each other with some very effective offense. After both men couldn't put the other away, Gibki wins by disqualification after Bowens hit him with a kick to the groin. 
Match 6 – Roni Nicole vs. Capitol  Wrestling Women's Champion Ariela Nyx (w/ Portia Vaughn)
The action starts fast and furiously, as Nyx gets the upper hand early on. But Nicole fights her off, though, she had to contend with Nyx's entourage. Nicole wins after a big splash on Nyx to win the championship. 
Match 7 – (Main Event) – "The Hipster Heartthrob" Casanova Valentine vs. Capitol Wrestling Champion "The Notorious 187" Homicide
Valentine jumps Homicide before the bell, getting the upper hand early, but Homicide fights him off with the match soon spilling outside. Valentine's size looked to be a factor in the match, but Homicide chipped away at the bigger man. The crowd is split between the two men, both competitors brutalized each other. Homicide retains after hitting the Ace Crusher on Valentine after crotching him on the second rope. 
If you'd like to see what they're doing over at Capitol Wrestling, you can find them on Facebook and on YouTube. You can also find them at capitolwrestling.weebly.com, where you can purchase tickets to all of their shows. If you were at the show, leave us a comment below, and let us know your thoughts about it. Also, don't forget that you can follow US on social media, as well in the links below.
Social Media
Follow us on YouTube and our main Twitter
Written by Gregory Black
Photo credit: Capitol Wrestling, via Facebook
Follow Greg and our Wrestling News Twitter