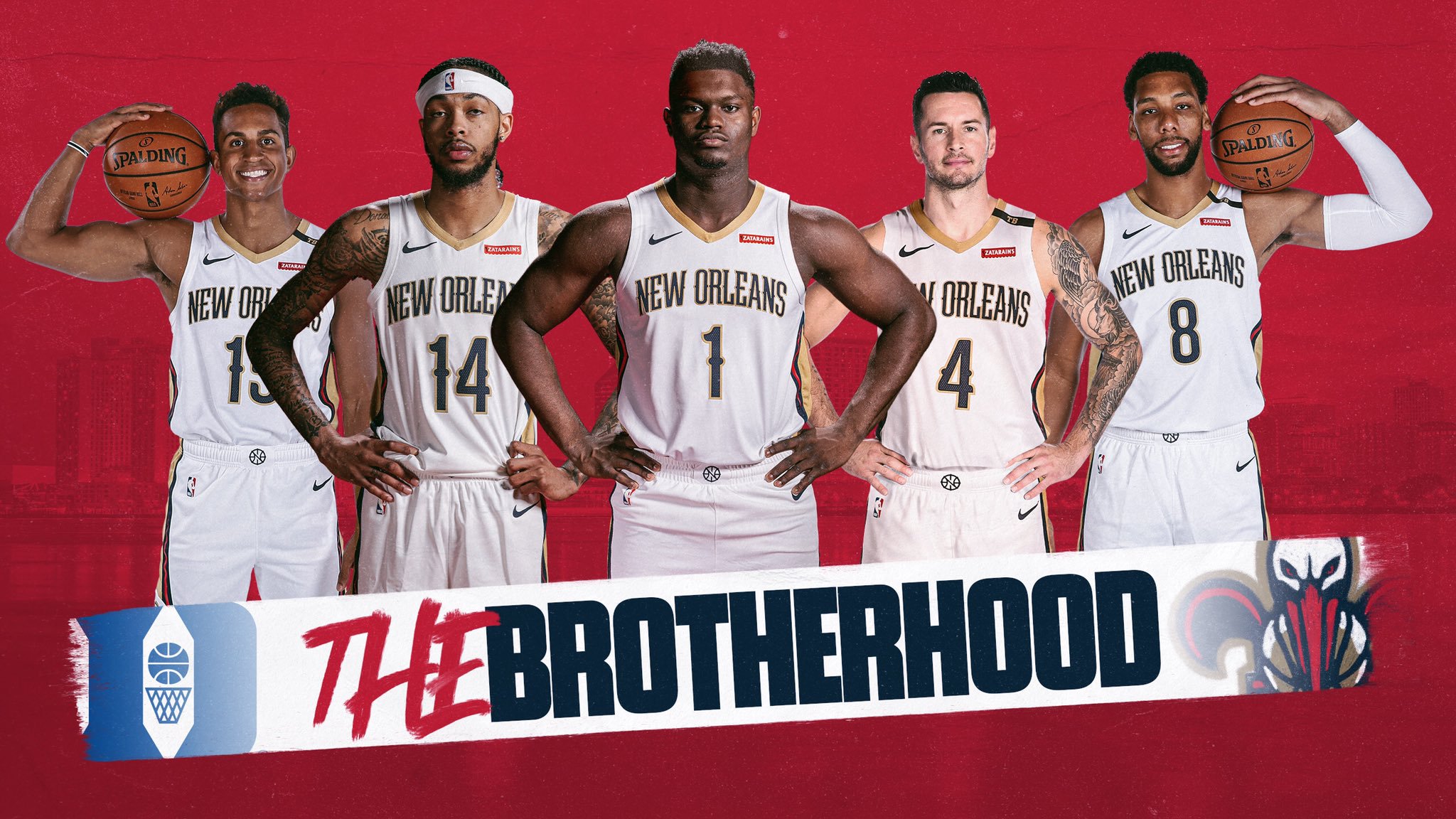 New Orleans Pelicans Offseason Review: The Busiest Team in the NBA
New Orleans Pelicans Overview
2018-2019 Record: 33-49
Result: 13th Place in the Western Conference
Coach: Alvin Gentry
Draft: PF Zion Williamson, PG Jordan Bone
Additions: SF Brandon Ingram, PF Derrick Favors, C Jaxson Hayes, SG JJ Redick, PG Josh Hart, PG Lonzo Ball, SG Nickeil Alexander-Walker, PF Nicolo Melli
Subtractions: PF Anthony Davis (Traded to LAL), PG Elfrid Payton (Signed with NYK), PF Julius Randle (Signed with NYK), SF Solomon Hill (Traded to ATL), Stanley Johnson (Signed with TOR), PF Cheick Diallo (Signed with PHX)
New Orleans Pelicans 2018-2019 Season Recap: Constant Distractions
The New Orleans Pelicans entered the season without a clear goal. They were coming off a semi-successful season where they lost to the Golden State Warriors and the team they had was not bad. After adding PF Julius Randle and PG Elfrid Payton during the offseason, the Pelicans looked like a possible playoff team. However, nobody could have predicted the drama the team endured throughout the season.
When franchise centerpiece Anthony Davis publicly demanded a trade during the season, rumors began swirly and the distractions began. Would the Lakers send anyone not named LeBron James to the Pelicans for Davis? Would the Celtics give up young stars Jayson Tatum and Jaylen Brown to team Davis with Kyrie Irving? While Davis wasn't traded midseason, he did miss 24 games and the Pelicans severely underperformed, finishing 15 games out of the eight and final playoff seed. Entering the offseason the Pelicans were looking to answer a ton of questions.
Offseason Additions: The Luckiest Team in the NBA
To begin the offseason, the Pelicans became one of the luckiest teams in recent memory at the draft lottery. Despite having a 6% chance at the first overall pick, behind six other teams, New Orleans won the lottery and got the first pick. With picking Duke star Zion Williamson being a no brainer, the Pelicans went to work on other moves. The move that took the NBA by surprise was their massive blockbuster deal that sent Anthony Davis to the Los Angeles Lakers. In return, the Pelicans received Lonzo Ball, Brandon Ingram, Josh Hart, and three first round picks. The Pelicans then turned the Lakers fourth overall pick into three more draft picks after trading it to the Atlanta Hawks for them to choose De'Andre Hunter.
While the Davis trade and drafting Zion Williamson stole the spotlight, the Pelicans did make other moves that were very important. Landing sharpshooter JJ Redick on a two-year deal was a great move both for leadership and production right now. Redick is coming off another solid season in which he averaged 18 points per game with the Philadelphia 76ers. Redick will act as a perfect mentor for Lonzo Ball, whose career got off to a rough start his first 2 seasons in Los Angeles.
In addition to Redick, the Pelicans also managed to land veteran Derrick Favors from the Jazz in exchange for two second-round picks from the Warriors. Favors was once a top prospect after the Nets selected him third-overall in the 2010 NBA Draft. While he's never lived up to his potential, he is still a very good PF/C that is capable of putting up 10 points and 8 rebounds per game.
Offseason Losses: Could've Been Worse
The obvious huge loss for the Pelicans was Anthony Davis, as he had been their lone star for seven seasons. While the Davis era in New Orleans will close without any playoff results, it will be one that Pelicans fans will look back on and appreciate. Davis bloomed into a top player in the NBA during his time in New Orleans, and will hope that success carries over to his new home.
In addition to Davis the Pelicans also lost Julius Randle and Elfrid Payton, both of whom signed with the Knicks. Randle had a career year in New Orleans last season, as he averaged a career high in both points and blocks per game. While Favors will be an upgrade in terms of defense, Randle's floor spreading ability will be missed. On the other hand, losing Payton isn't a big deal for them. While Payton is a fine player, there was simply no room for playing time for him in New Orleans. Payton's time in New Orleans has to feel disappointing, as he seemed to regress a bit and missed 42 games due to a fractured hand. A change of scenery might be what he needs to resurrect his once promising career.
2019-2020 Season Preview
This upcoming season will be an exciting one for the Pelicans. Tons of fans are ready to see Zion Williamson dominate the NBA, and many will be closely watching Ball, Ingram, and Hart. Currently, the Pelicans depth chart looks like this:
Point Guards: Jrue Holiday, Lonzo Ball, Frank Jackson
Shooting Guards: JJ Redick, Josh Hart, Nickeil Alexander-Walker
Small Forwards: Brandon Ingram, Darius Miller, E'Twaun Moore
Power Forwards: Zion Williamson, Kenrich Williams, Nicolo Melli, Zylan Cheatham
Centers: Derrick Favors, Jahlil Okafor, Jaxson Hayes
Both guard spots are filled with talent and all of them should see ample playing time throughout the season. A duo to look out for could be Ball and Redick, as they are similar players. Ball's shot hasn't translated well to the NBA, but his defense and rebounding have. If the two of them can get chemistry together and consistently knock down shots, then the rest of the NBA is in trouble. Jackson, Hart, and Alexander-Walker are also gifted players who all have tremendous talent, but it remains to be seen on who will get the majority of playing time.
The Pelicans depth at guards is obvious, but their lack of depth at both forwards is troubling. Zion and Ingram will each play a ton of minutes, but after that they lack a legitimate backup. Miller and Moore are both undersized for playing small forward, but will be forced to do just that. Perhaps the most concerning thing is Zion having no good backup, as the pressure coud mount on him. There will already be sky-high expectation for Williamson, and not having a backup power forward to rely on could add that much more onto him.
At center, the Pelicans have a solid player in Favors. He is technically a power forward, and has not seen much time at center in the NBA, but a lack of depth will force him to be the starting center. Behind him is former top pick Jahlil Okafor, who has faded out of the spotlight. Okafor will get some playing time, but this could be his last chance in the NBA.
Predictions
The Pelicans seem to be a very good and very young team. While I'm not sure they will have immediate success, they seem to be set for the next 7-8 years at least. Their best case scenario is a 43-39 season and around a seven or eight seed. If they get to the postseason, I don't think they stand a chance at winning a series, but it'd be good experience for the young players.
Realistically I see the Pelicans finishing 35-47 and in tenth place in the West. I don't think it'd be a bad season if they finished twelve games under .500 and in tenth place. This season is all about the development of the young players. Playing Zion, Ball, Ingram, and Hart as much as possible should be the goal this season. They are the premiere players that will carry the Pelicans for the next decade, and they need a chance. After making all the right moves this offseason, they are not far away from a championship parade down Bourbon Street.
Written by Ryan Hess
Follow Ryan and TSJ: NBA on Twitter!
Photo credit to PelicansNBA via Twitter
Follow TSJ on YouTube and Twitter