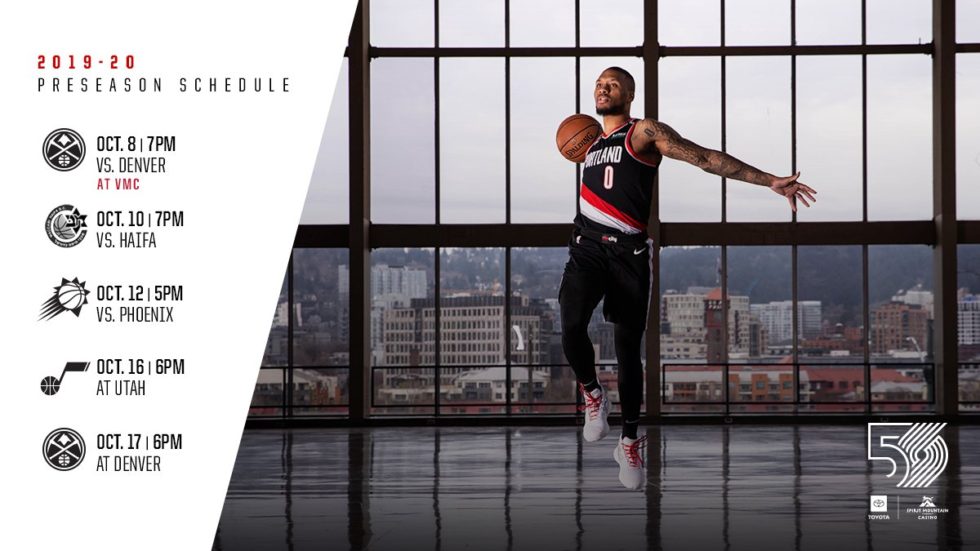 Portland Trail Blazers Offseason Review: Stay over the Hump
Portland Trail Blazers Overview
Trail Blazers 2018-19 Record: 53-29 (3rd Place in the Western Conference)
Result: Lost to the Golden State Warriors 4-0 in the Western Conference Finals
Coach: Terry Stotts
Draft: Nassir Little, Forward
Additions: Pau Gasol, Mario Hezonja, Anthony Tolliver, Hassan Whiteside
Subtractions: Al-Farouq Aminu, Seth Curry, Maurice Harkless, Enes Kanter, Meyers Leonard
It's about Dame Time
The Trail Blazers have been a top team in the West since 2013 but they haven't been able to get over the hump. Before Damian Lillard and CJ McCollum, it was LaMarcus Alridge's team featuring Lillard, Nicolas Batum, and Wesley Matthews. They were a well put together team that had good defenders and shooters, but Portland never could reach the Conference Finals.
After Alridge left for San Antonio Spurs in 2015, there was uncertainty around the team. Wesley Matthews and Nicolas Batum also left during free agency. Though Lillard was a star since his rookie year, losing three starters and not signing any in the offseason the Trail Blazers future was not looking so bright. This was the year McCollum introduced himself to NBA fans everywhere, luckily for Lillard and Portland,. McCollum averaged 20.8 points per game on his way to winning the 2015-16 Most Improved Player award. McCollum and Lillard have been given opposing teams headaches since then. During the postseason, Portland fans were the only ones who needed Advil.
Following McCollum breakout season, the first three seasons after the duo was solidified they were stumped in the playoffs. In 2015-16 they were handed a second-round exit by the Golden State Warriors. Then, they were swept in the first round the next two playoff appearances. First, by the Warriors in 2016 and then the New Orleans Pelicans in 2017. Many believed the Trail Blazers would never reach the conference finals. But Lillard's mamba mentality to hit a series-ending game-winning shot against the Oklahoma City Thunder in the first round. Then McCollum's 37 points in game seven to defeat the Denver Nuggets in the second round propelled them to their first Western Conference Final appearance since 1999. The Warriors won the series, but the Trail Blazers showed they figured out how to make it out the first round.
Key Additions
Portland resigned Rodney Hood, who was out most of the season as he dealt with various injuries. In the playoffs, Hood was able to come off the bench and provide 10 points per game and perimeter defense. Also, they signed Mario Hezonja who has not lived up to his first-round fifth pick draft selection. At only 23, Hezonja can continue to get better and reach his potential. He won't be able to spread the floor with his 32 percent career three-point percentage but he does provide Portland with depth. Hezonja averaged eight points this past season.
The Trail Blazers also signed veterans Pau Gasol and Anthony Tolliver. Gasol won't likely get many minutes on the court because of his defensive ability, but his veteran leadership and playoff experience can be vital for a young Trail Blazers team. Tolliver, on the other hand, gives the Trail Blazers a big man who can knock down threes. Though his percentage has dropped from 2017 where he shot 43 percent, he still shot 37 percent this past season. Tolliver is a 37 percent career three-point shooter.
The Trail Blazers general manager, Neil Olshey, also traded for Hassan Whiteside. He will be a quality backup for Jusuf Nurkic. Whiteside averaged 12 points and 11 rebounds for the Miami Heat this past season but after tension with the staff and his role declining it was time for a fresh start for both sides. Also, Olshey traded Evan Turner for Kent Bazemore this summer. Bazemore and Turner have similar play styles and Bazemore will likely fill Turner's role. Bazemore's defensive intensity and ability to defend guards and forwards will pair well with Rodney Hood when the second unit is on the court.
Key Subtractions
Luckily this time around the Blazers did not lose three key starters during free agency. Their backup center Enes Kanter signed with the Boston Celtics. Although he can provide double-digit points and rebounds his lack of ability to guard the pick and roll and switch has been one of the reasons he has yet to find a home for more than three seasons.
Al-Farouq Aminu also signed with a new team this offseason. He provided Portland with someone who gives a tremendous amount of effort on both sides of the floor. He averaged nine points and seven rebounds per game during his four seasons in Portland.
Also, Seth Curry has signed with the Dallas Mavericks this summer. Curry, can be inconsistent but when he is knocking down shots, it shows the resemblance of his brother Stephen Curry. Nonetheless, he gave the Trail Blazers a threat from the three-point line which they didn't have much of outside Lillard and McCollum.
Olshey also traded away Maurice Harkless and Meyers Leonard as part of the trade to receive Hassan Whiteside. Harkless had some moments during this year's playoff run but trading him away will give way for their draft pick, Nassir Little, to earn some minutes. Tolliver or Zach Collins will likely be replace Leonard, but It is unclear who will be the starting power forward for the Trail Blazers but between Tolliver and Collins, it is up for grabs. So, whoever ends up coming off the bench will fill Leonard role as the backup forward.
The Trail Blazers subtractions should not be detrimental to the team as they did well to replace them with decent role players and veterans who should be able to fit into the team smoothly.
Trail Blazers 2019-2020 Prediction
Head coach Terry Stotts has to remain over the hump. Even if the Western Conference is rejuvenating with more star-powered duos. Stotts contract was extended until the 2021-2022 season and he will likely have to make the Western Conference Final again or win the NBA Finals before his contract is up if he wants to stay with the organization. Lillard and McCollum have also extended their contracts and will look to make a consecutive trip to the Western Conference Finals and make their first NBA finals as well. But, if they falter as they did in past seasons it can only make for tough decisions down the road.
Record Prediction: 50-32
Written by Joshua Sampson
Follow Joshua and TSJ: NBA on Twitter!
Photo credit to Trail Blazers via Twitter
Follow TSJ on YouTube and Twitter