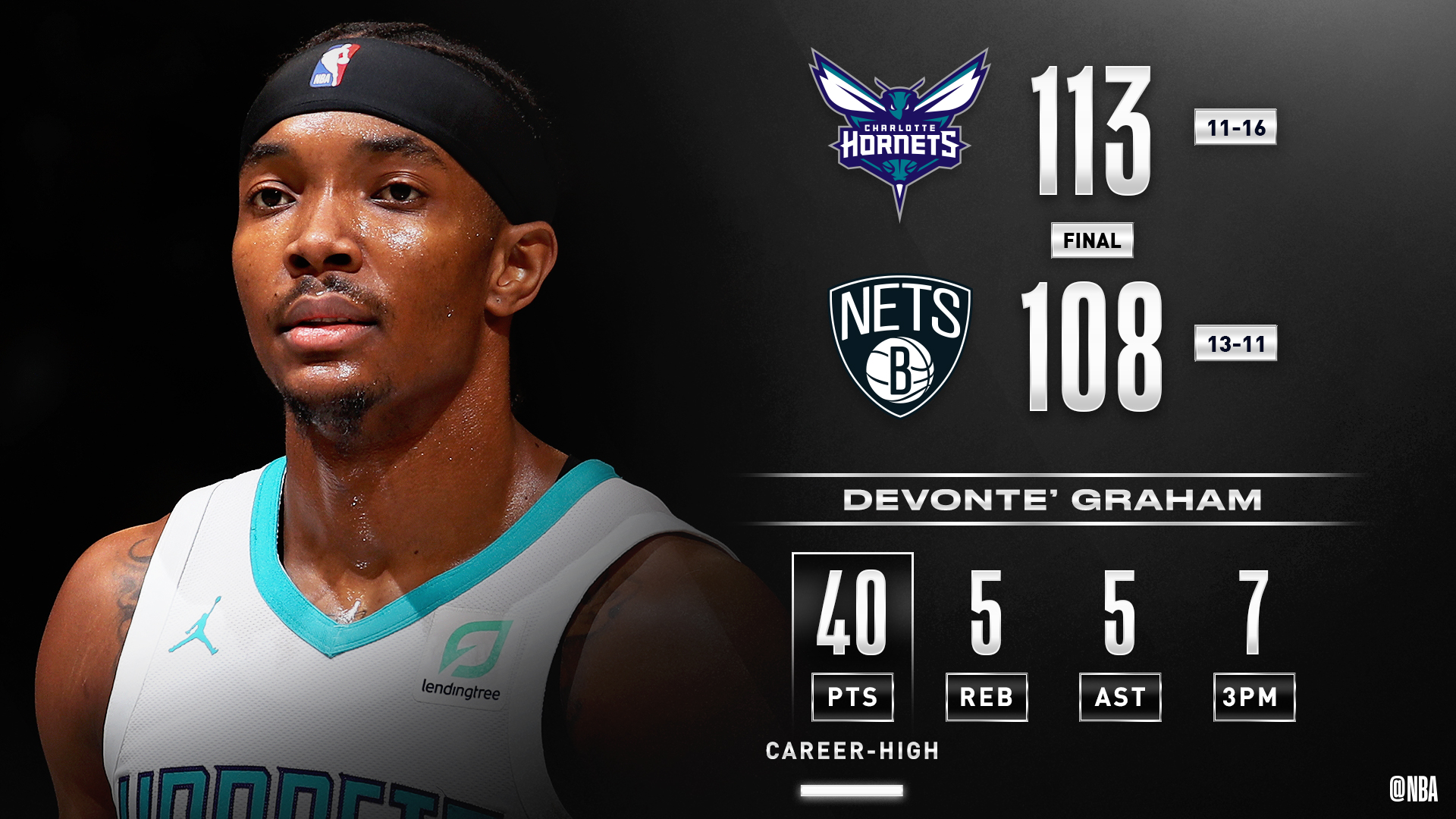 The Rise of Devonte Graham
After Kemba Walker signed with the Boston Celtics during the off-season it seemed as though the Charlotte Hornets would be left without a reliable point guard. Or anyone as reliable as Cardiac Kemba. 
But, enters the 34th pick of the 2018 NBA draft; Devonte Graham. 
Graham played four seasons at Kansas University where he averaged 12.3 points and 4.5 assists under head coach Bill Self.
Upon declaring for the draft Graham was only seen as a backup point guard at best. His weaknesses according to Bleacher Report and Sports Illustrated included finishing at the rim and struggles to score in isolation plays on offense. 
"Graham struggled as a one-on-one scorer, making only 10 of 48 shots out of isolation. He shot only 39.2 percent inside the arc, finishing just 42.6 percent of his attempts around the basket. Graham's decision-making and shot selection weren't always shrewd, and he had games where he could never get it going," Jonathan Wasserman of Bleacher Report said. 
In his rookie season with the Hornets, Graham shot 26-50 (52 percent) in the restricted area and 4-16 (25 percent) when shooting in the paint (outside the restricted area).
Also, in isolation situations, Graham only managed to make 4-24 shots (16.7 percent).
However, one of Graham's strengths according to Wasserman and Jake 
Fischer of Sports Illustrated is his experience and ability to thrive in pick and roll situations. 
During the 2018-19 season, Graham managed to score 74 points (28-65; 43.1 percent) when he was the ballhandler in a pick and roll (77.2 percentile). 
Graham ultimately averaged 4.7 points and 2.6 assists in 14.7 minutes during his rookie season. 
But, in his sophomore season, Graham is in the running for the most improved player award.
With a bigger role this season, Graham has bandaged the wound of Walker's departure. 
Graham has scored over 30 points three times this season and he recently scored a career-high 40 points in a win versus the Brooklyn Nets. 
He is currently the Hornets leading scorer (20 points per game) and assist leader (7.6 per game) and has improved in his aforementioned weaknesses.
This Season
So far this season, Graham is shooting 51 percent (42-82) from within the restricted area. However, he is still struggling with shots in the paint (outside the restricted area) as he is shooting 30.4 percent (17-56). 
In isolation situations, Graham is shooting 32.5 percent (13-40). He has scored 41 points in isolation plays. 
Graham also continues to thrive when he is the ballhandler in pick and roll plays. Graham ranks seventh in points scored in such situations (230) shooting 44.6 percent (79-177).
Walker is shooting 45 percent (88-195) and has scored 252 (6th in the NBA) in pick and roll plays. 
While Walker was with the Hornets, the front office failed to surround him with enough talent to be a winning team. Micheal Jordan and co. will now have another chance to provide arguably their best player with talent. Graham's supporting cast, if the Hornets do decide to roll with him as their "face," will likely come from free agency and draft as the team continues to be in the rebuilding stage. 
The front office will have to successfully draft players that can slot in the starting lineup immediately and find a way to attract free agents. 
But if they fell to do so, Graham, like Walker, might decide to join another team as well once his rookie contract is up. 
Stats courtesy of NBA, Basketball-Reference, and Sports-Reference. 
Written by Joshua Sampson
Follow Joshua and TSJ: NBA on Twitter!
Photo credit to NBA via Twitter
Follow TSJ on YouTube and Twitter