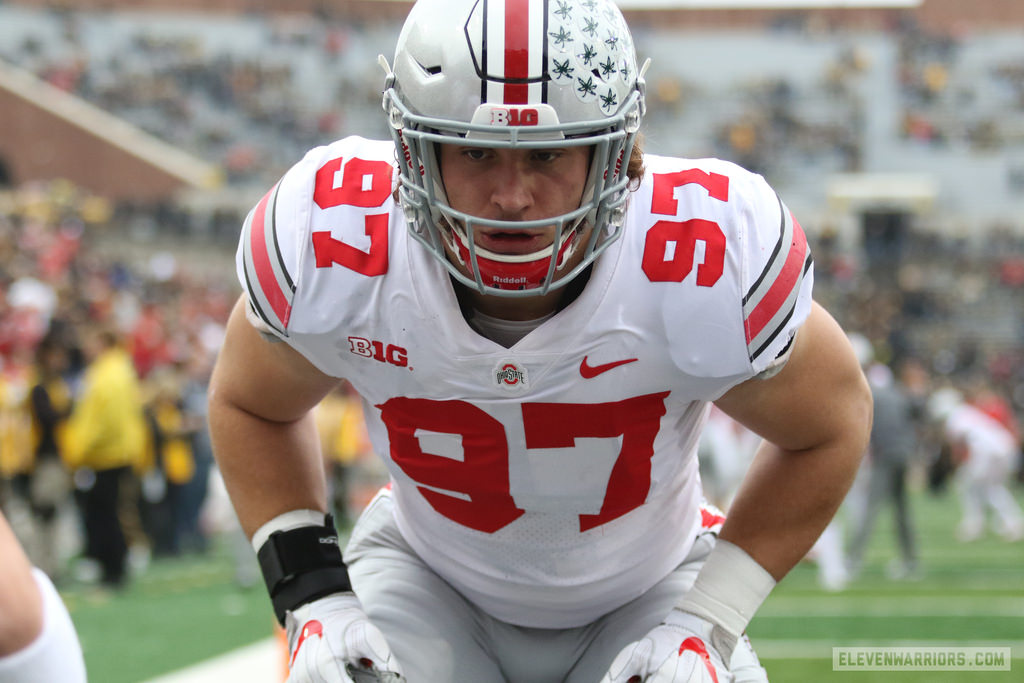 A Look Ahead to the 2019 NFL Draft with TSJ's NFL Mock Draft 1.0
Kicking off coverage of the 2019 NFL Draft, this year's class is a sharp contrast from last year's. Last year was loaded with high-end quarterbacks – including Baker Mayfield, Sam Darnold, Josh Allen, Lamar Jackson, and Josh Rosen – who have all made impacts in their rookie seasons.
This year, the top prospects are all defensive linemen. The quarterback class certainly pales in comparison to the that of last year. Beyond Ohio State product Dwayne Haskins, who declared for the draft earlier this year, no other quarterbacks project to be major franchise picks.
With an interesting mix of available talent and several teams needing to fill key positions, this draft is quite important. So, without further ado: a first-round mock draft for 2019 — the first of many.
1. Arizona Cardinals
Nick Bosa – EDGE, Ohio State: The Cardinals had a horrible 2018 season. Josh Rosen didn't seem to develop throughout the year, while David Johnson went under-utilized. Their defense overall wasn't bad, but lacked consistency throughout the season. This culminated in the firing of head coach Steve Wilks. Collegiate offensive guru Kliff Kingsbury was hired to replace him and will have the first pick at his disposal.
Most scouts agree that Nick Bosa is a can't-miss prospect; certainly in the class of previous prospects Myles Garrett and Khalil Mack. Bosa looks to be a future All-Pro at a premium position. He possesses all of the traits that teams look for in a pass-rusher — and the Cardinals would fill the edge rusher spot opposite of Chandler Jones.
2. San Francisco 49ers
Josh Allen – OLB/EDGE, Kentucky: The 49ers could use a player of Allen's versatility to anchor their defense. Arik Armstead has not worked out as planned and San Francisco could look to Allen as his replacement. Allen dominated at Kentucky this year, posting a staggering 21.5 tackles for loss and 17.0 sacks. He is also an elite athlete. At the combine, he will surely test as one of the best there. His athleticism helped him rack up huge numbers in college. Allen would be an instant impact player for the 49ers, who need a playmaker on defense.
3. New York Jets
Jonah Williams – OT, Alabama: The Jets need to better protect Sam Darnold. Darnold was sacked 30 times in just 12 games, ultimately missing some games with injury. Drafting Williams would be a slight reach for the Jets at number three. While he projects as a solid player, he's not a 'can't-miss prospect' and may not be worthy of a top-five pick. However, if the Jets are intent on upgrading their offensive line, Williams is far and away the best option in this class.
4. Oakland Raiders
Quinnen Williams – DT, Alabama: Quinnen Williams may be one of, if not the best player in this class. He has been a monster for the Alabama Crimson Tide in the middle of their D-line. Williams's ability to get through double-teams is unlike any of his peers. He amassed 19.5 tackles for loss and eight sacks last season, which are off the charts for a defensive tackle. Williams would change the identity of a Raiders defense in dire need of an infusion of talent, having trading away most of it.
5. Tampa Bay Buccaneers
Greedy Williams – CB, LSU: The Buccaneers' pass defense was consistently one of the worst in the league in 2018. Adding Greedy Williams would help to turn it around. Williams projects as a prototype shutdown corner in the NFL. He is 6'3″ and impressively quick, which should allow him to cover top receivers on the NFL stage. This would be a great addition to new defensive coordinator Todd Bowles' defense. Williams could also learn behind Brett Grimes for a year as the second cornerback, before taking over the following season.
6. New York Giants
Dwayne Haskins – QB, Ohio State: Come April, Haskins will most likely be the first quarterback off the board. He has above-average arm strength and has shown the ability to make clutch throws when called on. He did not fit the traditional Ohio State quarterback mold, yet was still able to find success on their team. The Giants are yearning for a franchise quarterback, though they may have to move up in the draft if they want to secure Haskins. Many teams below them will look to trade up in order to snag him, but if no teams do so, getting him at six would set the Giants up well for the future.
7. Jacksonville Jaguars
Kyler Murray – QB, Oklahoma: Murray is the most polarizing player in this draft class by far. If he does not commit to football, he will not be a first-round pick. Murray was drafted by the Oakland Athletics in the first round of the MLB's draft. At this point, it is unknown which sport he will commit to. He has all of the tools to be an NFL starter, if he chooses. His arm strength is not something you find in any 5'9″ player and he played at an elite level in a Heisman-winning final season in college. This would be a home run pick for the Jaguars if Murray chooses football. Murray would fit their offense and would take some of the pressure off of Leonard Fournette in the run game.
8. Detroit Lions
Clelin Ferrell – EDGE, Clemson: Ferrell could go much higher than this, in all honesty. He is one of the more sure players in this draft class (if that's even possible). The Clemson product has one of the highest floors and comes from a school that regularly produces NFL-caliber players along the D-line. This pick would also solve an immediate need for the Lions. Ezekiel Ansah may be on his way out of Detroit and Ferrell would be an ideal replacement in Matt Patricia's defense. The Lions lack consistent pass-rush. They traded for Damon Harris, but he is more of a run defense specialist. Ferrell could give the Lions' defense the boost they need to compete on a higher level.
9. Buffalo Bills
DK Metcalf – WR, Ole Miss: This would be an easy pick if Metcalf is still on the board at this spot. He definitely looks like a future number-one NFL receiver. Metcalf has a combination of size and speed typically found in the most elite NFL receivers. He did suffer a neck injury in his final year of college, however, that may give some teams pause. Nonetheless, if he can pass his medicals, he will be a top 10 pick for sure. For Buffalo, drafting Metcalf would give Josh Allen a reliable target on the outside, something the team lacks currently. The Bills lack a true number-one receiver in general, with Robert Foster and Zay Jones not performing at that level.
10. Denver Broncos
Drew Lock – QB, Missouri: Lock's performance at the Senior Bowl may have secured his spot as the second or third best quarterback in this draft. He has off-the-charts arm strength and is seen as a great leader. While Lock does have some areas to work on – he has funky mechanics and footwork that lead to some errant throws – most NFL teams will likely see those as fixable. The Broncos, meanwhile, need to escape the Case Keenum-era they've put themselves in. Sitting Lock behind Keenum for a year may be just what this team needs to make a significant jump.
11. Cincinnati Bengals
Devin White – LB, LSU: This pick is one that is very common among draft analysts. White is a potential top 5 player that could fall to the Bengals at 11th as a result of the linebacker-heavy draft class. White would be a great selection for an aging Bengals defense that needs to find a way to get younger and faster. Devin White fits both of those requirements and could help provide new head coach Zac Taylor and the Cincinnati defense a much-needed jumpstart. He would also bring an infusion of speed that the Bengals desperately need on defense.
12. Green Bay Packers
Montez Sweat – EDGE, Mississippi St.: By the time we reach April, pick 12 may be too low for Sweat. His performance at the Senior Bowl undoubtedly moved him up on teams' draft boards. At 6'6″, Sweat is an imposing specimen. He displayed a great blend of power and speed that would be coveted by any team. The Packers need a force on the edge like Sweat; someone to help to anchor their defensive line and put consistent pressure on opposing quarterbacks. The Packers could also go for a tight end at this spot, but will likely wait until later in the draft to address that need.
13. Miami Dolphins
Ed Oliver – DT, Houston: Going anywhere below the top 5 picks would be quite the slide for Oliver — and could end up being too low of a projection come draft day. Oliver has top talent in this draft. Concerns remain, however, about the level of competition that Oliver has faced in college — and if his skills can transfer immediately to the NFL. For the Dolphins, this would be a great pick. He would fill an immediate need for the team, serving as an anchor in the middle of the Dolphins' defense. If he can develop as a true force, Oliver will become a star in this league.
14. Atlanta Falcons
Rashan Gary – DT, Michigan: Like with Oliver, this may be too low of a projection for a player of Gary's caliber. Coming out of high school, Gary was a five-star, consensus number one overall recruit in his class. The Michigan product has off-the-charts athleticism, particularly for a player weighing over 280 pounds. Most seem to think that Gary was played out of position at Michigan. He figures as more of an interior player in the NFL, but has the skill to play outside if needed. The Falcons find themselves drafting this high without having any huge needs to address. Their poor 2018 season was largely due to consistent, numerous injuries. If Gary does fall to them, he could be a replacement form Grady Jarrett if Jarrett leaves in free agency.
15. Washington Redskins
Daniel Jones – QB, Duke: Jones is not a first round talent, it should be said. There are plenty of much better first round prospects, but Jones will likely be taken earlier due to the lack of quarterback talent in this draft class. Jones has the prototypical size for an NFL quarterback, but lacks the arm strength. He has solid athleticism, though, and can run when he needs to. He could develop well, if put in the right situation. Washington will be without quarterback Alex Smith this season and currently have no viable replacement. A better scenario for the team would be to trade up and grab Drew Lock or Dwayne Haskins if they are committed to finding a quarterback for the future.
16. Carolina Panthers
Jachai Polite – EDGE, Florida: Polite is a very talented player, but he profiles as more of a situational pass-rusher in the NFL at this point. He was not strong against the run at Florida and is a little on the smaller side for an edge rusher (6'2″, 240 pounds). If Polite makes strides in his abilities on run defense, he has the speed and bend to become a premier player in the NFL. The Panthers should have no reservations about this pick, as they are in dire need of an edge rusher who can get to the quarterback.
17. Cleveland Browns
Byron Murphy – CB, Washington: The Browns found their number one corner in last year's draft with Denzel Ward. Ward was one of the best at his position as a rookie. Taking Byron Murphy this year would help solidify the corner spot opposite Ward or lock up slot corner. Murphy has excellent speed and ball skills, but is a little on the smaller side. The Browns could go for an offensive lineman here as well, but seeing that they don't have a viable option behind Ward, Murphy would be the ideal choice.
18. Minnesota Vikings
Greg Little – OT, Ole Miss: The Vikings need offensive linemen desperately if they want to protect their $85 million man in Kirk Cousins. Little is a bit on the raw side in terms of his development. He has desirable traits in terms of foot speed and size. If the Vikings can develop him well, he could become a premier NFL left tackle. Little was a coveted talent coming out of high school and a stalwart on the Ole Miss line during his collegiate career. There are some other tackles the Vikings could consider at this spot, but they need someone with a high ceiling to anchor their offensive line for the next decade.
19. Tennessee Titans
Noah Fant – TE, Iowa: This spot is a tossup between teammates TJ Hockensen and Noah Fant. Both are tight ends from Iowa and both offer different skillsets. Fant is, by far, the more athletic of the two and would profile as the ideal option for quarterback Marcus Mariota. The Iowa tight end would also be a great replacement for the aging Delanie Walker when Walker decides to retire. Fant is not the best blocker in the draft, but the Titans need his pass-catching ability more than anything.
20. Pittsburgh Steelers
Deandre Baker – CB, Georgia: The Steelers desperately need another option at corner outside of Joe Haden. Artie Burns has been a bust for the team and Pittsburgh needs to move on. Baker profiles as a future lockdown corner for any team that. He is on the larger side and doesn't quite have the speed that all teams look for. However, he is still one of the more physical corners in the draft. Baker has ideal size and played against some of the best offenses in college football. The Steelers would be wise to address their ailing secondary before Joe Haden hits his inevitable decline.
21. Seattle Seahawks
Jawaan Taylor – OT, Florida: This certainly would not be a flashy pick for the Seahawks. They could also go in another direction, with needs at secondary and wide receiver as well. Offensive tackle, however, might be their most glaring need. Taylor could go much higher than this, too; but, with only one productive season in college, teams may want someone more proven. There is no doubt that he has the talent to go in round one. Taylor could slot in at right or left tackle. Playing him at left tackle in Seattle could move Duane Brown to the right, which could be better for Brown as he ages.
22. Baltimore Ravens
Hakeem Butler – WR, Iowa State: Butler is one of the best receivers in this class. He has tremendous size at 6'6″. The Iowa State product is also one of the most electric players after the catch and moves very well for his size. Butler possesses all the tools to be a number one receiver for any team that drafts him. The Ravens would certainly benefit greatly from his skillset. Quarterback Lamar Jackson is not known as one of the more accurate players at his position. Jackson would benefit greatly from having a receiver that is as large of a target as Butler is. The Ravens also don't have any reliable receivers — and Butler could give them that option.
23. Houston Texans
Andre Dillard – OT, Washington State: Dillard has risen from relative obscurity to now being one of the top tackle prospects in the draft. He played in WSU's air raid scheme, molding him into a top tier pass-blocker. He would be a perfect fit to block for Deshaun Watson, who was the most sacked quarterback in the league last season. The Texans' blocking was atrocious and adding a player like Dillard to anchor the line would certainly help in protecting their franchise quarterback. Dillard still has room to develop, especially with good coaching.
24. Oakland Raiders (via Chicago Bears; Khalil Mack Trade)
Brian Burns – EDGE, Florida State: Burns is in a battle with Jachai Polite for the fifth edge rusher spot. Polite grades out as a better prospect due to his pass-rushing ability, but Burns looks the more complete player. Burns has immense talent, though may need to add some weight to his frame to realize that talent. The Raiders, at this spot, will likely draft their Khalil Mack replacement with the pick they received from trading him. Oakland also took Quinnen Williams earlier in this mock draft — and with two of the top-end edge talents in the draft, they'd vastly improve their defensive line, which was one of the worst in the league.
25. Philadelphia Eagles
Cody Ford – OT, Oklahoma: Ford, like Jonah Williams, is a player who could kick inside if needed. He is a tremendous athlete and one of the best players at his position in the Big 12. The Eagles, meanwhile, are facing a changing of the guard at the tackle position. Jason Peters is getting older and is not the same player he once was. Philadelphia will need to draft his replacement at some point — and Ford could make an impact at guard if Peters decides to come back for another year.
26. Indianapolis Colts
N'Keal Harry – WR, Arizona State: The Colts have one of the weakest receiving corps outside of T.Y. Hilton. Drafting a player like Harry would give them another receiving option with the near-polar opposite skill set of Hilton. Harry is a go-up-and-get-it kind of player who uses his size and physicality to get open. There are some concerns about his ability to separate against NFL corners, but the Colts should be willing to take a chance on him, as he could develop into a great target for Andrew Luck. The former Arizona State star would also benefit from having the attention of defenses more focused on Hilton.
27. Oakland Raiders (via Dallas Cowboys; Amari Cooper Trade)
Josh Jacobs – RB, Alabama: Jacobs is a top five player in this draft class, but falls to the Raiders at 27th based on positional value. He has all the skills that teams look for in an NFL running back. The Alabama product has the prototypical size and possesses power unlike any backs in this draft. He is also one of the most complete backs in terms of pass-catching ability. Damien Harris was the starter over Jacobs for most of his collegiate career, which can be viewed as a negative or positive. The positive: he will have fewer miles on him and more ready for a workhorse role. Jacobs also has elite vision, which would help him leads the Raiders offense on the ground.
28. Los Angeles Chargers
Jeffery Simmons – DT, Mississippi State: Simmons was not invited to the combine due to an off-field incident while in college. This may knock him down some draft boards or make him untouchable to some teams. Simmons is one of the most disruptive players in the class, however, and could make a difference for any defensive line. He would be a top 10 pick if not for his character concerns. Pairing Simmons with defensive talents like Joey Bosa could make the Chargers' defense into one of the best in the league.
29. Kansas City Chiefs
Deionte Thompson – S, Alabama: Thompson is the premier safety in this draft. He had a rough final few games with Alabama in the college playoffs, but was solid otherwise. Thompson has great range and can move all over the field. The Chiefs, for their part, desperately need to address their secondary. Eric Berry was hurt for almost all of last season and the Chiefs would be wise to find someone that can play with Berry and replace him long term. Thompson could certainly help the Chiefs defense improve from one of the worst in the NFL.
30. Green Bay Packers (via New Orleans Saints; Marcus Davenport Trade)
T.J. Hockenson – TE, Iowa: Hockenson is arguably the best all-around tight end in the class. The only reason Noah Fant should be picked ahead of him is Fant's superior pass-catching ability. Hockenson has great blocking skills and above-average athleticism. He is also an ironman kind of player who seldom has to be taken off the field. The Packers would also be wise to find a replacement for the underwhelming Jimmy Graham. Hockenson could thrive in Matt LaFleur's system, as well as from catching passes from Aaron Rodgers. He could learn from Jimmy Graham for a season, before taking over the starting tight end role.
31. Los Angeles Rams
Nasir Adderly – S, Delaware: Adderly was relatively unknown before the season. Coming out of Delaware, not a lot of eyes were on him. However, Adderly has really emerged this season and solidified first round status at the Senior Bowl. He is a little undersized, but has great cover skills and range. The Rams may lose Lamarcus Joyner to free agency this year, creating a void at the position. Joynner will want a large payday and the Rams would be wise to draft a cheaper alternative. Drafting Adderly would allow for the Rams to spend on other positions of need — or extend players without the burden of Joyner's contract.
32. New England Patriots
Dexter Lawrence – DT, Clemson: Lawrence was one of the top tier players going into this year, but fell off due to teammates playing well and some lackluster performances of his own. He no longer seems to have the ceiling that he once did. On the other hand, though, Lawrence could still be a very impactful and disruptive player. Plus, who would better for developing and getting the most out of him than Bill Belichick? The Patriots will most likely lose Danny Shelton to free agency this year and replacing him with Lawrence would be seen as an upgrade.
Photo Credit
Featured image courtesy of Eleven Warriors via Flickr
Follow Ben Glassmire on Twitter (@brglass10) and on TSJ101Sports: NFL!
Subscribe to get the latest news from TSJ at the TSJ 101 Sports TV YouTube channel!
Play And Win Weekly at ThriveFantasy!