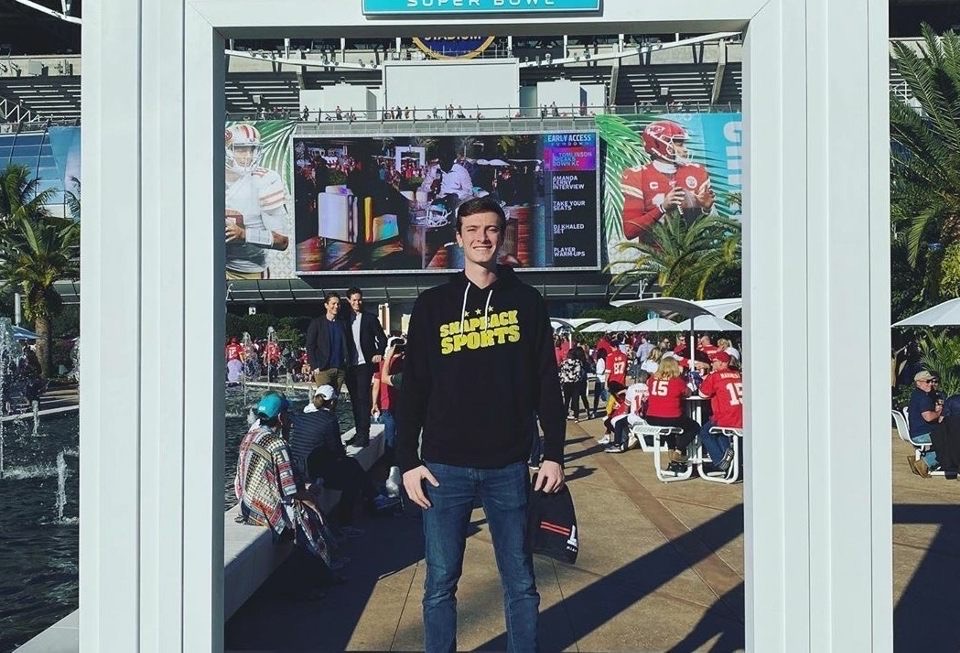 Q&A With Jack Settleman, SnapBack Sports CEO
At just 23 years old and only 2 years removed from college, Jack Settleman has already accrued great success.
Settleman runs SnapBack Sports—which is the largest sports page on Snapchat and totals over 100 million views per year—attends and documents sporting events via SnapBack Experiences; hosts the SnapBack Sports Pod, which has risen to become one of the top sports podcasts on the Apple Charts; and is a Content Strategy Manager at Whistle Sports.
Recently, I had a chance to catch up with Settleman, one of the rising stars of the sports content creation industry. Here's what he had to say about the growth of his brand, his ascension to fame, his beloved Baltimore Ravens, his long-term goals and more.
Question: Growing up, did you know that you wanted to go into sports content creation/media?
Answer: The reason I knew I wanted to work in sports is because I've always loved the business side. My family business is beer distribution, so we sell beer to the Ravens and the Orioles; if the Ravens and Orioles are good, then our business is doing [well]. Sports always meant a little more than just "Is my team winning on the field?" So I knew I wanted to go into the sports business world.
Q: What activities did you do while you were in high school, and were any of them related to business or sports in some way?
A: I played soccer, and we won the national championship my senior year. I played basketball; in the fall [for soccer], we went undefeated, and in the winter, we went defeated in conference for basketball. [Former Villanova Wildcats and current Washington Wizards G League guard] Phil Booth was on the best team in our conference.
Activity-wise, I was always interested in entrepreneurship. I started a sports blog called Sportacular Sports Blog. Entrepreneurially, I didn't do a ton in high school, but in middle school, I started a mini [lacrosse] stick stringing business.
Q: How do you think the University of Texas at Austin shaped your career to this point as well as in the future?
A: I studied sports management there. The sports management program is super helpful because it showed me all the different ways to get involved in the sports business; there's marketing, there's [public relations], there's events. It really gave me a lot of time on my hands to experiment on my own, which is how I got into [SnapBack Sports].
My sophomore year of college, [my roommate and I] started a phone case business. We were making sports phone cases, buying them from China and had a designer in Indonesia. [They would] get shipped to us and we would ship them out ourselves. We partnered with [Washington Wizards guard] John Wall, we partnered with [former Villanova Wildcats guard] Kris Jenkins, we partnered with [New England Patriots wide receiver] Mohamed Sanu, [Buffalo Bills running back] T.J. Yeldon.
We were doing all this through social media—we were paying these big pages to market our stuff. I was like, "What if I just had my own page?" And that is how SnapBack Sports actually began 2.5 years ago. Essentially, SnapBack [Sports] birthed from the free time I had at the University of Texas.
Q: How were you able to land some opportunities with some big-name companies like Action Network as well as Whistle Sports, and how were you able to use your prior job experience as well as interning skills in such roles?
A: The power of networking is really crazy. My junior year [at UT-Austin], I was trying to do some marketing for this guy [named Connor] who owned this hat company called TheGoats.co. We connected; one weekend, he said, "Well, I'm going to be in New York, let's meet up at this conference." I stayed in touch with [Connor] for the next two years. When I was looking for a job post-graduation, he happened to be hiring for social media for Action Network.
I worked there for a year—it was an incredible experience. I think sports betting is the future; Action Network is the future. But I just didn't want to be in sports betting right now. I wanted to do more broad content—SnapBack definitely has a younger audience.
I moved to Whistle [Sports], and Whistle's been incredible. They help me out a ton. I actually interned for Whistle 4 or 5 summers ago—they taught me the ropes on social media. I developed my skills there, went back to college, fine-tuned them, and stayed in touch.
Q: How do you think SnapBack Sports has evolved since its inception in 2017?
A: SnapBack Sports, besides growing in size, has evolved massively. It used to be just "Real_Sports"—had to change the name because of legal reasons—but for the first year, year and a half, it was literally just a Snapchat sports highlight page.
From there, in the past 18 months, it's gone from that to part of my personal brand. I've built up my own personal Instagram as a personality. I've built up my personal Snapchat as a personality. We launched the [SnapBack] Pod 9 months ago, which has been extremely successful. We had [Portland Trail Blazers guard] C.J. McCollum, [ESPN Basketball Analyst] Jay Williams, [Indiana Pacers center] Myles Turner, [Los Angeles Chargers running back] Austin Ekeler, a bunch of high-profile athletes on the podcast. Then, I expanded to YouTube, so I'm now doing daily YouTube videos, which is gaming content while we're locked up in quarantine.
I've worked with brands now, I've worked with teams, I've worked with leagues, I've worked with the NFLPA [NFL Players Association]. It really has expanded from a Snapchat sports highlights page to almost a mini media company where we're selling merchandise. It's been really cool to see the evolution over the last few years.
Q: How have opportunities come about—especially in recent years—through your page?
A: Every single one comes from a different [opportunity]. Like, [for] the Knicks, my friend works for MSG [Madison Square Garden] and she mentioned what I was doing to her superiors. She got me in the door there; I promoted their pre-game tours. [For UT-Austin], our Texas basketball behind-the-scenes was all through Joe Schwartz, who played for the team as a walk-on. I went behind-the-scenes at a [Mavericks] game.
Also, a lot of things you see on my channel, I pay for. I think it's an investment in content. I think it's a really cool SnapBack Experience to go to these things, and I have fun when I'm there.
A lot of it has been friends and family. A lot has been networking and just relationships in the sports industry.
Q: Why do you think the SnapBack Pod has been able to grow so rapidly?
A: I think it's two things. Abe [Granoff, Settleman's co-host]'s and [my] conversation is conversational. It sounds like you're in the living room with us; it sounds like you're our friend. We don't want you to come on and feel like you have to make a hot take to get a headline. We don't want us to make you feel that way.
Our guests have been very excited when they've come on, and guests are a great way to grow. But the core of listeners really has to be people who tune in for Abe and [me]. I just think Abe and I are super relatable. You fight with your friends over sports, I fight with my friends over sports—we just happen to be doing it in front of a microphone and have an audience who loves to tune in to it. It's that we're not the talking heads on ESPN, and people kind of respect us for that.
Q: You seem to be a big football, basketball and baseball guy. Which would you say is your favorite sport, and why?
A: #1, I would say football to watch, to root for, to break down, to post about. I would say #2 would be basketball; it's my favorite sport to play. I actually like soccer a ton.
I'm just a big fan of sports. I think baseball and hockey don't get the love that they should on my page and in my content, but I love the sports. I love watching tennis and really like all of them.
Q: What is your favorite current video game as well as throwback video game?
A: Throwback, I'm gonna go [Nintendo] GameCube Super Mario Strikers. My favorite current game—it goes in waves—but right now, it's MLB The Show.
Q: What's your favorite moment as a Ravens fan?
A: I would say the evolution and the ability of Lamar [Jackson] to prove people wrong. I had been hyping him up all his rookie season; all offseason, I had to deal with the memes. I stayed faithful, and he literally won the MVP award. I would say Lamar [Jackson] winning the MVP has been my favorite moment. Every time he overcomes the doubt and the hatred will be my favorite moment.
Q: What has been your favorite SnapBack Experience over the years?
A: #1, definitely Super Bowl [LIV]. I don't think people understand: the reason those tickets are so expensive is because it's a magical night, it's a magical event.
One that people might not remember as much—it was in the early days—[is] when I went to the Mavericks-Warriors game. I've been around a lot of athletes, I've met celebrities. I've never been starstruck before like I have been watching Steph Curry warm up. I don't know what it was; it was just the coolest, most amazing thing. It really showed you how elite of an athlete these guys are.
Q: What's your favorite piece of merchandise that you've created over the years?
A: Oh, it's the Baby Goat [Settleman's merchandise line and nickname for Jackson]. Being able to sell something about my favorite player that I created is just the coolest thing.
Q: Describe your relationship with your brother, Casey.
A: He's my best friend; he's been my best friend since the day he was born. We've always had a great brother-to-brother relationship, and I think it's fun now that he gets to be in the content. We play video games together, we play sports together. We love each other at the end of the day.
Q: Who has been your favorite podcast guest so far?
A: There are so many who have been cool. Jay Williams was really, really, really cool. My favorite one, though, is Dare Ogunbowale. He's a running back for the Tampa Bay [Buccaneers], and it was the true epitome of what the SnapBack Sports Pod stands for: we just had a conversation. We didn't ask any interview questions; we just really sat down and talked. I would say we're friends now, which is really cool.
Q: Assuming that a lot of professional sports resume, give me your predictions for the winners of the NFL, NCAA Football, the NBA (if it resumes this season or next), and MLB.
A: NFL—picking the Ravens as you would imagine. College football, I'm gonna go Clemson—I think Trevor Lawrence bounces back. NBA, I think if it resumes, the Clippers win it. Next year, though, I can see the Warriors potentially doing something interesting with [Andrew] Wiggins and their high draft pick. Baseball, I think the Yankees finally can push through and win the World Series. They've been on the cusp; they finally got Gerrit Cole, the pitcher they need to push through.
Q: What are your goals for SnapBack Sports as a whole company?
A: The goal is to continue to do this for as long as I can. I'm doing exactly what I would want to be doing if I wasn't getting paid to do it. I get to travel all around the country and cover sports and just be myself.
I could say, "I do want to have 100,000 YouTube subscribers [and] 100,000 Instagram followers." These [are] metrics that will help me launch and support SnapBack as I move forward. But the overarching goal is to continue to do this as long as I can.
Q: Is sports media/content creation what you want to do in the long term?
A: I don't think the content creation is necessarily what I want to do in the future. I think I want to build a business in the sports industry. The only reason I'm not doing that right now is because I don't have the idea. I know when I have the idea, I'll go for it. But for now, I'm kind of seeing "What does the market need?" and "Do I want to solve that problem?" When I do, that's when I will probably try to start my own company in the sports industry.
Q: Are there any exciting SnapBack Experiences that are coming up?
A: Realistically and hopefully, the first thing I would do would be in September—when I think sports will really be back—would be to go to [an] LSU-Texas [football matchup] in Death Valley. I went back to Austin for Texas-LSU this year. That second week, that's when I would hope that all this stuff has passed by and we can get back in stadiums. I've never been to Death Valley—apparently, that stadium's nuts.
Written by Bradley Locker
Follow Bradley on Twitter and TSJ: NFL on Twitter!
Photo credit to Jack Settleman
Follow TSJ on YouTube and Twitter