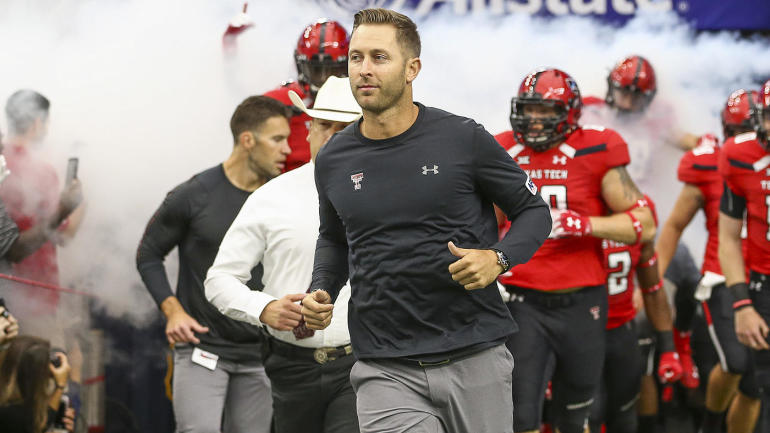 Arizona Cardinals Hire Kliff Kingsbury as New Head Coach in Surprise Move
It was rumored that the New York Jets and Arizona Cardinals were the teams most interested in Kliff Kingsbury. On Tuesday, the Cardinals beat out the Jets and signed Kingsbury to a four-year deal. It was no secret that he was going to be a coveted coaching asset in the NFL. Before the hire, he was serving as the offensive coordinator at USC.
This coaching change did not come without drama, however. USC initially blocked all interview requests from NFL teams. They had just recently hired Kingsbury and, presumably, did not want to lose him so quickly. Kingsbury was questioned on his reasoning for taking the USC job, as most seemed to understand he was garnering NFL interest.
The Cardinals moved quickly, from interviewing him early to hiring him shortly thereafter. Kliff Kingsbury will now be tasked with taking over an NFL team that finished with a 3-13 record last year.
Past Experience
Kingsbury was most recently employed as the offensive coordinator at USC under head coach Clay Helton. He only served in this position for about a month, before being let go in order to pursue NFL opportunities. Before taking the job at USC, Kingsbury worked as head coach at Texas Tech, where he compiled a record of 35-40 (he was fired this offseason). While this was not impressive, in itself, he was coaching at Texas Tech — not exactly known as a college football powerhouse. He did help develop potential 2019 NFL MVP Patrick Mahomes in college, leading a Texas Tech offense that was consistently one of the best in the nation.
How Kingsbury Fits with the Cardinals
This move is fairly unprecedented. Kingsbury went from fired collegiate head coach to offensive coordinator for a month (also in college football), then landed a job as the head coach of an NFL franchise. It remains to be seen whether he will be a good fit for this Cardinals organization. Kingsbury is a very sharp contrast from Steve Wilks, who was fired earlier this offseason. The former Texas Tech head coach is known as one of the most prolific offensive minds in football. Now, he will have the challenge of developing soon-to-be second-year quarterback Josh Rosen. Kingsbury comes directly from the Air Raid system of offense. Most of his teams' offenses have been predicated on throwing the ball 45-50+ times per game. While he will have to adapt his scheme for this league, instituting a pass-happy offense certainly fits with how the NFL is trending.
Why This Job was Attractive
For a team that was the worst in the NFL, the cupboard is not completely bare. Having some building blocks in place will help Kingsbury's transition to the NFL. He has a star running back in David Johnson, who was under-utilized in the last regime. Additionally, having a franchise quarterback who fits the type of system that Kingsbury wants to run will help the team down the road. The Cardinals will also have one more year of Larry Fitzgerald on offense. Defensive building blocks Patrick Peterson and Chandler Jones also made this a very appealing coaching job.
One of the biggest draws for Kingsbury was the Cardinals holding the number one overall pick in the 2019 NFL Draft. This positions him ideally to acquire the personnel he needs to build a team that works with his system. He will instantly make his mark on the franchise, for better or worse, depending on who he ends up selecting. Some think that his best option will be to auction the pick to teams that need a quarterback. This year's class is regarded as weaker at quarterback, so they could get a solid return for the pick. Others, however, think selections like edge rusher Nick Bosa or defensive tackle Quinnen Williams present the best options for turning the fortunes of the franchise.
Final Thoughts on the Hire
While Kingsbury is seen as an innovator offensively and should bring a dynamic offense to team that desperately needs it, it remains to be seen if he will find success in this league. He consistently underwhelmed at Texas Tech, even with elite college quarterbacks. Kingsbury also has no NFL experience, so it may take time to see consistent results. Cardinals fans should be excited that the franchise chose to go in a direction that will help the team offensively, but will need to be patient with their new coach. Another critical area to his success will be the coordinators he surrounds himself with. He'll need to find coaches that have had success in the in the NFL, specifically, and can help his transition from an Air Raid to an NFL-friendly scheme.
Photo Credit
Featured image courtesy of James Anderson via Flickr
Follow Ben Glassmire on Twitter (@brglass10) and on TSJ101Sports: NFL!
Subscribe to get the latest news from TSJ at the TSJ 101 Sports TV YouTube channel!
Play And Win Weekly at ThriveFantasy!