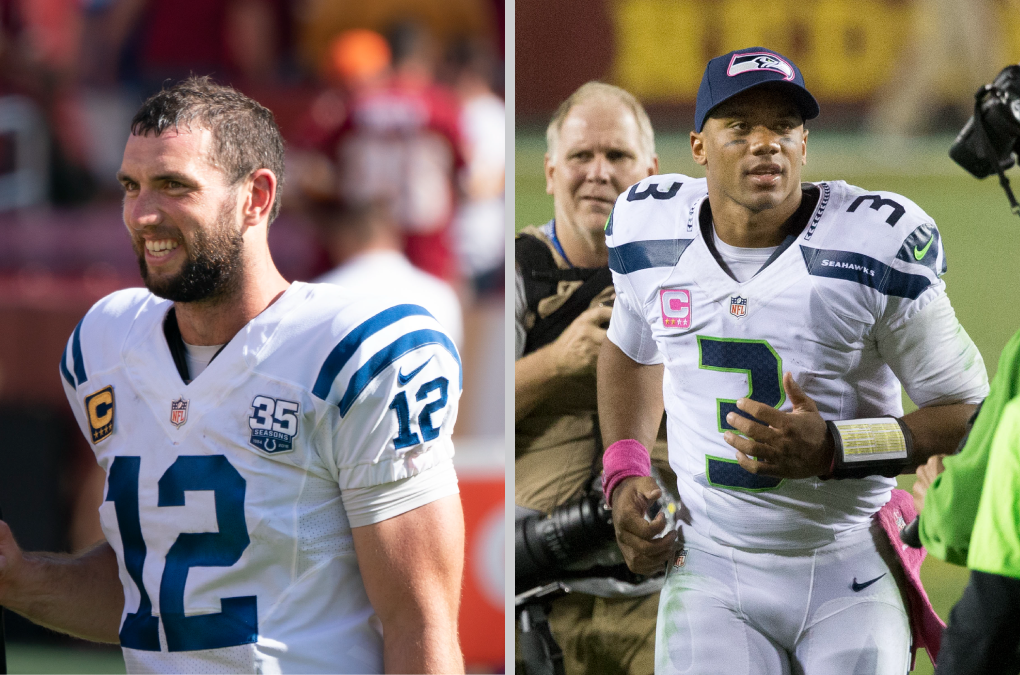 A Tale of Two Quarterbacks Takes a Look Back at the Year 2012
The 2012 NFL draft saw the selection of 11 different quarterbacks. This class of QBs is one of the best the NFL had ever seen. Out of the 11, five became Pro Bowlers, two of whom would go onto win a Super Bowl, and another two took home the "NFL Passing Touchdown Leader". No, not Robert Griffin III or Brock Osweiler. We're talking about Andrew Luck and Russell Wilson.
Between the 2012 QB's there are…
2 Lombardi Trophies
13 Pro Bowl Selections
18 Associated Teams, Over Half the League's Teams. (Minnesota Vikings being a frequent destination)

— Lauren Phillips (@LaurenP_52) February 7, 2019
Early Life – Collegiate Career
Andrew Luck
Luck was born into a football pedigree. His father, Oliver Luck, is the former quarterback of both West Virginia University and the Houston Oilers. Just recently he was named the CEO of the XFL. Luck was ranked as the fourth-best high school QB in the nation while being recruited at Stratford High School in Houston.
Andrew committed to Stanford University to play for head coach, Jim Harbaugh. Luck redshirted the 2008 season and won the starting job in 2009 playing 12 games. In 2010 Luck had his breakout season ending the year with a 170.2 passer efficiency rating, 32 touchdowns, and 3,338 passing yards. Culminating in a 12-1 record and an Orange Bowl trophy, Luck elected to stay at Stanford rather than declaring for the draft.
His final collegiate season saw five more touchdowns and nearly 2,000 more passing yards than the year before. Despite his efforts, RGIII would take home the Heisman Trophy with 1,687 total votes. Luck, who was the runner up had 1,407 total votes. Meanwhile, Case Keenum had 123 and Russell Wilson only 52.
Russell Wilson
The great-great-grandson of a freed slave, Russell Wilson has a family lineage to be boastfully proud of. Wilson has ancestral lines tracing back to a Saint and British monarchs, as well as Charity Southgate who fought in the courts for her and her children's freedom along with buying her husband's. Athletic pursuits are also a family tradition. Both Russell's grandfather, father, brother, and sister all played at the competitive collegiate levels.
Wilson, who is 5'11", was under-scouted through high school and was left with fewer college offers than Luck. Eventually, he committed to North Carolina State University where he played his freshman, sophomore, and junior year. Wilson slowly began to gain some attention during his sophomore season.
After being drafted into the MLB by the Colorado Rockies in 2010, Russell wanted to participate in their spring training. After an intense disagreement with NC State head coach, Tom O'Brien, over Wilson's two-sport endeavors, Wilson transferred to Wisconsin. In his senior season as a Badger, Wilson had an outstanding 191.8 passer efficiency rating along with 33 touchdowns and 3,175 passing yards.
2012 NFL Draft and Rookie Seasons
Prior to the draft, both QB's participated in the NFL combine. Their 40-yard dash times were just .06 seconds apart, with Russell taking the slight edge. Scouts saw the two quite differently though. Luck was described as a "complete package." His time at Stanford served him well, showcasing his abilities in a "pro style offense."
Wilson, on the other hand, was labeled as a "Saturday Sleeper" with the potential to be a "decent backup" for whichever team finally drafted him in the later rounds. Most notably, his height was often counted against him. At 5'11" there were serious questions as to how that would affect his abilities on the field. In comparison, Luck is 6'4″ He was praised, however, for his "poise and mobility."
In April of 2012 at the NFL Draft, the Indianapolis Colts selected Andrew Luck with the first overall pick. The Seattle Seahawks drafted Russell Wilson with the 75th overall pick in the third-round.
Andrew Luck
Luck was thrust into a difficult position in Indianapolis. After the 13 year reign of Peyton Manning, the Colts were left without a quarterback after #18 underwent neck surgery. Manning was forced to miss the entire 2011 season due to post-op rehabilitation. That season Indy finished worst in the league at 2-14. Under head coach, Chuck Pagano, and offensive coordinator, Bruce Arians, Luck immediately got to work as the QB1.
In his rookie year, the Colts improved to 11-5 and second in the AFC South. In the backfield with Luck was running back, Vick Ballard who had 814 rushing and 152 receiving yards. His targets that year included wide receivers Reggie Wayne (1,355 receiving yards), T.Y. Hilton (861), Donnie Avery (781), and Dwayne Allen (521).
Their postseason hopes were quickly extinguished in the Wild Card round against the Baltimore Ravens. The Colts lost to their AFC rivals, 9-24 led by, John Harbaugh, the brother of Luck's college head coach. The Ravens under Harbaugh continued onto win the Super Bowl that season.
Russell Wilson
Prior to Wilson's rookie season, the Seattle Seahawks hadn't had a winning season in four years. In 2011  Seattle ended the season at 7-9 and third in the NFC West. In 2012, the Seahawks, just like the Colts, finished at 11-5 and second in their division. Head coach Pete Carroll and offensive coordinator Darrell Bevell led Wilson and company all the way to the Divisional round before losing to the Atlanta Falcons.
Unlike Luck, Wilson had just one receiver who ended the season with 700 or more receiving yards; Sidney Rice finished with 748 receiving yards with Golden Tate right behind him at 688. Wilson's most valuable asset was Pro Bowler, Marshawn Lynch. Lynch averaged 99.4 yards per game in 2012, scoring 11 touchdowns and rushing for 1,590 yards.
Round One
The Colts and Seahawks have met twice since 2012. The first meeting was in 2013 and the other in 2017, the season Luck was on the injury reserve list after undergoing surgery to repair his throwing shoulder.
In 2013, the Colts ran away with the victory, 34-28. Luck threw 16 of 29 for 229 passing yards and two touchdowns. Wilson completed 15 passes of 31 attempts for 210 yards and two touchdowns along with an interception. Both quarterbacks were sacked twice, Luck losing 21 yards total and Wilson losing 5. Wilson also rushed for 102 yards while Luck rushed for nine.
By the Numbers
Andrew Luck
Games Played: 86
Passer Rating: 89.5
Passing Yards / Rushing Yards: 23,671 / 1,590
Touchdowns / Interceptions: 171 / 83 (2.5 INT %)
Playoff Record: 4-4
Best Result: AFC Championship Appearance, 2014
Russell Wilson
Games Played: 112
Passer Rating: 100.3
Passing / Rushing Yards: 25,624 / 3,651
Touchdowns / Interceptions: 196 / 63 (1.9 INT %)
Playoff Record: 8-5
Best Result: Super Bowl Champion, 2013
Wilson who received just 52 votes for the Heisman to Luck's 1,407, has proved many NFL scouts wrong. While Wilson boasts a higher career passer rating and a better interception percentage, it is important to note Luck has played 26 fewer games than him. Luck has thrown more yards and touchdowns per game than Wilson.
The two factors that fall heavily in Wilson's favor are his mobility, and above all, his Super Bowl victory. In his seven-year career, Wilson has gone to the Super Bowl twice, made the playoffs five times, advancing to the Divisional round all but one year.
Luck, on the other hand, has a generational arm. His touch on the ball, arm strength, and ability to read defenses outshines that of Wilson. While he is not nearly as athletic, his natural quarterback acumen is strong. This allows him to be one of the more aggressive quarterbacks in the league while maintaining his accuracy.
His history with injuries, specifically to his shoulder, has undoubtedly changed the trajectory of his success thus far. However, after his 2018 season, his best yet, it's clear Luck is just getting started.
Wilson's regular season completion percentage is slightly higher (64.2% / 60.8%) than Luck's, however, his postseason completion percentage is even higher (62% / 56%). While he may not have the arm accuracy and strength of Luck, Wilson has displayed a unique ability to be excellent in big moments. Throughout the course of his career, Wilson has recorded 21 fourth-quarter comebacks and 27 game-winning drives.
Supporting Cast
While the quarterback is the nucleus of a football team, the line "you're as strong as you're weakest link" comes to mind. Throughout their seven years in the league, Wilson and Luck have had very different groups of supporting talent around them. The Colts' average defensive ranking since 2012 is 24th, while the Seahawks' is sixth.
Wilson's help in Seattle has also come from the other side of the ball. Wilson has played in front of Chris Carson, Thomas Rawls, and Marshawn Lynch. Between those three men, Seattle's average RB1 ranking by position is 17.5, Luck's is 21.7. They've shared the same amount of top 20 receivers in that time (three). They've also had equivalent talent at the tight end position.
Round Two
Seattle and Indianapolis aren't set to meet again until 2021, baring a Super Bowl matchup. If you're looking for a "who's better"  take, Russell Wilson has been better. However, with Luck's talent and his offensive-minded head coach, Frank Reich, the ceiling is high for him.
The Colts' franchise as it stands is set to be an immediate contender for the AFC. Seattle, on the other hand, will continue to deny that they're in the process of a rebuild. It would be intellectually dishonest to say there's a way to quantifiably evaluate who will be the best five or ten years from now, but it will be an honor to watch.
Photo Credit
Featured Images courtesy of Keith Allison via Flickr
Subscribe to get the latest news from TSJ at the TSJ 101 Sports TV YouTube channel!
Play And Win Weekly at ThriveFantasy!